It seems that outside of the South (some people think of St. Louis as the South, but we're definitely Midwest), no one has heard of hummingbird cupcakes. You are missing out!
My hummingbird cupcakes are everything that banana muffins wish they could be; hummingbird cupcakes have a strong banana flavor but so much more complexity. The addition of pineapple adds moisture and the sweetness of nature's candy. The cupcakes have a nutty flavor (thanks to the pecans mixed throughout), but even if you happen to get a nut-free bite (unlikely), the nut flavor will still be there: I baked my hummingbird cupcakes using almond flour rather than the more typical all-purpose flour (bonus – the almond flour means that these hummingbird cupcakes are gluten-free!).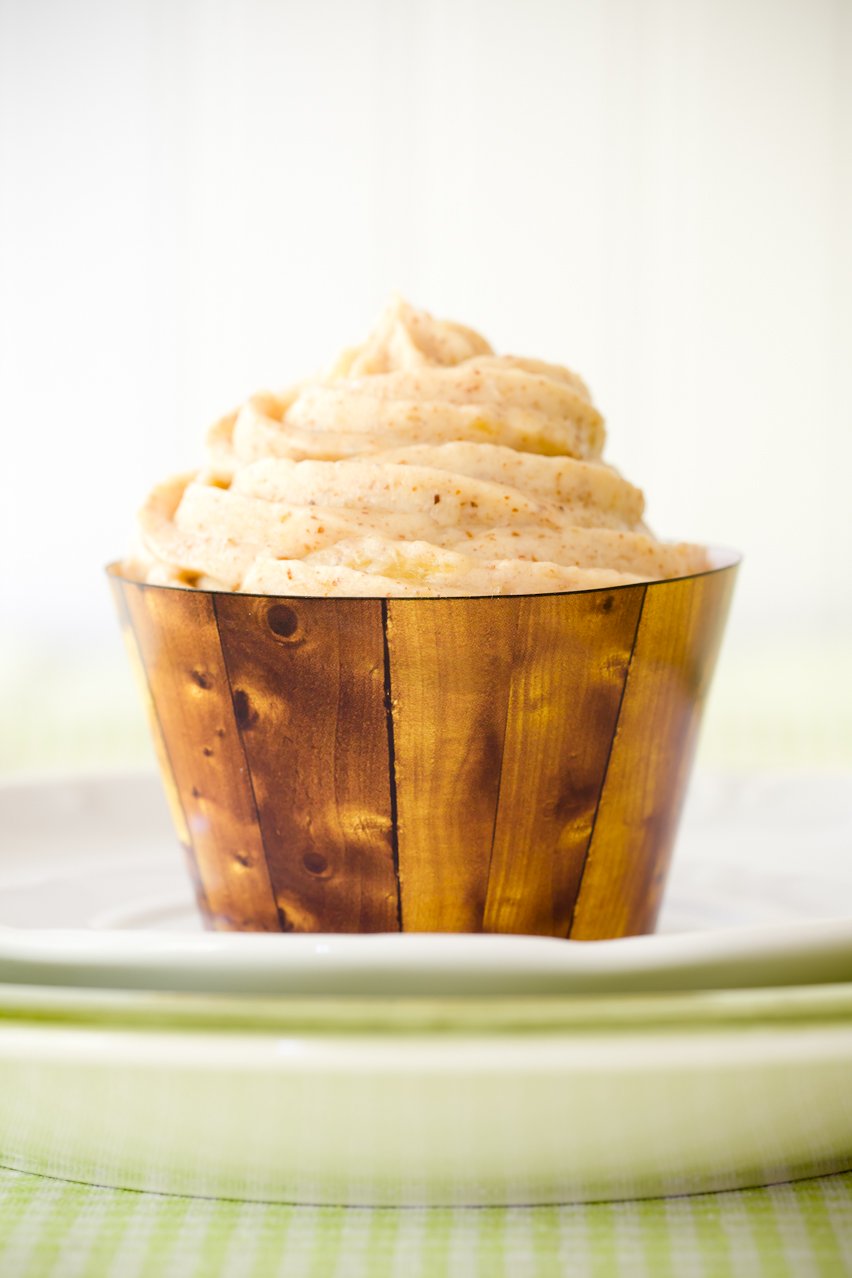 Because banana is the most intense flavor in the cupcakes, I wanted to play up the pineapple in my cream cheese frosting. When you add real pineapple (as opposed to pineapple flavor) to frosting, it tends to make the frosting too wet to pipe. The natural tendency is to add more powdered sugar to compensate – making the frosting well above sugar levels I can tolerate. For this frosting, I used almond butter as the thickener, which gave the frosting a pipeable texture (with enjoyable nutty undertones) without adding too much sweetness. I'm in love.
What are Hummingbird Cupcakes?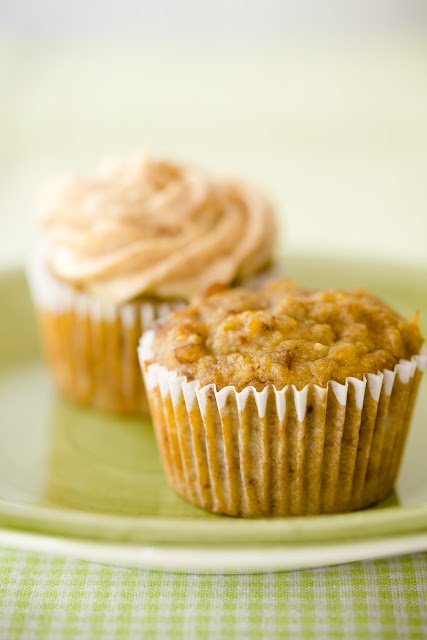 What is the origin of the name "hummingbird cupcakes"? There is no definitive answer, but EndlessSimmer has a nice post with some hummingbird cupcake history and a vegan hummingbird cupcake recipe.
While all hummingbird cupcakes contain banana and pineapple, they are so much more than a banana cupcake or pineapple upside-down cupcakes. Some, like mine, have nuts (typically pecans or walnuts) while others leave them out. Sometimes, as in the case of Martha Stewart's hummingbird cupcakes found in her cupcake book and made popular by Annie's Eats, hummingbird cupcakes have coconut – giving them a more tropical feel than my version. (View on Amazon)
Hummingbird cupcakes are always frosted with cream cheese frosting. The pineapple almond butter cream cheese frosting is all my own (you didn't think I would leave well enough alone, did you?).
Products Related to Hummingbird Cupcakes
Although hummingbird cupcakes can be sweetened with honey, I love the subtle sweetness of golden syrup. (View on Amazon)
Using almond meal makes these cupcakes gluten-free and also gives them a slightly nutty flavor. (View on Amazon)
Walnut oil enhances the nuttiness of the cupcakes. (View on Amazon)
Hummingbird Cupcakes Recipe
Hummingbird Cupcakes with Pineapple Almond Butter Cream Cheese Frosting
My hummingbird cupcakes are everything that banana muffins wish they could be. The hummingbird cupcakes have a strong banana flavor, but so much more complexity.
Ingredients
Cupcake Ingredients
1 1/2

cups

blanched almond flour

1/2

teaspoon

salt

1/2

teaspoon

baking soda

1

teaspoon

cinnamon

3

large eggs

1/4

cup

golden syrup

honey will also work

2

tablespoons

walnut oil

any nut or vegetable oil will work

1

cup

smashed ripe bananas

about two bananas (if you don't have ripe bananas, microwave newer bananas for a minute or so to bring out their sweetness)

1

cup

crushed pineapple

drained (a can of pineapple works for this, or use chopped fresh pineapple, food process it, and strain out the excess liquid)

1

cup

coarsely chopped pecans
Frosting Ingredients (Note: If you don't like to use a lot of frosting on your cupcakes, you could probably cut this in half):
1

cup

crushed pineapple

in this case, there is no need to drain it

1/2

cup

water

4

tablespoons

brown sugar

8

ounces

cream cheese

room temperature

1/4

cup

unsalted butter

room temperature

2

cups

powdered sugar

1/2

cup

almond butter
Instructions
Cupcake Directions
Preheat oven to 325 F.

In a large bowl, combine almond flour, salt, baking soda, and cinnamon.

In a separate bowl, mix together eggs, golden syrup, and oil.

Mix bananas and pineapple into the wet ingredients.

Stir wet ingredients into the dry ingredients.

Fold in the pecans.

Divide evenly between 14 cupcake liners (liners should be filled almost to the top).

Bake for 20 minutes or until a toothpick comes out dry.
Frosting Directions
Place pineapple and water in a small saucepan on medium heat.

Bring to a boil and reduce to a simmer.

Mix in brown sugar.

Stir occasionally and reduce the mixture for about fifteen minutes or until most of the liquid is gone.

Remove from heat and set aside to cool to room temperature.

In a medium-sized mixing bowl, mix cream cheese and butter until light and fluffy (about three minutes).

Slowly mix in the powdered sugar until fully combined.

Mix in 1/2 cup of the sweetened pineapple (you may have just a little bit leftover to snack on) and the almond butter.

Pipe or spread onto cooled cupcakes.
Nutrition
Nutrition Facts
Hummingbird Cupcakes with Pineapple Almond Butter Cream Cheese Frosting
Amount Per Serving
Calories 449
Calories from Fat 243
% Daily Value*
Fat 27g42%
Cholesterol 61mg20%
Sodium 191mg8%
Potassium 293mg8%
Carbohydrates 47g16%
Protein 7g14%
Vitamin A 425IU9%
Vitamin C 9.1mg11%
Calcium 101mg10%
Iron 1.5mg8%
* Percent Daily Values are based on a 2000 calorie diet.