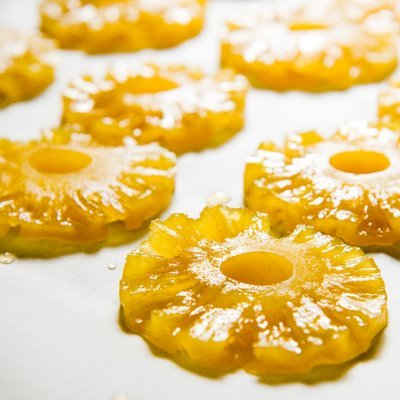 Candied pineapple, according to a quick informal poll of my friends, is typically thought of as dried pineapple that has been sugared. My recipe was about as dry as a St. Louis summer (for those not from St. Louis, picture rainforest-like humidity). What makes my candied pineapple different from non-candied pineapple is that the juice is extra sweet and the outside of the pineapple has an irresistible glossy shine.
Aside from topping a cupcake, candied pineapple could be:
eaten all on its on,
used in or on top of a meat dish,
mixed into a fruit salad, or
thrown on the grill (although I haven't tried it).
Candied Pineapple Recipe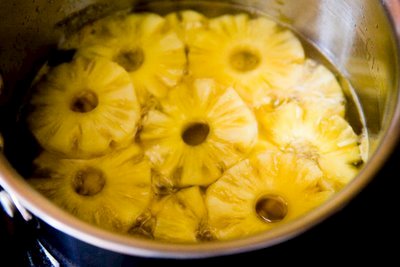 To make candied pineapple, I followed the same technique outlined in a post by The Repressed Pastry Chef on candied orange slices. I am reprinting that technique, modified for pineapple.
If you've tried this recipe, please RATE THE RECIPE and leave a comment below!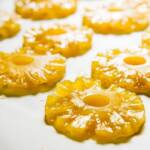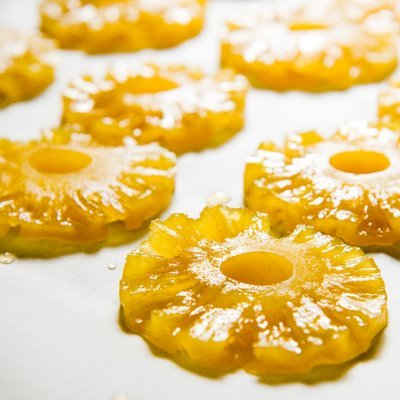 Candied Pineapple Recipe
Ingredients
1.5

C

water

1/2

C

sugar

12

pineapple rings

I used the kind from the can, but fresh pineapple would also work.
Instructions
In a large, heavy pot, bring water and sugar to a boil.

Add pineapple rings.

Let the mixture boil for about 5-10 minutes. Be sure that all of the pineapple rings are under water.

Reduce the heat to medium and let it continue cooking for about 30 minutes. The liquid will thicken and become a syrup.

Remove from heat but let the pineapple remain in the pot as they cool for about 10 minutes.

Remove to a sheet of parchment paper to cool completely.

The syrup remaining in the pan can be saved and used in other dishes.
Candied Pineapple vs. Pineapple Candy
If you are looking for pineapple candy rather than candied pineapple, check out my yummy pineapple candy. While the cupcake that the candy was on was a bit of a fail, I loved that pineapple candy.