Tiramisu Frosting — Fluffy and Irresistible
Disclosure: As an Amazon Associate, I earn from qualifying purchases.
This tiramisu frosting could dress up even the most drab of cupcakes. It's a Swiss meringue buttercream frosting recipe, which means that it's silky smooth and not overly sweet. However, this tiramisu frosting trades some of the butter for mascarpone cheese and is finished with rum, espresso, vanilla, and a dusting of cocoa powder.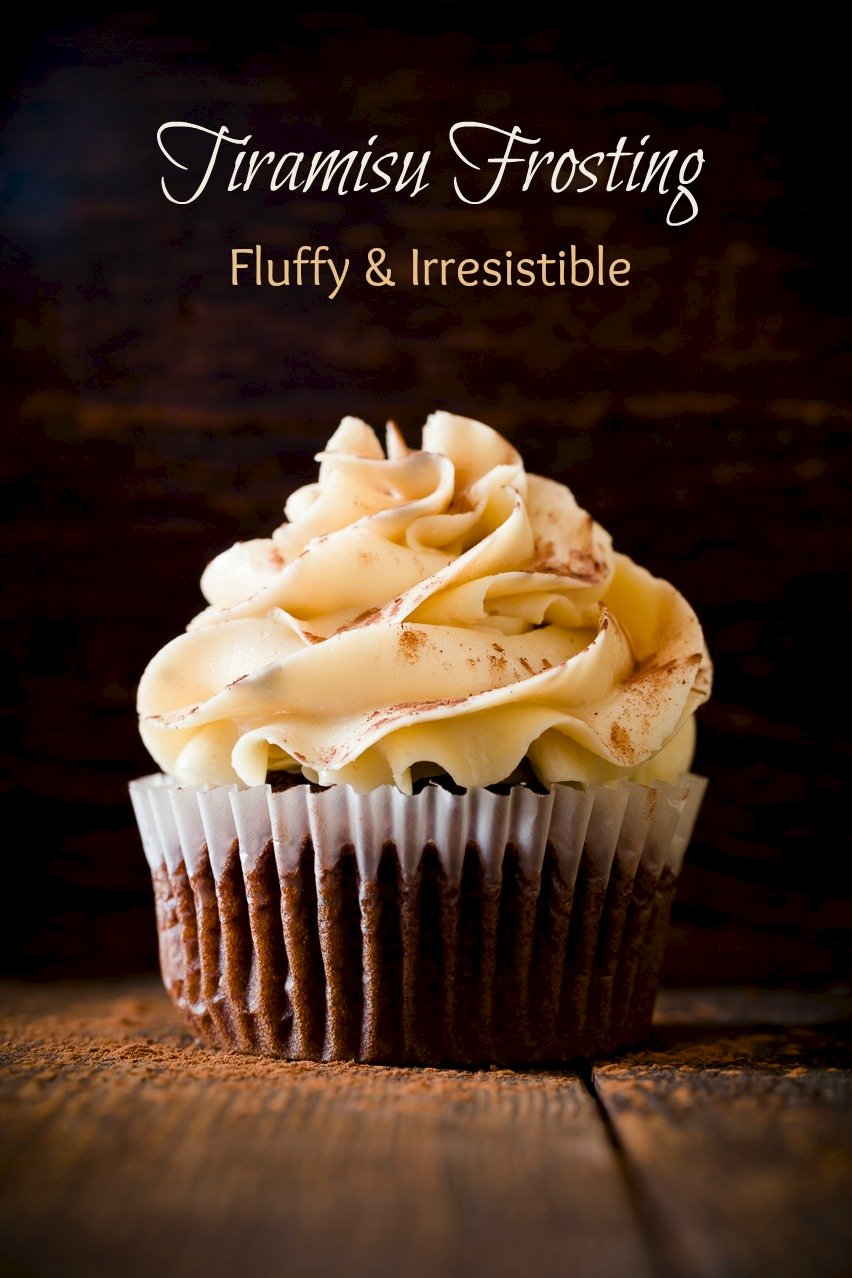 It gives an old world, Italian flavor that can marry well with a wide range of cakes, cupcakes, cookies, scones–or whatever!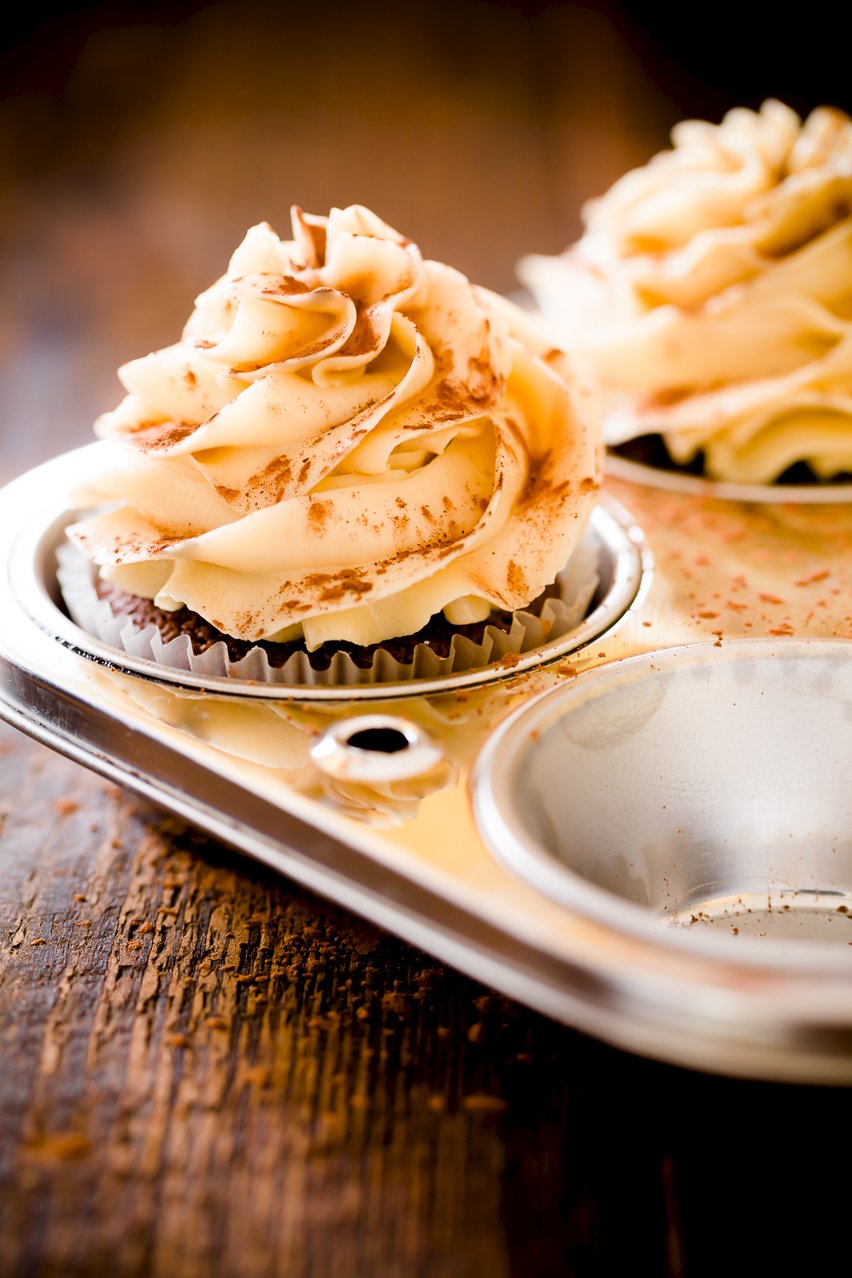 I created tiramisu cupcakes back in 2010. As those of you who have baked and raved about them know, the cupcakes are time-consuming to make. They begin with homemade ladyfingers and then they are layered with a mascarpone topping, whipping cream, and chocolate shavings. We don't always have the energy in our lives for major kitchen projects. So, I wanted to create a tiramisu frosting that would bring the essence of tiramisu to any cupcake. This frosting does the job so well that the cake itself can almost be an afterthought. You can even use a cake mix (shhh… you didn't hear that from me).
What Does Tiramisu Frosting Go Best With?
If you do have a little bit of time and are looking for a good from-scratch cupcake, I suggest piling the tiramisu frosting high atop my ultimate chocolate cupcakes for a mind-blowing match. And if you're looking for a lighter cupcake to highlight the delicate melange of coffee, vanilla, and rum, you can't go wrong with my ultimate vanilla cupcakes.
Which Piping Tip To Use?
For the photos on this page, I used a regular ol' open star piping tip. [paid link] It works great for little stars and flowers, but I think it also makes a lovely spiral on top of a cupcake. But as long as you're asking, I would be failing you if I didn't direct you to Devon's fantastic guest post on Russian piping tips that she was kind enough to write for me.
And, as always, if you've got a better design in mind – go for it!
Do I Have to Refrigerate This Tiramisu Frosting?
As with a lot of food-safety questions, it depends on who you ask. The USDA considers frostings made with cream cheese to be unsafe if left unrefrigerated for more than a couple hours, and mascarpone is a type of cream cheese. If you have a weakened immune system, or just like to err on the side of caution, then by all means refrigerate your frosting until you are ready to serve.
If you want to know what I do, though, I tend to leave my cupcakes with cream cheese frosting out of the fridge for however long it is until people eat them. I have never had problems with the frosting souring, and I have certainly never had any health effects. Since this recipe uses less mascarpone than a standard cream cheese frosting, I would feel comfortable leaving it out all day like any Swiss meringue buttercream.
While looking over the comments section of a food blog post on cream cheese frosting, I found a fascinating comment by "Chef Ono," who did a test that involved leaving a bowl of plain cream cheese and a bowl of a cream cheese-sugar mixture at room temperature for a week. Chef Ono found that the pure cream cheese smelled off and tasted sour after one day, but the mixture with sugar smelled and tasted fine for a whole week. I've never tried this experiment myself, but given what I know generally about the preservative effects of sugar, Chef Ono's results made sense to me.
How Well Does Tiramisu Frosting Freeze?
If you are planning for a party and want to prepare this in advance, go right ahead. Foods with a high fat content tend to survive freezing well, and you shouldn't have any trouble putting a ziplock bag of chocolate cream cheese frosting in the freezer for weeks or maybe even months. You might need to re-whip it a bit when it comes out, though, before you start piping.
Swiss Meringue Buttercream vs Other Buttercreams
Swiss meringue buttercream, like this frosting, is similar to Italian and French buttercream in that they all use eggs and have way less sugar than American buttercream. Swiss buttercream is different from Italian buttercream in that it doesn't use a hot sugar syrup and different from French in that it uses egg whites vs egg yolks. Learn more about different types of buttercream in my detailed post on the subject.
Tiramisu Frosting
The perfect frosting for a tiramisu lover.
Ingredients
8

large egg whites

about 1 cup

1

cup

granulated sugar

2

cups

unsalted butter

room temperature

1

cup

mascarpone cheese

room temperature

1

cup

powder sugar

sifted

pinch

salt

1

tablespoon

dark rum

1 1/2

teaspoons

instant espresso powder

1

teaspoon

vanilla extract

cocoa powder

for dusting the top of the frosting
Instructions
Over a double boiler, heat the whites and granulated sugar and salt, whisking constantly, until all the sugar is dissolved. Heat this slowly!! You don't want scrambled eggs!

Place the mixture in a stand mixer and whip on high until a peak forms and the mixture is cool, about 5 minutes.

Turn the mixer to medium speed and add the softened butter a little at a time.

Mix in the mascarpone.

Add the powdered sugar, rum, espresso powder, and vanilla and mix until the texture is smooth, silky, and pipable.

Frost cupcakes and top with a dusting of cocoa powder.
Notes
Adapted from Joshua Russell's modern buttercream recipe.
Nutrition
Calories:
236
kcal
|
Carbohydrates:
13
g
|
Protein:
1
g
|
Fat:
19
g
|
Saturated Fat:
12
g
|
Cholesterol:
50
mg
|
Sodium:
24
mg
|
Potassium:
23
mg
|
Sugar:
13
g
|
Vitamin A:
605
IU
|
Calcium:
18
mg