Easily Turn Leftover Frosting Into Cookies
Disclosure: As an Amazon Associate, I earn from qualifying purchases.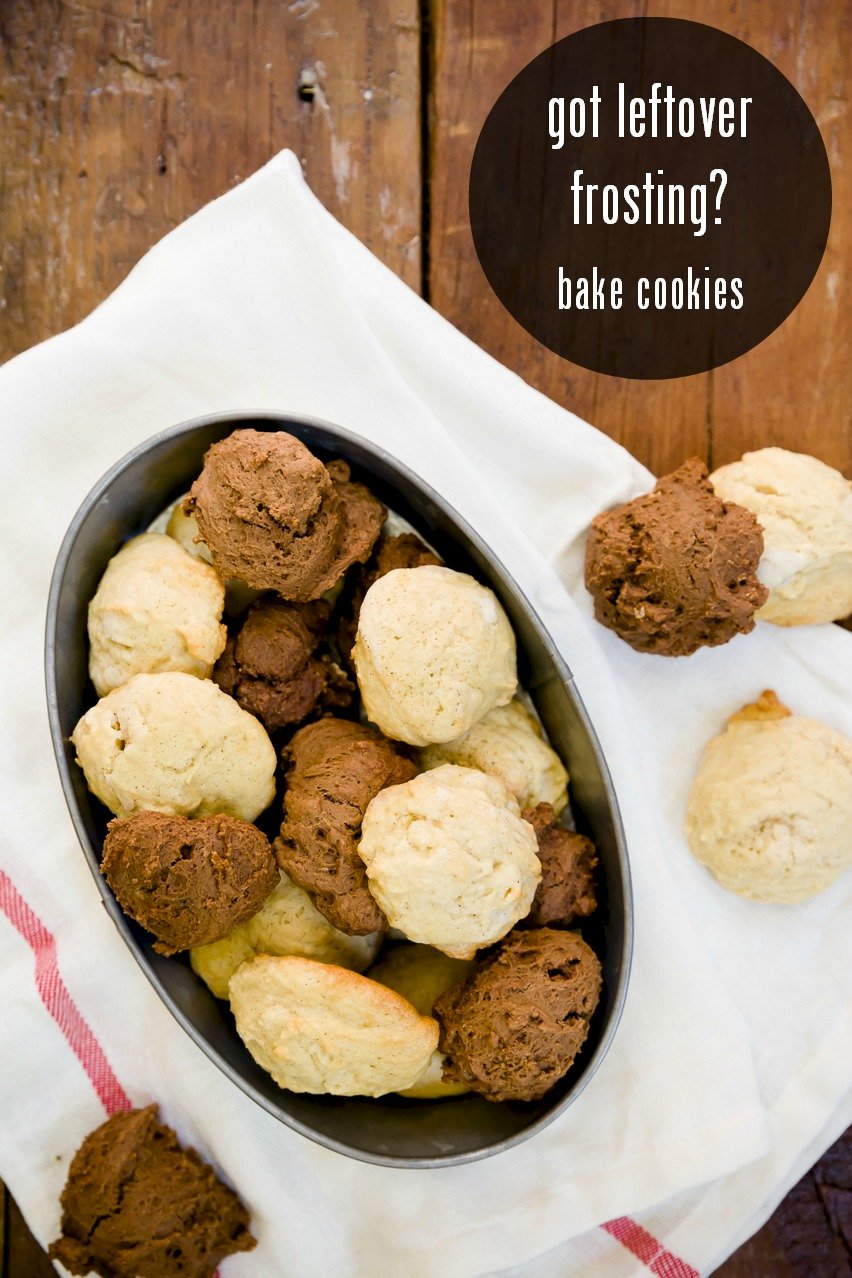 When frosting a batch of twenty-four cupcakes, I always end up with one unfrosted cupcake (fine by me as I love plain cake) or gobs of leftover frosting in the bowl. Leftover frosting gets pawned off to be used as a vegetable dip (That makes it healthy, right?) or to be slathered on crackers. Once, I even made a cupcake entirely of frosting (Gross or awesome? Your call!). Sometimes, I freeze my leftover frosting. In my freezer, it typically dies behind a carton of ice cream and a bag of bones Jonathan plans to use for soup stock. I now have a new solution for leftover frosting – use it to make leftover frosting cookies!
BTW – I give all my leftovers a similar treatment. See what I do with leftover cake and leftover cornbread, and how I make bostock from leftover hot dog buns.
Easily Turn Leftover Frosting Into Cookies
Long-time readers will remember when I wrote about the apron from The Smart Baker [paid link]. I still wear and love it!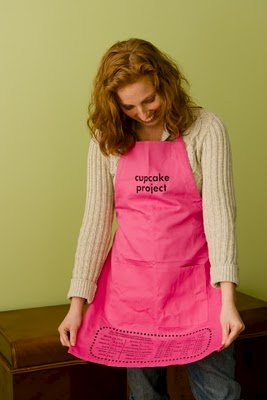 I also use and love The Smart Baker's cupcake stand. (View on Amazon) [paid link]
Not only does The Smart Baker make excellent products, but Stephanie, one of the founders of The Smart Baker, writes a wonderful food blog called Ice Cream Before Dinner (I like how she thinks!). She was the winner of the most recent round of Cupcake Roulette on the Cupcake Project Facebook page; I spin the virtual wheel and if I pick your blog, I bake something inspired by it. I read (OK, I skimmed) Stephanie's entire blog. Like me, she's been writing since 2007, so it was quite the task. There were so many great recipes to choose from, but I got most excited about her post, Frosting in My Cookie Dough. In that post, Stephanie explains how to make cookies using leftover frosting! I had to try the technique!
I experimented with both leftover vanilla bean buttercream frosting (a basic American-style buttercream) and leftover chocolate cream cheese frosting and made cookies by simply adding an egg, flour, baking soda, and salt to each variety. These will not be the best cookies that you have ever eaten, but if you put a plate of them on the counter, they will disappear. Any cookie is better than no cookie. Truth!
The cookies have a cake-like texture and take on the flavor of the frosting they are made from. I haven't yet tried this technique with a meringue buttercream, but I don't see why it wouldn't work. I'm making one later this week so I'll give it a go and update this post. Check back!
Update 7/14/14: I tried this with a meringue buttercream. Because the meringue buttercream isn't as sweet as American buttercream, the cookies weren't as sweet. We all still enjoyed them, but they tasted more like sweet biscuits. If you want a sweeter cookie and are using a meringue buttercream, I'd suggest adding a touch of sugar to the cookie recipe.
Here's my version of Stephanie's recipe, and check out the web story about turning leftover frosting into cookies, too!
Leftover Frosting Cookies
Re-purpose leftover frosting to make cookies.
Servings
12
small cookies
Ingredients
1/2

cup

of leftover frosting

1

cup

flour

1

large egg

1/4

teaspoon

baking soda

1/4

teaspoon

salt
Instructions
Preheat oven to 350 F.

Mix everything together.

Place 12 roughly even scoops of cookie dough on a cookie sheet lined with a Silpat or parchment paper.

Bake for 13 minutes or until the edges of the cookies are lightly browned.

Cool on a cooling rack and eat!
Notes
If the frosting recipe contains salt, you can leave that out of the cookie recipe. Feel free to play around with the recipe by adding chocolate chips or other mix-ins to the cookies.
Nutrition
Calories:
82
kcal
|
Carbohydrates:
14
g
|
Protein:
1
g
|
Fat:
1
g
|
Cholesterol:
13
mg
|
Sodium:
93
mg
|
Potassium:
19
mg
|
Sugar:
5
g
|
Vitamin A:
20
IU
|
Calcium:
4
mg
|
Iron:
0.5
mg
What do you think? Would you try leftover frosting cookies?