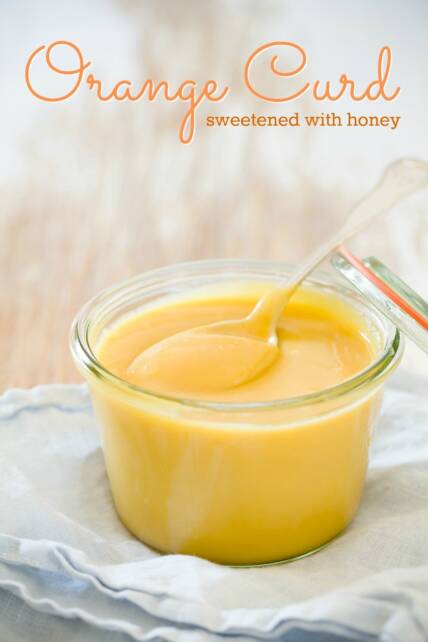 Just the other day, it was 82 degrees in St. Louis and our family went on a letterboxing treasure hunt in an historic graveyard.  All the while, my son called out, "The groundhog was right!  It's an early spring!"  But, a few days later, school was cancelled due to snow and we had to serve up our own sunshine: honey-sweetened orange curd.
We like our orange curd by the small spoonful, eaten over the sink so as not to drip on the floor.  Orange curd is thick enough to spread over toast or it can be easily swirled into yogurt for a treat.  I've also used it as a dessert topping (which I'll be sharing soon).
Orange Curd Sweetened With Honey Recipe
I developed this recipe after reading through scores of curd recipes.  Orange curd isn't quite as abrasive to the senses as lemon curd, but it still has a tangy, wake-you-up effect.  One notable difference between my recipes and many others is my omission of zest.  This was a texture choice.  I wanted my curd to be completely smooth.  If this isn't important to you, you can stir in zest to the completed curd to intensify its orange flavor.
If you've tried this recipe, please RATE THE RECIPE and leave a comment below!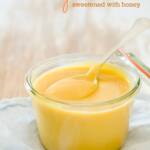 Honey Sweetened Orange Curd
Ingredients
6

tablespoons

unsalted butter

room temperature

3/4

cup

honey

Pinch

salt

2

eggs

4

egg yolks

1/4

cup

fresh-squeezed orange juice

2

tablespoons

lemon juice
Instructions
In a medium-sized mixing bowl, beat butter, honey, and salt until smooth.

Mix in the eggs and egg yolks one at a time until just combined.

Mix in the orange juice and lemon juice. The mixture may separate a little at this point and that is fine.

Transfer the mixture to a small pot on medium-low heat. Stir regularly until the mixture reaches 175 F on a candy thermometer, about 20 minutes. It should be bubbling periodically, but not a fast-paced boil.

Remove from the heat and strain out any clumps with a fine sieve. Press plastic wrap directly onto the surface of the curd and poke a few holes in it to let the steam release. Refrigerate until ready to use.
Recipe Notes
Stays fresh for up to one week in the refrigerator.
Huge thanks to my fabulous intern Faye from Live Bake Love for gifting me a set of the lovely Weck jars you see used in this post.  If you love curd, check out her cookie recipe that uses a passion fruit curd.