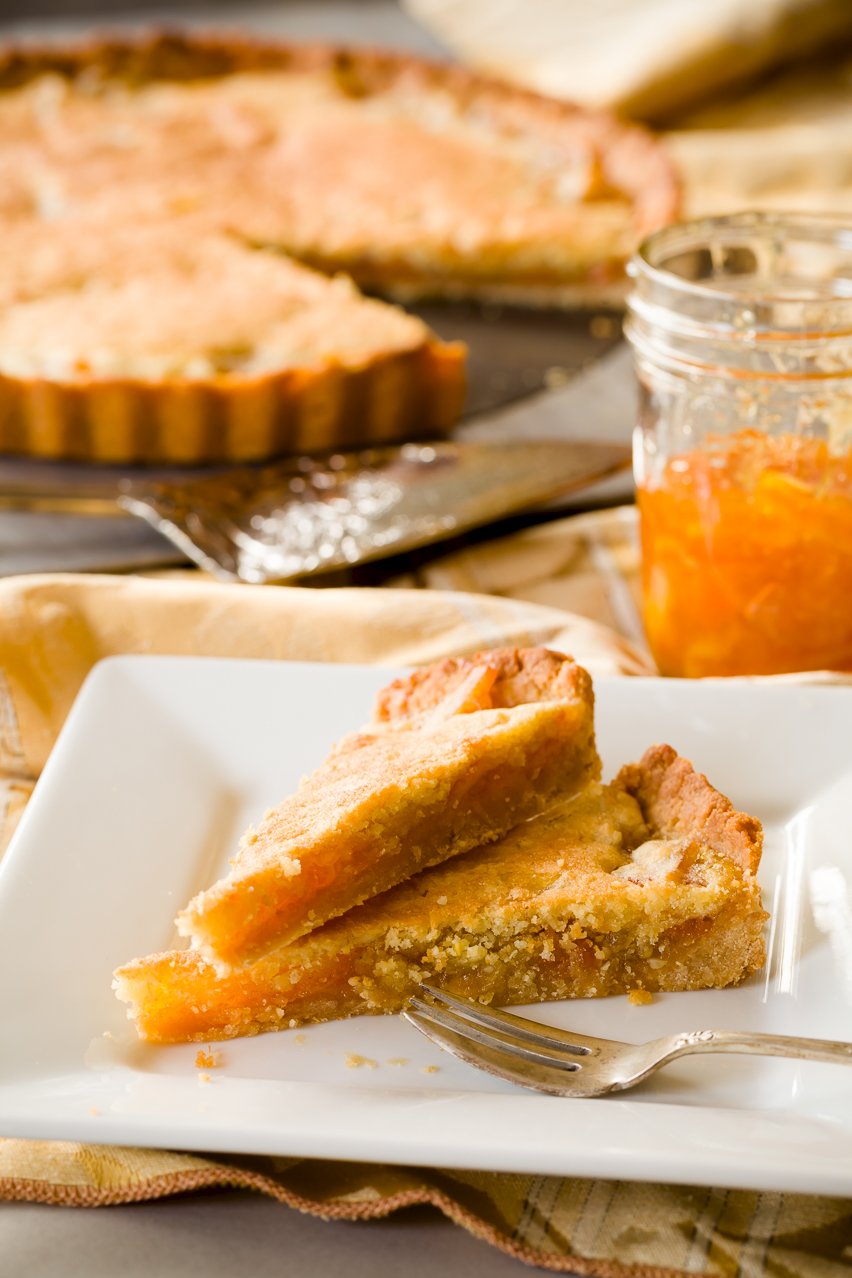 Bakewell tart is named after the town of Bakewell in England, but it still feels like a braggart title to me.  Bakewell (or "bake well" as I think of it) reminds me of the diner I used to visit in Pennsylvania whose name was simply "Best Diner."  After making my first Bakewell tart, I learned that the name was not a laughable irony – unlike the diner.  Bakewell tart is a dessert that comes together simply and the tart will likely turn out splendidly even if you adjust the ingredients significantly (as you'll see me suggest later in this post).
Bakewell tart is a pastry that traditionally consists of tart crust topped with a layer of jam and then a layer of frangipane (almond filling).  I baked on a chilly day when leaving the house had zero appeal.  So, I created my own version of Bakewell tart using what was available.  I made a salted honey tart crust, polishing off two almost-empty honey jars that should have long ago been combined.  For the jam layer, I used homemade orange marmalade gifted to me at Christmas that I'd saved for something special.  And, instead of an almond filling, I used pine nuts that I had my freezer.  (Tip: Keep nuts in the freezer so they don't get rancid.)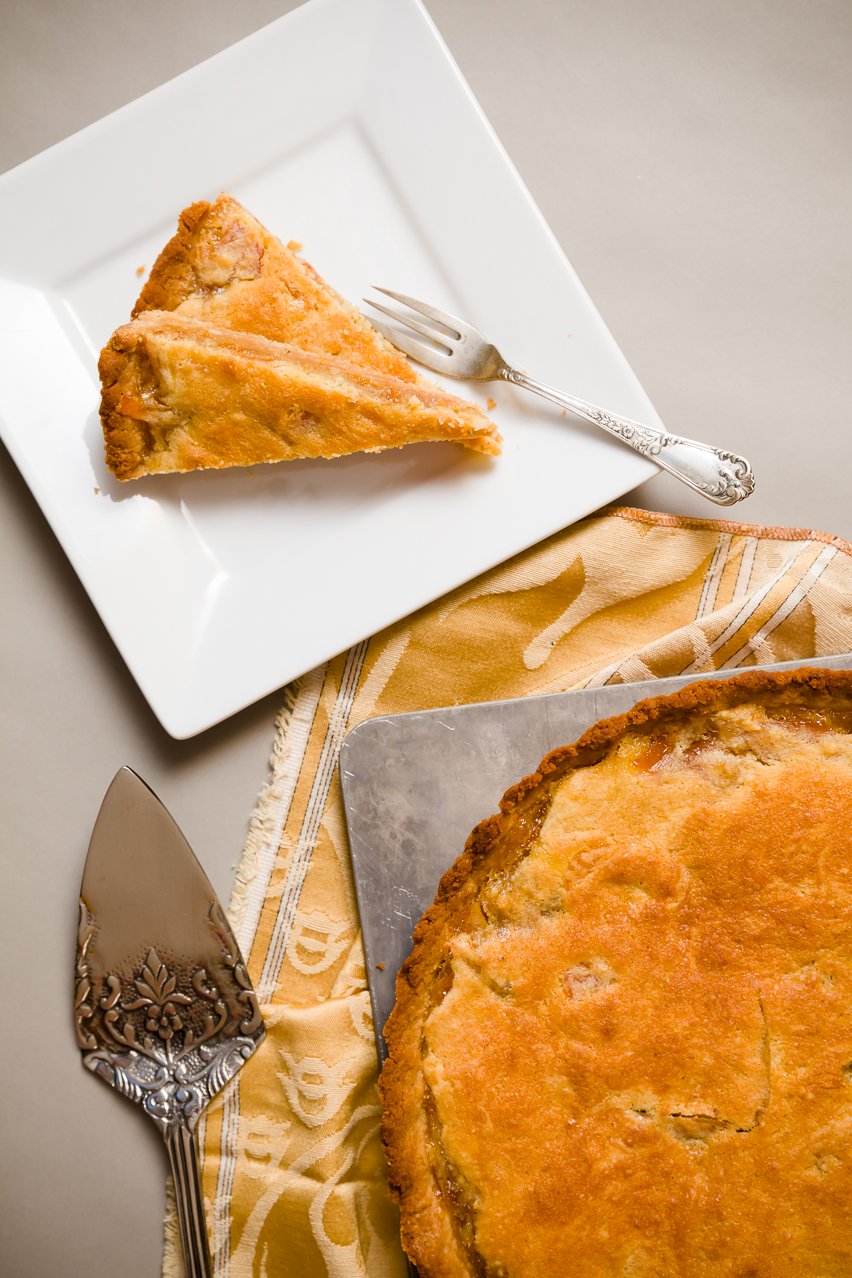 The salted honey crust was my favorite part of this tart.  You will see it appear again in future tart recipes on this site and maybe even as a shortbread-type cookie.  However, choosing a jam that you love is what will make or break the tart for you.  I want to try this again with a fig spread or some strawberry jam in the summer.
I encourage you to make this recipe your own; use an equal substitution of whatever jam and nuts you have on hand.  I left my tart without the flair of frosting or a caramel drizzle – not every dessert needs a snazzy costume.  But, gussy yours up as you see fit.
Orange Marmalade Bakewell Tart with a Salted Honey Crust
This is a delicious twist on the classic bakewell tart.
Ingredients
Salted Honey Crust Ingredients
1/2

cup

unsalted butter

room temperature

1/2

cup

sugar

1/4

cup

honey

2

cups

all-purpose flour

1/2

teaspoon

salt
Bakewell Tart Ingredients
7

tablespoons

all-purpose flour

3

ounces

pine nuts

ground in a food processor

1/4

teaspoon

baking powder

1/4

cup

unsalted butter

room temperature

1/2

cup

superfine sugar

1

large egg

tart crust

from above

1

cup

orange marmalade
Instructions
Salted Honey Crust Instructions
Preheat oven to 325 F.

In a medium-sized mixing bowl, beat butter until light and fluffy.

Beat in sugar and honey until fully combined.

Mix in flour and salt until just combined.

Press dough into the bottom and up the sides of a greased 11" tart pan with a removable bottom. Be sure the dough goes all the way to the top of the sides of the pan. It may fall a little during the baking and if it's already shy of the top, it will be even lower after the bake.

Use a fork to poke shallow holes all over the dough.

Bake for 20 minutes and remove from the oven to cool slightly.
Bakewell Tart Instructions
Increase oven temperature to 375 F.

In a small bowl, whisk together flour, ground pine nuts, and baking powder.

In a medium-sized bowl, beat butter and sugar until light and fluffy.

Beat in the egg until just combined.

Fold in the flour mixture a little at a time until just combined.

Spread the marmalade over the tart crust.

Evenly spread the batter over the marmalade.

Bake for 25 minutes or until the filling is firmly set and lightly browned.
Notes
Recipe adapted from the traditional Bakewell tart posted by Trishie on AllRecipes.
Nutrition
Nutrition Facts
Orange Marmalade Bakewell Tart with a Salted Honey Crust
Amount Per Serving
Calories 398
Calories from Fat 144
% Daily Value*
Fat 16g25%
Cholesterol 44mg15%
Sodium 119mg5%
Potassium 96mg3%
Carbohydrates 60g20%
Protein 4g8%
Vitamin A 390IU8%
Vitamin C 1.3mg2%
Calcium 23mg2%
Iron 1.7mg9%
* Percent Daily Values are based on a 2000 calorie diet.