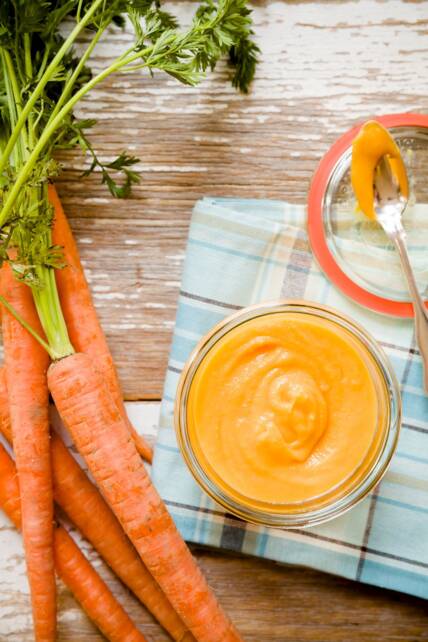 One of our son's Kindergarten friends thought my carrot curd tasted like spiced pumpkin pie.  He wasn't that far off.  The carrot curd taste is distinctly carrot with a hint of ginger, but it is thick, sweet, and buttery.  I could totally see how anyone could think they were eating pumpkin pie or even candied yams if they didn't know better.
Unlike pie, carrot curd is totally spreadable.  Slather carrot curd on toast, muffins, or rolls.  Use carrot curd as a filling between layers of yellow cake or pipe it into donut holes.  Mix it into yogurt or go savory and dollop it on top of a steak (no regrets on that one).  Lastly, you could wait for my recipe using carrot curd, coming very soon!
Who is totally ready for spring?  Me!  Me!  Me!
If you've tried this recipe, please RATE THE RECIPE and leave a comment below!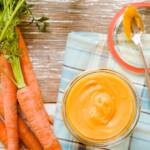 Carrot Curd
Ingredients
6

tablespoons

unsalted butter

room temperature

3/4

cup

sugar

Pinch

salt

2

eggs

4

egg yolks

1/4

cup

+ 2 tablespoons carrot juice

3/4

teaspoon

ground ginger
Instructions
In a medium-sized mixing bowl, beat butter, sugar, and salt until smooth.

Mix in the eggs and egg yolks one at a time until just combined.

Mix in the carrot juice and ginger. The mixture may separate a little at this point and that is fine.

Transfer the mixture to a small pot on medium-low heat. Stir regularly until the mixture reaches 175 F on a candy thermometer, about 20 minutes. It should be bubbling periodically, but not a fast-paced boil.

Remove from the heat and strain out any clumps with a fine sieve. Press plastic wrap directly onto the surface of the curd and poke a few holes in it to let the steam release. Refrigerate until ready to use.
Recipe Notes
Stays fresh for up to one week in the refrigerator.
P.S. If you like curd, I hope you didn't miss the honey sweetened orange curd that I recently posted.  Will there be more curds coming soon?  I don't know.  Would you like some?