Hamantaschen Recipe – Tips to Make the Perfect Purim Cookie
Published , Last updated by
Stef
Disclosure: As an Amazon Associate, I earn from qualifying purchases.
Hamantaschen are a classic dessert for the Jewish holiday of Purim. They are cookies designed to look like the triangular hat that the villain of the Purim story, Haman, wore.
Hamantaschen dough is really easy to make and requires no refrigeration time! The filling options for Hamantaschen are endless – from poppy seed filling to all kinds of jams, chocolate, and more. I share lots of unique ideas in this post as well as tips and tricks for how to get the triangular cookies to hold their shape.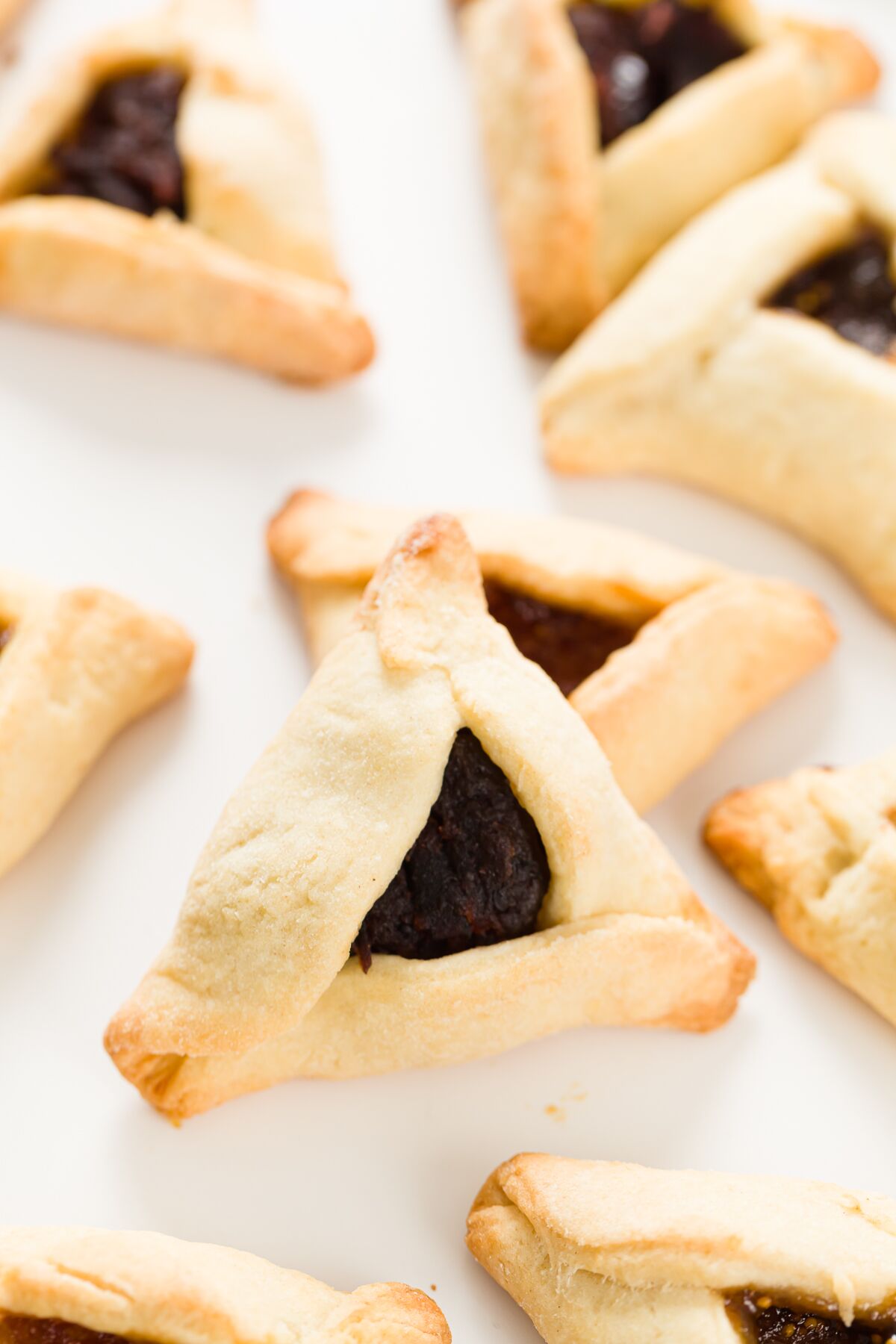 There is a bit of a rift in the Jewish community as to what the perfect hamantaschen texture should be.
Some like their hamantaschen cakey, while others, like myself, prefer the crisp cookie variety. My recipe is crispy and crunchy.
As all good Jewish recipes should be, this recipe for hamantaschen was passed down from my mom. She got the recipe from the 1955 Peekskill Cookbook (I presume that it was a fundraising cookbook for some organization in her town). The hamantaschen recipe was submitted to the cookbook by Dora Levin. Dora, I don't know who you are or if you are still alive, but your recipe is now famous!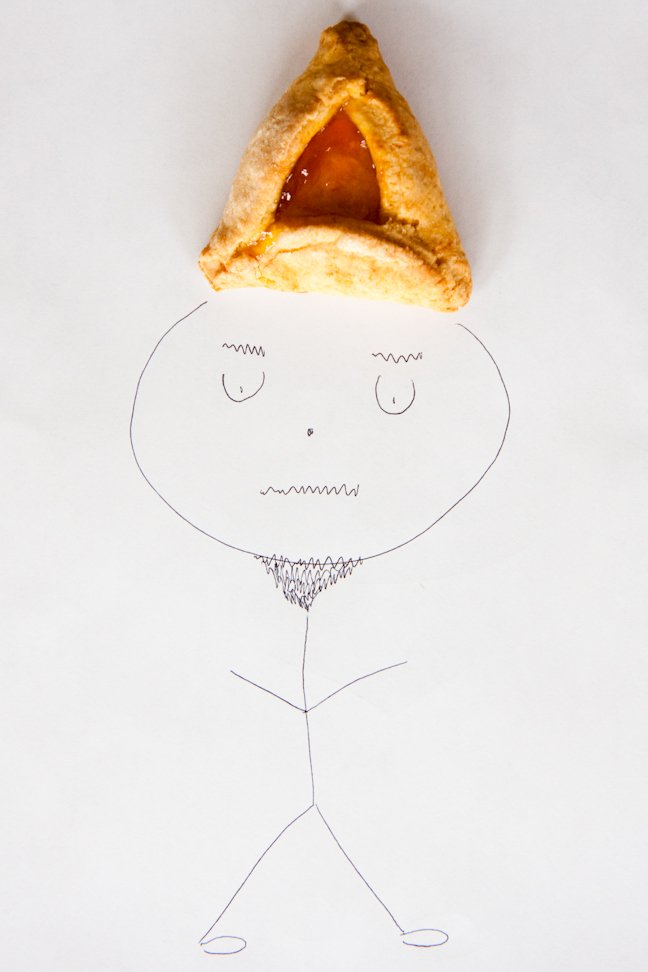 How to Make Hamantaschen
Mix the dough and roll it out to 1/8″ thick. I like to roll between two silicone mats. This helps keep the dough from sticking.
Tip: You can use the same dough to make more cakey hamantaschen by rolling to 1/4″ thick instead of 1/8″ thick.
Cut the dough into circles any size that you like. You can use cookie cutters or the rim of a glass. I make mine with a 3 1/2 inch diameter circle.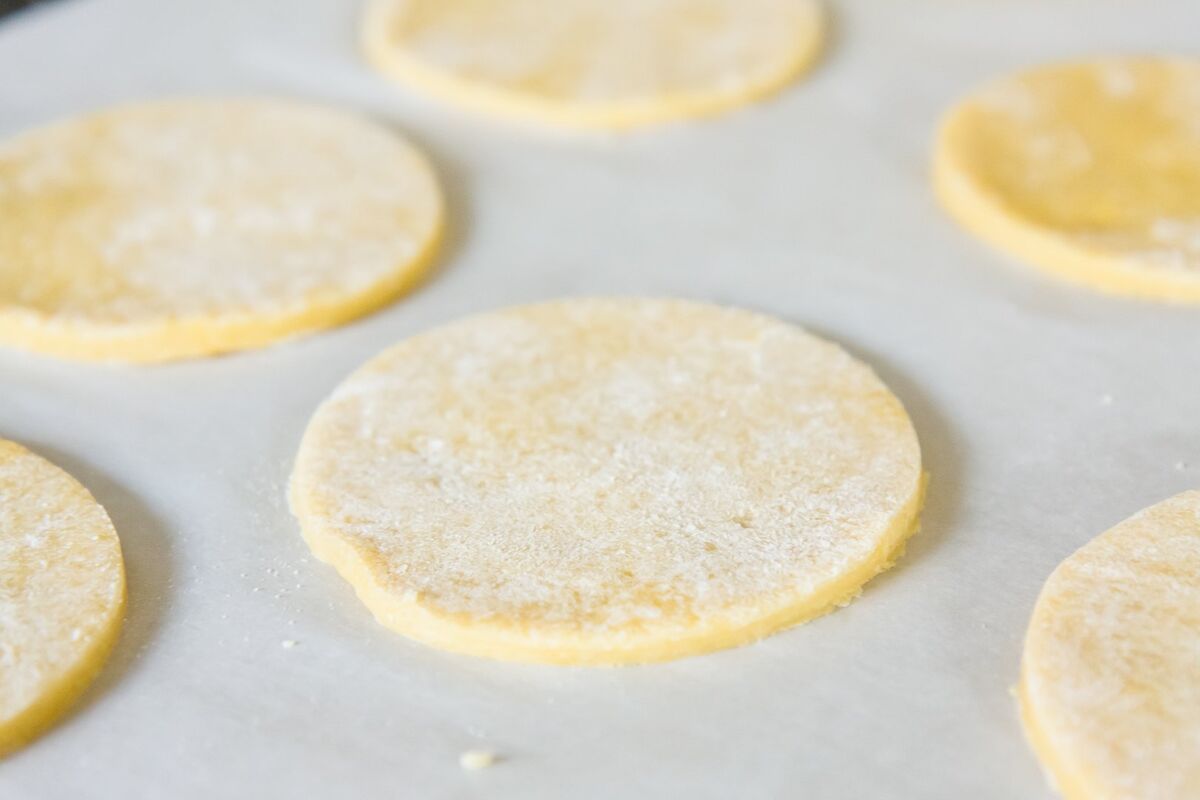 Next, put a dollop of your filling in the middle of each circle.
DO NOT put too much filling or it will overflow.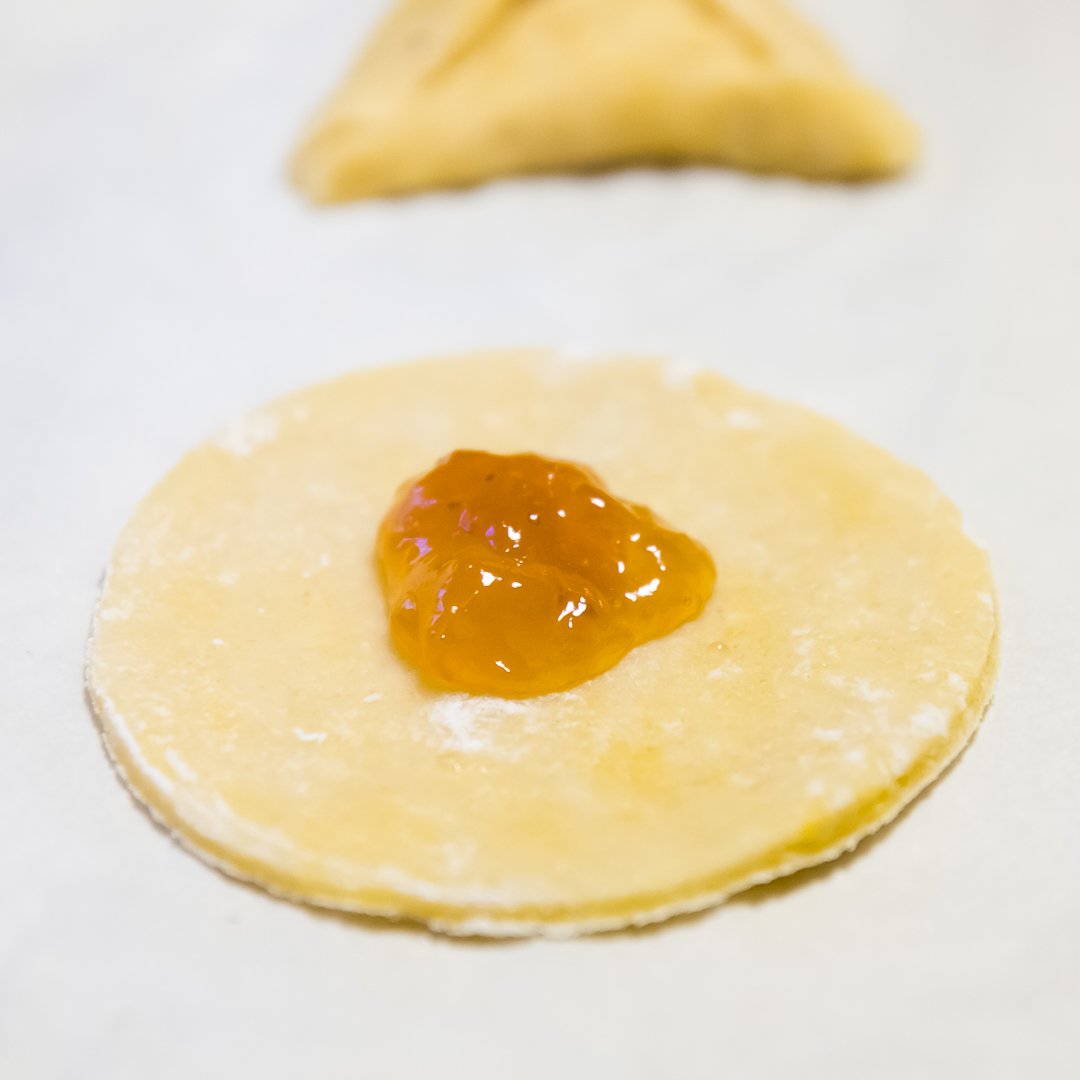 Now, the trick is to turn the circle into a triangle.
What many people do is pinch the circle to create to the triangle.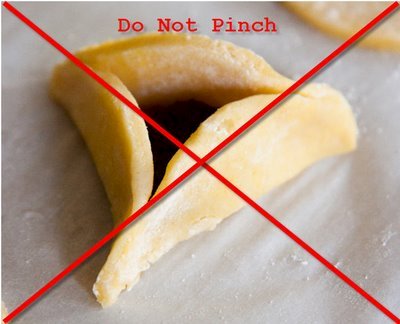 We Jews seem to have a thing for pinching. [Insert mental image of a Jewish grandma squeezing a baby's cheeks and saying, "Such a shayna punim (pretty face)."] When I first attacked the task of turning the circles into triangles, my instinct was simply to pinch in the corners.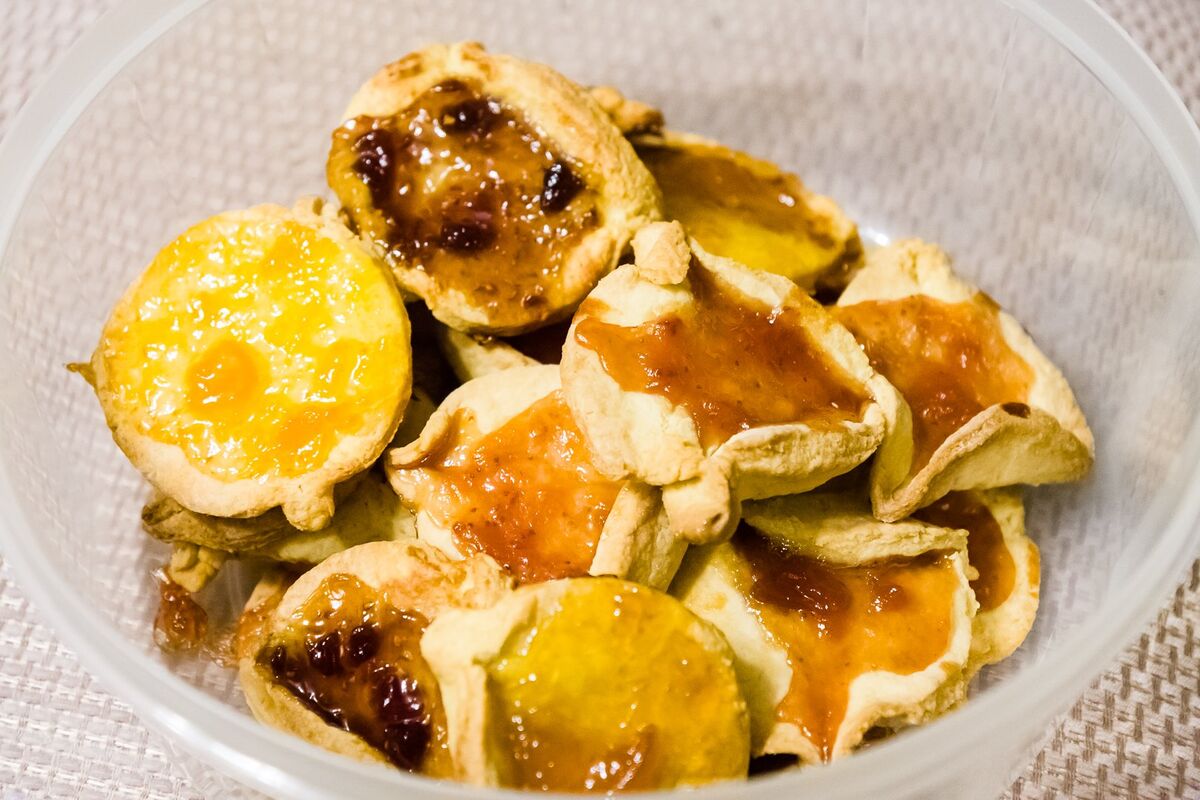 The problem, as you can see, was that they all opened up during baking. Moral (and this should apply in all areas of life): Do not pinch!
So… how do you shape hamantaschen?
The trick to keeping hamantaschen closed is to fold! Fold down one third of the circle covering a portion of the filling. Then, fold the next third down, overlapping the first third. Finally, fold down the last third to create your triangle. Gently push the overlapping areas to seal in the goodness.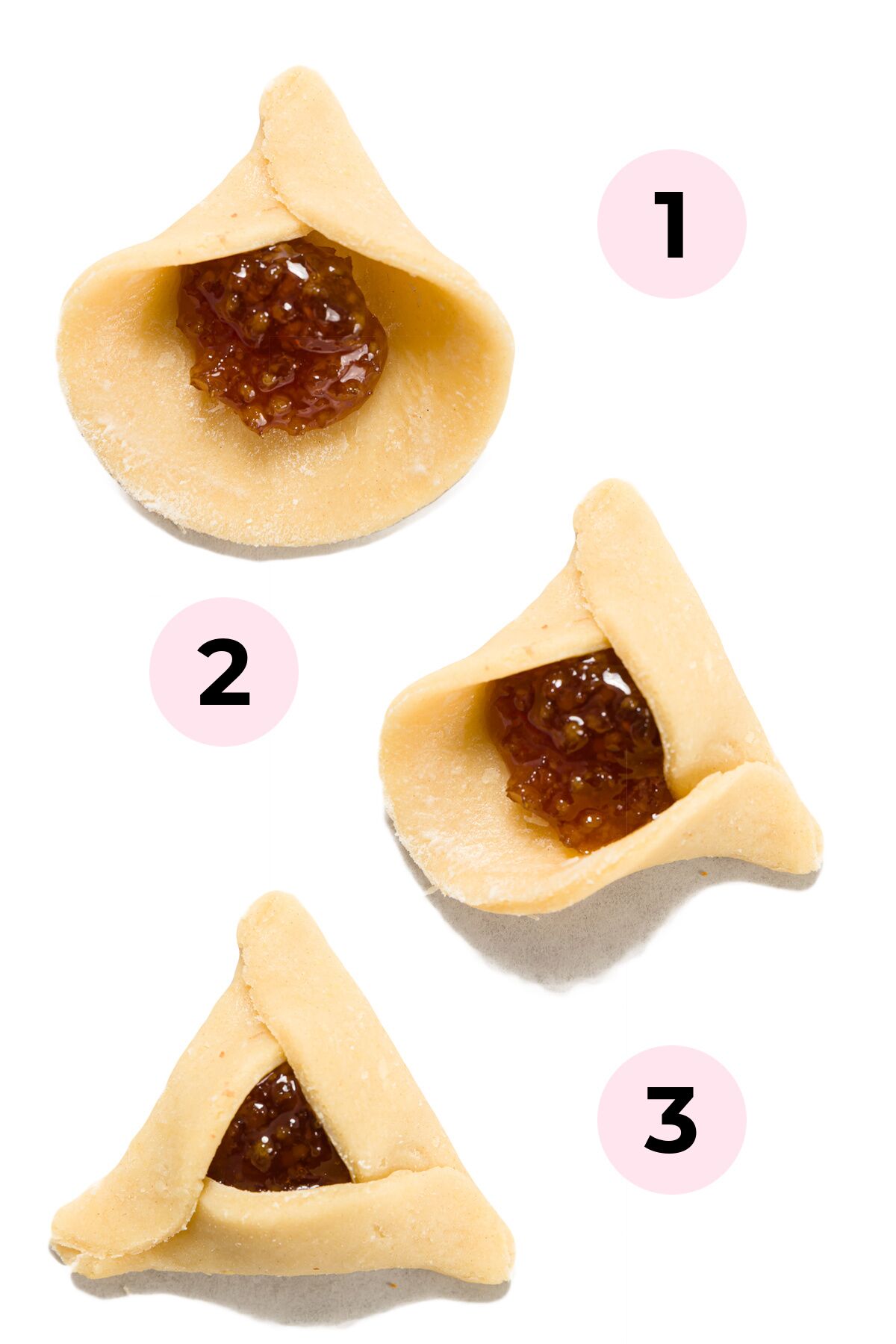 Once you've folded your hamantaschen, place them on a cookie tray and freeze for 15 minutes. Freezing the dough helps it to keep its shape in the oven.
If you prefer a shiny look to your hamantaschen, brush with egg just before baking.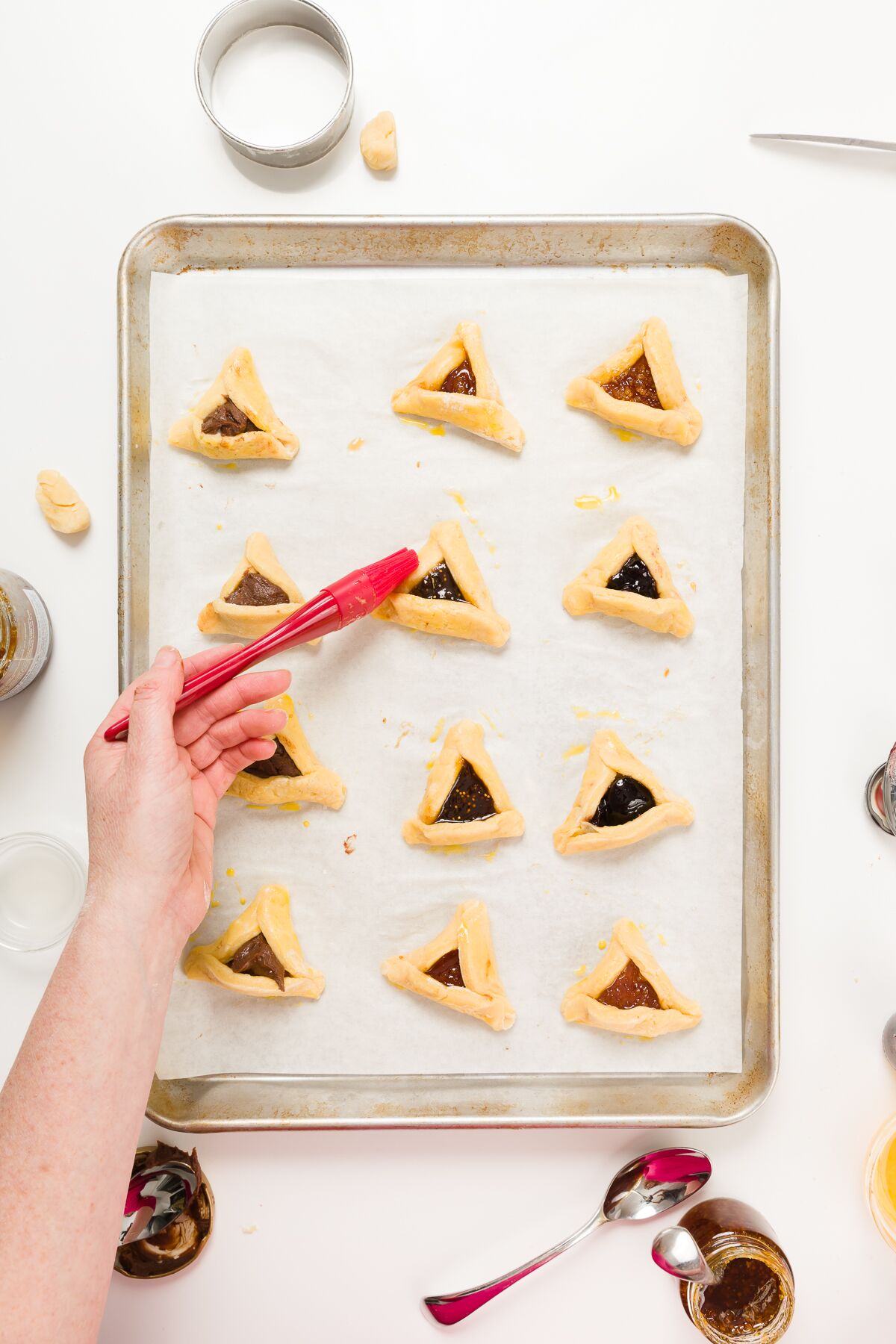 Bake the dough and you'll get beautiful hamantaschen for Purim!
Hamantaschen Filling Ideas
Traditionally, hamantaschen are filled with jam or poppy seed filling. Prune hamantashen filling is also very common. It's made by blending half a pound of prunes in a food processor with the juice and zest of one lemon and a half cup of honey.
However, like thumbprint cookies, the sky is the limit when it comes to fillings.
Tip: Choose a thick filling as thin and runny fillings can leak out and cause the cookie to open up during baking.
Some unique hamantashen fillings include:
Hamantashen Recipe – Tips to Make the Perfect Purim Cookies
An easy recipe for perfect Hamataschen cookies for Purim!
Ingredients
3

cups

flour

3

teaspoons

baking powder

1/2

cup

granulated sugar

1/4

teaspoon

salt

3/4

cup

unsalted butter

room temperature

3

large eggs

your choice of filling

jam, jelly, preserves, chocolate chips, nuts, prune filling, etc.
Instructions
Sift together flour, baking powder, sugar, and salt.

Mix in butter and eggs.

Lightly flour work surface and roll out dough to 1/8 inch thick. (If you prefer a cakier hamantashen, roll to 1/4".)

Use a cookie cutter or the rim of a glass to cut hamantaschen dough into circles.  You can make them any size that you like. I like to use a 3 1/2" cookie cutter.

Add about 1 teaspoon of filling to the center of each piece of dough for a 3 1/2" cookie. Use more or less if you make a different size.

Use your finger or a pastry brush to moisten the edge of each circle with a tiny bit of water. This will help the cookies stay closed during baking.

Fold down one third of the circle, covering a portion of the filling. Then, fold the next third down, overlapping the first third. Finally, fold down the last third to create your triangle. Press the overlapping areas gently to seal in the goodness.

Transfer to a try lined with parchment paper. Put the tray in the freezer for about 15 minutes. This will help the cookies to hold their shape.

Remove from the freezer and bake for 12-15 minutes or until cookies just start to brown.
Notes
If you like a shinier look to your cookies, brush the top of the triangle with egg before baking.
Always fold to shape the cookies, never pinch.
Have fun experimenting with different fillings. You can use many different fillings in the same batch of cookies. Thicker fillings work better than thin runny fillings. If you want to use a thin filling, use just a little of it to keep it from overflowing out of the cookie.
Store the cookies in a sealed container for up to one week or package them to give to friends in Purim baskets (mishloach manot).
Nutrition
Calories:
88
kcal
|
Carbohydrates:
10
g
|
Protein:
1
g
|
Fat:
4
g
|
Saturated Fat:
2
g
|
Cholesterol:
23
mg
|
Sodium:
22
mg
|
Potassium:
51
mg
|
Sugar:
2
g
|
Vitamin A:
140
IU
|
Calcium:
19
mg
|
Iron:
0.6
mg
Stay Connected!
Join my mailing list - and receive a free eBook!