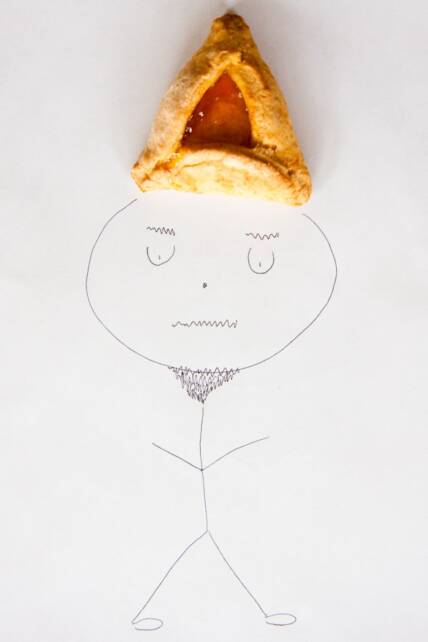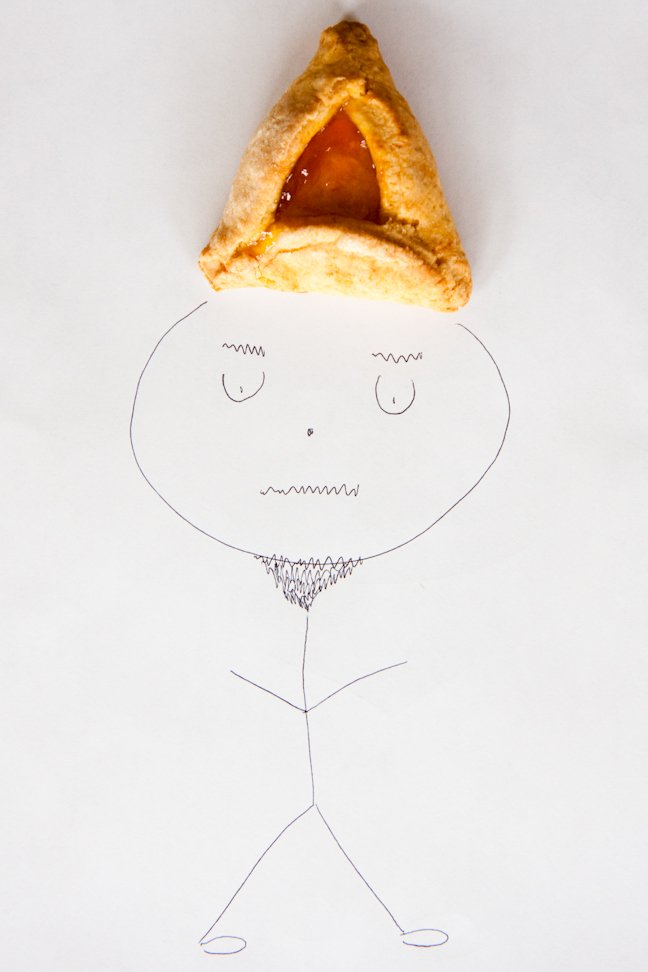 Hamantashen are a classic Purim dessert. Hamantashen are always triangular and designed to look like the triangular hat that the villain of the Purim story, Haman, wore. I have no idea why we bake cookie shaped like hats; that's just what we do. For those less familiar with the story of Purim, I have a YouTube clip telling the Purim story in rap format at the bottom of this post. First things first, though. Let's take a step-by-step look at how to make (and how not to make) hamantashen.
Hamantashen Recipe
There is a bit of a rift in the Jewish community as to what the perfect hamantashen texture should be. Some like hamanshen cakey, while others, like myself, prefer the crisp cookie variety. Sadly, there is one bakery in St. Louis (you know which one it is if you live here) that seems to supply the hamantashen for the entire city. Their recipe falls into the cakey variety and I'm not a fan. The recipe below is crispy and crunchy. As all good Jewish recipes should be, this recipe for hamantashen was passed down from my mom. She got the recipe from the 1955 Peekskill Cookbook (I presume that it was a fund raising cookbook for some organization in her town). The hamantashen recipe was submitted to the cookbook by Dora Levin. Dora, I don't know who you are or if you are still alive, but your recipe is now famous! The hamantashen recipe did not come with a count of how many cookies that it makes, perhaps because you can make them any size that you like. It does make quite a lot of cookies – plus the dough is really easy to make and requires no refrigeration time – so in a pinch (beware of foreshadowing), you could always quickly whip up some more.
If you've tried this recipe, please RATE THE RECIPE and leave a comment below!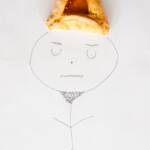 Hamantashen Recipe – Tips to Make the Perfect Purim Cookie
Ingredients
3

cups

flour

3

teaspoons

baking powder

1/2

cup

sugar

1/4

teaspoon

salt

3/4

cup

butter

room temperature

3

eggs

your choice of filling

jam, jelly, preserves, chocolate chips, nuts. The recipe also included directions for a prune filling: blend raw prunes in a food processor, adding the juice and rind of one lemon and 1/2 C honey for every pound of prunes used.
Instructions
Sift together flour, baking powder, sugar, and salt.

Mix in butter and eggs.

Roll out dough and form hamantashen (I've got step by step visuals on this below).

Bake on a well-greased cookie sheet or on parchment paper for 12-15 minutes at 400 F.
 How to Make Hamantashen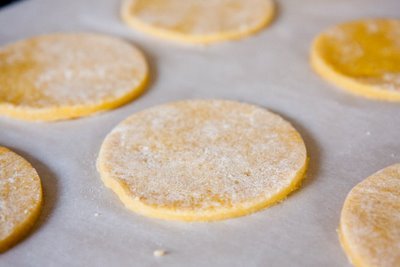 Roll out the dough and use cookie cutters or the rim of a glass to cut into circles. The recipe called for the dough to be 1/4 inch thick. Mine might have been a bit thicker than that. I didn't measure. Don't obsess about it. You can make the circles any size you like. I made mine with a 3 1/2 inch diameter because that is the perfect size to sit on top of the hamatashen cupcakes that are coming soon.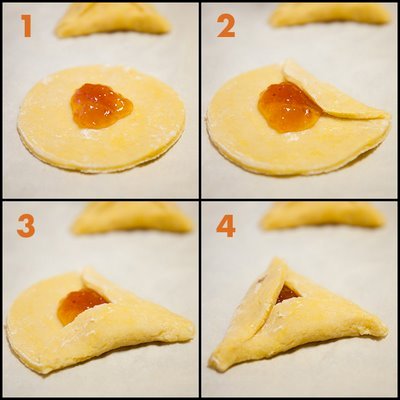 Next, you'll want to put a dollop of your filling in the middle of the circle. DO NOT put too much filling or it will overflow. Look at the first step's photo to get a sense of the proportion of filling to circle. Follow pictures two through four to fold over the circle, magically turning it into a triangle. Optional – You may want to moisten the edge of the circle with some water before folding. This will help it to stick shut. It's especially helpful if the dough has gotten at all dry. You also may consider brushing the top of the triangle with egg to give it some extra shine.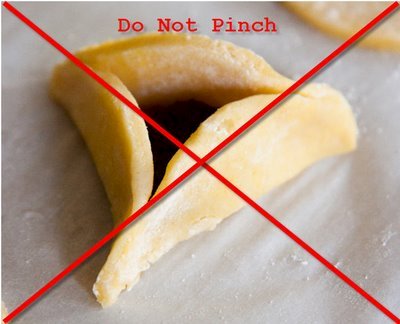 We Jews seem to have a thing for pinching. [Insert mental image of a Jewish grandma squeezing a baby's cheeks and saying, "Such a shayna punim (pretty face)."] When I first attacked the task of turning the circles into triangles, my instinct was simply to pinch in the corners.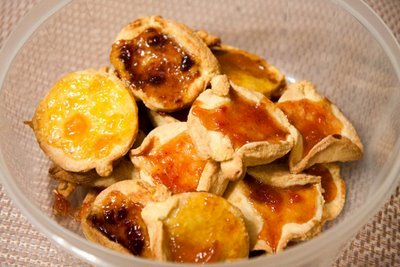 The problem, as you can see, was that they all opened up during baking. Moral (and this should apply in all areas of life): Do not pinch! Follow the folding method shown above.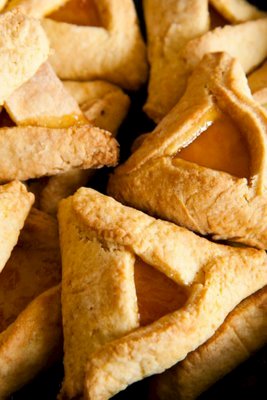 If you do that, you will have pretty hamantashen!