A cupcake bouquet is such a beautiful way to present cupcakes – they are gorgeous to look at and delicious to eat! Luckily, they aren't that hard to make once you know the technique.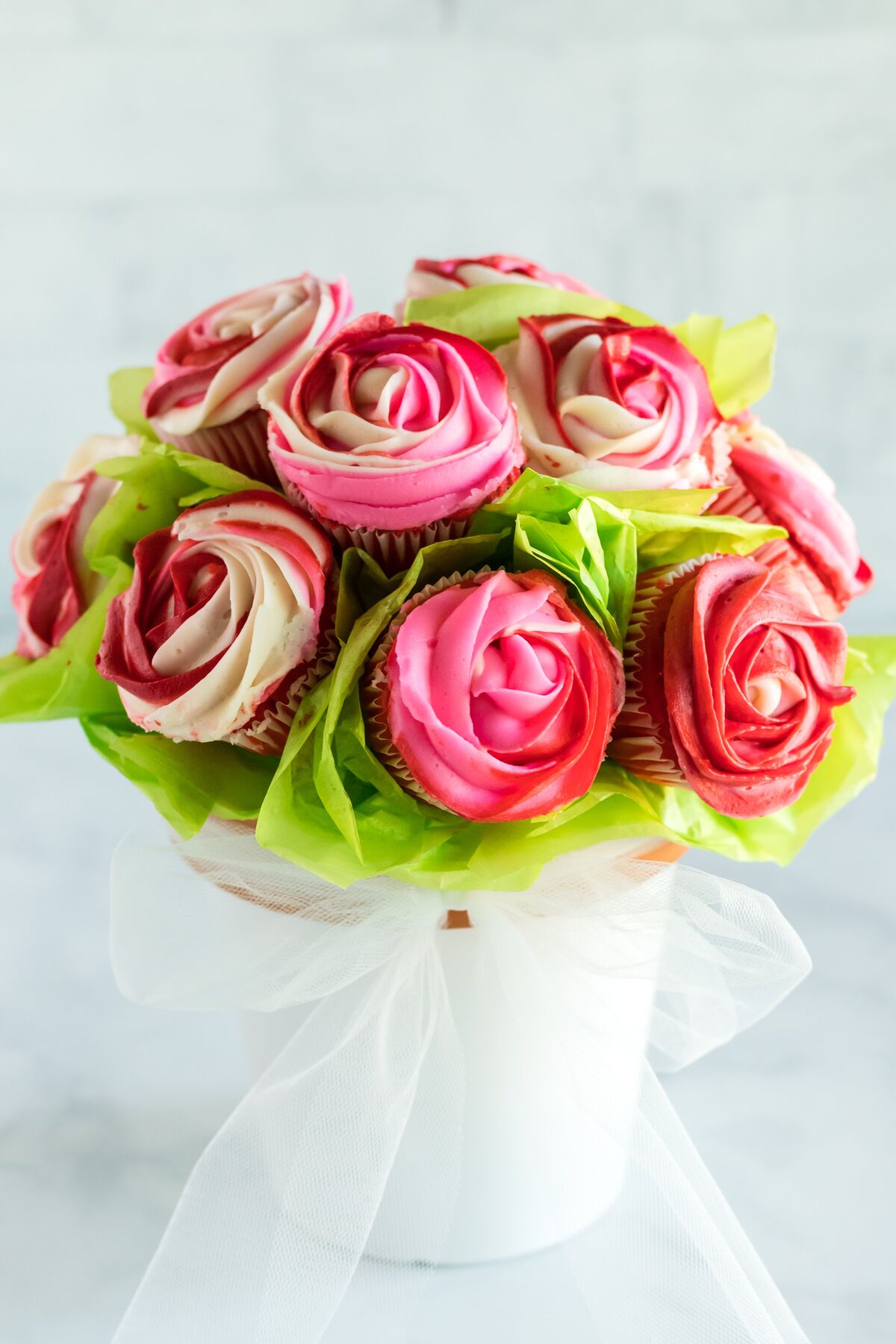 Start With Flower Cupcakes
To make a cupcake bouquet, you'll first need flower cupcakes. Decorate any cupcake like a flower by using your favorite buttercream frosting and a large drop flower piping tip.
Starting in the center of a cupcake, squeeze lightly and begin to circle the cupcake in a rotation, continually wrapping around the previous layer of frosting.
Continue all the way around until you reach the outer portion of the top of the cupcake and liner, leaving no empty space.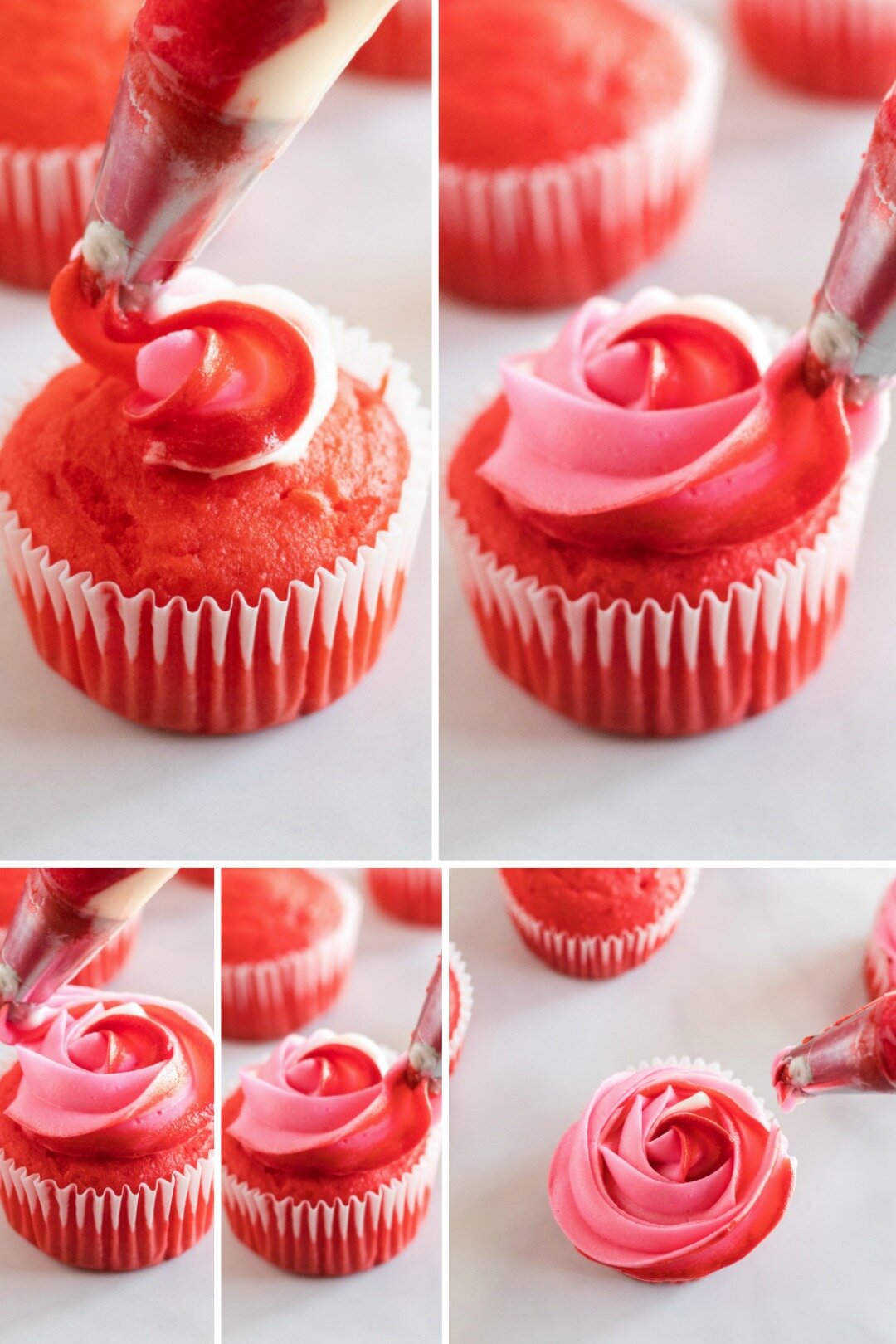 When you have completely covered the top of the cupcake, stop applying pressure to the piping bag and pull the piping tip away from the cupcake to get the completed rose design.
If you want to get fancy with your flowers, use multiple colors of frosting.
Place each color in its own piping bag and then place the bags inside a another bag. Tip: Don't overfill the bags, since they are all going into a fourth bag. If they are too full, they won't fit and frosting will overflow out the top of the bag.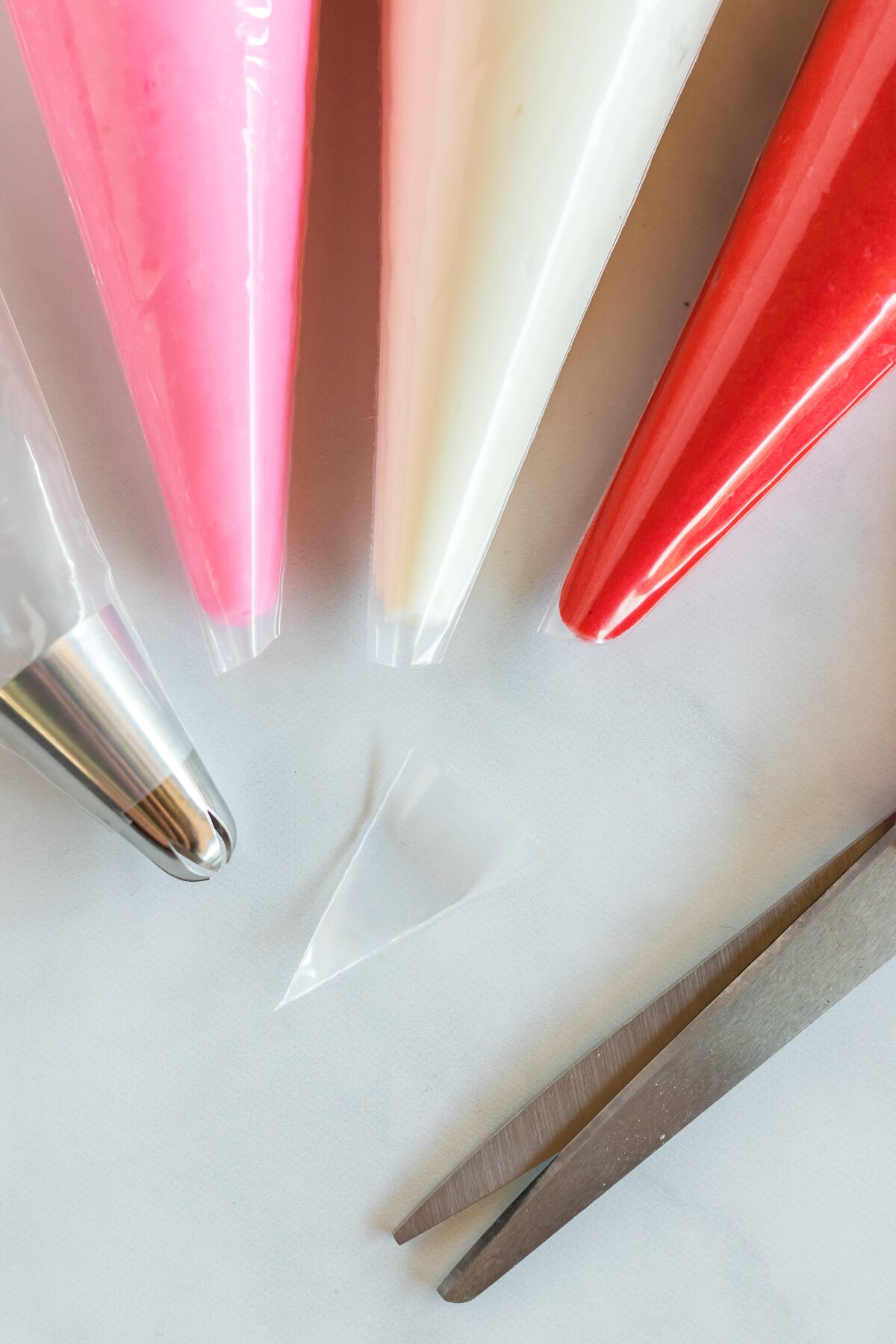 When using multiple colors for flowers, turn the bag in your hand each time you begin a new cupcake so you will have a small variation of coloring for each flower. This makes the roses look more realistic.
Arrange Your Cupcake Bouquet
To make your bouquet, you'll need about 12 cupcakes and a styrofoam half ball (2.8 inches x 5.7 inches) that fits snugly in a terracotta or ceramic pot. You can find these items at Michael's or other craft supply stores. You'll also need some appetizer toothpicks (they are a little longer than regular ones) and green tissue paper.
Place the styrofoam dome into the pot and add two toothpicks for each cupcake, staggering them to give extra stability for the cupcakes. (One pick holds a cupcake fine, but I highly suggest two along with doubling the cupcake liners if the bouquet will be sitting out for a while or traveling.)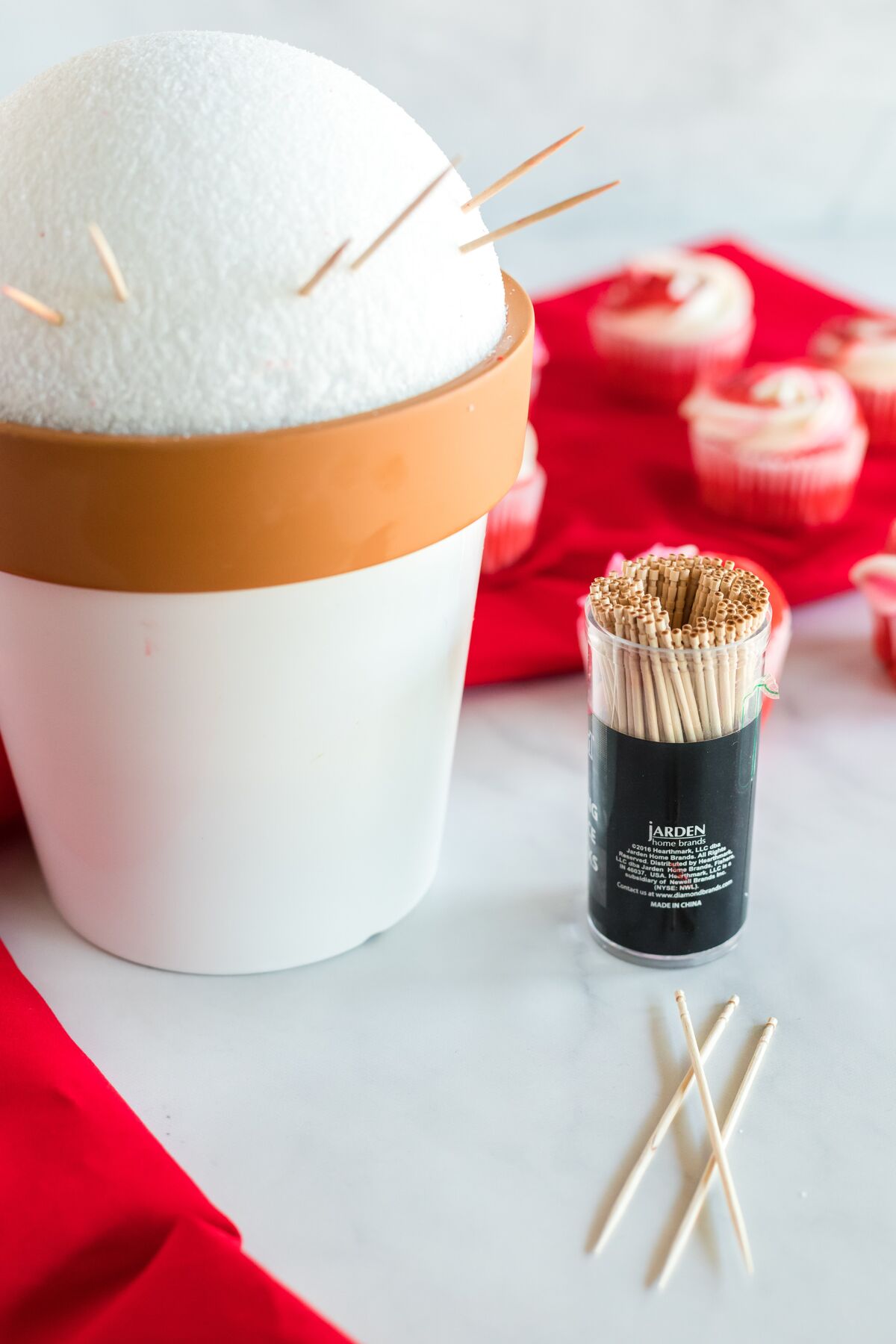 Slowly begin adding cupcakes onto the picks, starting at the bottom and working your way up. Be sure to leave a little space in between the cupcakes for tissue paper leaves. (You can also add the tissue paper as you go, but I have found it easier to fill in spaces instead of having it be in the way as I place the cupcakes.) Once the dome is full to your liking, return the bouquet to the refrigerator until ready to add tissue leaves.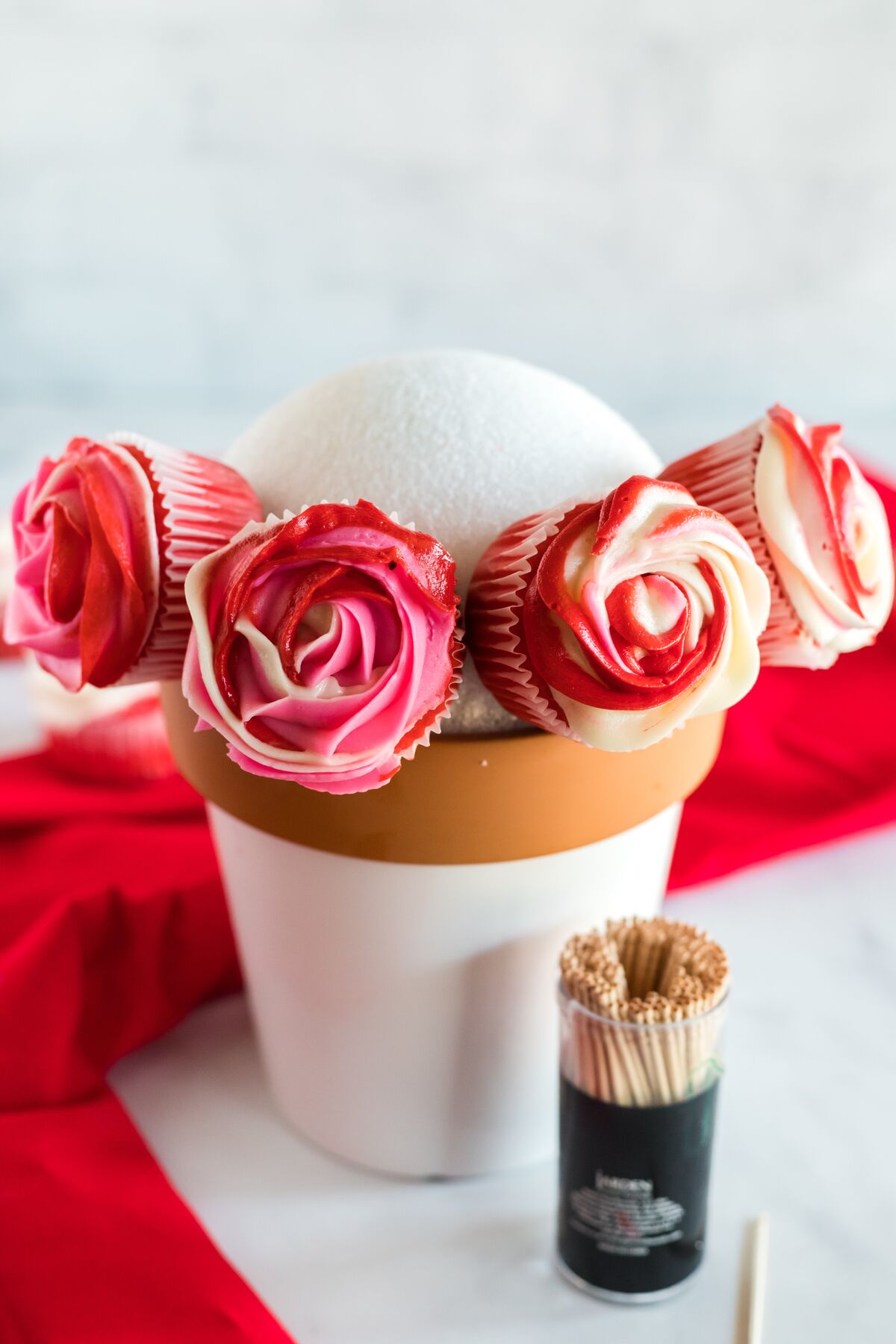 Cut green tissue paper into small strips, approximately 5×5 inches. Fold them diagonally, and then fold them again, and then fold again, one last time. Twist the bottom of the corner and gently place in-between flower cupcakes, using smaller toothpicks if needed. Fluff the tissue paper as needed to fill in the spaces between cupcakes.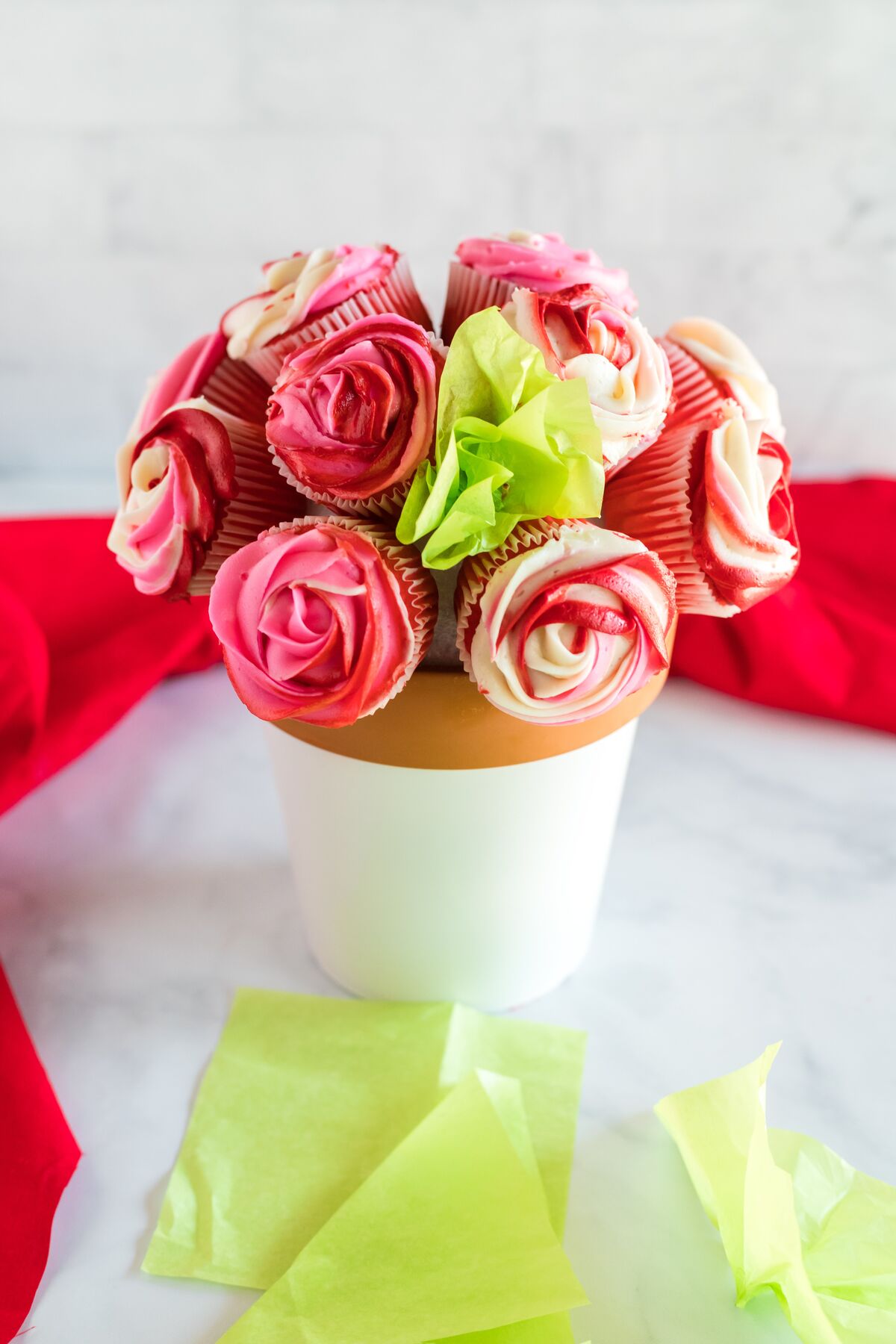 Add a ribbon or tulle for an extra touch. (I have also grabbed plastic card holders from florists and used them to add a small card.)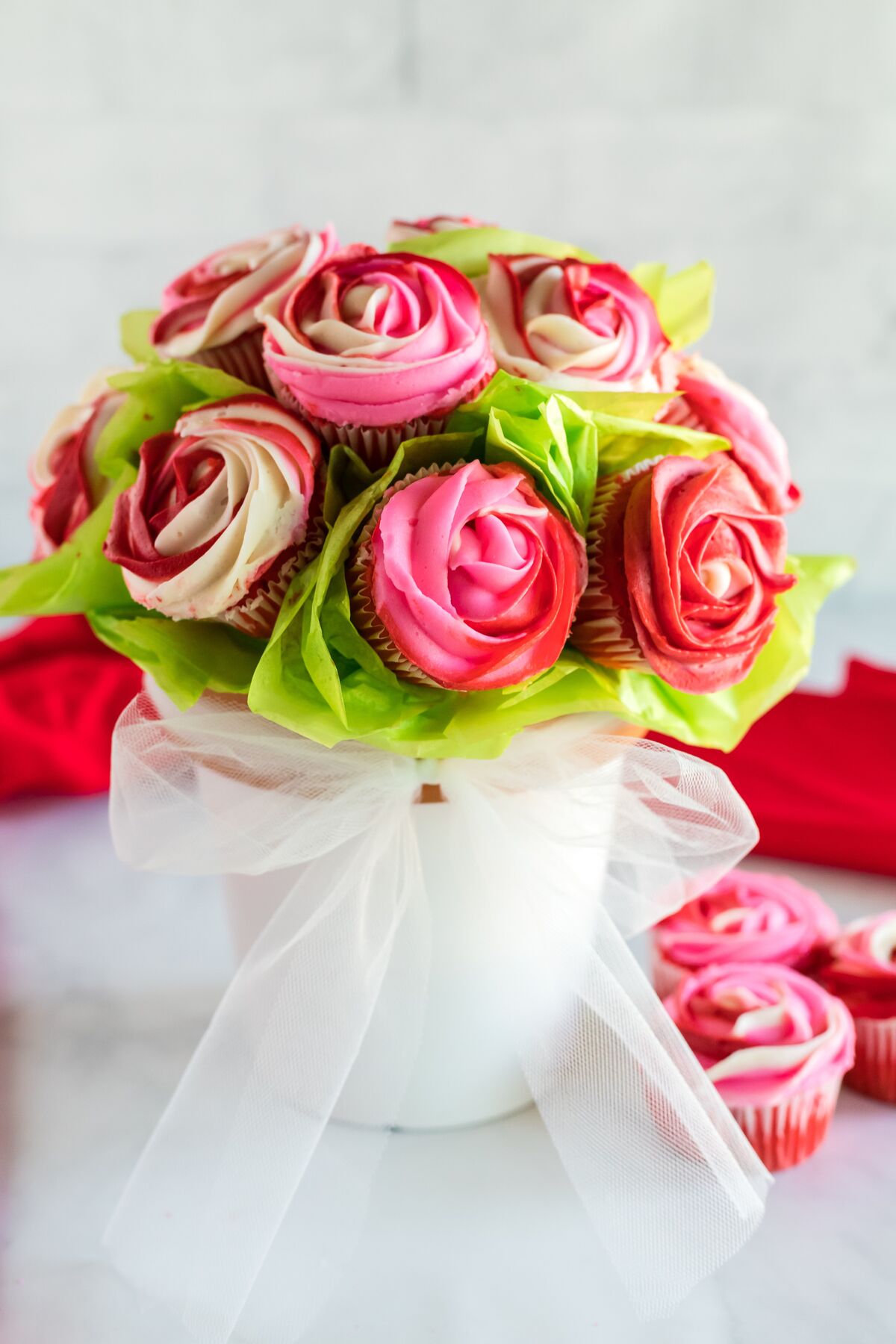 Flavor Ideas
You can use any cupcake flavor for your arrangement. You can never go wrong with vanilla, chocolate, lemon, or strawberry!