Clotted cream is really easy for ANYONE to make at home, regardless of your kitchen expertise. Everybody from experienced bakers to novices can learn how to make clotted cream because the recipe is so simple and straightforward. To make it, you pour heavy whipping cream into a pot and put it in the oven on low heat. When you remove the pot many hours later, you have clotted cream resting on top. It's like magic!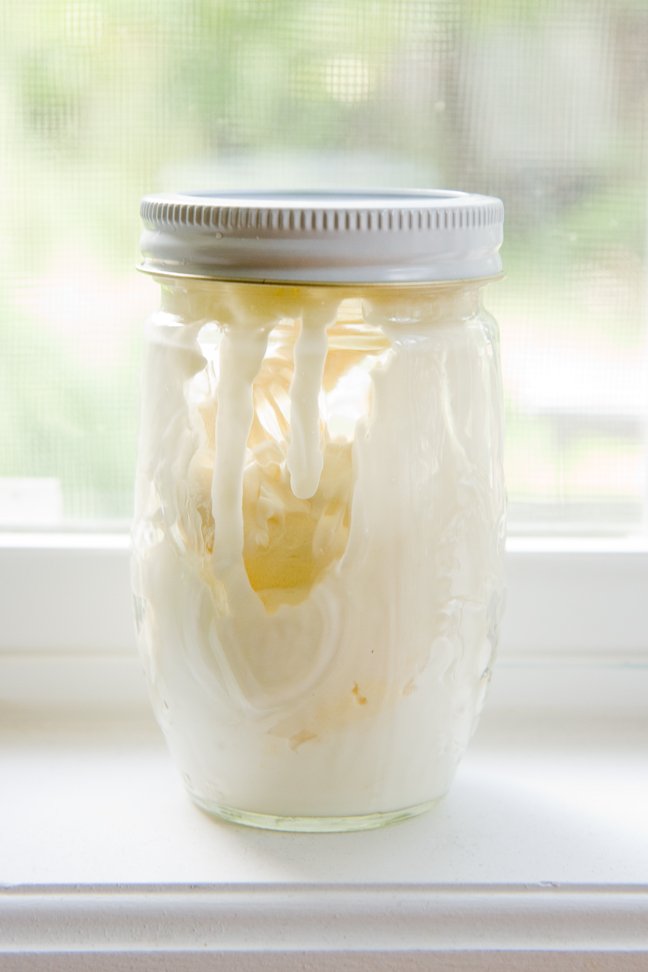 What is Clotted Cream?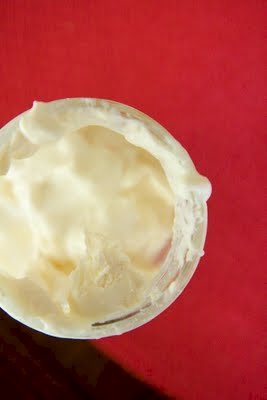 Clotted cream tastes like a cross between butter and whipped cream. It's made by heating heavy whipping cream using an oven or slow cooker (with indirect heat) and letting it cool until the cream rises to the surface. That "clotted" cream is then skimmed off to be used.
Clotted cream is a topping typically served on scones or crumpets at afternoon or cream tea time, however, there are so many other ways to use clotted cream.
If you are in the United States and have never heard of clotted cream, don't feel bad. I hadn't heard of clotted cream until a visit to a local British restaurant, The London Tea Room.
Why You Should Make Homemade Clotted Cream
In short, you should make clotted cream yourself because it is an easy recipe and it tastes better than clotted cream bought at the store.
How does homemade clotted cream compare to its store-bought counterpart? I bought some English Luxury Clotted Cream and tasted mine alongside it. The texture was the same (like butter, but a bit creamier), however mine had a slightly sweeter, much fresher, and richer flavor. It was worlds better. There may be really amazing store-bought clotted cream options out there, but they are not readily available at a grocery store near me.
What You'll Need to Make Clotted Cream
There are two things you will need to make this clotted cream recipe:
Heavy whipping cream that isn't ultra-pasteurized – Clotting will work better with an unpasteurized or pasteurized (not ultra-pasteurized) cream. I didn't try making the recipe with an ultra-pasteurized cream, so I can't say for sure whether or not it would work, but I suspect it wouldn't work well. For more information on ultra-pasteurization, check out the FAQ from the New England Cheese Making Society. It is also best to look for heavy whipping cream with as high a fat content as you can find. I used a local brand, Pevely, that had 40% fat. The quality of your clotted cream will depend on the quality of your heavy whipping cream, so splurge and buy the freshest, best brand available to you.
Time – This recipe can take over 8 hours and you will need to check in on it periodically after an initial 8 hour period is up. (The clotted cream recipe was in my oven for so long that it shut itself off. This has never happened before, and I learned from the experience that some ovens automatically turn themselves off at twelve hours.) You will need another 8 hours to chill the homemade clotted cream before you can use it.
How to Make Clotted Cream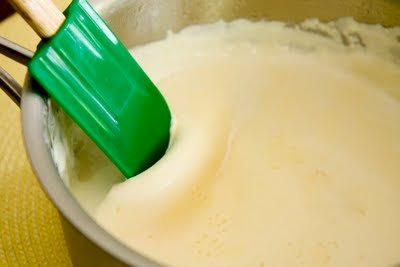 I got the recipe for clotted cream from Sustainable Table. As I said above, there isn't much to it. There is only one ingredient: heavy whipping cream. Use as much as you would like. I used two pints (4 cups) – be sure to see my notes above about about not using ultra-pasteurized cream.
To make clotted cream:
Pour heavy whipping cream into an oven-safe pot.
Cover the pot and place it into an oven set at 180 F.
Leave the covered pot in the oven for at least 8 hours. You will know that the clotted cream recipe is done when a thick, yellowish skin forms above the cream, as shown above.
Let the pot cool to room temperature and then place in a refrigerator for another 8 hours.
Skim off the yellowish skin above the cream in your pot and put into a jar or other container – this is the clotted cream! You can use the cream that's left in the pot for your baking or cooking.
The clotted cream can be stored in the refrigerator for 3-4 days. Use it to top pancakes, toast, crumpets, or cranberry orange scones. You can also use it to make clotted cream ice cream! Again, please refer to my post on how to use clotted cream for some ideas.
Other Ways to Make Clotted Cream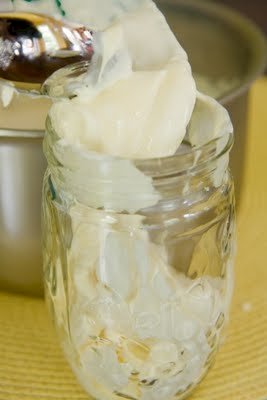 Slow Cooker Clotted Cream
Many of you have asked whether you can make clotted cream in a slow cooker. The answer is yes – just make sure that your slow cooker has a setting that is 180 F or lower. Macheesmo has a great post that details how to make slow cooker clotted cream.
Instant Pot Clotted Cream
Yes, you can make clotted cream in an Instant Pot or electric pressure cooker. I haven't personally done it yet. But, I've read that the yogurt setting works wonderfully for Instant Pot clotted cream.
Rice Cooker Clotted Cream
I've been told that you can make clotted cream in a rice cooker. Putting the cream on the warm setting for 12 hours replicates what would happen in the oven.
Clotted Cream
How to easily make homemade clotted cream
Total Time
8
hours
1
minute
Ingredients
4

cups

heavy whipping cream

use heavy whipping cream that isn't ultra-pasturized
Instructions
Pour the cream into a heavy-bottomed oven-safe pot. The cream should come up the side of the pot somewhere between one and three inches.

Cover the pot and put it in the oven on 180 F.

Leave the covered pot in the oven for at least 8 hours. My four cups took 12 hours (until my oven automatically turned off). You'll know it's done because there will be a thick yellowish skin above the cream, as shown above. That skin is the clotted cream.

Let the pot cool at room temperature, then put it in the refrigerator for another 8 hours.

Skim and reserve the clotted cream from the top of the pot. The cream that is underneath it can still be used for baking.
Notes
Clotted cream can be stored in the refrigerator for 3-4 days. Clotted cream can also be frozen for longer storage.
Nutrition
Nutrition Facts
Clotted Cream
Amount Per Serving
Calories 205
Calories from Fat 198
% Daily Value*
Fat 22g34%
Cholesterol 81mg27%
Sodium 22mg1%
Potassium 44mg1%
Carbohydrates 1g0%
Protein 1g2%
Vitamin A 875IU18%
Vitamin C 0.3mg0%
Calcium 39mg4%
* Percent Daily Values are based on a 2000 calorie diet.