How to Make Butter
Published , Last updated by
Stef
Disclosure: As an Amazon Associate, I earn from qualifying purchases.
You really can't beat the flavor of fresh, homemade butter. Making it in a mason jar is the fastest and easiest method I've found to date.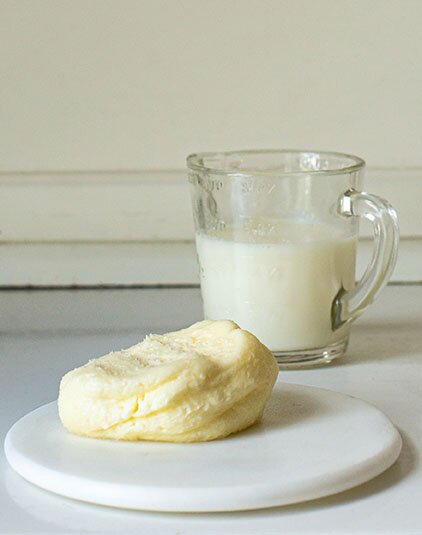 Homemade butter is super fresh. You'll be amazed at how good it tastes. It's great to nake with kids to teach them where their food comes from. Plus, you'll also get buttermilk, making this a two-in-one recipe!
Ingredients and Equipment
All you need to make butter is heavy whipping cream and a mason jar.
Tip: The whipping cream must be full-fat. This is extremely important!
You can optionally add a little bit of sour cream to make the butter extra rich.
How It's Made
I learned this technique from the cookbook Welcome to Buttermilk Kitchen [paid link] by Suzanne Vizethann, and I'm so excited to share it with you (with permission).
Start by pouring heavy whipping cream into a mason jar. You can also add the sour cream if you chose to include that ingredient.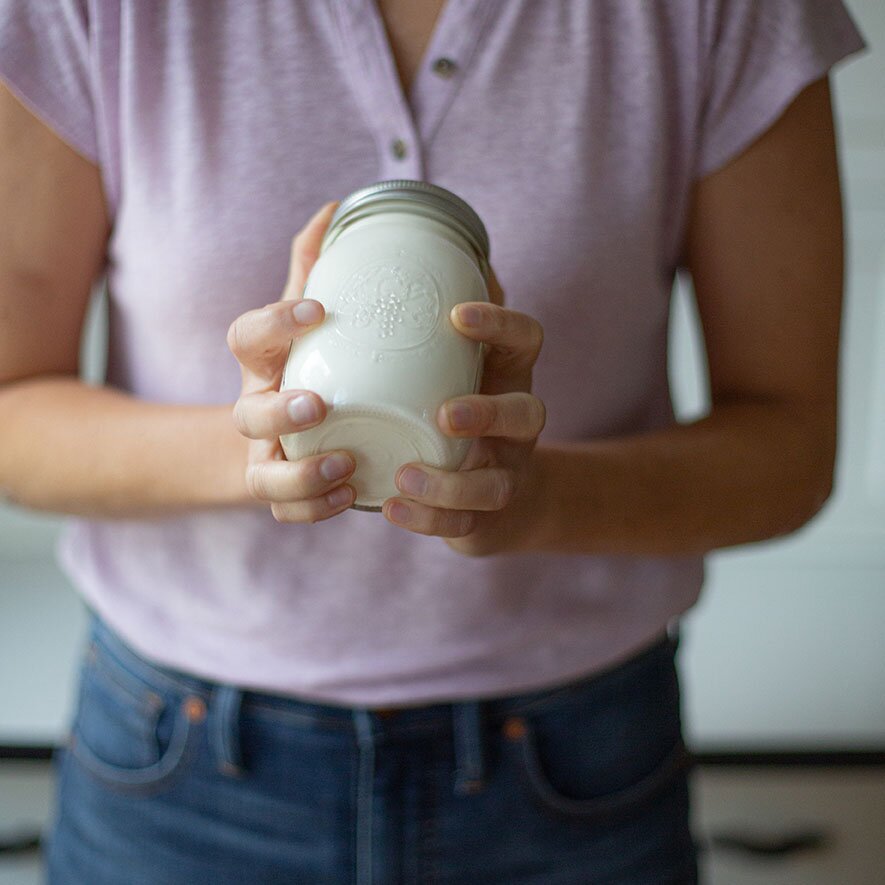 Seal the jar really well and start shaking! After about four minutes, you'll have whipped cream – and tired arms.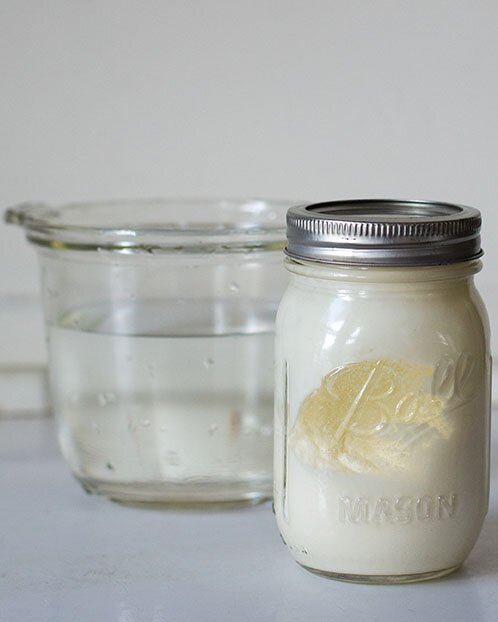 You can take a little break if you need to, but then keep going. After another 3 or 4 minutes, you'll notice that there is liquid in the jar again. When this happened to me the first time, I thought that I had messed up. Keep shaking for another thirty seconds or so and then open the jar. Inside, you'll see that there is liquid (buttermilk) and a solid mass (the butter!).
Tip: Remove the buttermilk and save it for chocolate mini Bundt cakes, cottage pudding, or the amazing buttermilk biscuits and pancakes in Buttermilk Kitchen cookbook [paid link].
Place the butter in a bowl and, with very clean hands, press it together to form a ball. Pour cold water over it and rinse it three times to remove any buttermilk that may be clinging to it.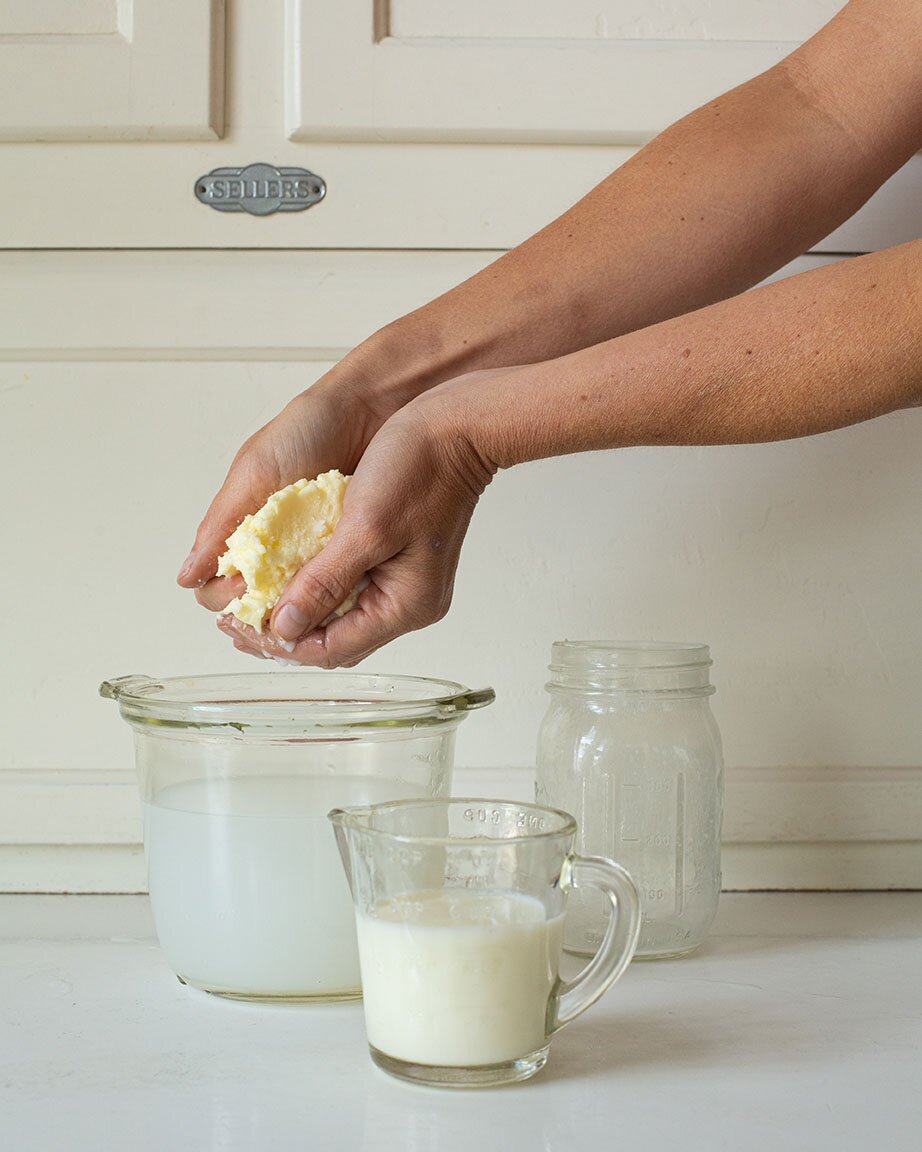 At this point, the butter is ready to use!
Expert Tips and FAQs
Can I make this with the help of kitchen appliances?
Unlike vegan butter, which isn't as easy to make, the only challenge you'll find here is your arms getting tired. If that is a barrier for you, you can do all of the mixing in a food processor, blender, or with an electric mixer instead.
How can I flavor the butter?
You can mix any flavors you like into the butter after it's prepared, like salt, honey, maple, herbs, spices, chocolate, or lavender (I love the unique taste of lavender butter!).
Related Recipes
Homemade Butter
The flavor of fresh butter can't be beaten and it is so fast and easy to make! All you need to make butter is some heavy whipping cream and a mason jar.
Ingredients
1

cup

full-fat heavy whipping cream

1

teaspoon

full-fat sour cream

optional but recommended for a delicious flavor
Instructions
Pour cream and sour cream into a 16-ounce mason jar. Screw the lid on and shake the jar for 6-8 minutes. (After the first 4 minutes, you'll have whipped cream.)

Keep shaking until a lump has formed inside, and shake an additional 30-60 seconds after that.

Remove the solids from the jar. The remaining liquid is buttermilk – save for future use.

Place the solids into a small bowl. Pour cold water over the butter and use your hands to squish it into a ball.

Discard the water and repeat, rinsing 2 more times. At this point, you have butter.

Optionally add in salt, honey, or herbs.
Notes
From Welcome to Buttermilk Kitchen by Suzanne Vizethann. Photograph by Angie Mosier. Reprinted by permission of Gibbs Smith.
Yields 3 ounces of butter (almost 1 stick)
Nutrition
Calories:
104
kcal
|
Carbohydrates:
1
g
|
Protein:
1
g
|
Fat:
11
g
|
Saturated Fat:
7
g
|
Cholesterol:
41
mg
|
Sodium:
12
mg
|
Potassium:
22
mg
|
Sugar:
1
g
|
Vitamin A:
437
IU
|
Vitamin C:
1
mg
|
Calcium:
19
mg
Stay Connected!
Join my mailing list - and receive a free eBook!