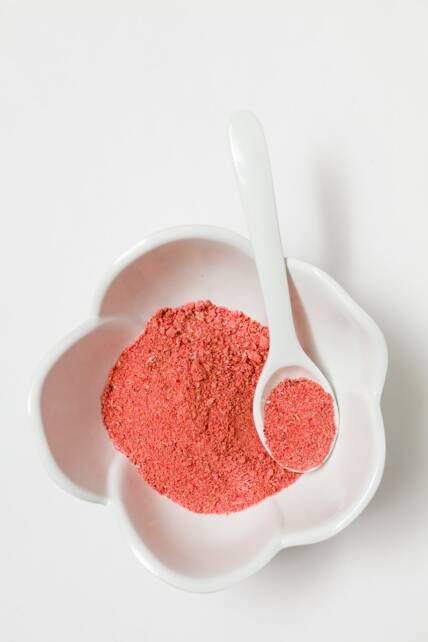 Let's start with the fruit powder basics and then we'll move on to how to make fruit powder.
What is fruit powder?
Fruit powder is dried fruit that's been finely ground.
How to use fruit powder
Fruit powder can be used in place of artificial flavoring to flavor just about anything.  However, fruit powder truly shines in desserts where the moisture balance is very important.  Here are some examples of how to use fruit powder:
Use fruit powder to transform basic buttercream into any fruit flavor without dumping fruit into your perfectly-pipeable frosting.  Using fresh fruit can make buttercream too runny to hold a sweet swirl.
Sprinkle on top of fruit-flavored chocolate truffles to add some color and hint at the flavor inside.
Make fruity meringue cookies or macarons (I'll be posting about this specific example soon).
Make a fruity spice rub for meat.
Throw some in your morning oatmeal when you don't have fresh fruit on hand.
How to make fruit powder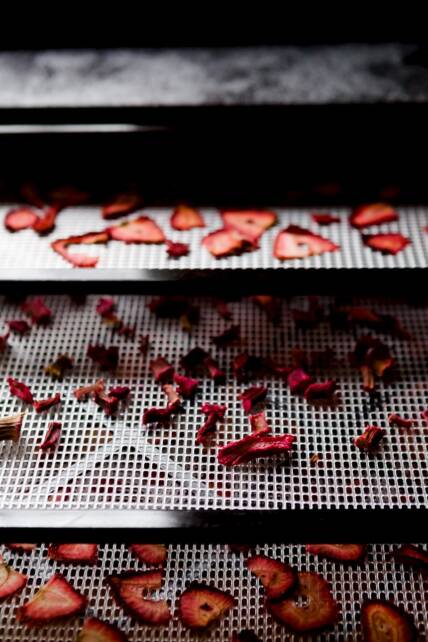 Although you can buy fruit powder online, it's easy to make fruit powder at home to preserve whatever fruit is in season.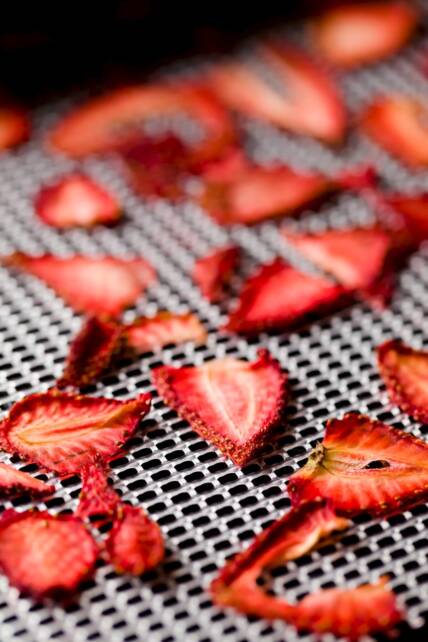 You can make fruit powder from store-bought dried fruit (make sure to choose fruit that has no moisture left), but if you can get your hands on ripe, inexpensive fresh fruit, you can dehydrate it yourself and use it to make fruit powder.  I do so using an Excalibur dehydrator.  You could also dehydrate fruit by thinly slicing it, placing it on cookie sheets, and leaving it in the oven on the lowest setting overnight.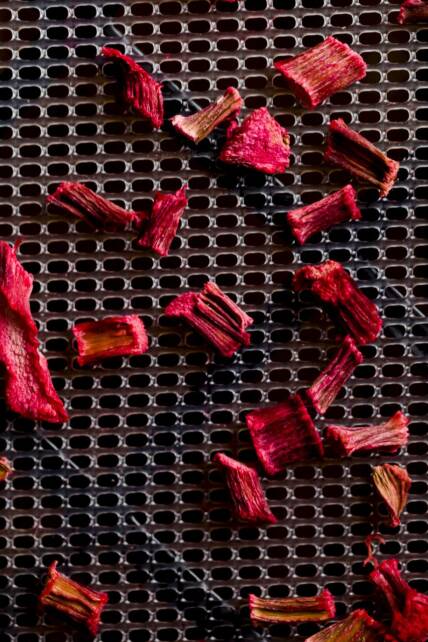 The recipe below can be used with any dried fruit.  However, I also share the specific proportions for the fruit powder shown above.  If you haven't guessed yet from the photos, I made strawberry rhubarb powder!  I chose to make strawberry rhubarb powder because it's a flavor combination that is sadly relegated to pie and I wanted to experiment with using it in some fun new ways.  I can't wait to share the results!
If you've tried this recipe, please RATE THE RECIPE and leave a comment below!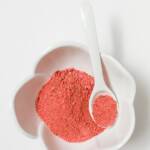 How to Make Fruit Powder
Ingredients
Any dehydrated fruit that has not been sweetened

be sure that the fruit is fully dehydrated with little to no moisture remaining
Instructions
Freeze the dehydrated fruit overnight.

Blend the frozen fruit until it turns into a powder. (It helps if you have a blender with some kick. I heart my

Vitamix

for tasks like this.
Recipe Notes
For reference, two pounds of fresh strawberries and one pound of sliced/frozen rhubarb yield 1 1/4 cups of fruit powder after being dried and blended.
The powder may end up slightly clumpy. Be sure to sift before using in recipes that require a fine texture.