"Would you like homemade maraschino cherries?" asked the top-tier bartender at our local St. Louis restaurant, Monarch. My eyes lit up. Much like homemade grenadine, I had never considered the possibility of homemade maraschino cherries. Bartender Ted Kilgore explained that homemade maraschino cherries are made with maraschino liqueur. After trying one, I knew they would one day homemade maraschino cherries would be making an appearance in my kitchen.
Maraschino cherries are the iconic topping for cupcakes – a maraschino cherry even tops the Cupcake Project logo. Yet, I have never topped a cupcake with a cherry. Why not? I've always found maraschino cherries served in cherry Cokes, specialty cocktails, and yes, sitting on cupcakes to be pretty, but gross:
They taste like cherry medicine – the flavor reminds me of the cherry Sucrets that I had as a kid to soothe my sore throat.
A look at the ingredient list for maraschino cherries shows that most brands are simply cherries with high fructose corn syrup and red food coloring. EW!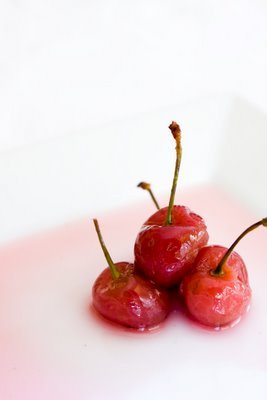 Homemade maraschino cherries are super easy to make (once you get past pitting all the cherries). Compared to store-bought maraschino cherries, these are less red, more mushy, and much more boozy. They might not be for the kids, but adults will love them!
Update: I now have a family-friendly maraschino cherry recipe with no alcohol! It's wonderful!
Homemade Maraschino Cherries Recipe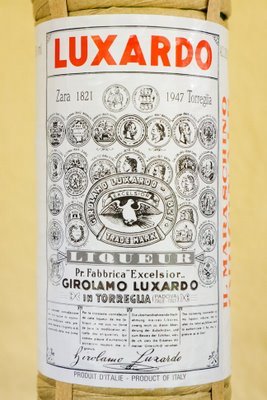 I found the recipe for homemade maraschino cherries on Serious Eats, which was adapted from a recipe found in Imbibe Magazine. I am reprinting it below, with my notes.
Once you have the cherries, you can use them to top any cupcake (like vanilla cupcakes, chocolate cupcakes, or black forest cupcakes). They would also be wonderful in these Maraschino cherry chocolate chip cookies from The First Year Blog.
Homemade Maraschino Cherries
I've always found maraschino cherries served in cherry Cokes, specialty cocktails, and yes, sitting on cupcakes to be pretty, but gross. Making them myself makes them delicious.
Ingredients
1/2

cup

sugar

1/2

cup

water

2

teaspoon

lemon juice

1

cinnamon stick

Pinch

of freshly grated nutmeg

1

teaspoon

vanilla extract

1

pound

sweet cherries

pitted (If you want to be really technical about it, it would be good if you could use Marasca cherries. Since most of us don't have access to them, any cherry will do - the redder the better. If you don't own a cherry pitter, you will definitely want to invest in one.)

1

cup

of maraschino liqueur

I used Luxardo brand. On Serious Eats, they just used a regular brandy and were not as happy with the results. eGullet has an interesting discussion thread on types of cherry liqueur that is worth a read.
Instructions
Wash and pit the cherries.

In a saucepan, combine all ingredients except the cherries and liqueur and bring to a rolling boil.

When the liquid begins to boil, reduce the heat to medium.

Add the cherries and simmer for 5–7 minutes.

Remove from heat, add the liqueur, and let cool.

Transfer the cherries and liquid into clean jars and refrigerate, uncovered, until cherries are cool to touch.

Cover tightly and refrigerate for up to two weeks.
Nutrition
Nutrition Facts
Homemade Maraschino Cherries
Amount Per Serving
Calories 21
% Daily Value*
Potassium 31mg1%
Carbohydrates 5g2%
Vitamin A 10IU0%
Vitamin C 1.1mg1%
Calcium 3mg0%
Iron 0.1mg1%
* Percent Daily Values are based on a 2000 calorie diet.
The Cherry Stem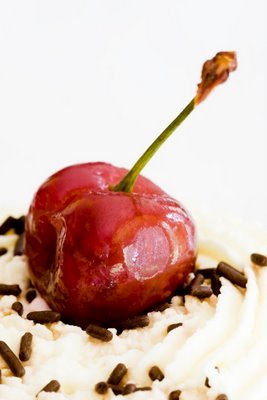 I can't write a post about maraschino cherries without thinking about my ex-boyfriend. He may have been the only person I know who ordered cherry coke on a regular basis. Not only that, but he was one of those people who possessed the unique skill of being able to tie the cherry stem into several knots using his tongue. I have absolutely no clue how that can be done. It was pretty much like magic to me. Some say that that skill makes one better in bed, but that is not a subject for this post.