Black Forest Cupcakes
Published , Last updated by
Stef
Disclosure: As an Amazon Associate, I earn from qualifying purchases.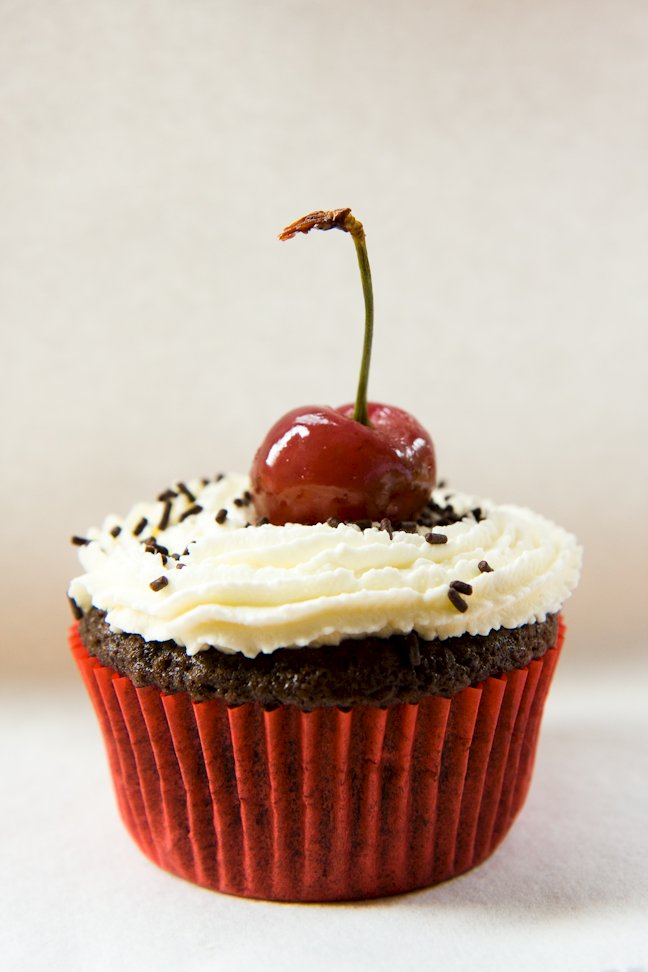 Black forest cupcakes are just like black forest cake, but in cupcake form. Black forest cupcakes are chocolate cupcakes soaked in cherry liqueur, with a cherry filling, a whipped cream topping, and cherries and chocolate on top.
According to What's Cooking America, black forest cake was named in the late 16th century after the Black Forest Region in Germany (Der Schwarzwald in German) located in the state of Baden-Württemberg. In German, black forest cake is called Schwarzwälderkirschtorte.
These black forest cupcakes were light, fluffy, and incredibly moist. Because of the cherry filling and liqueur, they were almost too moist to eat without a fork. This didn't seem to bother anyone!
Black Forest Cupcakes Recipe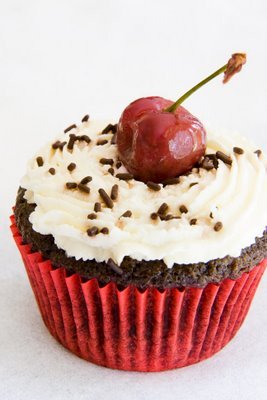 I got the recipe for the cake portion of the black forest cupcakes from AllRecipes. The cake itself is simply a chocolate cake. All of the cherry flavor comes from soaking the cake in liqueur and the cherry filling. This happens to be a delicious chocolate cake recipe, but feel free to use your favorite chocolate cake recipe instead. The recipe is reprinted below with my notes and cupcake adaptation.
Makes around 16 cupcakes
1 2/3 C all-purpose flour
2/3 C unsweetened cocoa powder
1 1/2 t baking soda
1 t salt
1/2 C butter
1 1/2 C white sugar
2 eggs
1 t vanilla extract
1/2 t coffee extract (This is optional. I just threw it in to add a little depth of flavor. Coffee extract is a handy thing to have around. You can buy it on Amazon [paid link].)
1 1/2 C buttermilk
Sift together flour, cocoa powder, baking soda and salt. Set aside.
Cream butter and sugar until light and fluffy.
Beat in eggs and extracts.
Beat in flour mixture, alternating with buttermilk, until combined.
Fill cupcake liners 3/4 full.
Bake at 350 F for twenty minutes or until cupcakes bounce back when touched.
UPDATE 11/19/13:  I now use my Ultimate Chocolate Cupcake Recipe as my go-to chocolate cake.  I'd suggest using that recipe and then following the cherry filling, soaking, and whipped cream instructions below.
Cherry Filling Recipe
and How to Fill The Cupcake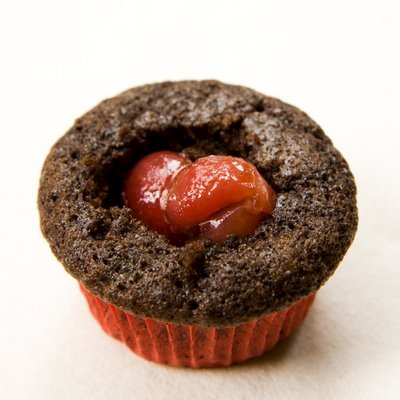 Many black forest cake recipes call for using a store-bought cherry pie filling. If you can get your hands on some fresh cherries, there is no excuse to not make the filling yourself. Making your own filling is easy. It's just three ingredients. The recipe below makes more filling that you will need. You can reduce the recipe or use the leftovers to top ice cream or to mix in with yogurt.
1 pound cherries, washed, pitted, and destemmed
1/4 cup water
3/4 cup sugar
Throw all the ingredients into a pot and bring to a boil.
Reduce heat and let mixture simmer for 15 minutes, stirring periodically.
Remove from heat and let cool.
To fill the cupcakes, use a paring knife to cut a hole out of the top of each cupcake and place two cherries and a few teaspoons of the juice into each hole. Then, replace the tops.
Soaking the Cupcakes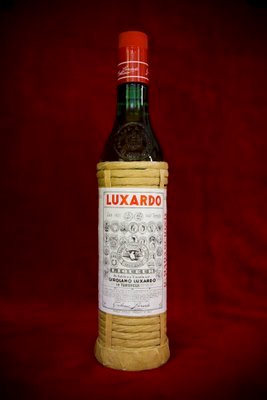 Your cupcake will be pretty moist after filling it with the cherries and juice. However, for even more oomph, you can pour some liqueur (maraschino liqueur or Kirschwasser) over the cupcakes. Poke some holes in the cupcake to help it go down if you need to, but the cupcakes are airy enough that you probably won't have to.
Whipped Cream Recipe
The frosting on black forest cupcakes is not very sweet. It's basically a simple whipped cream with a touch of flavor.
2 cups heavy whipping cream
1/2 teaspoon vanilla extract
3 tablespoons maraschino liqueur or Kirschwasser
Whip the whipping cream until it looks like whipped cream.
Mix in the vanilla extract and liqueur.
The Cherry on Top
I highly recommend topping these black forest cupcakes with homemade maraschino cherries! I also used chocolate sprinkles, but you could use chocolate shavings.
Special Thanks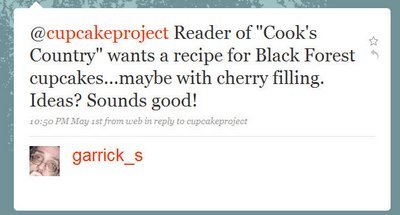 Special thanks to my twitter pal garrick_s for giving me the idea to make black forest cupcakes.
Stay Connected!
Join my mailing list - and receive a free eBook!