This is my second time making Shirley Temple cupcakes.  I first made Shirley Temple cupcakes in 2008.  Bride 4.0 recalled them as one of her favorites so she requested that I make them again for consideration as a wedding cupcake.  There was just one problem with that plan – I didn't like them.  Most of you know my rule: I refuse to make cupcakes that I don't like.
The key problem with the original Shirley Temple cupcakes was that they were a sloppy mess. They derived their Shirley Temple flavor from being drenched in a grenadine syrup – you almost needed a spoon to eat them.  I had scary visions of Bride 4.0's white dress covered in red sticky syrup:
No, no.  This would not do.  But, since Bride 4.0 liked the idea of a Shirley Temple cupcake, I decided to create an alternate version.

I liked my new version of Shirley Temple cupcakes better than the first one (the jury is still out on Bride 4.0's opinion; she's going to try them tonight).  The cake is sweet and moist and because of the high sugar content, the top is slightly caramelized.  I opted to leave the lemon out of the cake entirely so that it wouldn't overpower the grenadine flavor.  Instead, I put a touch of lemon extract alongside some grenadine in the glaze.  I topped the cupcakes with the iconic maraschino cherry.
About the Cherry
When Groom 2.0 saw the cherry on top, he paused, looked up at me quizzically, and inquired, "Is that a maraschino cherry – like from the store?"  Somewhat embarrassed, I had to say yes; and in the name of honesty, I had to admit that I had also used food coloring in these cupcakes.  I explained that while in the past I had made homemade maraschino cherries, I felt that store-bought ones would be easier and look better for a wedding.  The same applied to the food coloring; before adding the food coloring, the glaze was the color of chicken skin – totally unappealing for a wedding cupcake display.
Shirley Temple Cupcake Recipe
If you've tried this recipe, please RATE THE RECIPE and leave a comment below!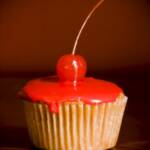 Shirley Temple Cupcakes
Ingredients
Cupcake Ingredients
2

C

flour

1 1/2

tsp

baking powder

1/2

tsp

baking soda

3/4

C

unsalted butter

room temperature

2/3

C

sugar

2

eggs

2/3

C

milk

1 1/2

C

grenadine

I recommend using homemade grenadine.
Shirley Temple Glaze Ingredients
1/2

C

powdered sugar

2

tbsp

grenadine

I recommend using homemade grenadine.

1/4

tsp

lemon extract

red food coloring

optional

maraschino cherries

optional
Instructions
Cupcake Instructions
In a medium-sized mixing bowl, whisk flour, baking powder, and baking soda. Set aside.

In another medium-sized bowl, beat butter and sugar until light and fluffy.

Beat eggs, milk, and grenadine into the butter/sugar mixture until blended.

Fold in flour mixture.

Fill cupcake liners all the way to the top.

Bake at 350 F for about 25 minutes or until a toothpick comes out of the cupcake clean.
Shirley Temple Glaze Instructions
Mix powdered sugar, grenadine, and lemon extract.

Optionally add red food coloring a few drops at a time until you love the color.

Spread on cooled cupcakes.

Optionally, just before serving, top cupcakes with maraschino cherries.