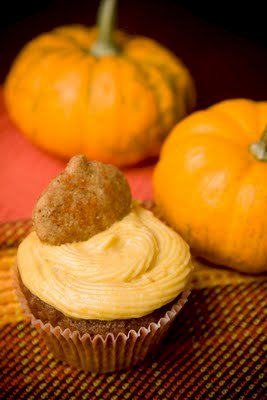 Pumpkin cupcakes are so overdone. Pumpkin cupcakes are everywhere and if it's not pumpkin cupcakes, it's pumpkin muffins, pumpkin bread, or pumpkin cookies. If it's Fall, you'd better like pumpkin!
The good news is that most people do love pumpkin. We love it so much that we end up using it as a term of endearment. I regularly call Myles "pumpkin". Jonathan points out that I used to call our poodle "pumpkin" as well. I'm sure if we had a pet pot bellied pig, he'd be "pumpkin", too.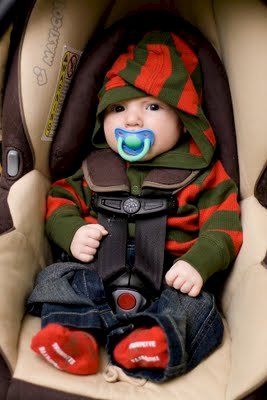 (I couldn't resist another Myles photo. He's sucking the pacifier because he's too young to eat the pumpkin cupcakes.)
Bride and Groom 3.0 are no exception to the plethora of pumpkin people. They listed pumpkin as one of the flavors they might want for their wedding.
Why Pick This Pumpkin Cupcake Recipe Over Any Other One?
We know from pumpkin pie that pumpkin and graham go well together. These pumpkin cupcakes capitalize on that. They contain graham flour and graham cracker bits. The graham cracker bits soften during the baking process. Rather than adding a crunch, they add a richer, grahamy flavor to the cupcake. The graham flavor does, however, make these treats seem a bit more muffiny than cupcakey (if you don't like the earthy, graham flavor, you might consider trying my pumpkin cupcakes with rum and maple instead).
My favorite part about these pumpkin cupcakes was the pumpkin cheesecake frosting. Use it to top any Fall dessert and you won't go wrong.
Bride and Groom 3.0 Review
Bride 3.0 warned me that she wasn't a big fan of frosting. I thought that perhaps I'd win her over with a cream cheese-based frosting. But, it turns out that she doesn't like cream cheese frostings (back to the baking board). Groom 3.0 and their roomate, Davin, loved the frosting.
Although Bride 3.0 didn't like the frosting, she did let me know that she loves sprinkles. She calls them sparkles! How fun! Expect to see more sparkly cupcakes coming soon.
Both Bride and Groom 3.0 found the cupcakes to be a bit too muffiny/breakfasty to be a wedding choice. They also thought that the cupcakes could be somewhat more pumpkiny. This was in contrast to other tasters. One of my tasters, Christina, even said, "Wow… this is so pumpkiny!"
They rated this cupcake three out of five fireworks. They made up the firework system and I dig it!
The Pumpkin Cupcake Recipe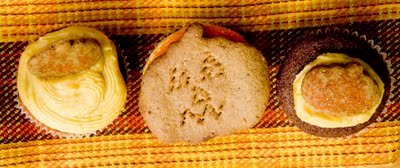 The cupcake recipe contains graham crackers. You can use any store-bought graham crackers or make homemade pumpkin graham crackers.
Pumpkin Cupcakes with Pumpkin Cheesecake Frosting
A pumpkin cupcake made with graham flour and graham cracker bits.
Ingredients
Cupcake Ingredients
3/4

cup

graham flour

you can also use whole wheat flour

3/4

cup

all-purpose flour

1

teaspoon

cinnamon

1/2

teaspoon

ginger

1/2

teaspoon

nutmeg

1/2

teaspoon

allspice

1

teaspoon

baking soda

1/2

teaspoon

salt

1 1/2

cups

sugar

3/4

cup

pumpkin puree

2

large eggs

1/2

cup

vegetable oil

1/2

cup

cream soda

1

tablespoon

vanilla bean paste

you can also use vanilla extract

2

cups

smashed graham crackers

pea-sized bits
Pumpkin Cheesecake Frosting Ingredients
8

ounces

cream cheese

room temperature

1/4

cup

unsalted butter

room temperature

1/2

C

pumpkin puree

3

C

powdered sugar

sifted
Instructions
Cupcake Instructions
Whisk together flours, spices, baking soda, and salt.

In a large bowl, combine the sugar, pumpkin, and eggs. Beat until smooth.

Mix the oil, cream soda, and vanilla into the wet ingredients.

Slowly add the flour mixture and mix until fully incorporated.

Stir in the graham crackers.

Fill cupcake liners 3/4 full.

Bake at 350 F for 20-25 minutes.
Pumpkin Cheesecake Frosting Instructions
Mix cream cheese and butter until smooth and creamy.

Mix in pumpkin puree.

Slowly mix in the powdered sugar. You can add more sugar to make the frosting stiffer, but I think that makes it too sweet.
Nutrition
Nutrition Facts
Pumpkin Cupcakes with Pumpkin Cheesecake Frosting
Amount Per Serving
Calories 383
Calories from Fat 135
% Daily Value*
Fat 15g23%
Cholesterol 41mg14%
Sodium 256mg11%
Potassium 87mg2%
Carbohydrates 59g20%
Protein 3g6%
Vitamin A 3095IU62%
Vitamin C 0.7mg1%
Calcium 33mg3%
Iron 1.3mg7%
* Percent Daily Values are based on a 2000 calorie diet.