Pumpkin Frosting
Published , Last updated by
Stef
Disclosure: I may earn a commission from purchases you make through affiliate links in this post at no additional cost to you.
This pumpkin frosting is not frosting that is kinda sorta like pumpkin pie. It's not a buttercream or a cream cheese frosting with a dash of pumpkin pie spice. This pumpkin frosting recipe is honest-to-goodness pumpkin pie (minus the crust – although you could add that too if you wanted) piped onto cupcakes.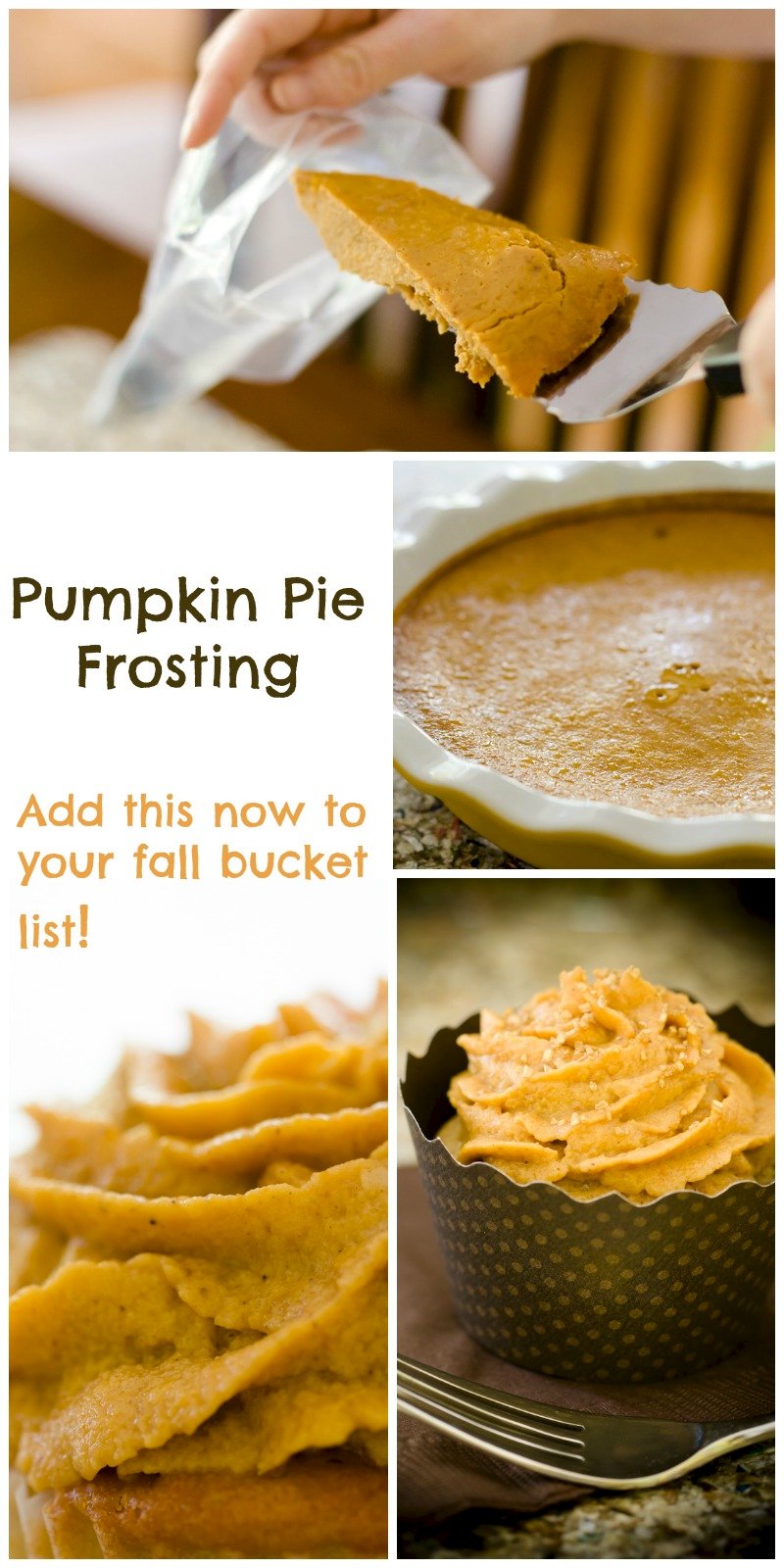 It turns out that pumpkin pie is perfectly pipe-able. Try out this pumpkin pie frosting as the ideal complement for any Fall cupcake flavor.
It's amazing on apple cupcakes.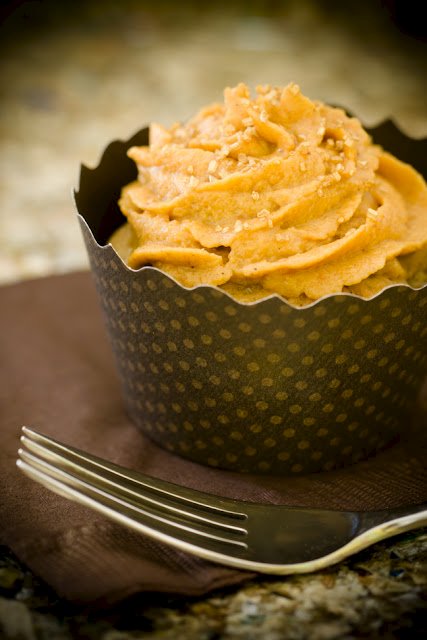 You also can't go wrong with it on ultimate vanilla cupcakes.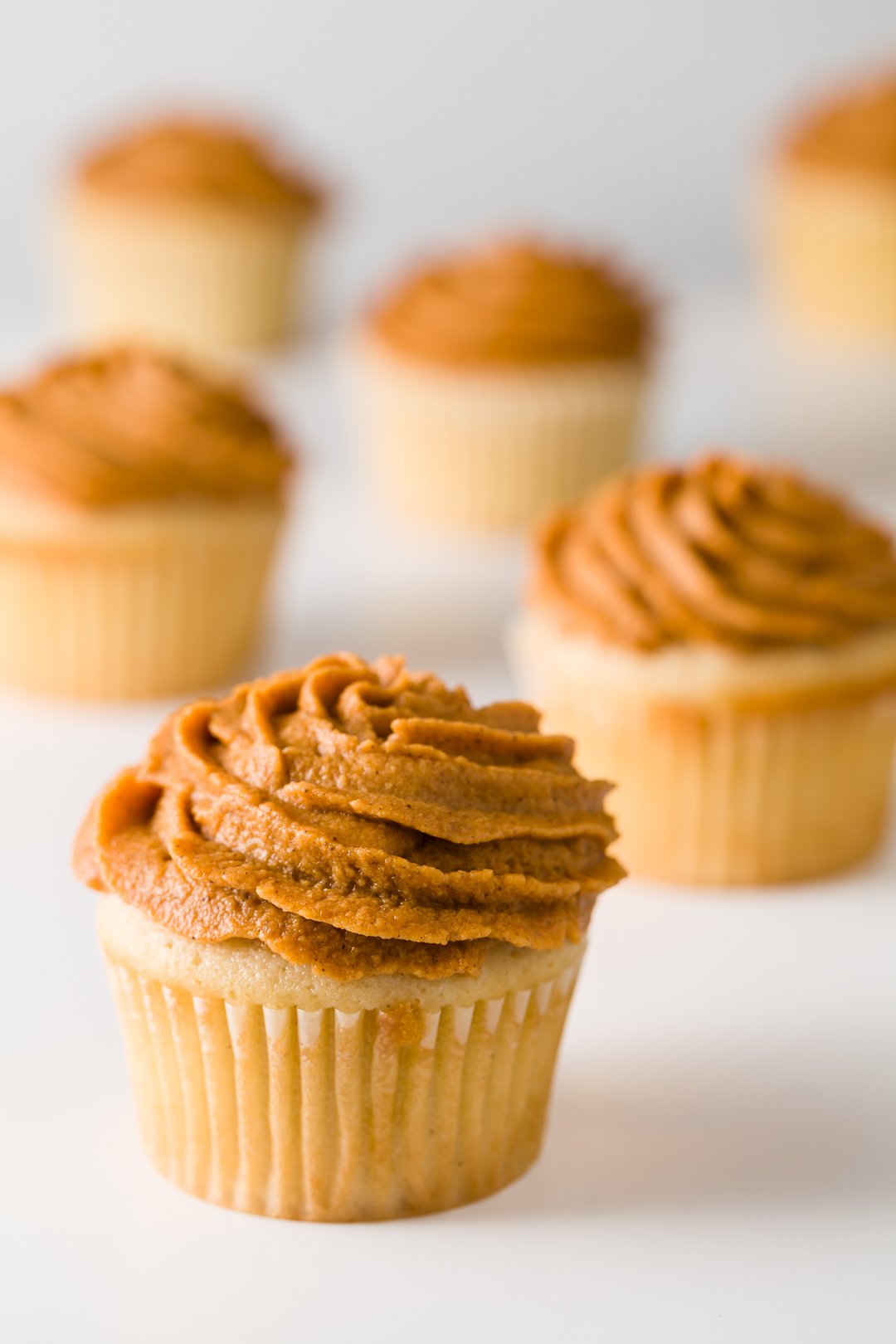 How To Make Pumpkin Frosting

To make pumpkin pie frosting, you'll first need a pumpkin pie. For easier piping, I made a pumpkin pie without a crust. But, if you've already got a pie on hand with crust, you can either scoop the pie filling out of the crust or blend the crust into the frosting.
My pumpkin pie isn't anything fancy. I adapted my frosting from the recipe straight off of the can of Libby's pumpkin
.
You can make it with homemade pumpkin puree if you prefer with the benefit of getting to make your own sweet pumpkin seeds with the from your pumpkin! You could then sprinkle some of the toasted seeds on top of the frosting as decoration or mix them into the batter of your cake or cupcakes.
Pumpkin Frosting
This pumpkin frosting is not just flavored like pumpkin pie, it is pumpkin pie!!
Ingredients
3/4

cup

sugar

1/2

teaspoon

salt

1 1/2

teaspoon

pumpkin pie spice

2

large eggs

15

ounces

canned pumpkin

pure pumpkin, not pumpkin pie filling

12

ounces

evaporated milk
Instructions
Preheat oven to 425 F.

In a large bowl, beat eggs.

Stir in sugar, salt, and pumpkin pie spice.

Mix in pumpkin.

Mix in evaporated milk.

Pour into 9" pie plate (no crust needed).

Bake for 15 minutes.

Reduce heat to 350 F and bake for another 40-50 minutes, until a toothpick comes out dry.

Remove from oven and leave on counter for two hours before use.

Put the crustless pie in a large mixing bowl and beat it for about thirty seconds to evenly distribute any moisture.

Load pumpkin pie "frosting" into a piping bag and spread or pipe onto cooled cupcakes or cakes.
Notes
You can skip the step of mixing the pie and load a slice of pie directly into a piping bag for dramatic effect. However, I found that mixing produced a more even result. 
As you might guess, this technique works just as well with other similar pies, like sweet potato pie.
Nutrition
Stay Connected!
Join my mailing list - and receive a free eBook!