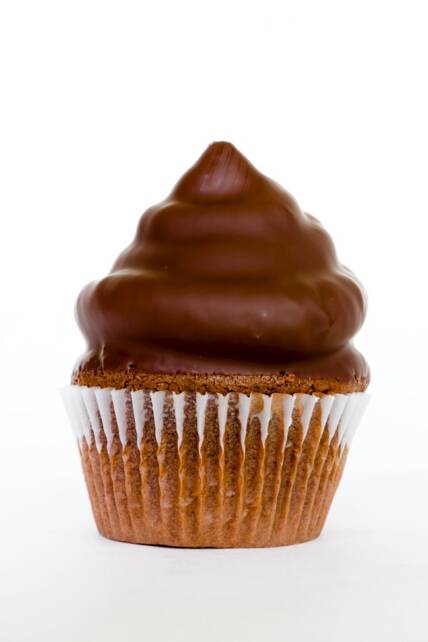 These chocolate peanut butter hi-hat cupcakes are loaded with dark chocolate chips, topped with peanut butter frosting, then dipped in more chocolate are a sight to behold.
These peanut butter hi-hat cupcakes are truly the ultimate chocolate peanut butter cupcake!  Take a look inside: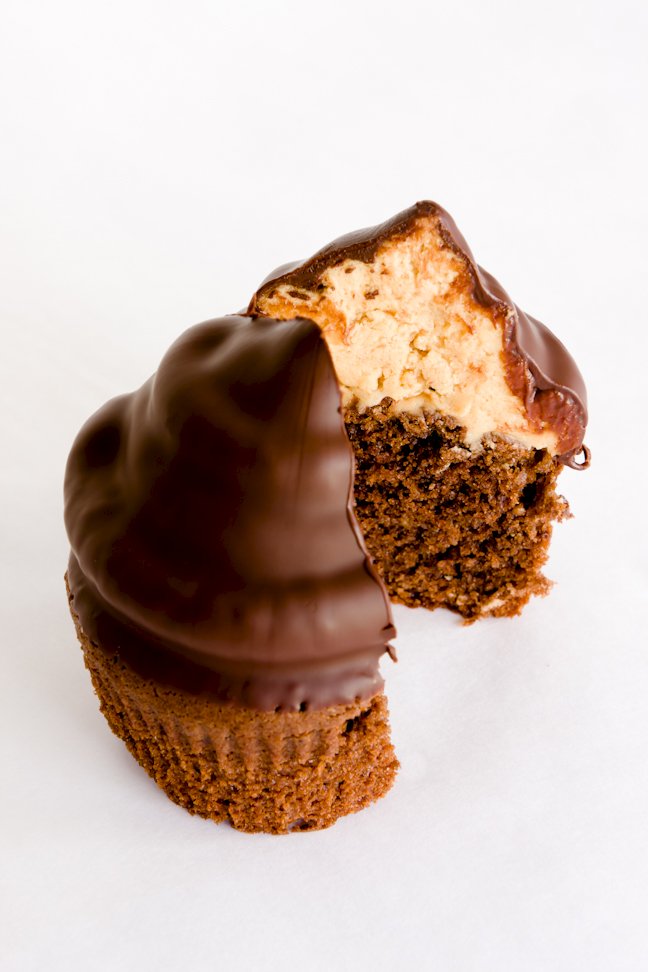 What is a Hi-Hat Cupcake?
A hi-hat cupcake is any cupcake recipe that is frosted with a tall swirl of frosting and then dipped in chocolate. They are wonderful for people who love a high proportion of cupcake to cake! Hi-hat cupcakes (also known as chocolate-dipped cupcakes or chocolate shell cupcakes) can be made with all different flavor combinations and decorated in lots of fun ways! Learn more in my post all about hi-hat cupcakes.
Chocolate Peanut Butter Hi-Hat Cupcake Recipe
Note: I created this original hi-hat cupcake recipe. However, the recipe for the peanut butter frosting is from AllRecipes and I have re-written it in my own words.
If you've tried this recipe, please RATE THE RECIPE and leave a comment below!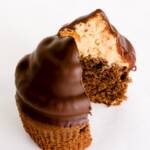 Chocolate Peanut Butter Hi-Hat Cupcakes Recipe
Ingredients
Cupcake Ingredients
1 1/2

cups

all-purpose flour

1

teaspoon

baking soda

1/2

cup

cocoa powder

1 1/2

cups

sugar

3/4

cup

smooth peanut butter

2

large eggs

1/2

cup

peanut oil

3/4

cup

milk

I used 2%, but if you have another kind on hand, go ahead and use it

1/2

teaspoon

vanilla extract

1

cup

chocolate chips
Frosting Ingredients
1

cup

unsalted butter

room temperature

2

cups

smooth peanut butter

4

cups

powdered sugar

1/4

cup

+ 2 tablespoons milk

I used 2%, but if you have another kind on hand, go ahead and use it
Chocolate Dip Ingredients
2

cups

chocolate chips

3

tablespoons

peanut oil
Instructions
Cupcake Instructions
In a medium-sized bowl, whisk together flour, baking soda, and cocoa powder.

In another medium-sized bowl, mix sugar, peanut butter, and eggs until well combined.

Mix oil, milk, and vanilla into the wet ingredients.

Slowly add the flour mixture until fully incorporated.

Fold in chocolate chips.

Fill cupcake liners 3/4 full.

Bake at 350 F for 25 minutes or until cupcakes bounce back when lightly touched.
Frosting Instructions
In a large mixing bowl, mix butter and peanut butter until fully combined.

Mix in powdered sugar a little bit at a time until fully incorporated.

Add milk a little bit at a time and keep mixing until the frosting becomes light and fluffy (about 3 minutes).

Pipe a swirl of frosting onto each cupcake using a large round tip (I used Wilton tip number 1A , but if you don't have a tip, you can just cut the end off of a sandwich bag).

Place frosted cupcakes in the freezer for at least an hour. (If you don't have room in the freezer, you can cool the cupcakes in the refrigerator or – in a pinch – you could not cool them at all. I found that the frozen cupcakes were the easiest to dip. But, I dipped a whole batch of room temperature ones and they all worked; the chocolate was just a wee bit drippier.)
Chocolate Dip Instructions
Place chocolate chips and oil into a tall microwave-safe cup (I used a two cup Pyrex measuring cup).

Microwave for twenty seconds at a time (stirring in between) until all of the chocolate is melted.

Let the chocolate sit for a couple of minutes so it is still warm but not so hot that it burns you if you touch it.

Take the frosted cupcakes out of the freezer. One by one, grab the cupcakes by their wrappers, turn them upside-down, and dunk them into the cup of melted chocolate - making sure that all of the frosting gets covered. (If you listen carefully, you may be able to hear them squealing, "Wheeee!") Let the cupcakes hover over the cup of chocolate until all of the excess chocolate drips off.

Admire your work.

Store cupcakes in the refrigerator until you are ready to eat them!
If you like this recipe, you'll also like: