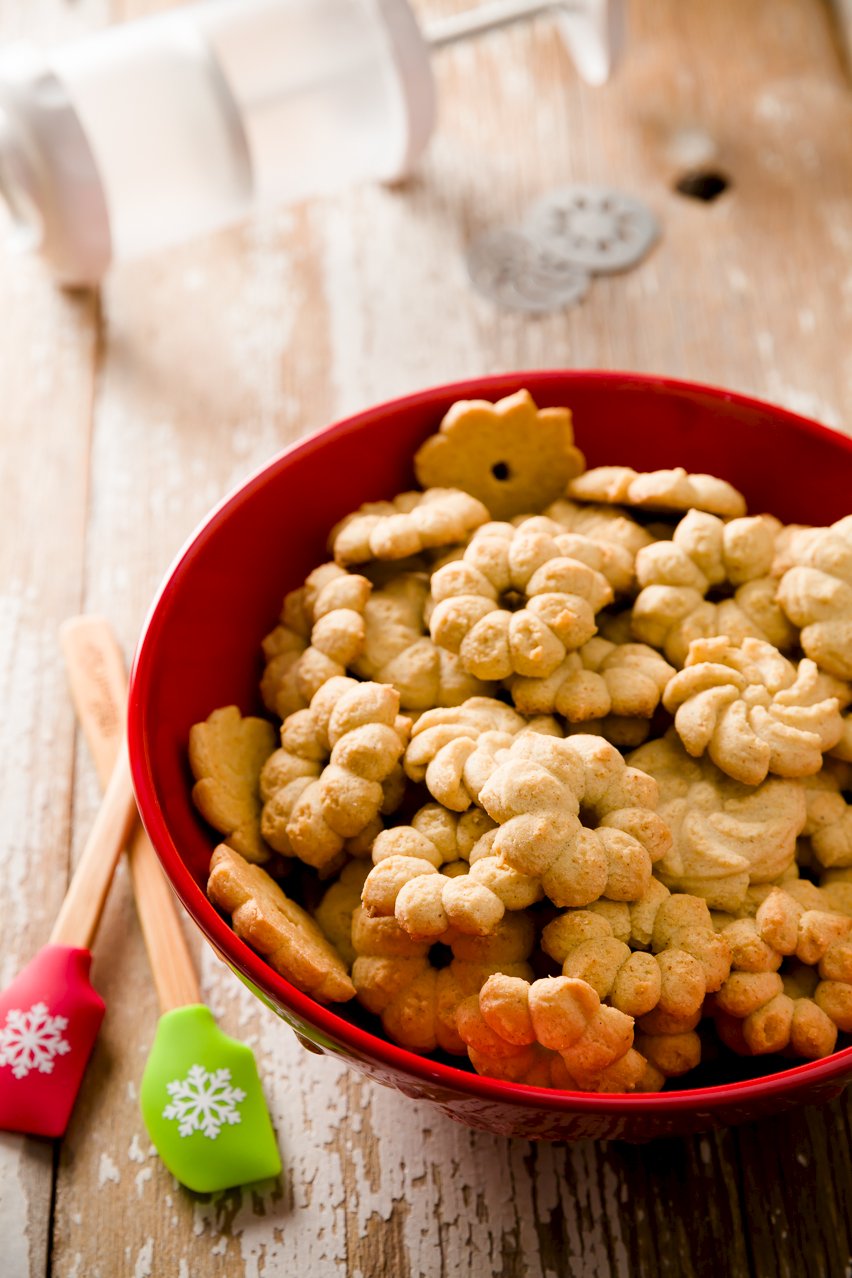 As a little redhead pig-tailed girl, holiday sweets meant Mom's brownies, Grandma's golden glow cake, and the black and white cookies Dad picked up on the way home from work.  My position was always official taster and sometimes mixer or measurer.
Today, when I bake with my son, Myles, I want him to understand quality and to appreciate the craft and care that go into baked goods that are worth every calorie.  I'm not sure that it's working yet; he came home from school telling me that he enjoyed the mediocre supermarket cupcake he was offered in honor of one of his classmate's birthdays.  But, we'll get there!
I received a sweet package from Pampered Chef (that you can actually win here later this week!) which included their cookie press.  I've never owned a cookie press before and it seemed totally kid-friendly, so I decided to use it with Myles to make brown butter cardamom orange spritz cookies.  Cookie pressing was new to both of us.  I fully expected that I would be pressing the cookies onto the cookie sheet but was most surprised to find that, instead, you turn the handle to release the dough.
Myles and I were laughing the whole way as we figured out how to use the cookie press and literately clapped for ourselves when we created such perfectly-shaped little cookies.
The brown butter cardamom cookies didn't just look picture perfect; they came out rich and buttery with a slight citrus spice kick.  They're simple enough to please any crowd, but different enough to excite the foodie in your group.
Cookie Press Tips and Tricks
Although using a cookie press is fairly straightforward, I learned some important tips and tricks along the way.  I also solicited the Cupcake Project Facebook community for the best cookie press tips and tricks to use with the Pampered Chef cookie press.  Here's what I learned:
Cookie presses require that the dough be a particular texture – only certain cookie dough recipes will work.  When selecting a recipe to use with your cookie press, make sure that the recipe is for a cookie press or is a spritz cookie recipe.
Although using Pampered Chef's silicone mat works perfectly for making sure my son spaces the cookies out nicely, it's actually best to use an ungreased cookie sheet when making cookie press cookies – that way the cookie dough sticks to the cookie sheet when you press it out of the cookie press.  This is the first time I've ever made cookies where I wanted anything to stick to the cookie sheet.  But, after using the tool a bit on parchment paper, I quickly learned how frustrating it is when you lift the cookie press and the dough comes up with it instead of making a pretty pattern on the cookie sheet.
Amy Michele says that the dough sticks even better if the cookie sheet is cold.  She sometimes sticks her cookie sheet in the freezer.
The instructions that come with the cookie press say to use room temperature cookie dough, but many of you suggest that the process works better when the dough is chilled.  I didn't try this, but it is something to consider if you are having any problems.
If the dough won't come out of the cookie press, just add a little milk at a time until it is soft enough to come through.
Brown Butter Cardamom Orange Spritz Cookies
Brown butter and cardamom bring winter warmth to bright citrus spritz cookies.
Ingredients
1 1/2

cups

unsalted butter

1

cup

sugar

1

large egg

1

teaspoon

vanilla extract

3 1/2

cups

all-purpose flour

3

tablespoons

orange zest

1

tablespoon

ground cardamom

up to 1/2 cup + 2 tablespoons milk

optionally, replace 1/4 cup of the milk with pulp-free orange juice for a stronger orange flavor
Instructions
Melt butter over medium-heat in a small skillet or heavy-bottomed pot.

Continue to heat the butter, stirring periodically, until it turns brown (10-15 minutes). The butter will first boil with big bubbles (it's not done then). Then, the bubbles will get smaller and the whole thing will look more brown (that's when it's done).

Remove butter from heat and cool to room temperature.

Preheat oven to 375 F.

In a large mixing bowl, mix butter and sugar until creamy (about three minutes on medium speed with an electric mixer).

Mix in egg and vanilla.

Mix in flour, orange zest, and cardamom.

Mix in 1/4 cup milk and check the consistency. The dough should be soft enough to go through the cookie press, but not so soft that the shape doesn't hold.

If necessary, add milk a little bit at a time up to the full amount.

Use cookie press according to the instructions that come with it, spacing cookies 1 inch apart from each other on an ungreased cookie sheet.

Bake for 10-12 minutes or until edges are a light golden brown.
Notes
This recipe is based on Pampered Chef's classic spritz cookie recipe.
Nutrition
Nutrition Facts
Brown Butter Cardamom Orange Spritz Cookies
Amount Per Serving
Calories 69
Calories from Fat 36
% Daily Value*
Fat 4g6%
Cholesterol 12mg4%
Sodium 2mg0%
Potassium 12mg0%
Carbohydrates 7g2%
Vitamin A 125IU3%
Vitamin C 0.3mg0%
Calcium 5mg1%
Iron 0.3mg2%
* Percent Daily Values are based on a 2000 calorie diet.
This post was sponsored by Pampered Chef but the joy of making spritz cookies with their cookie press is all my own!