Madeleine cookies are classic French pastries that are cake-like and a little spongy. They can be made in all kinds of flavors, though traditionally they are flavored with vanilla, a little lemon, and a light dusting of powdered sugar. The madeleine recipe is not considered a beginner one, but you'll be able to make these madeleine cookies if you follow my simple step-by-step instructions – no matter your skill level with baking.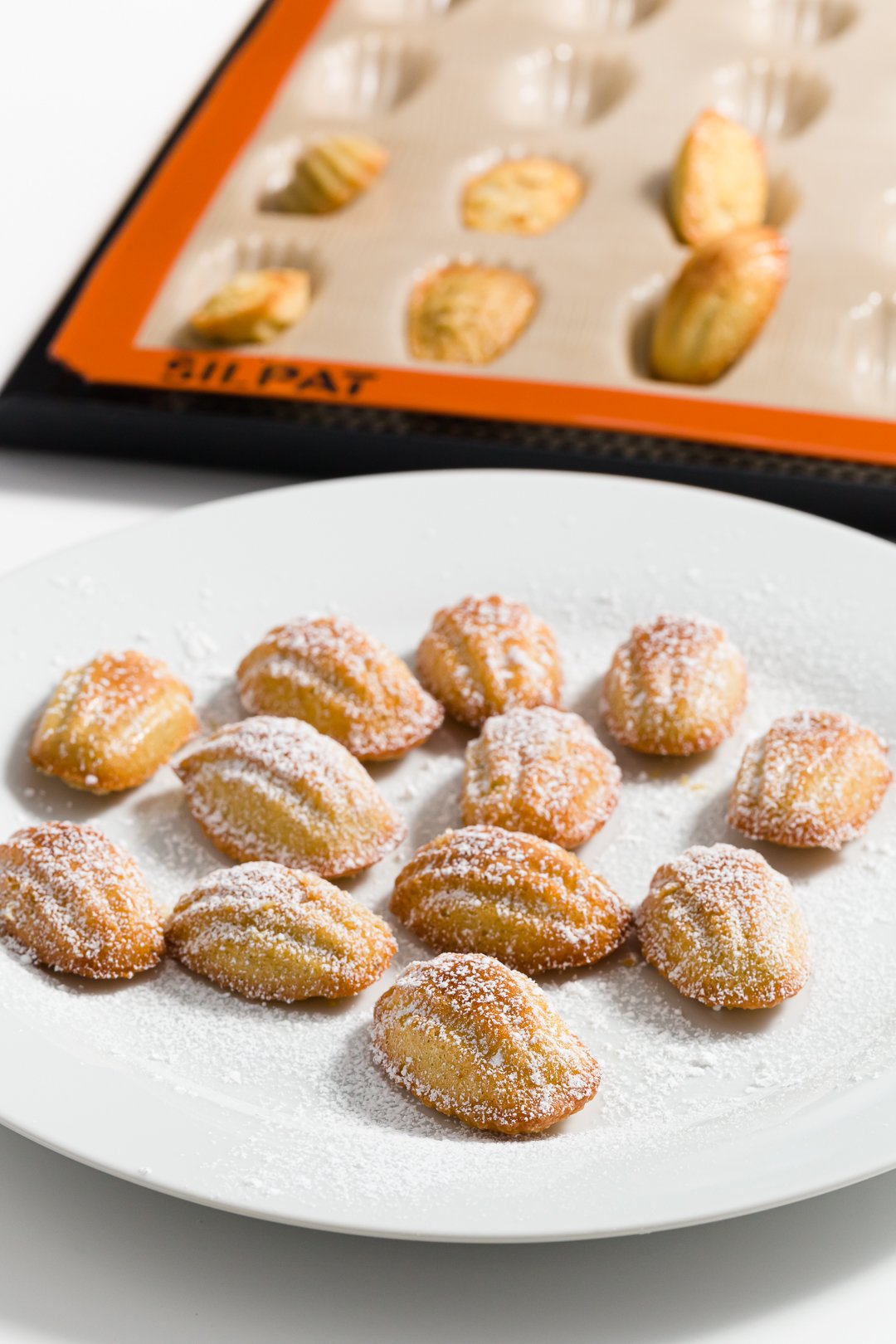 This post was sponsored by Silpat. I can't recommend their mini madeleine pan enough!
What Do You Need to Make Madeleine Cookies?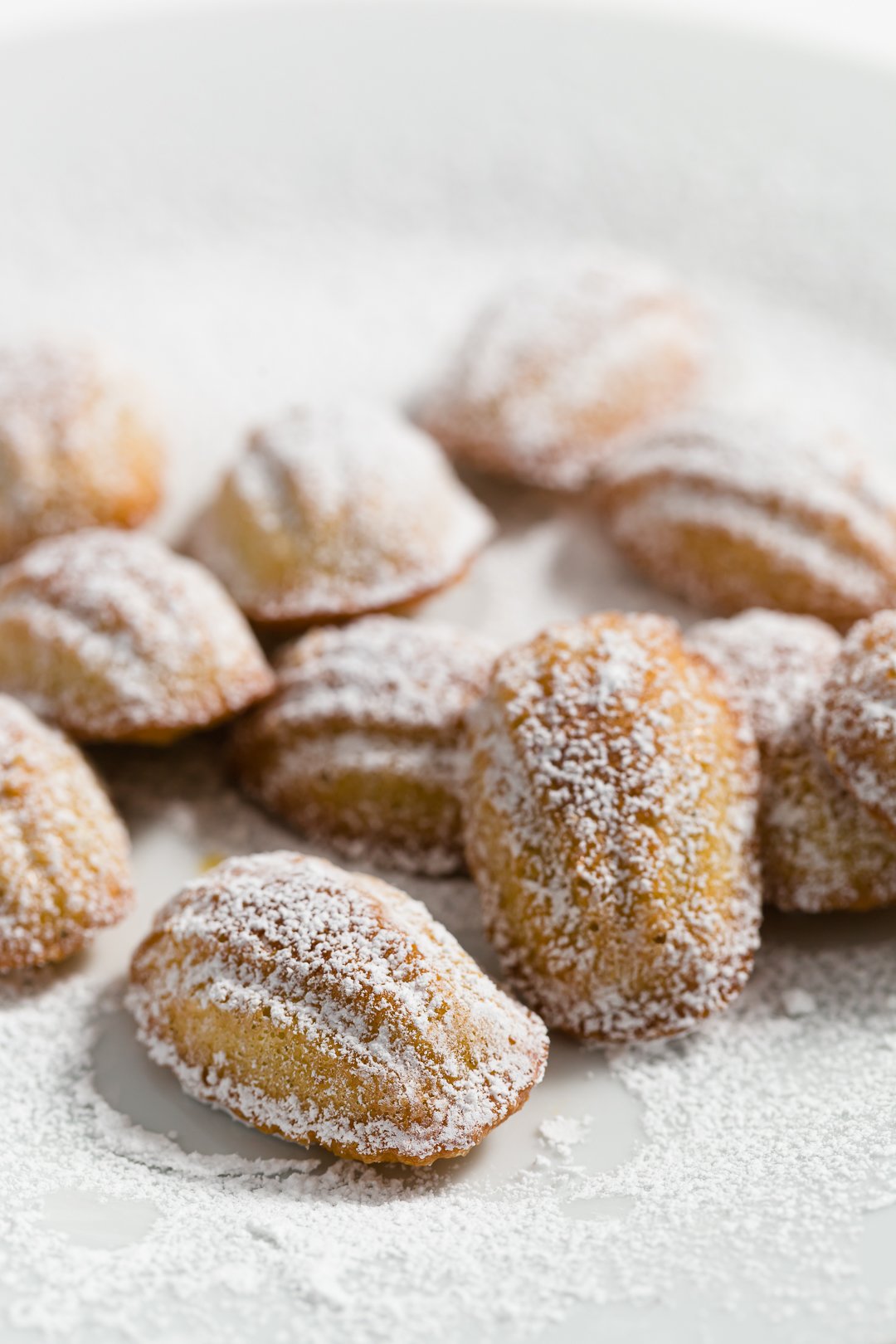 Madeleines are made using really basic ingredients that most people have at home. You'll use:
eggs
butter
sugar (They are traditionally made with white sugar, but I also add a touch of brown sugar for extra flavor.)
salt
flour (Many people use sifted all-purpose flour, but my recipe calls for cake flour to make them extra light.)
flavoring (This could be lemon zest, vanilla, spices – like in ginger madeleines – or any flavor combination that you love.)
You'll also need a madeleine pan. Having the correct pan that gives you the iconic shell shape is a big part of what makes a madeleine unique. The ridges get crispy while the interior stays nice and soft.
I love baking my madeleines in Silpat's mini madeleine pan.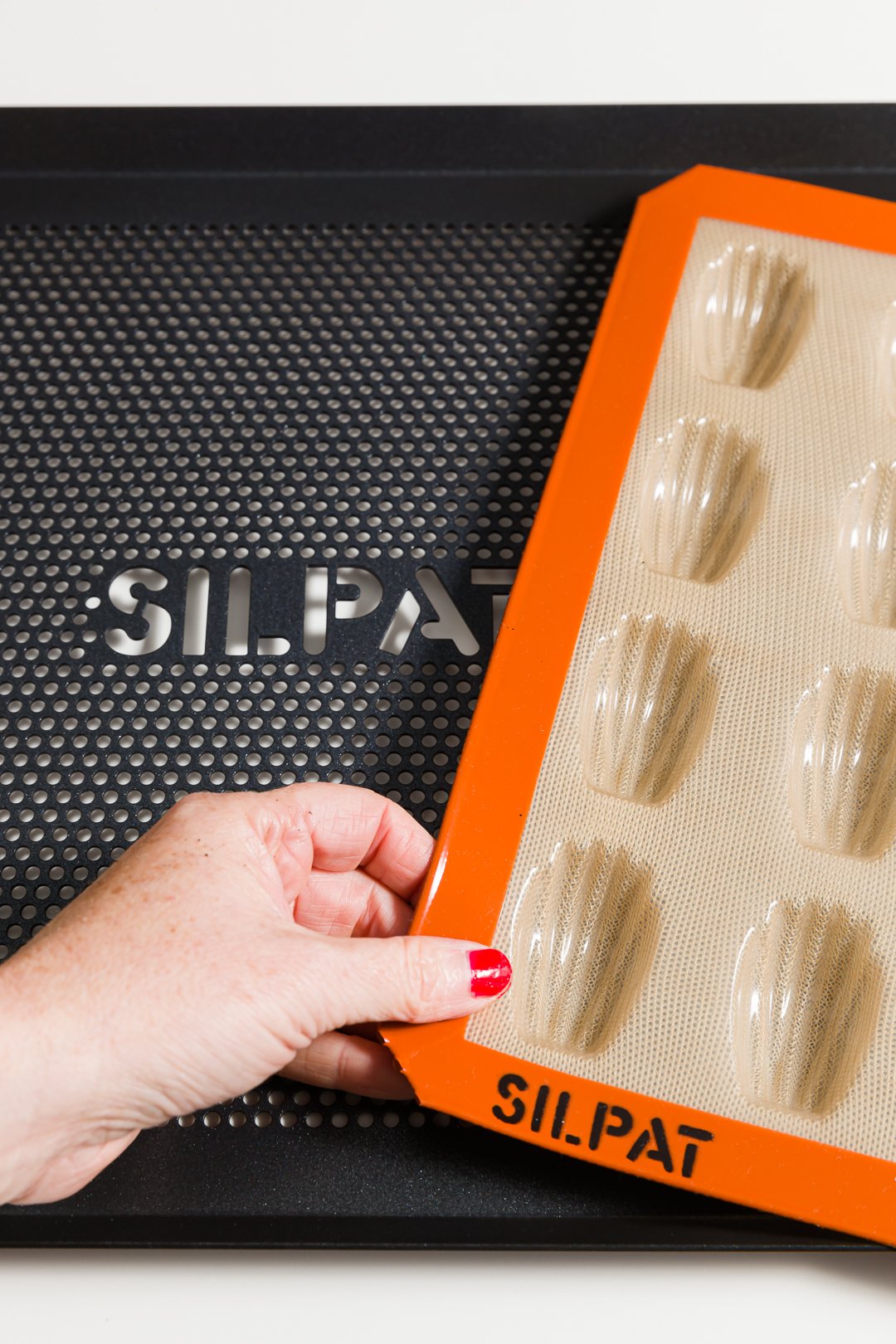 Unlike traditional madeleine pans, the molds are 100% non-stick (you don't need to grease them at all!).
You put the mold on top of any cookie sheet while baking; I recommend Silpat's Cook & Cool. It's perfectly-sized for the mold and it's handy to have around because you can flip it over and use it as an extra cooling rack.
How to Make Madeleines
Start by beating eggs, vanilla, and salt in an electric mixer.
Then, while the mixer is still running, slowly add in the sugar and brown sugar.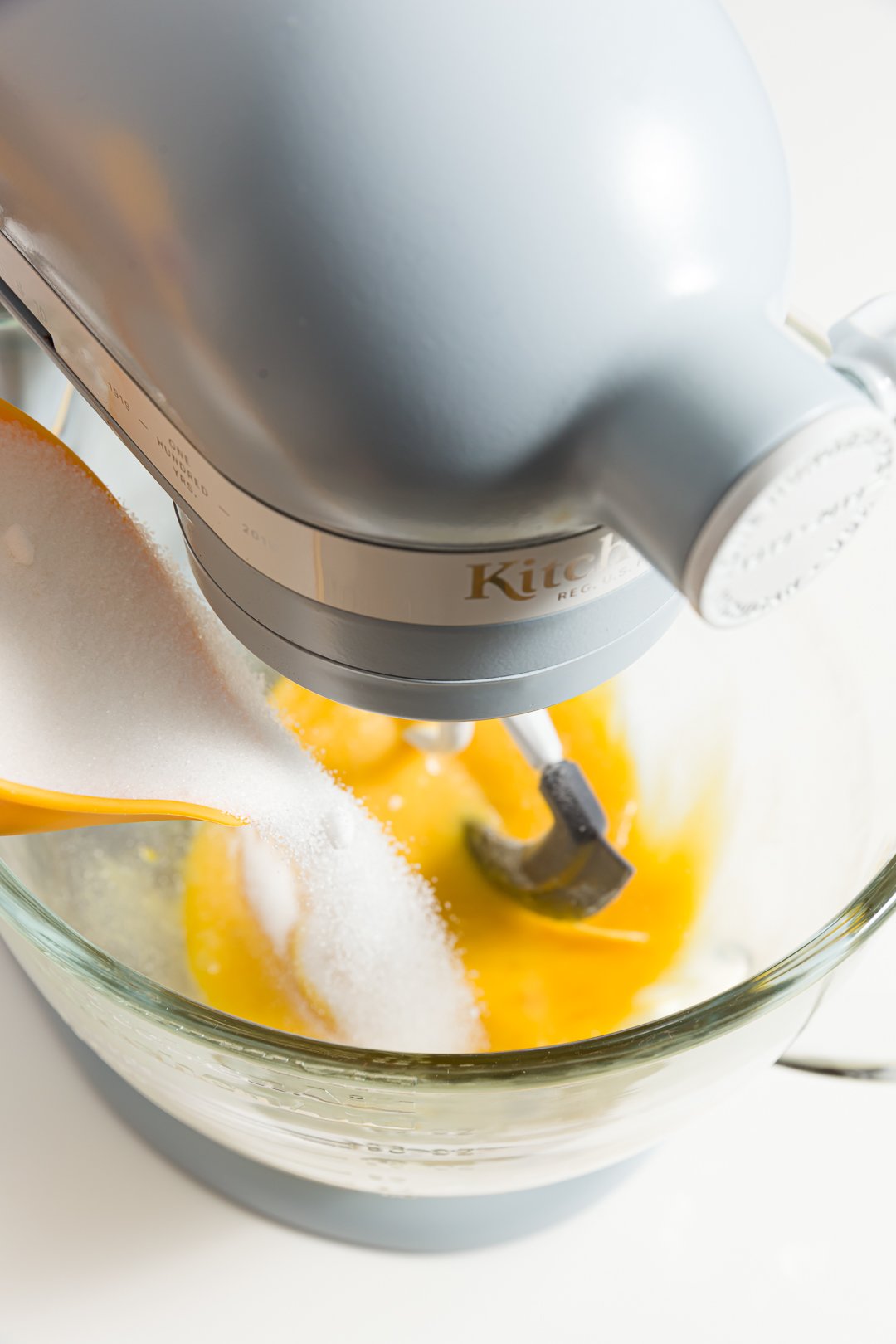 A traditional madeleine recipe doesn't use baking powder or baking soda. Like chiffon cake or angel food, all of the lift in the recipe in comes from incorporating lots of air into the eggs.
Raise the speed of the mixer to high, and beat the eggs for ten minutes or until the batter reaches the ribbon stage. This is where it falls in a thick ribbon that sits on the batter for a few seconds before slowly flattening out.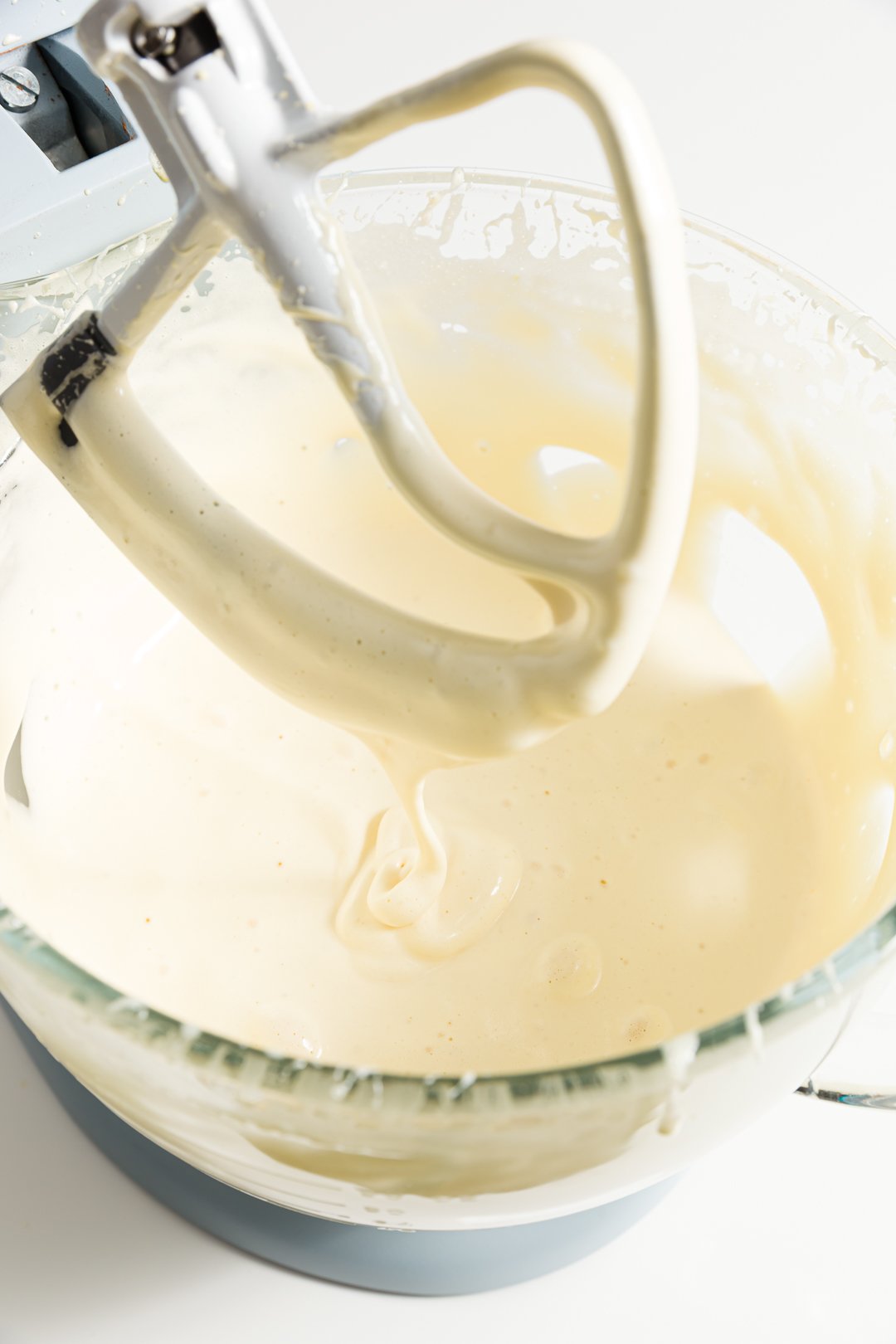 Now that you've incorporated so much air into the batter, you don't want to risk losing it. Every other step of this recipe must be done gently and by hand.
Fold in the flour a little bit at a time. Even though you are being gentle, make sure to be thorough. The flour must be completely incorporated into the batter.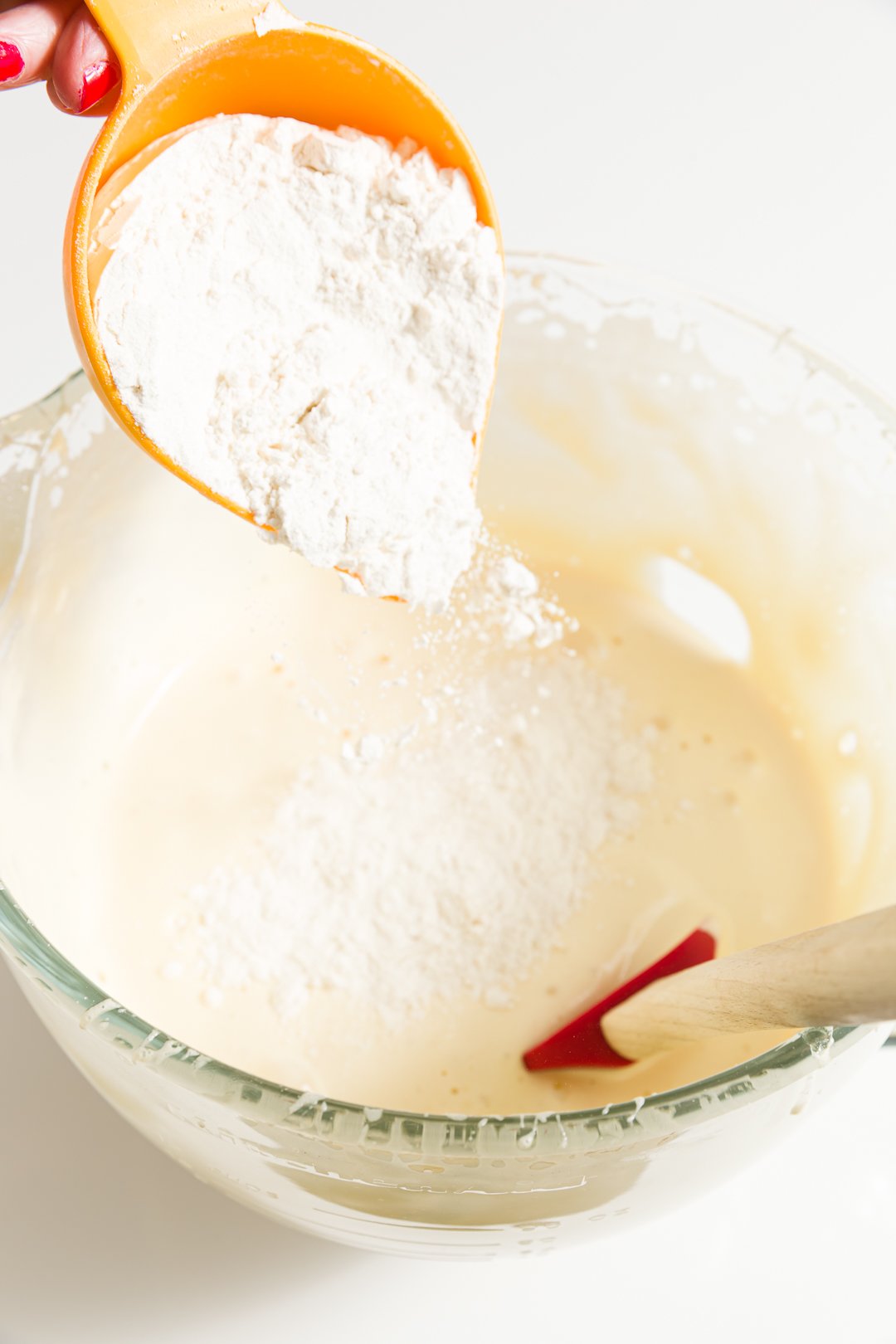 This is also where you can incorporate other flavors into the batter like spices, lemon zest, orange zest, or even matcha powder.
Unlike most cakes and cookies where the butter is added early in the recipe, it's the very last ingredient added in madeleines. You can use regular melted butter or browned butter. I prefer the flavor of madeleines made with browned butter.
How to Brown Butter
To brown the butter, place cold or room temperature butter in a skillet over medium heat. Stir periodically. It will start to boil with big bubbles.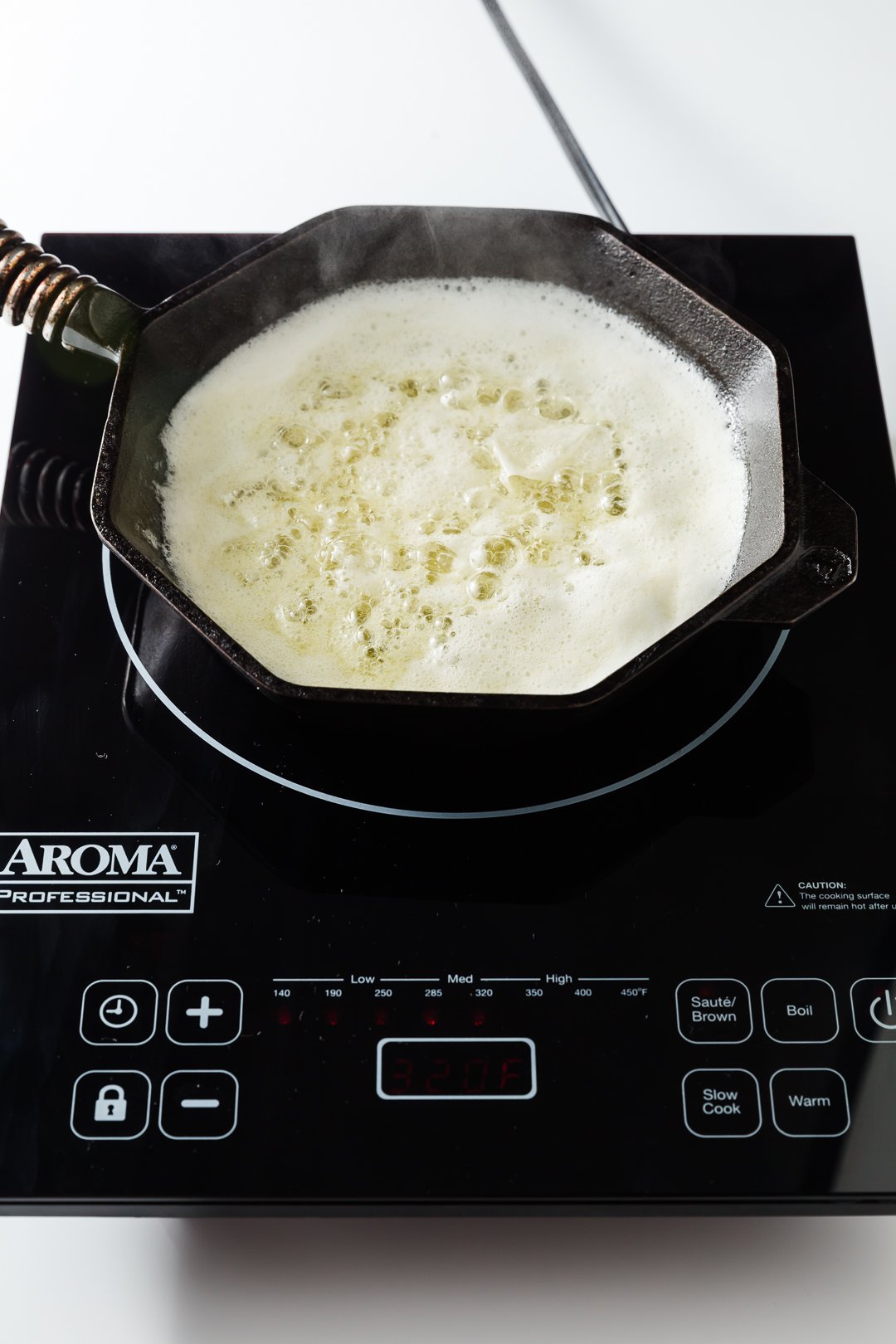 Then, the bubbles will get smaller.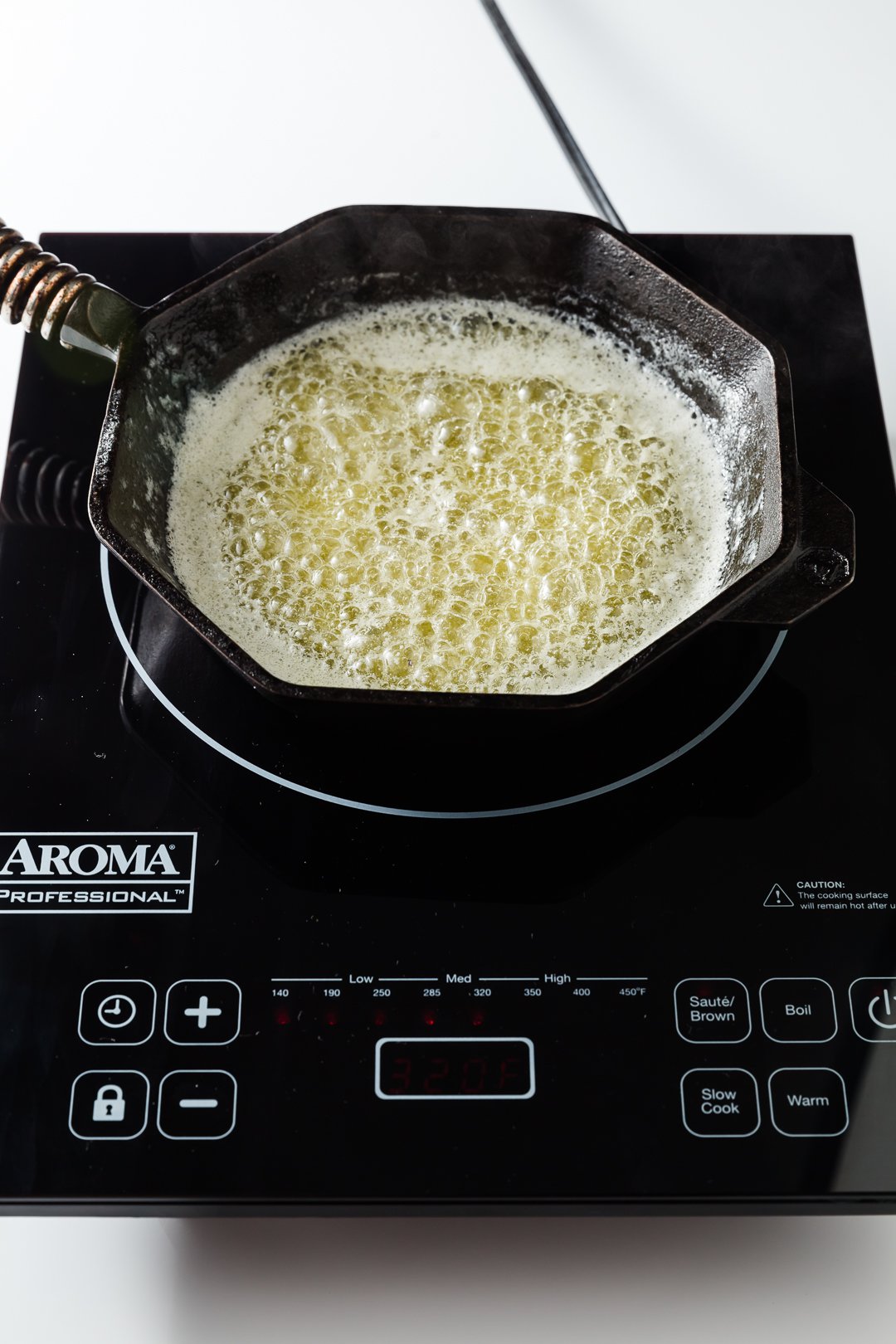 Raise the heat slightly at this point and keep a close eye on the butter. Once the butter turns more brown, remove it from the heat immediately.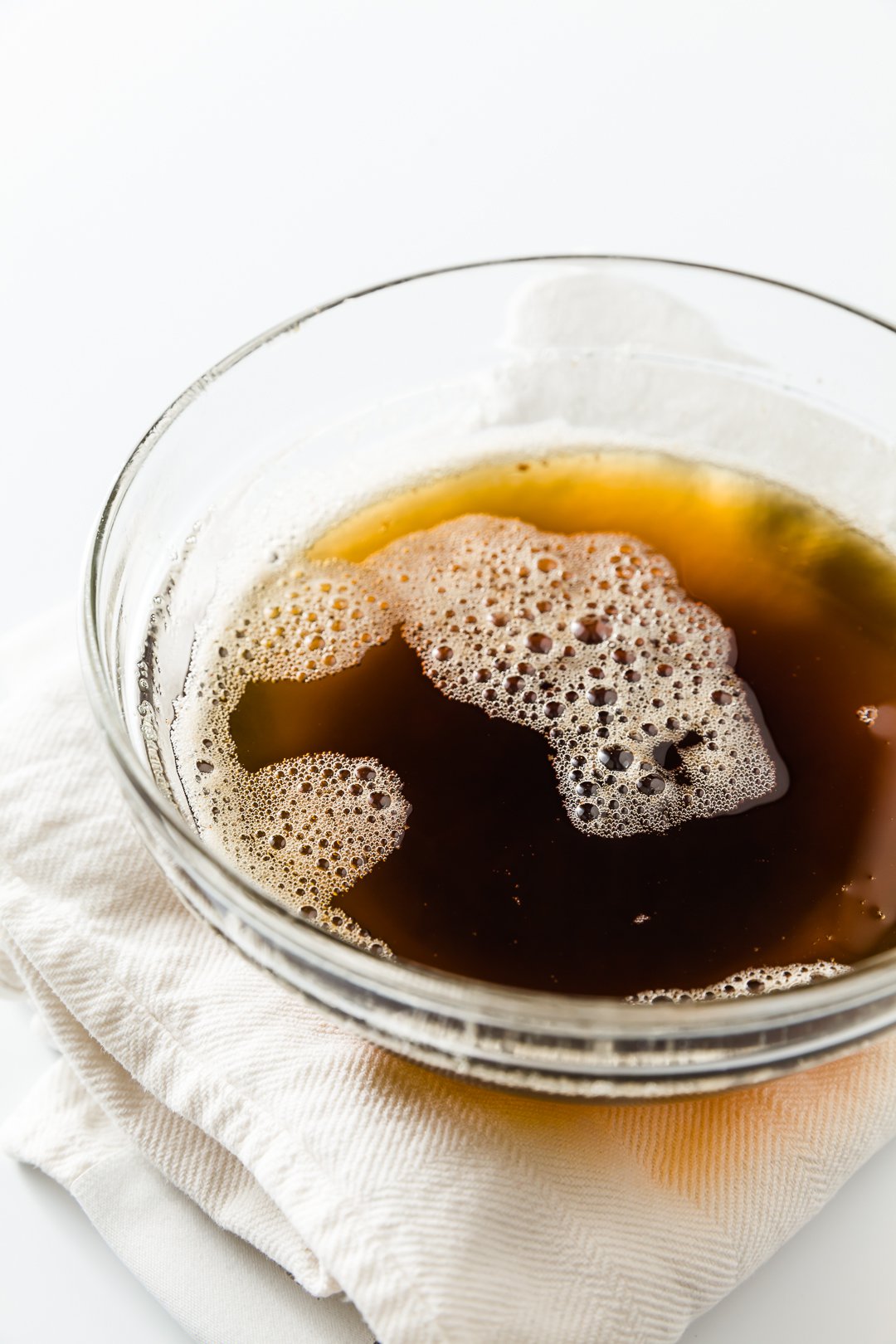 When you add it to the batter, it should be melted, but not hot to the touch.
How to Fill Madeleine Molds
I recommend using the two spoon method to fill the molds. Put the batter onto one spoon and use the other spoon to push it into the mold.
Fill each madeleine well about 3/4 full.
How to Know When Madeleines Are Done
You want to be careful not to over-bake madeleines. They are done when the outside starts to look golden and they bounce back when you lightly touch them. I recommend checking for doneness at 11 minutes.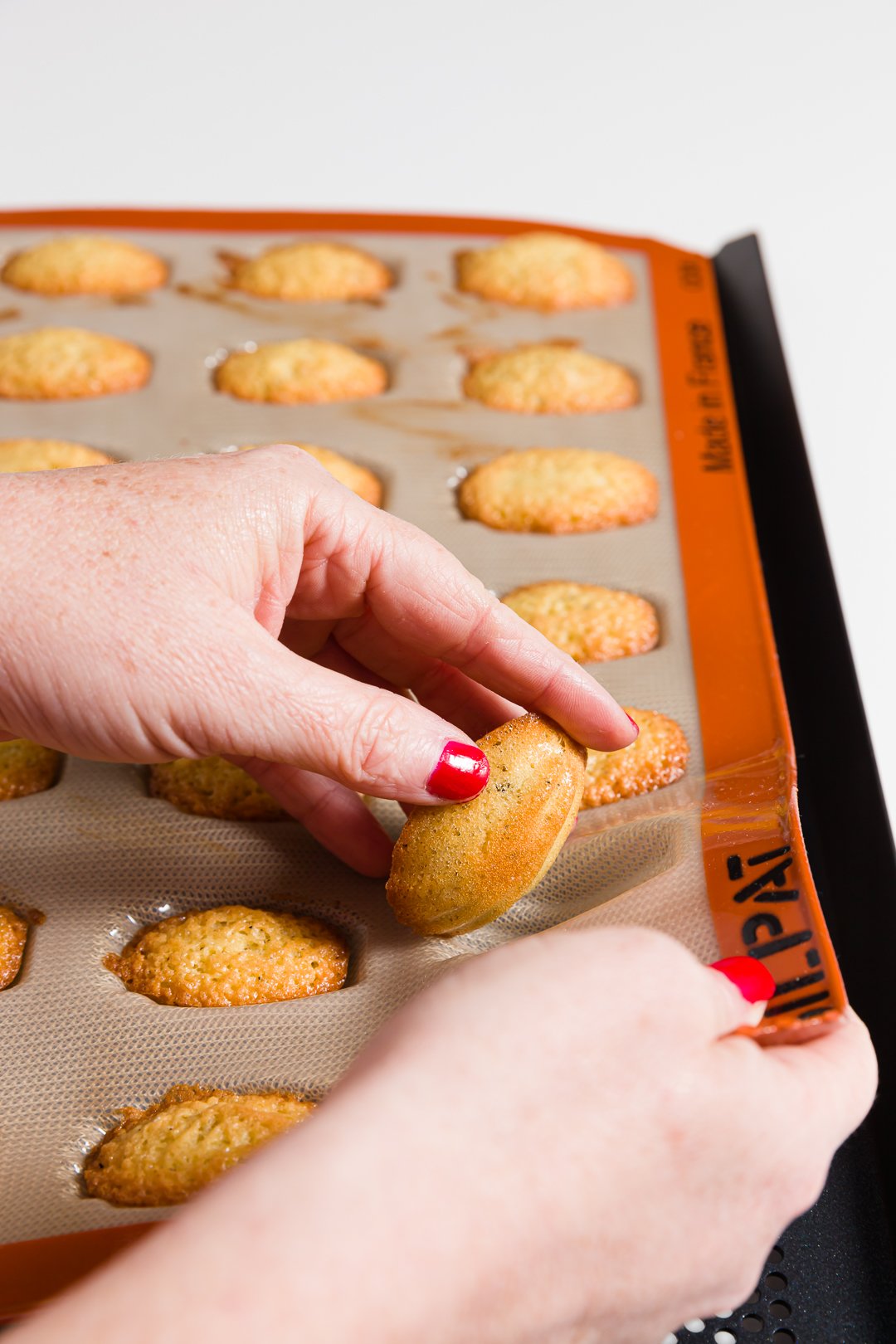 Remove the hot madeleines from the mold and set them on a cooling rack to cool to room temperature.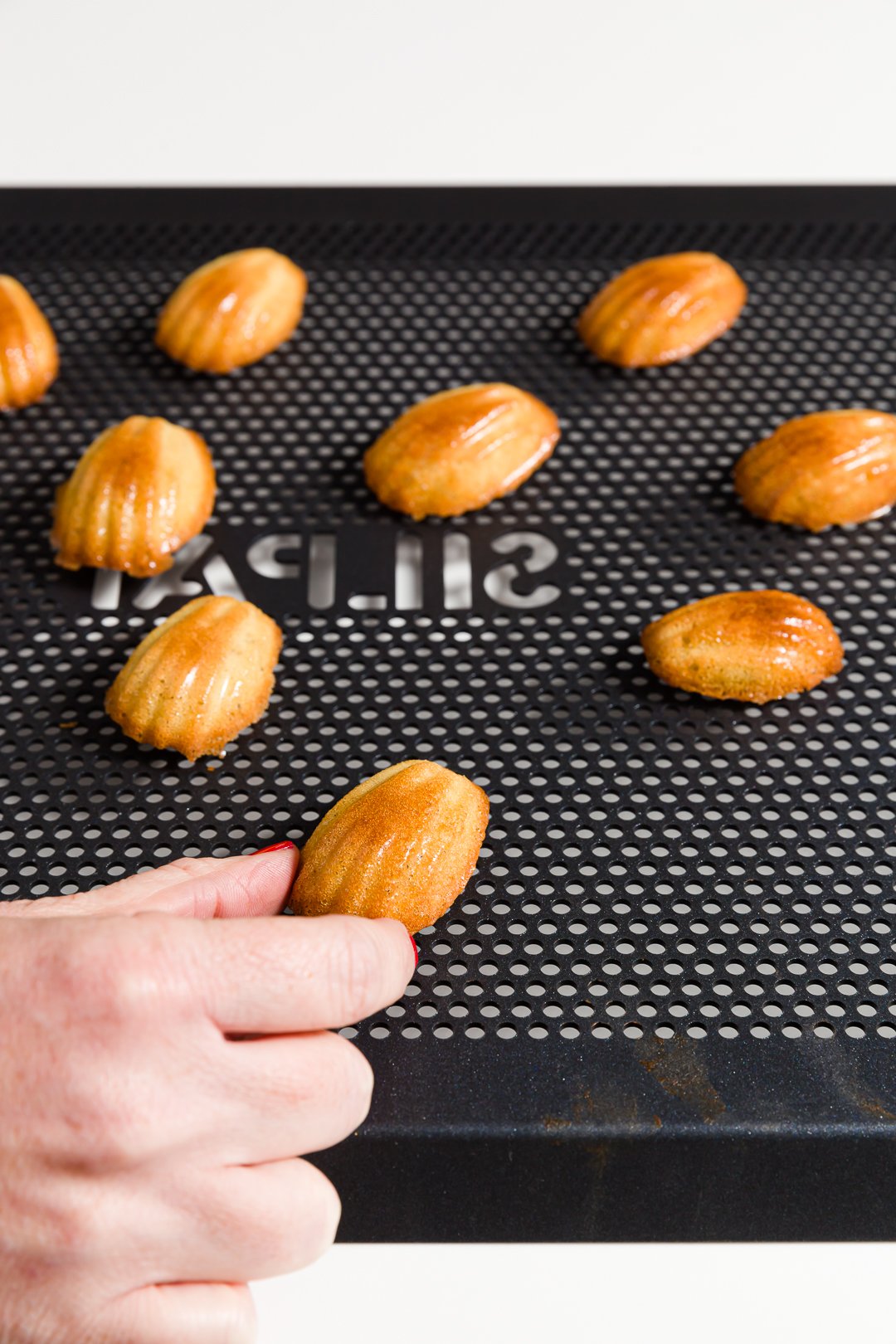 Dust them with powdered sugar and store in an airtight container. They are best served on the same day, but they will still be great (especially dunked in coffee) for several days.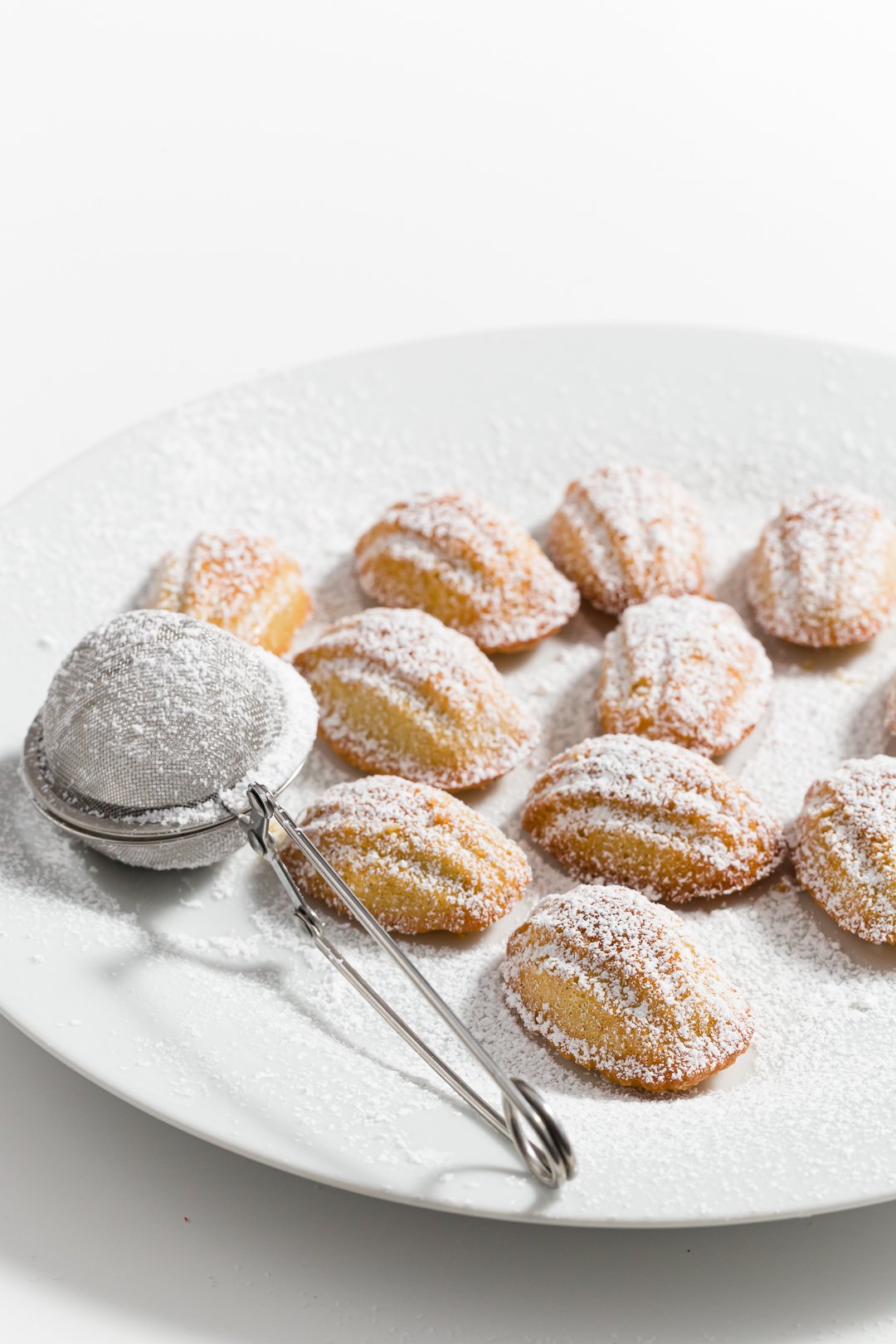 Chocolate Dipped Madeleines
Another really popular way to serve madeleines is to dip them in chocolate. To do so, dip just the ends of cooled madeleines into melted chocolate (read up on how to temper chocolate so that the chocolate will be nice and shiny when it sets) and put them on a cooling rack to dry.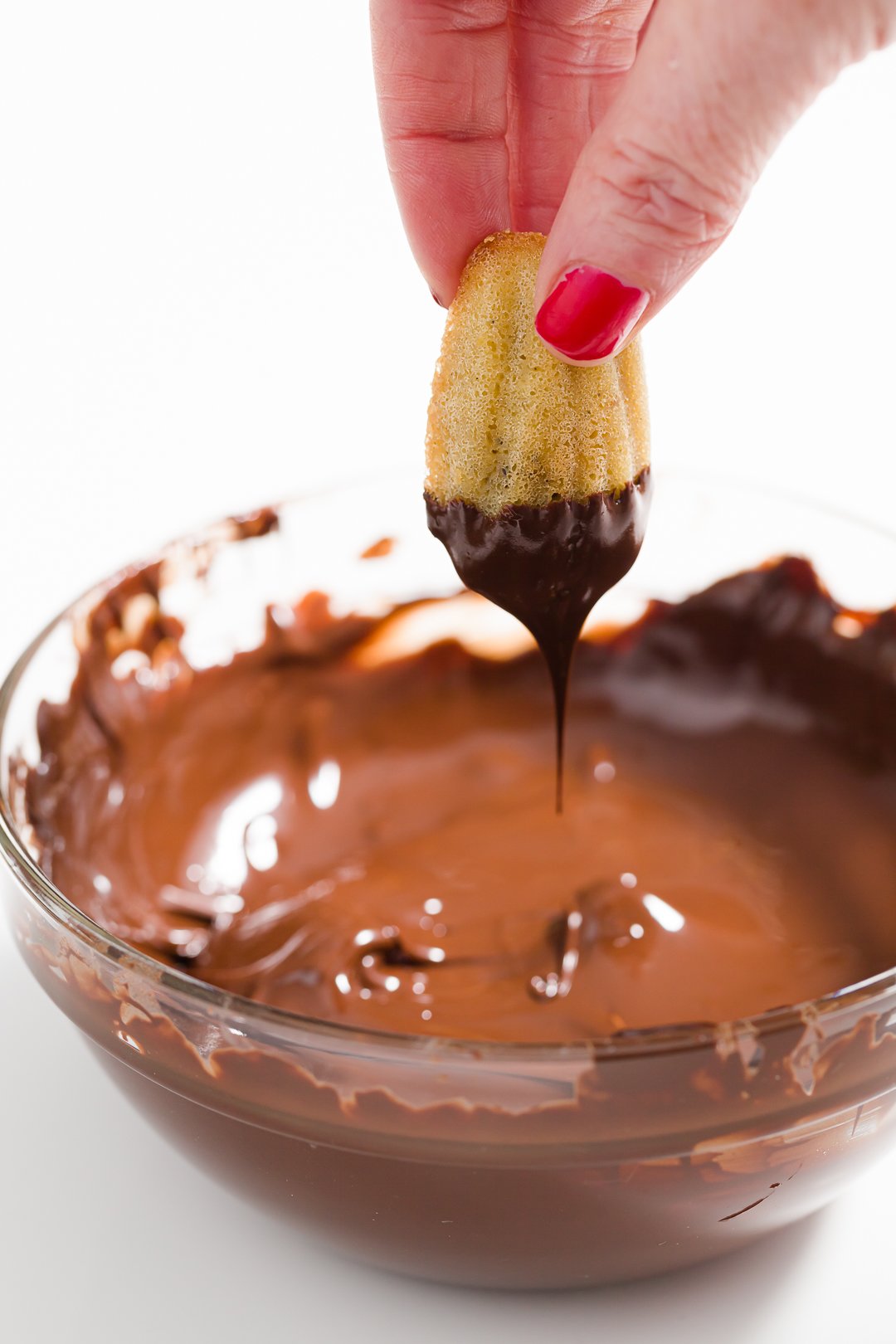 How to Make a Madeleine Tower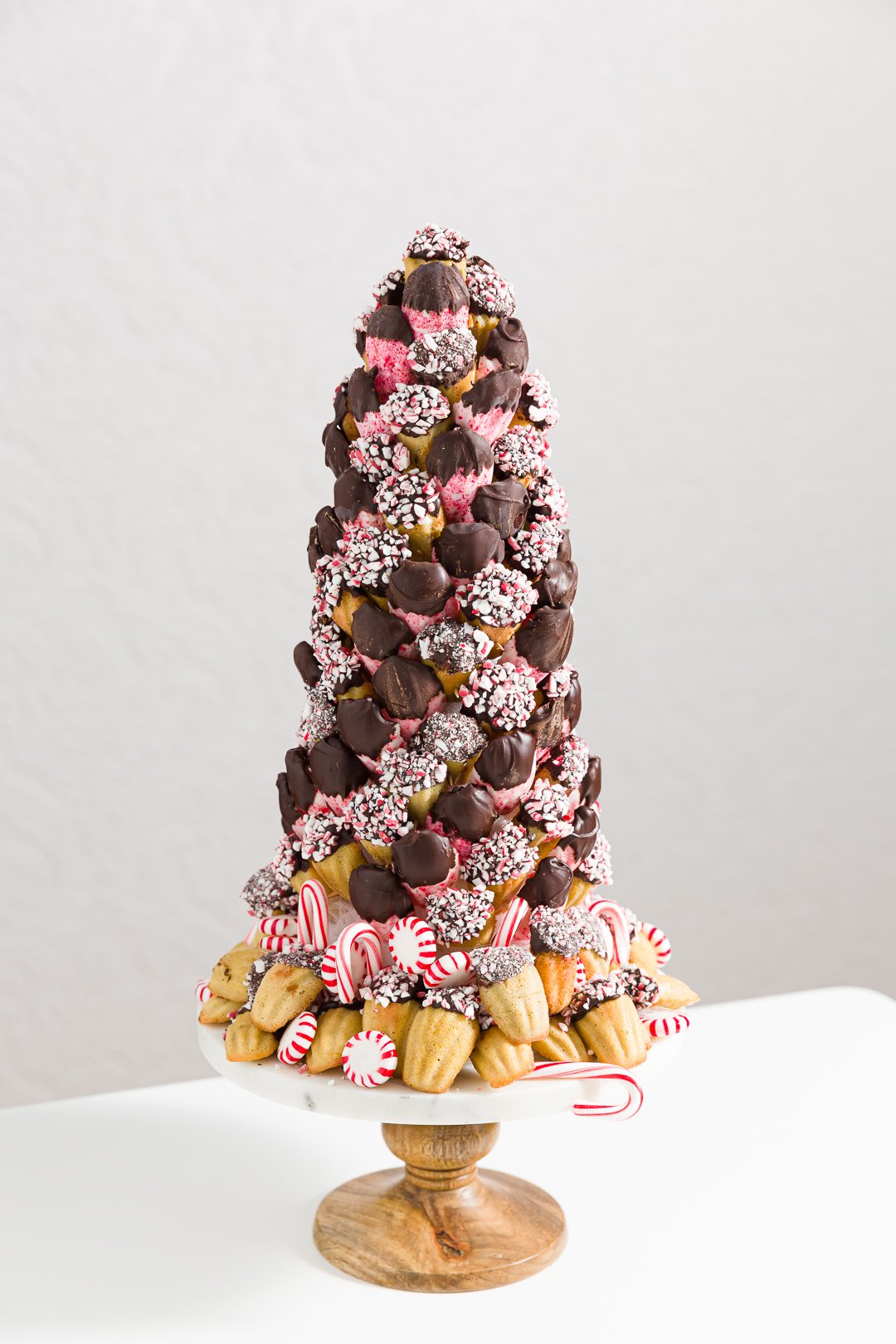 If you want to get extra fancy, serve your madeleines as a madeleine tower. Below, I share the details for how to make my holiday madeleine tower.
Best Flavors to Use
For the tower, I suggest using plain vanilla madeleines – using lemon or orange won't be the best fit with the peppermint.
Dip them in chocolate and then roll them in crushed candy canes.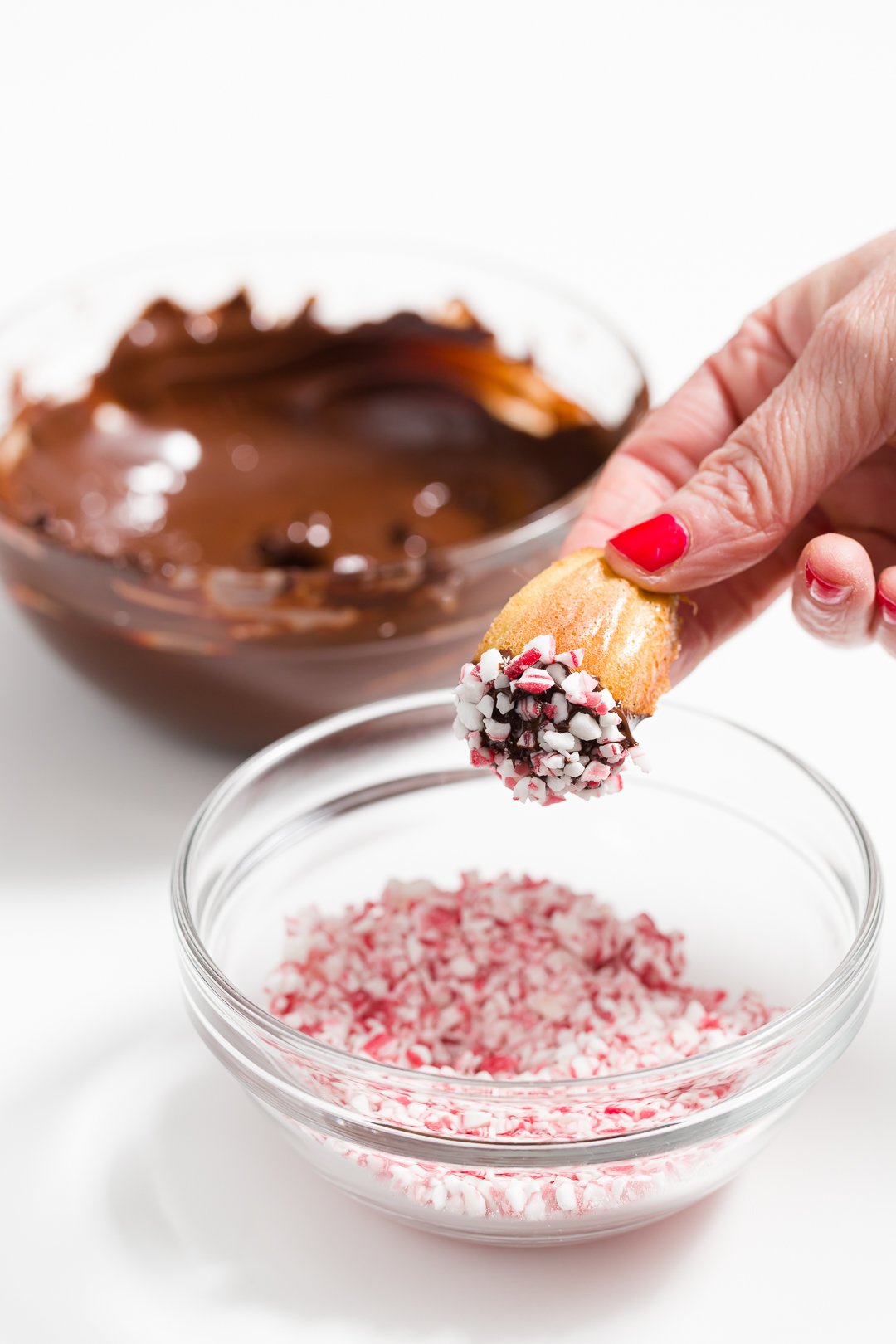 I also make madeleines made entirely of candy canes for the tower. You can only make candy cane madeleines using one of Silpat's molds. If you try to use a metal pan, you likely won't be able to remove them.
How to Make Candy Cane Madeleines
To make the candy cane madeleines, start by crushing candy canes. You can do this by putting them in a sandwich bag and rolling over them or whacking them with a rolling pin. (Warning: I don't recommend that you use all-natural candy canes. I tried using them and they never set up properly.)
Fill the Silpat mini madeleine mold with the crushed candy canes. Be sure to fill all the way to the top as they will shrink when they melt.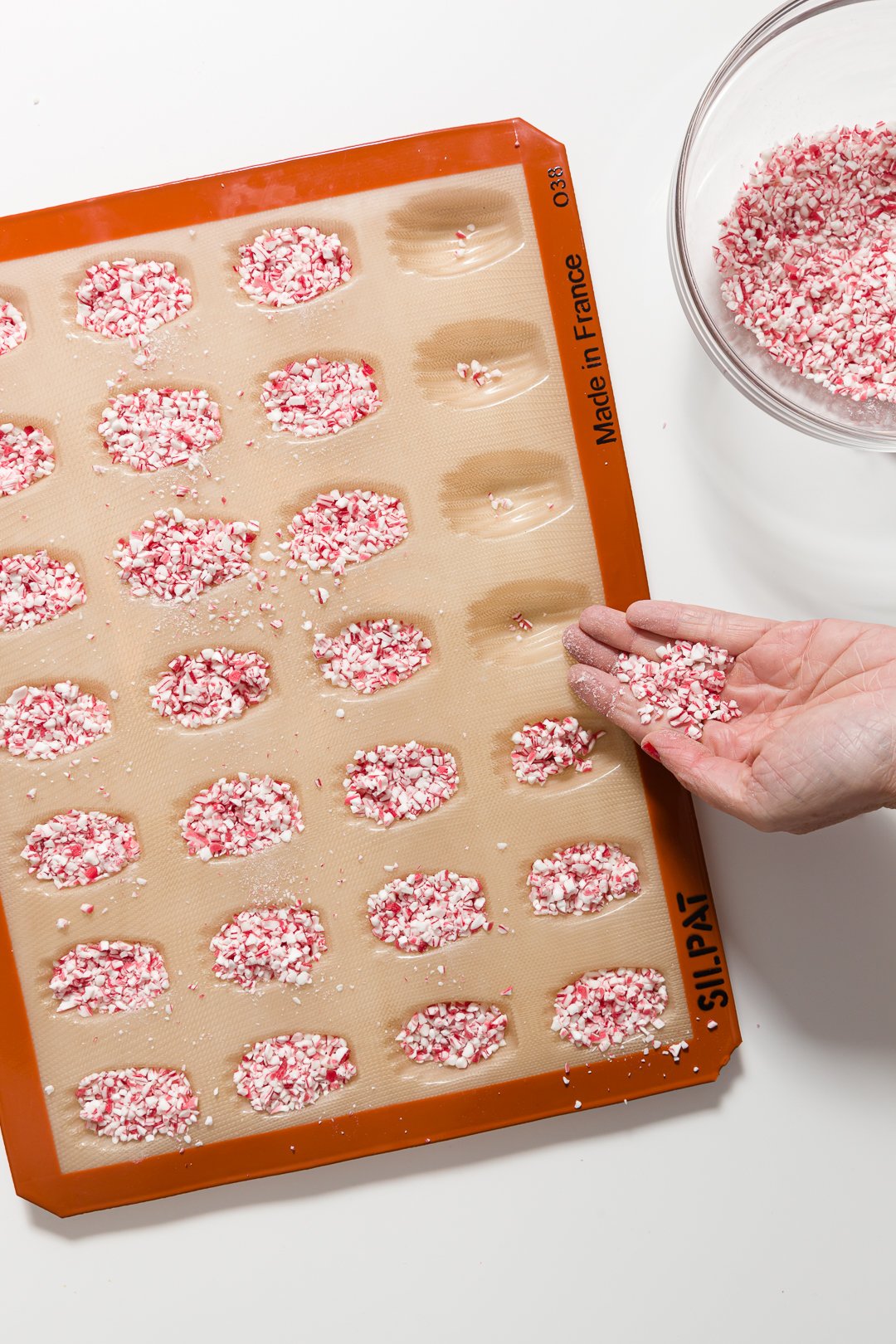 Then, insert a toothpick into each unbaked madeleine. Once the candy canes are baked, they will be too hard to add a toothpick to and you'll need one to add them to the tower.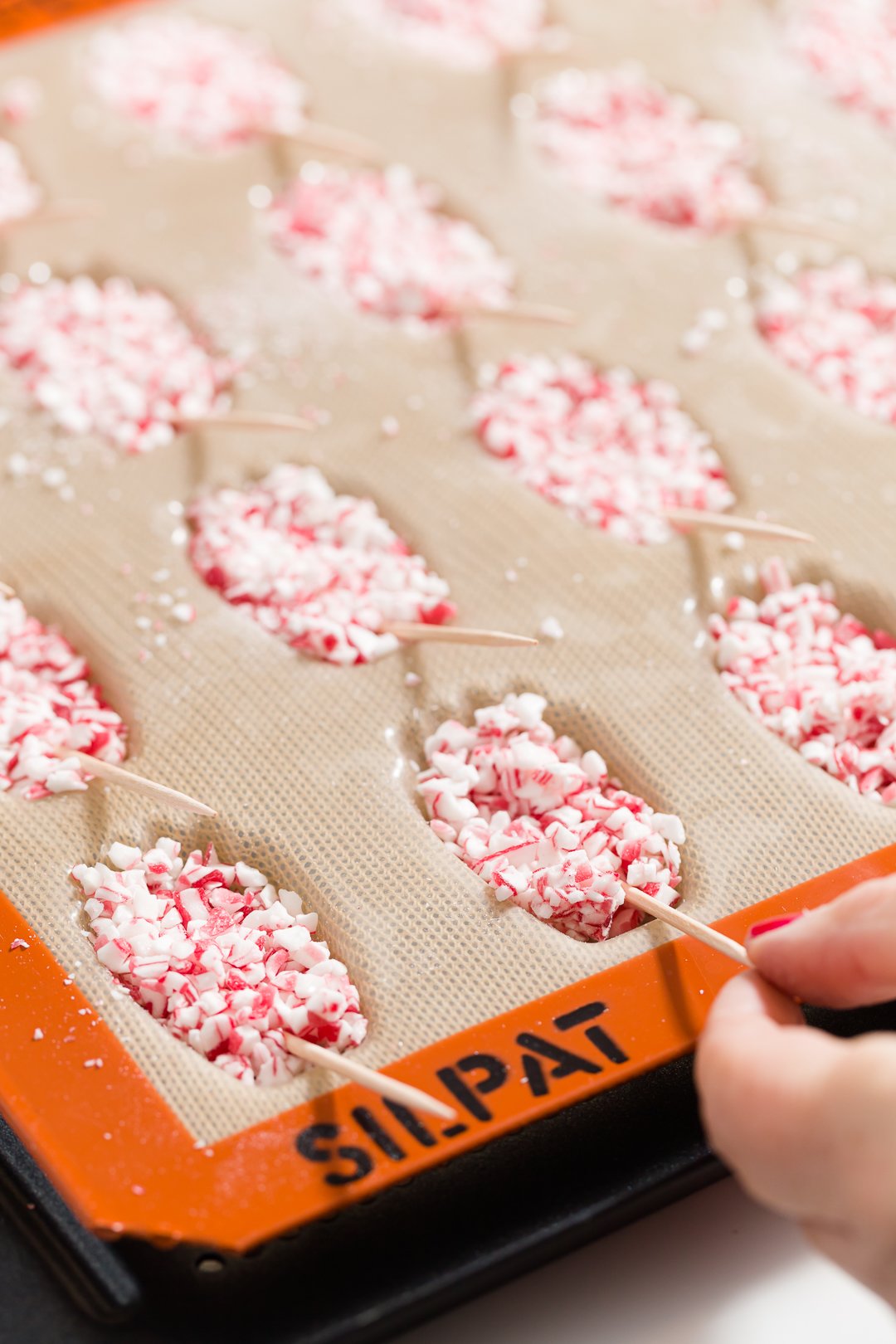 Bake the candy cane madeleines at 300 F until the candy cane is totally melted, about 12 minutes. If they shrunk a lot, add a little more crushed candy cane and return to the oven to melt.
Once they cool, they easily peel out of the molds.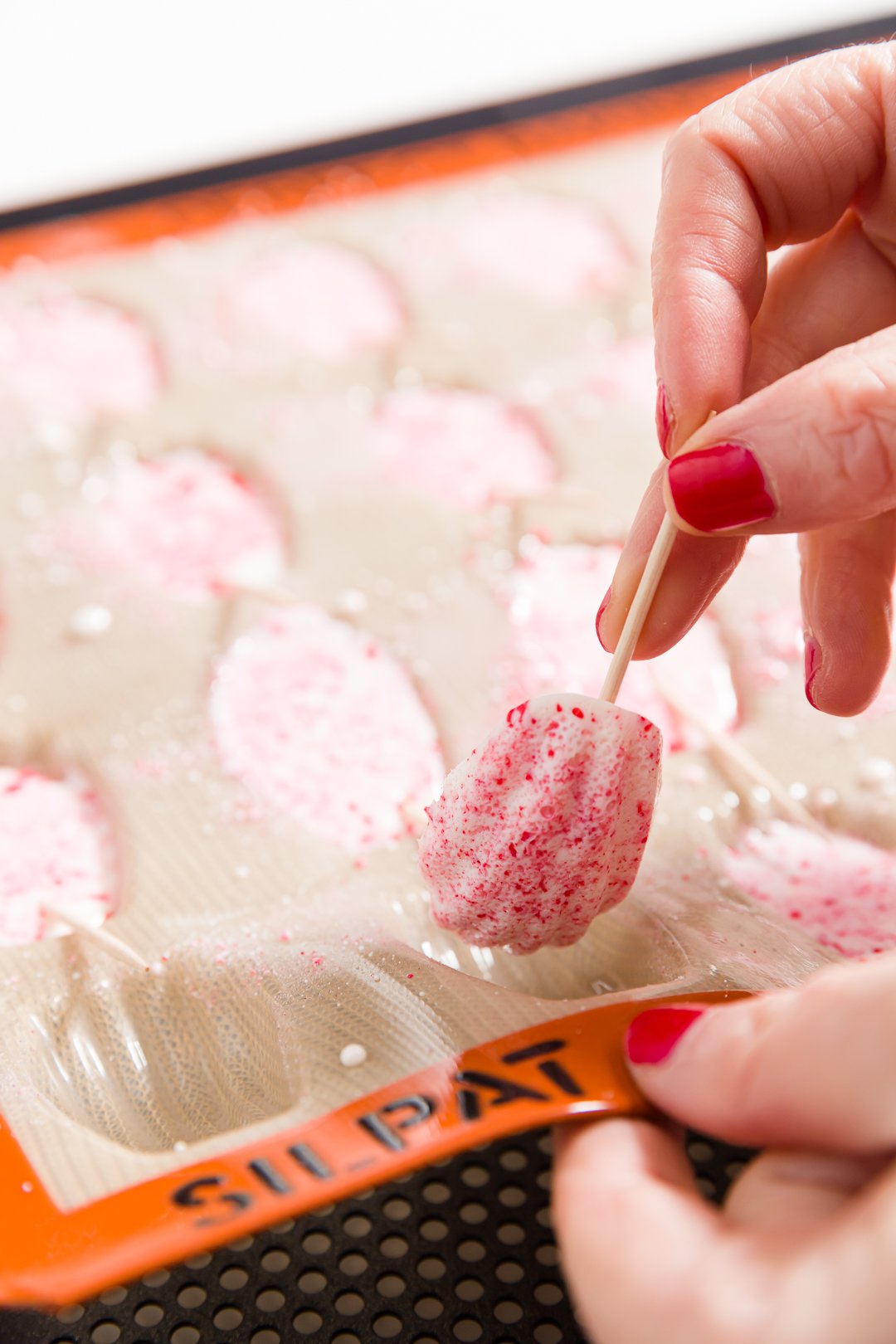 Dip the candy cane ones in melted chocolate just as you did the regular kind.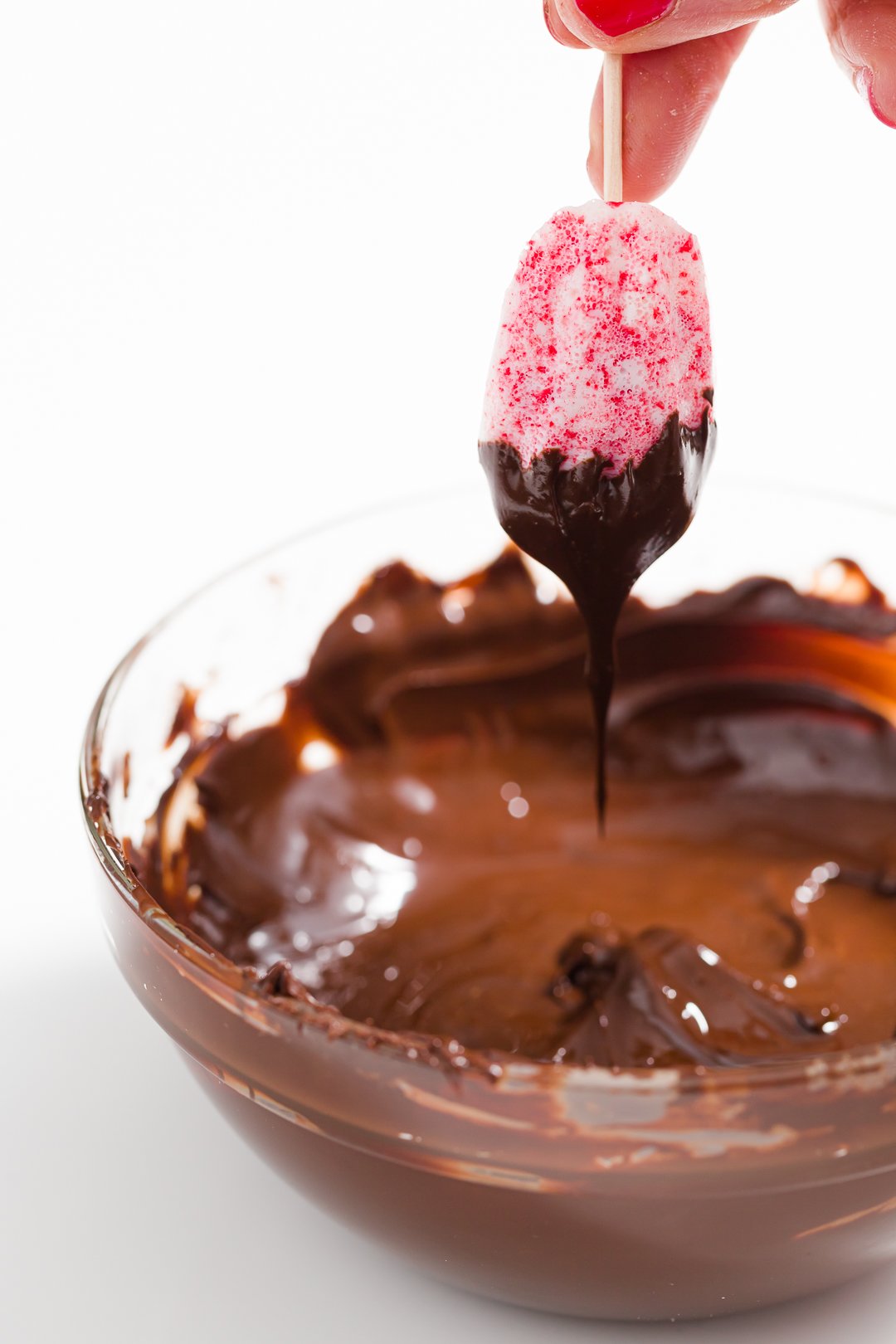 Building the Tower
To build the madeleine tower, start with a styrofoam cone. You can find these in all kinds of sizes at most craft stores.
Working from the top of the cone, insert a candy cane madeleine into the cone using the toothpick. Then, hold a regular one next to it and stick the toothpick into the center of the madeleine to affix it to the tower. The toothpick will stick out just a little bit (it will eventually get covered by the next layer of cookies).
Continue to work your way down the whole tower.
Decorate the base of the tower with candy canes, peppermints, and more madeleines.
Serve the same day or simply display as you would a gingerbread house.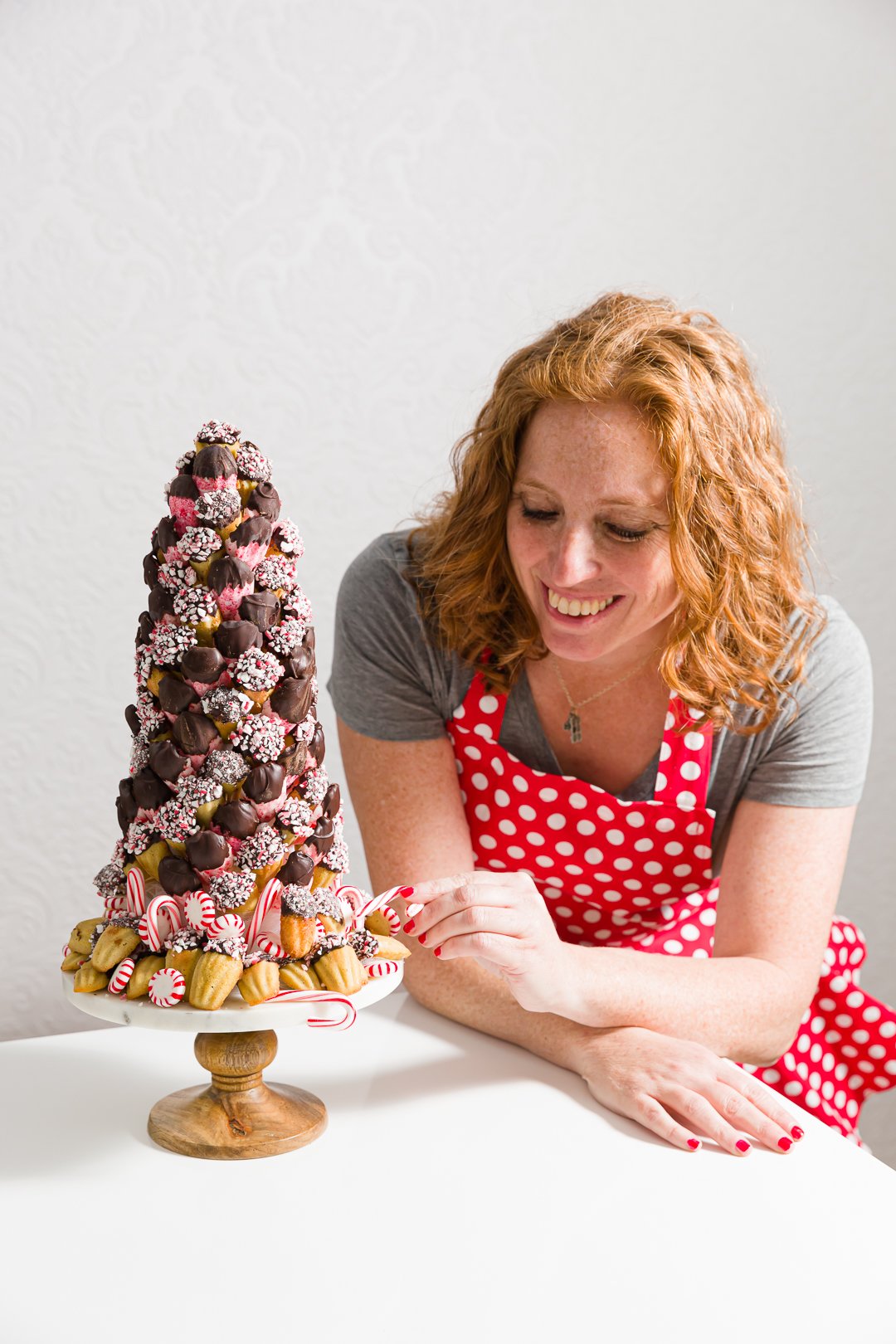 As a general rule of thumb, to make a tower that fits a 3.9″ x 11.8″ cone, you will need to double the recipe below. Make the same number of candy cane madeleines, too (you will need about two crushed mini candy canes per mini madeleine).
Other Must-Try Cookies
If you love these, you should also try:
Madeleines
Classic French madeleine cookies are cake-like and a little spongy. They can be made in all kinds of flavors or more traditionally with vanilla, a little lemon, and a light dusting of powdered sugar.
Ingredients
1/2

cup

unsalted butter

4

large eggs

2

teaspoons

vanilla extract

1/8

tsp

salt

1/3

cup

granulated sugar

3

tablespoons

light brown sugar

1/2

cup

cake flour

not self-rising
Instructions
Melt butter in a skillet on medium heat, stirring periodically. First you'll see large bubbles, then you will see smaller bubbles, and then it will start to brown. Remove from the heat as soon as it starts to brown and let it cool to room temperature while you prepare the batter.

Preheat oven to 375 F.

In a small mixing bowl, beat eggs, vanilla extract, and salt until fully combined.

Beating constantly, gradually add sugar and brown sugar. Continue beating for ten minutes at high speed until mixture is thick and pale and ribbons form in the bowl when the blade is lifted.

Add cake flour into egg mixture 1/3 at a time, gently folding by hand after each addition.

Pour melted browned butter around the edge of the batter and quickly but gently fold into the batter,

Fill Silpat's mini madeleine molds 3/4 full using two spoons - one to get a spoonful of batter from the bowl, and one to scrape the batter off of the spoon and into a mini madeleine well.

Bake 11 minutes, or until cakes are golden and the tops spring back when gently pressed with your fingertip. Then, set on a cooling rack to cool.

Serve the madeleines warm and dusted in powdered sugar, dip them in melted chocolate, or use them to make a madeleine tower.
Notes
If you are making full-sized madeleines rather than minis, this recipe will make about 24 madeleines.
If you are not using a Silpat mold, be sure to both butter and flour the madeleine wells before baking. The madeleines will be difficult to remove if you don't grease the wells properly.
Store in an airtight container. They are best served on the same day, but they will still be great (especially dunked in coffee) for several days.
Try adding a little lemon zest, orange zest, matcha powder, or spices to your madeleines for other flavor options.
Nutrition
Nutrition Facts
Madeleines
Amount Per Serving
Calories 30.52
Calories from Fat 18
% Daily Value*
Fat 1.96g3%
Cholesterol 16.05mg5%
Sodium 10.1mg0%
Potassium 6.31mg0%
Carbohydrates 2.67g1%
Protein 0.55g1%
Vitamin A 67.62IU1%
Calcium 2.78mg0%
Iron 0.07mg0%
* Percent Daily Values are based on a 2000 calorie diet.