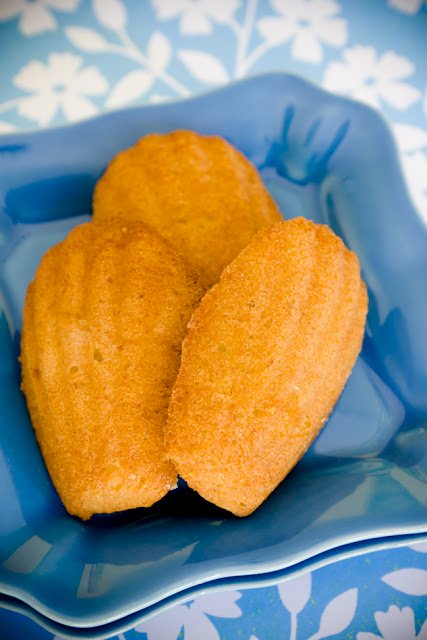 Madeleines are simple sponge cake-like cookies – so simple that you probably have all of the typical madeleine recipe ingredients in your house right now: eggs, salt, sugar, flour and butter. The only thing that you may not have is a madeleine pan
.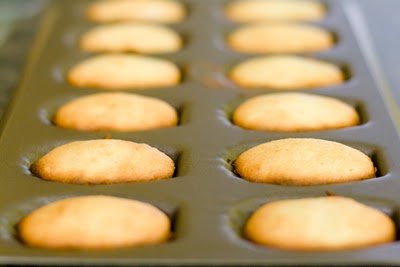 Isn't the madeleine a snotty cookie to require her own pan? But, like a little girl in blue jeans and ratty T-shirt who puts on a princess hat and becomes royalty, the madeleine pan makes this simple cookie regal (more importantly, you can't make madeleines without it). Get one (make sure it's non-stick – it makes it so easy) for the baker on your Christmas list.
What's the Unexpected Twist in My Madeleine Recipe?
Madeleine recipes often contain vanilla extract and lemon zest. Mine are a bit… umm… different. I made mushroom madeleines! I baked up my madeleines using a little bit of dried candy cap mushrooms from Oregon Mushrooms. If you read my post on candy cap mushrooms, you'll know that candy caps are mushrooms with a maple flavor. I wanted to see if my mushroom madeleines would taste like maple madeleines – they did! The flavor wasn't particularly strong (although it did get stronger after the cookies sat overnight), but you could definitely taste a maple flavor. No one would ever guess that the madeleines contained mushrooms.
If the mushroom madeleines taste mapley, why not use maple? You could use maple (I'll tell you how in the recipe), but it sure is fun (if you are a geeky foodie) to invite your guests to eat mushroom cookies.
Madeleine Recipe
My madeleine recipe is a twist on a madeleine recipe from All Recipes.
Madeleines
Classic French madeleine cookies are cake-like and a little spongy. They can be made in all kinds of flavors or more traditionally with vanilla, a little lemon, and a light dusting of powdered sugar.
Ingredients
1/2

cup

unsalted butter

4

eggs

2

teaspoons

vanilla extract

1/8

tsp

salt

1/3

cup

granulated sugar

3

tablespoons

light brown sugar

1/2

cup

cake flour

not self-rising
Instructions
Melt butter in a skillet on medium heat, stirring periodically. First you'll see large bubbles, then you will see smaller bubbles, and then it will start to brown. Remove from the heat as soon as it starts to brown and let it cool to room temperature while you prepare the batter.

Preheat oven to 375 F.

In a small mixing bowl, beat eggs, vanilla extract, and salt until fully combined.

Beating constantly, gradually add sugar and brown sugar. Continue beating for ten minutes at high speed until mixture is thick and pale and ribbons form in the bowl when the blade is lifted.

Add cake flour into egg mixture 1/3 at a time, gently folding by hand after each addition.

Pour melted browned butter around the edge of the batter and quickly but gently fold into the batter,

Fill Silpat's mini madeleine molds 3/4 full using two spoons - one to get a spoonful of batter from the bowl, and one to scrape the batter off of the spoon and into a mini madeleine well.

Bake 11 minutes, or until cakes are golden and the tops spring back when gently pressed with your fingertip. Then, set on a cooling rack to cool.

Serve the madeleines warm and dusted in powdered sugar, dip them in melted chocolate, or use them to make a madeleine tower.
Notes
If you are making full-sized madeleines rather than minis, this recipe will make about 24 madeleines.
If you are not using a Silpat mold, be sure to both butter and flour the madeleine wells before baking. The madeleines will be difficult to remove if you don't grease the wells properly.
Store in an airtight container. They are best served on the same day, but they will still be great (especially dunked in coffee) for several days.
Try adding a little lemon zest, orange zest, matcha powder, or spices to your madeleines for other flavor options.
Nutrition
Nutrition Facts
Madeleines
Amount Per Serving
Calories 30.52
Calories from Fat 18
% Daily Value*
Fat 1.96g3%
Cholesterol 16.05mg5%
Sodium 10.1mg0%
Potassium 6.31mg0%
Carbohydrates 2.67g1%
Protein 0.55g1%
Vitamin A 67.62IU1%
Calcium 2.78mg0%
Iron 0.07mg0%
* Percent Daily Values are based on a 2000 calorie diet.