These ginger molasses cookies are chewy on the inside and have a deep sweet and spicy flavor. Learn how to make them plus three fun variations!
This post was sponsored by KitchenAid.
My ginger molasses cookies use sugar, brown sugar, and molasses, and are loaded with ginger, cinnamon, and cloves. They have a spiced molasses flavor and chewy texture.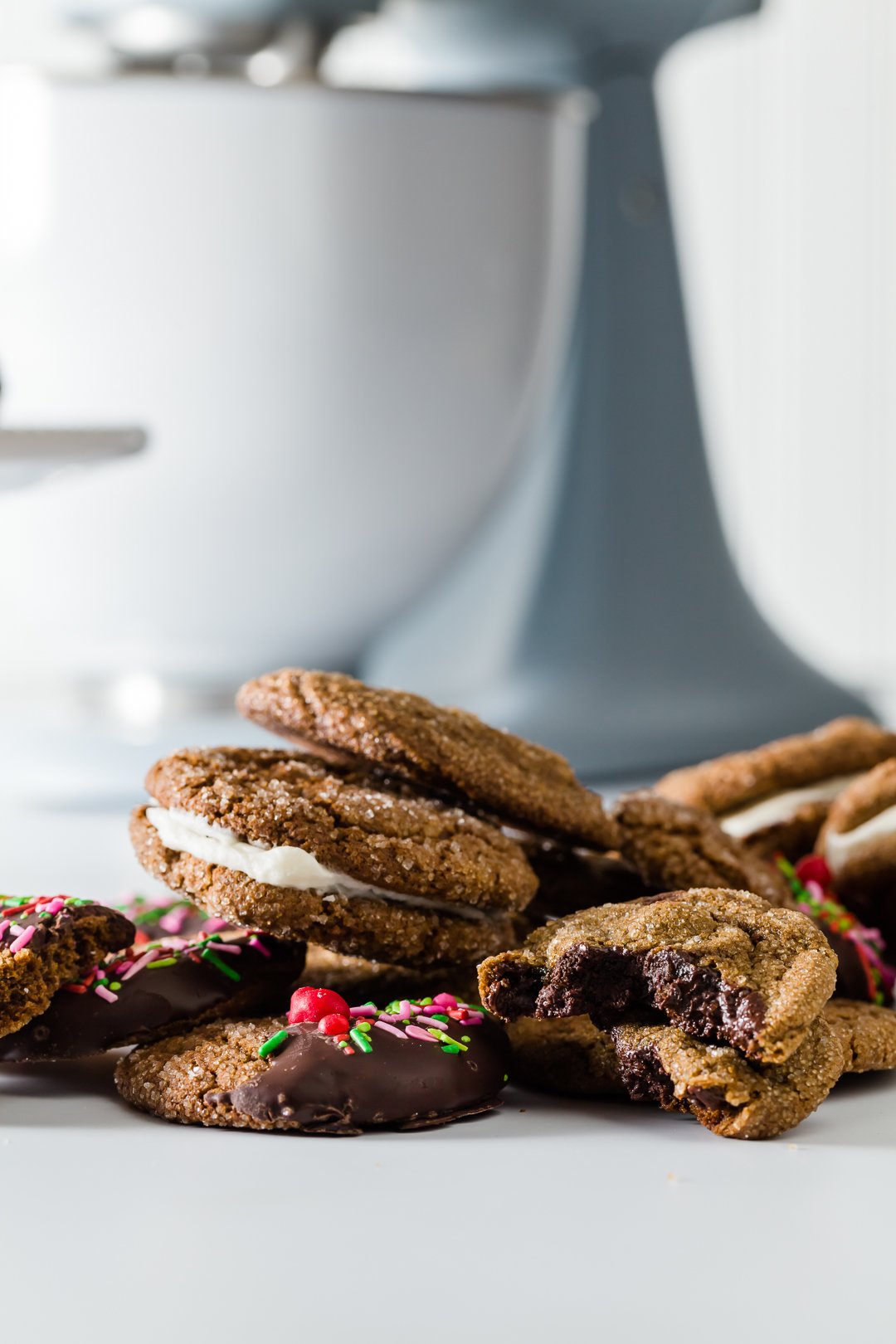 You can't go wrong with a classic.
This doesn't only apply to cookies.
Like ginger molasses cookies, which have been around since the 1800's, KitchenAid is a classic. Can you believe the KitchenAid stand mixer is 100 years old?!
I love how just like I come up with new twists on recipes, KitchenAid is constantly innovating to make life easier for bakers.
For example, have you seen the new Sifter+Scale Attachment yet?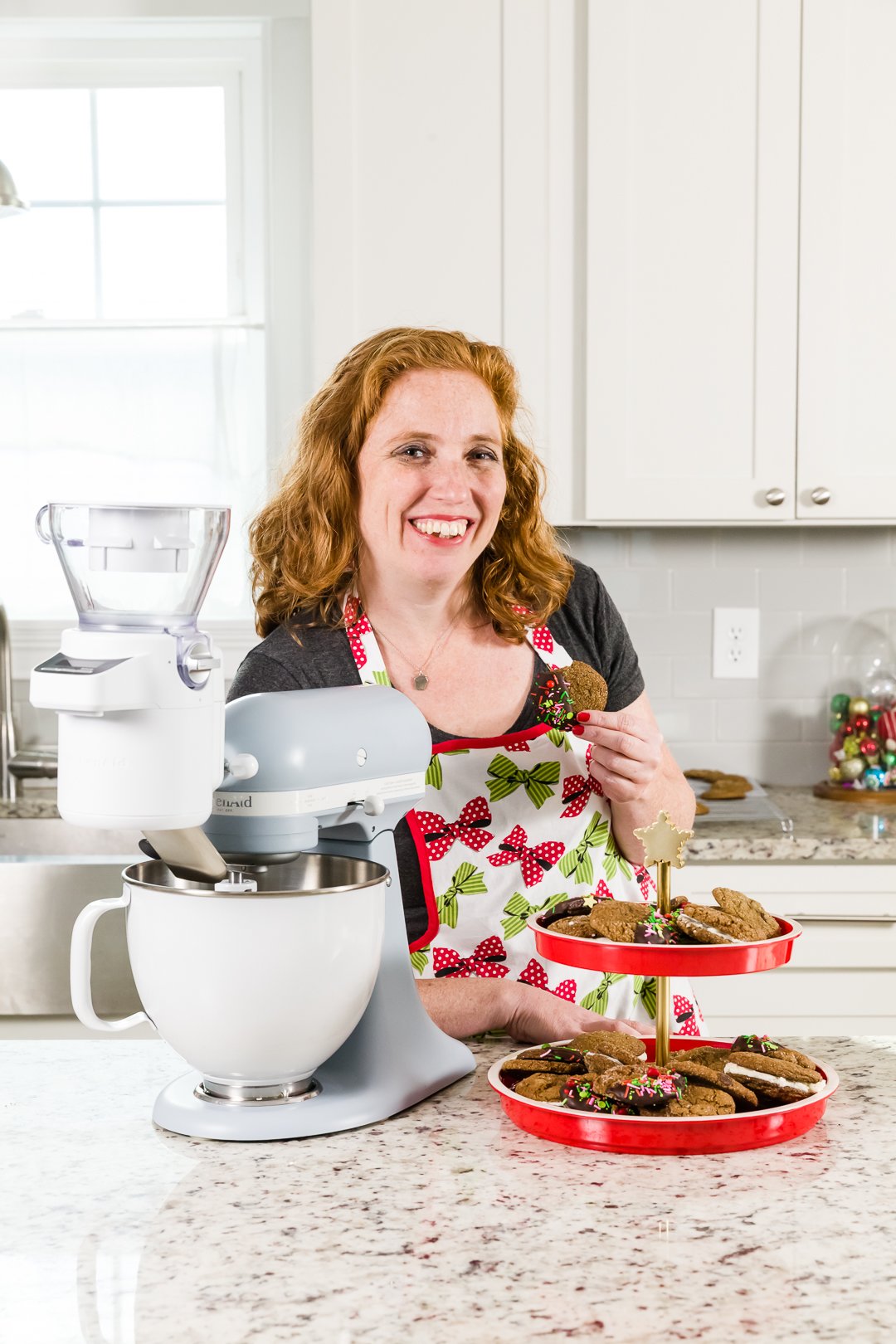 Many baking recipes, like my ginger molasses cookies, call for gradually adding the dry ingredients to the recipe.
You can attach the Sifter+Scale Attachment to the power hub of any KitchenAid Stand Mixer and use it to weigh your dry ingredients into the provided 4 cup hopper.
Then, you can use the power of the KitchenAid Stand Mixer to sift the ingredients slowly and evenly into the batter. This ensures that the dry ingredients are well-incorporated into the wet ingredients with no clumps.
I hate taking the time to sift, even though I know that it leads to more consistent baking results. With the KitchenAid Sifter+Scale Attachment, there is really no excuse to not sift.
You can buy your own KitchenAid® Sifter+Scale Attachment at KitchenAid.com. I have something fun to share with you just in time to help you with your holiday baking or gift list! Now through 12/31/2018, use the code CUPCAKE to get 10% off of anything on KitchenAid.com! Just add the code to your cart when checking out on KitchenAid.com!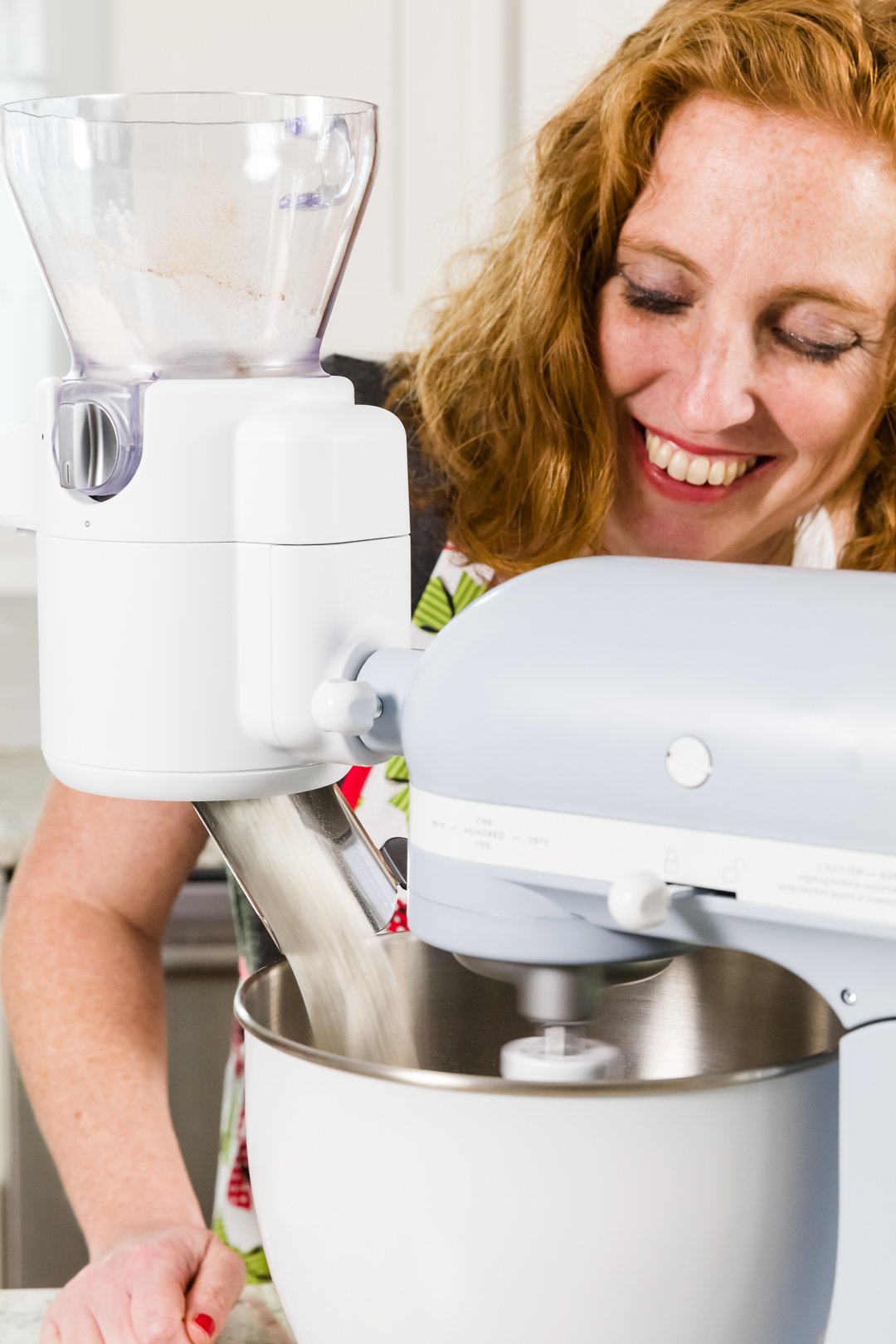 Getting back to the cookies, I have four ways to make ginger molasses cookies to share with you: classic ginger molasses cookies, chocolate chip ginger molasses cookies, chocolate-dipped ginger molasses cookies, and ginger molasses sandwich cookies.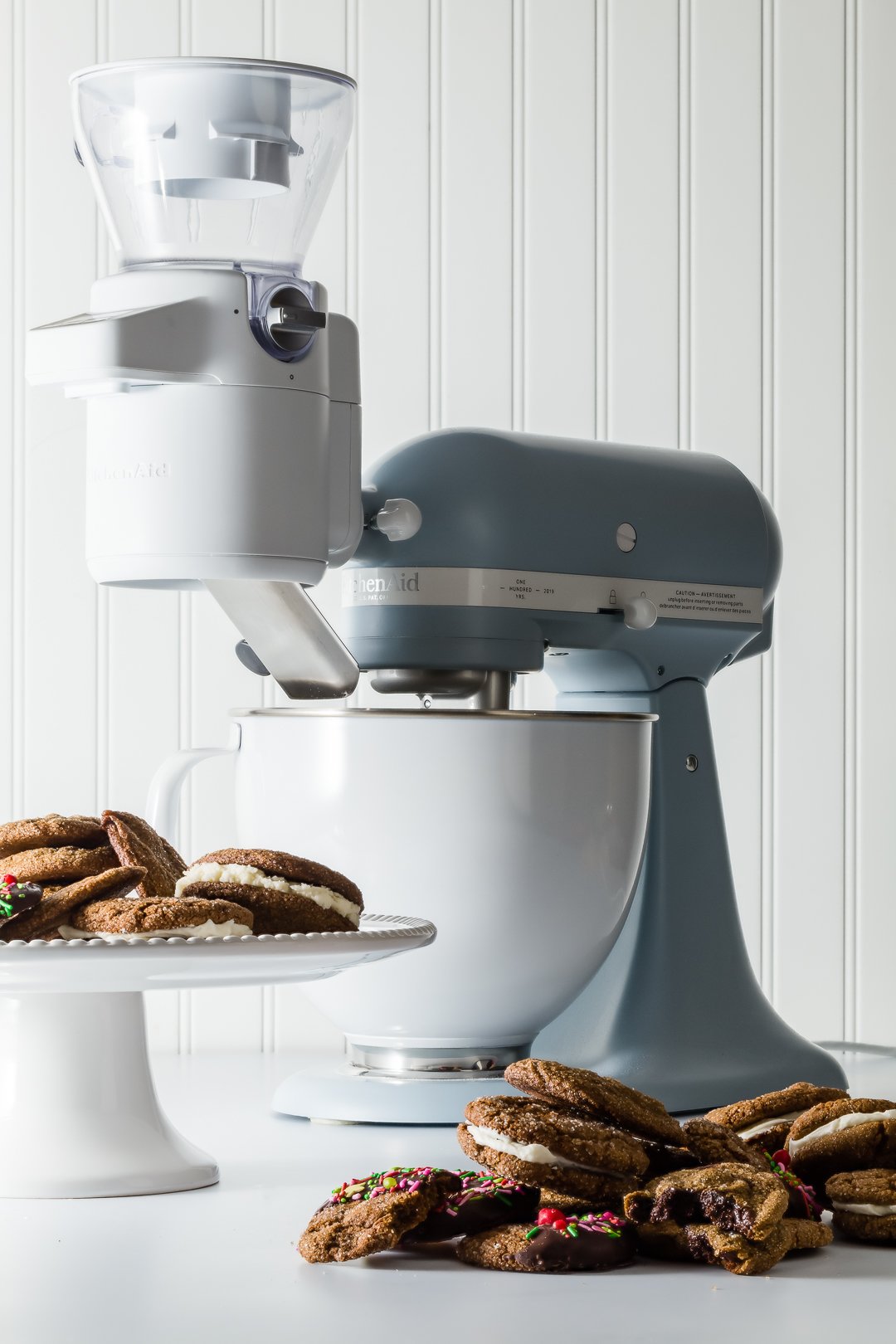 I've written the cookie recipes in weights. I've talked about the variance of measuring with cups in detail before (see my post where I weighed 192 cups of flour to find out how much a cup of flour weighs).
Using cups is an imperfect art due to how tightly you fill your measuring cup, variance in measuring cups, and variance in ingredient characteristics across brands. I've found that measuring in cups versus weights makes the most difference in recipes where there is a lot of one ingredient, like flour in bread. In those cases, the small variances in each cup can add up quickly.
However, even in cookie making, if you want the most consistent results, weighing is the way to go and I hope you will give it a try in these recipes.
Classic Ginger Molasses Cookies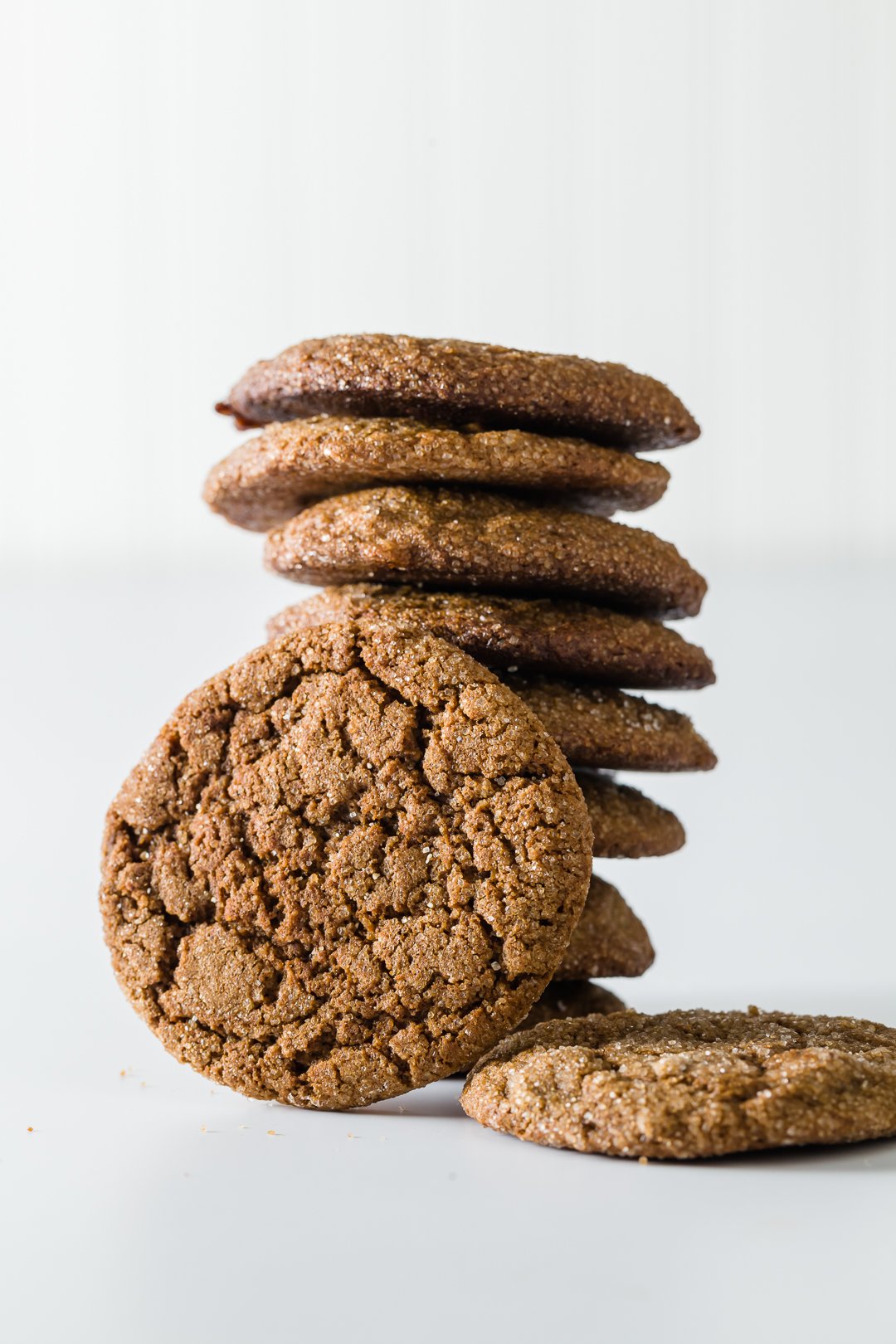 The first variety is the simple but so flavorful classic chewy ginger molasses cookie.
The key to getting the cookies to crinkle at the top is to chill the dough before baking it and to roll the dough balls in sugar. Rolling in the sugar helps to dry the batter out more, which promotes the crinkling.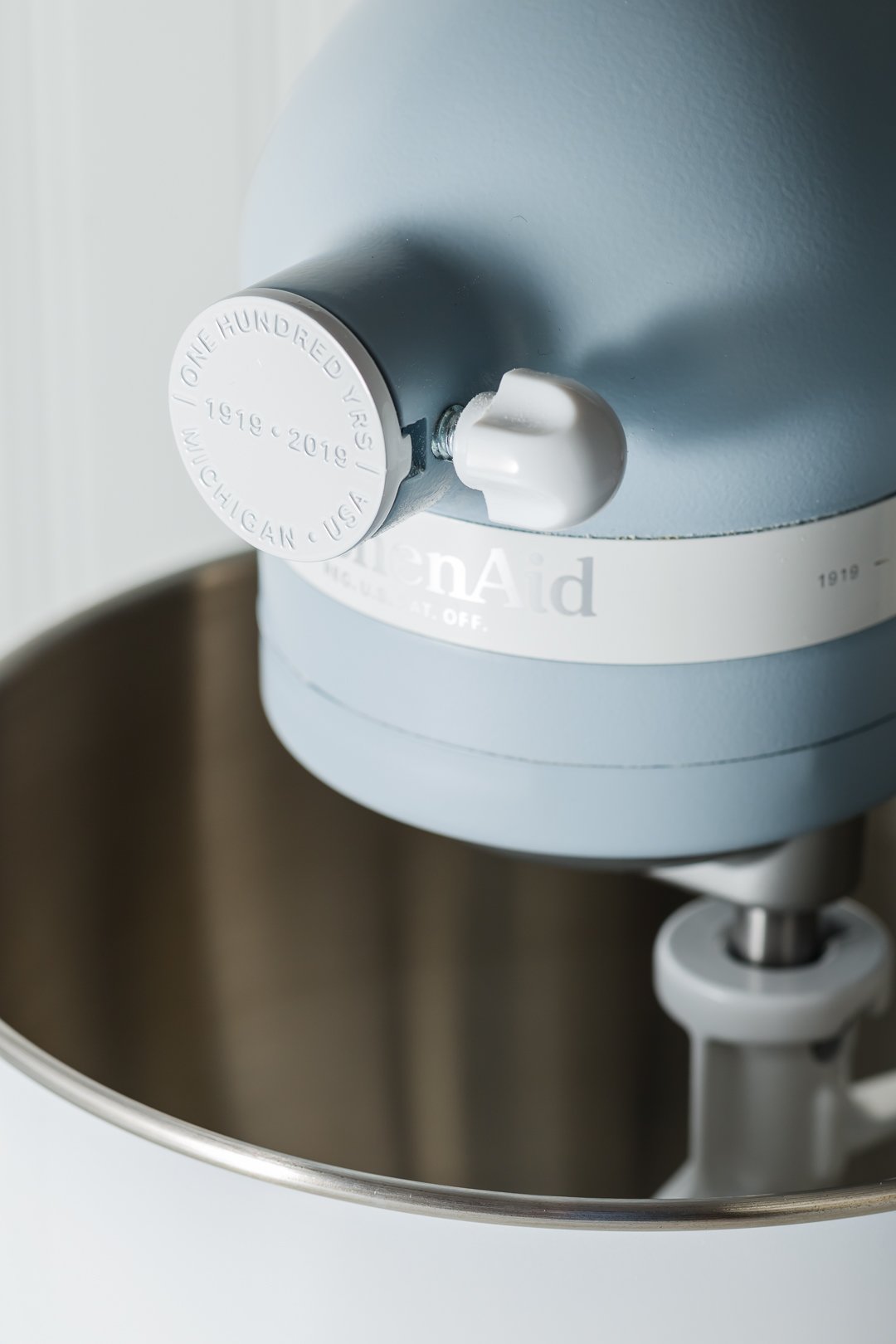 I love imagining how many ginger molasses cookies have been made in KitchenAid mixers over the past 100 years. I can't even begin to fathom the number. 
Chocolate Chip Ginger Molasses Cookies
Chocolate goes so well with the other flavors in ginger molasses cookies and, as you can imagine, chocolate chip ginger molasses cookies are irresistible when they are still hot!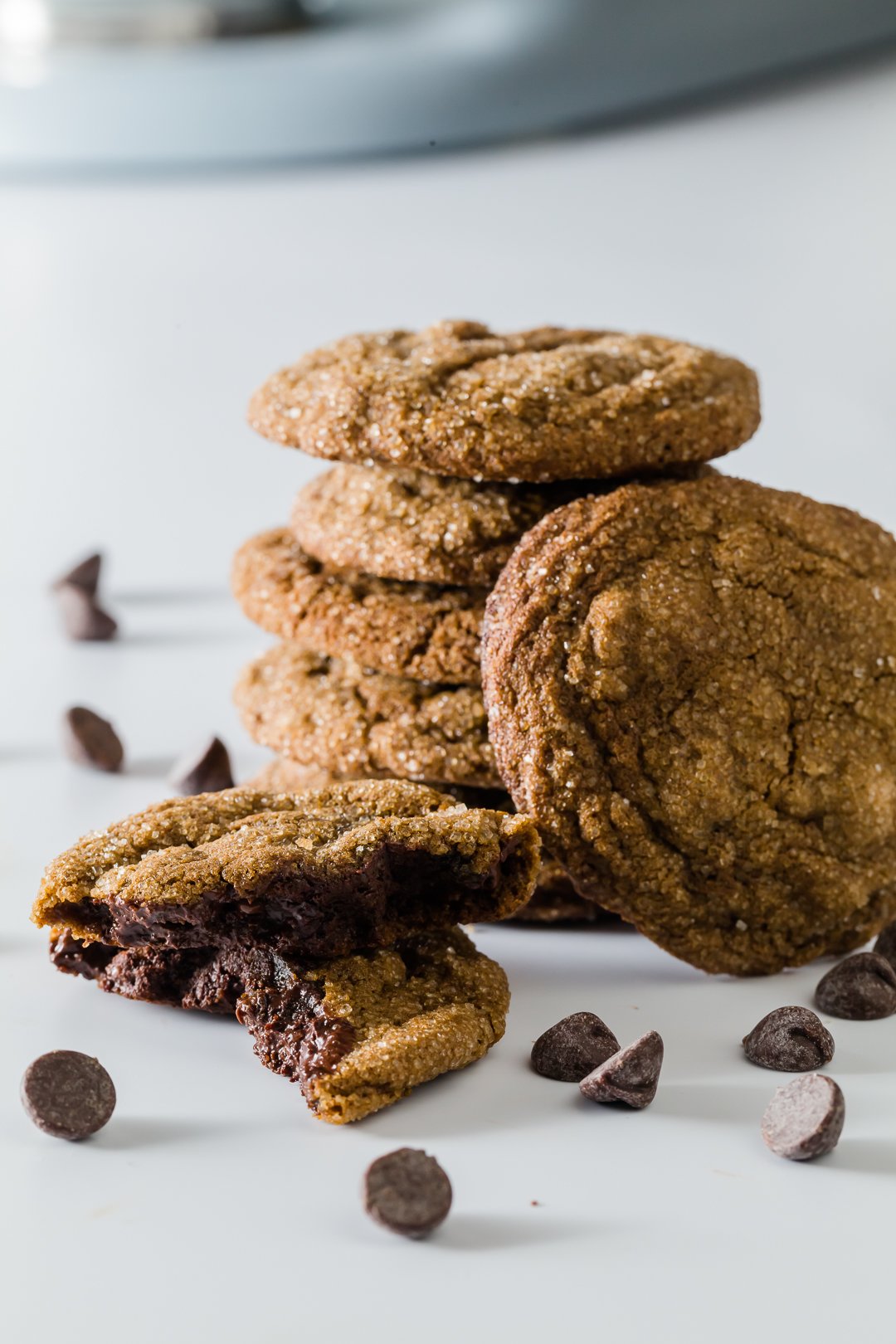 I like using semi-sweet chocolate chips in my recipe. But, you can experiment with dark, white, or milk chocolate chips and decide which you like best.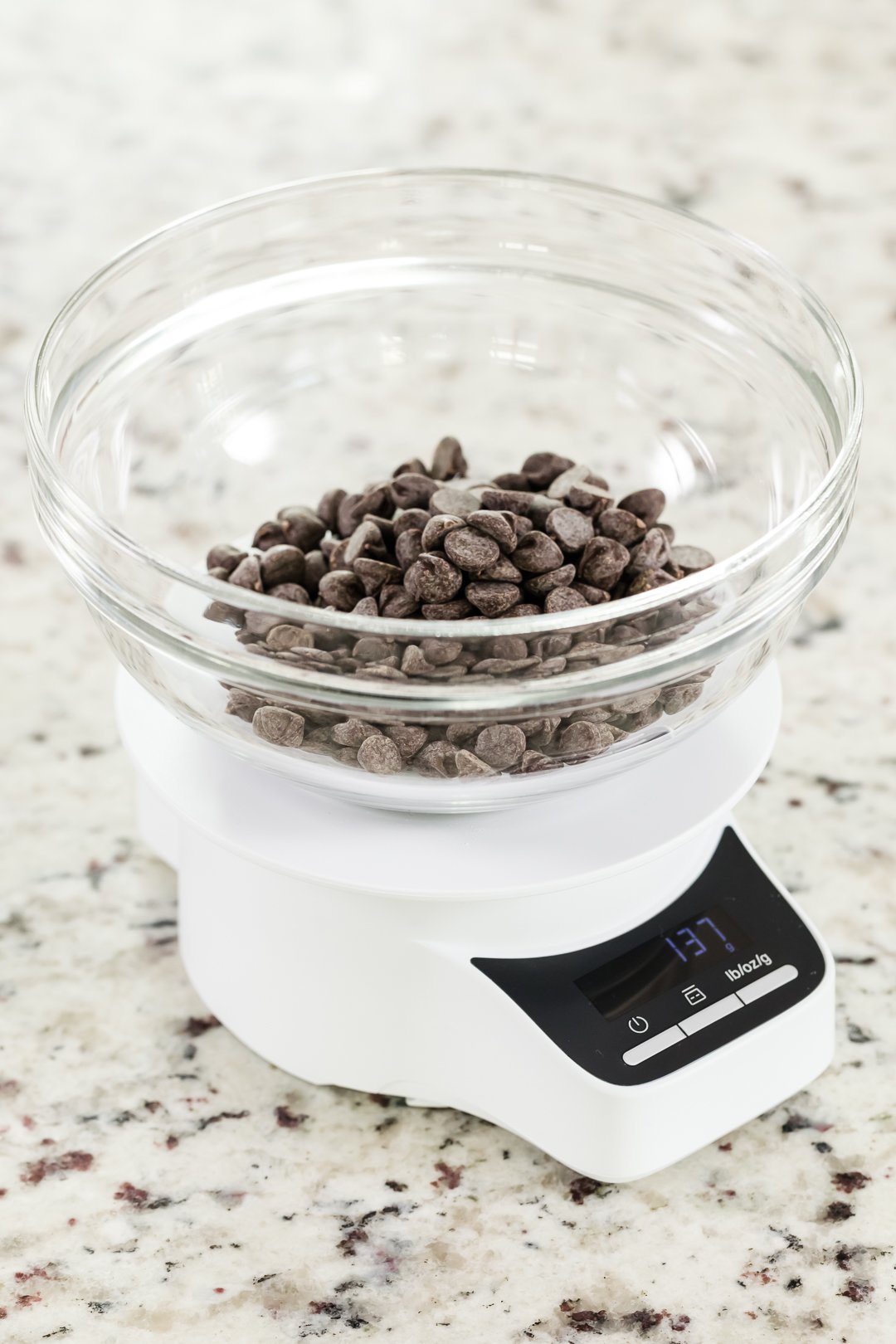 I used the scale part of the new KitchenAid Sifter+Scale Attachment to weigh out my chocolate chips. It's always handy to have a kitchen scale around and I love how the KitchenAid Sifter+Scale Attachment does double duty, both on and off the mixer.
Chocolate-Dipped Ginger Molasses Cookies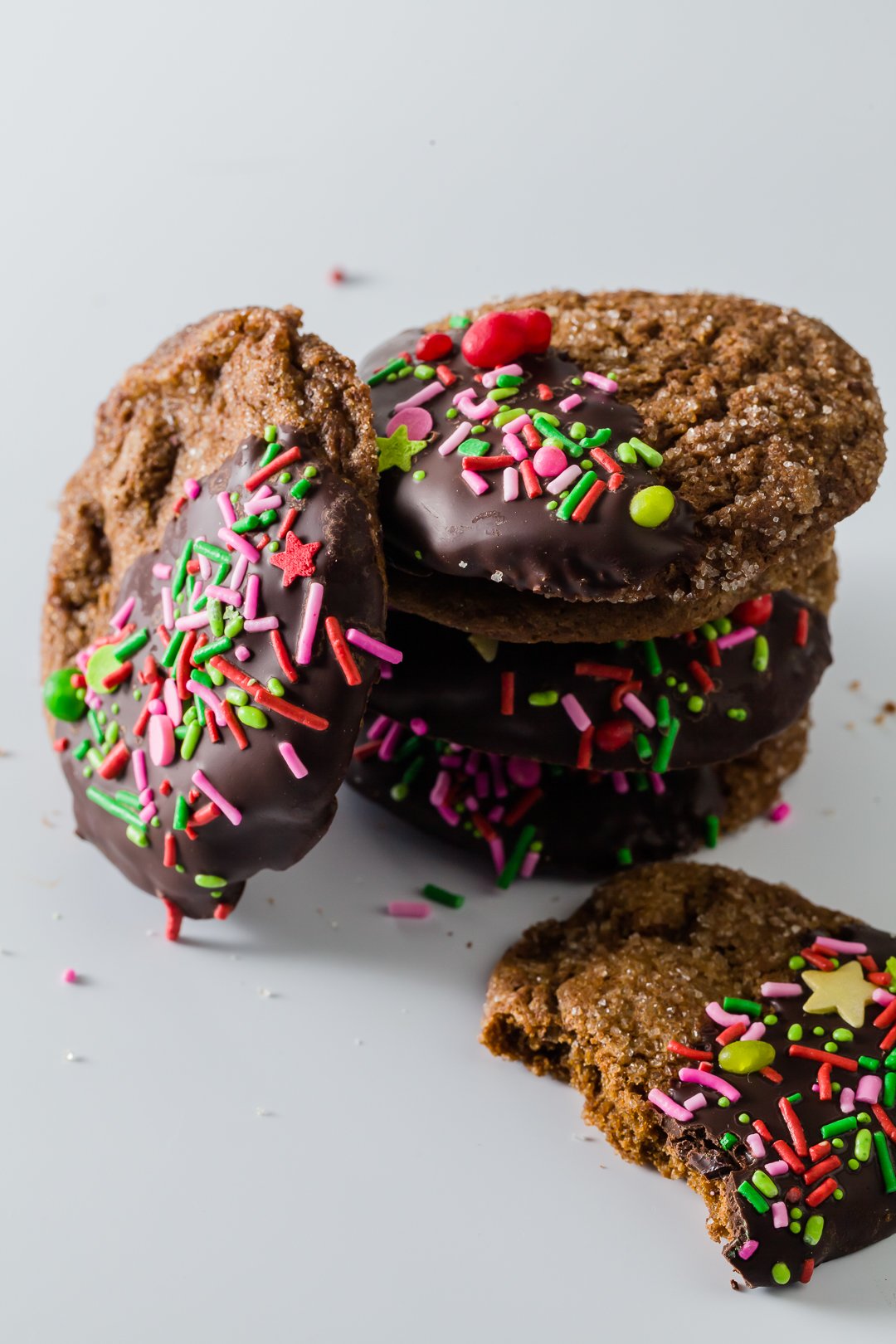 Chocolate-dipped ginger molasses cookies are the third and arguably prettiest way to make ginger molasses cookies.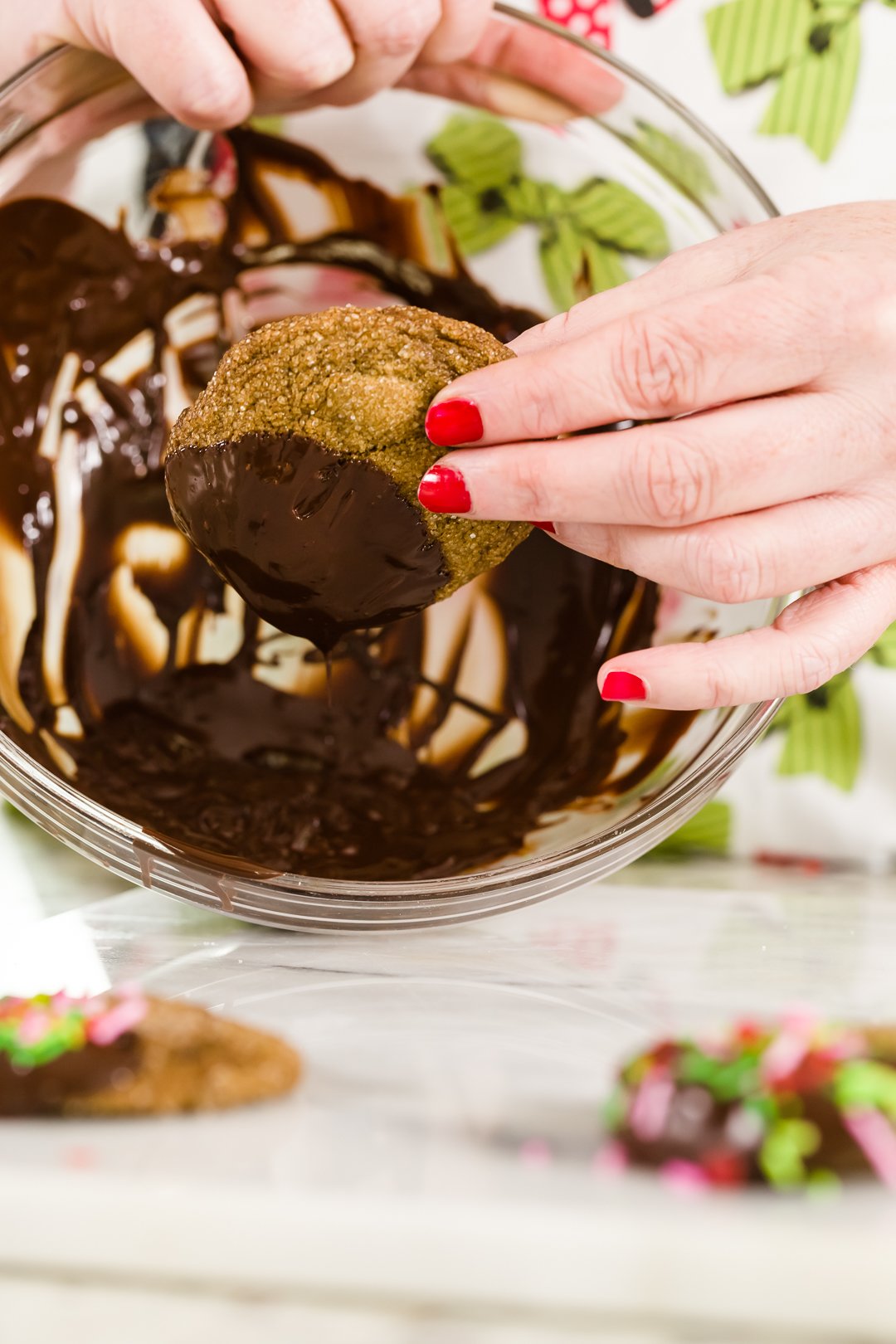 You can use the chocolate chip version and dip them into chocolate, or use the plain version if you'd rather.
Add some pretty sprinkles after dipping because sprinkles make people happy!
Ginger Molasses Sandwich Cookies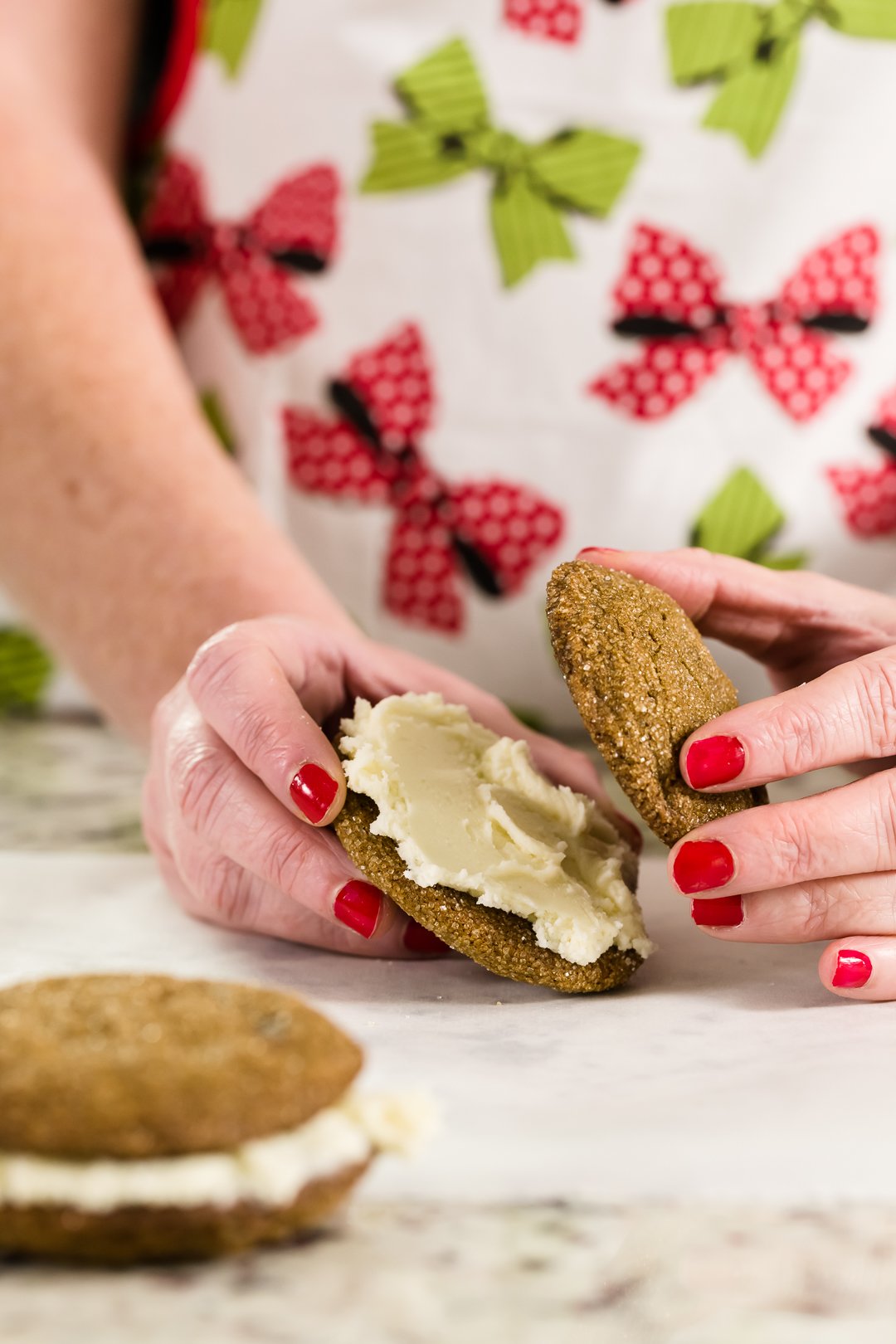 Finally, there are ginger molasses sandwich cookies, which our son declared to be the best cookies I have ever made.
You can use any frosting that you like between the two cookies. I like to use my vanilla bean frosting.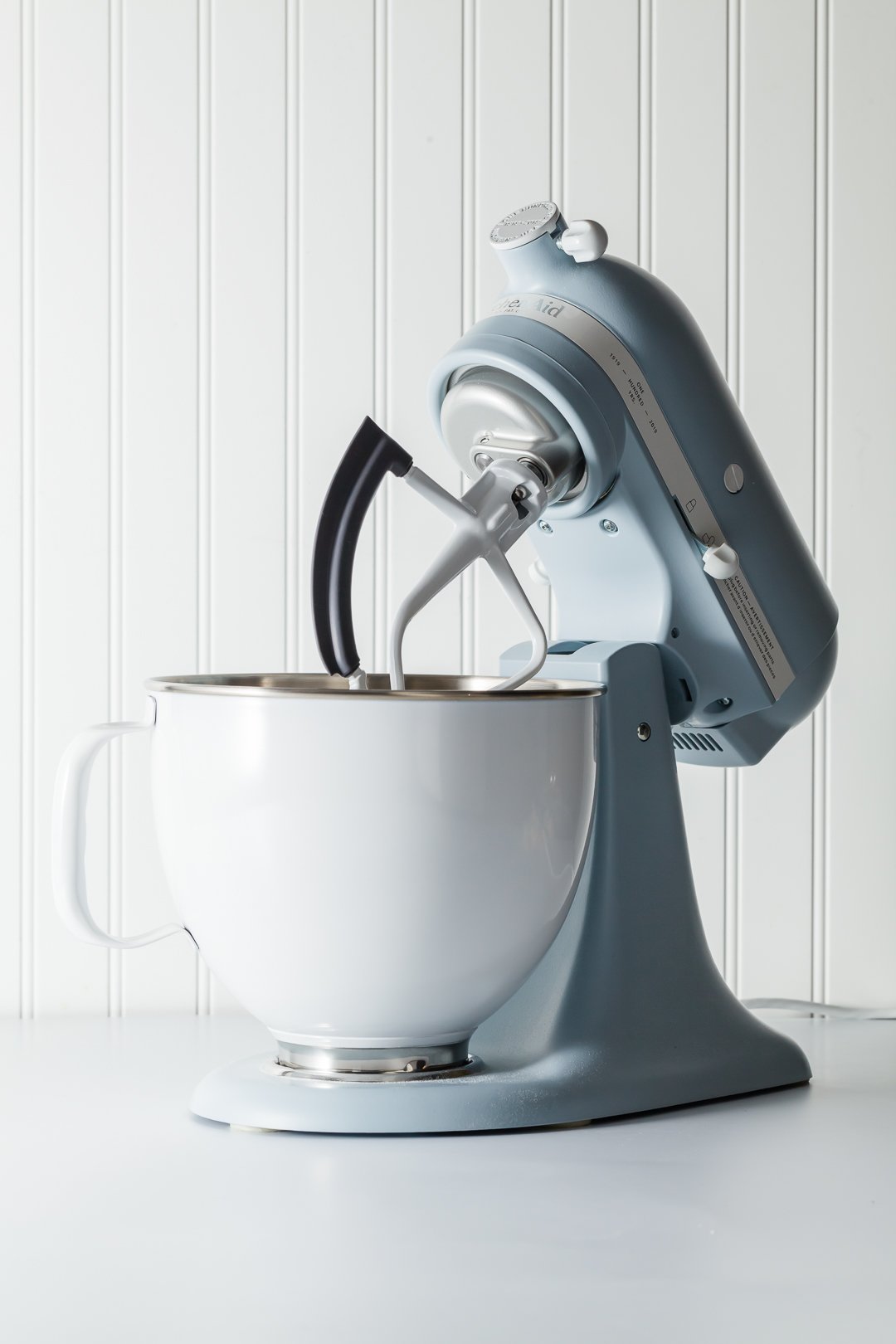 When you make the frosting, it's important to scrape down the sides of the mixer bowl so that all of the ingredients get incorporated. For years, I've recommended buying a Flex Edge beater so that the bowl gets scraped automatically as you mix. I love that it's compatible with the KitchenAid 100 Year Limited Edition Stand Mixer.
Which Kind of Molasses to Use in Ginger Molasses Cookies
The kind of molasses that you use in ginger molasses cookies can have a big impact on the resulting flavor.
You can use light or dark molasses (dark will give a strong flavor). However, I do not recommend using blackstrap molasses as it has a more bitter flavor.
How to Store Ginger Molasses Cookies
To keep ginger molasses cookies moist, store them in an airtight container with a piece of fresh bread. The moisture from the bread will help keep the cookies from getting stale.
While they were a little past their prime, I've eaten mine stored that way up to week after the day that I made them.
Ginger Molasses Cookies
Classic and perfect ginger molasses cookies with three variations: chocolate chip ginger molasses cookies, chocolate-dipped ginger molasses cookies, and ginger molasses sandwich cookies.
Ingredients
150

grams

sugar

plus extra for dipping cookie dough in

150

grams

brown sugar

170

grams

unsalted butter

room temperature

150

grams

molasses

not blackstrap

2

large eggs

325

grams

all-purpose flour

1

tablespoon

ground ginger

2

teaspoons

ground cinnamon

1/2

teaspoon

ground cloves

1 1/2

teaspoons

baking soda

1/2

teaspoon

salt

300

grams

chocolate chips

optional

150

grams

dark chocolate

optional, for dipping

sprinkles

optional

150

grams

vanilla frosting

optional
Instructions
Preheat oven to 350 F.

In the bowl of a stand mixer, mix sugar, brown sugar, and butter until light and fluffy.

Mix in molasses and eggs until fully combined.

Add flour, ginger, cinnamon, cloves, baking soda, and salt to another small bowl, whisk together and gradually mix into the wet ingredients (or use the KitchenAid Sifter+Scale Attachment to weigh the flour, add the other dry ingredients to the hopper, and sift into the batter on speed 2).

Optionally, mix in chocolate chips.

Cover dough bowl with plastic wrap and chill in the refrigerator for thirty minutes to an hour. This will make it easier to roll and dry it out more so that it crinkles. 

Scoop tablespoon-sized balls of cookie dough and roll each ball in sugar.

Place dough balls on a parchment-lined cookie sheet.

Bake for 10-12 minutes or until barely set. If you over-bake the cookies, they will be crispy instead of chewy. When you pull them from the oven, they won't seem like they are done. The tops aren't totally set, but the bottoms are. They will continue cooking for a few minutes after they are out of the oven.

Use a spatula to transfer the cookies to a cooling rack.

To make chocolate dipped cookies, melt chocolate in the microwave or using a double boiler. Dip half of each cookie into the chocolate and sprinkle with your favorite sprinkles.

To make sandwich cookies, spread frosting between pairs of cookies and smush the cookies together. Enjoy!
Nutrition
Nutrition Facts
Ginger Molasses Cookies
Amount Per Serving
Calories 199
Calories from Fat 72
% Daily Value*
Fat 8g12%
Cholesterol 20mg7%
Sodium 99mg4%
Potassium 113mg3%
Carbohydrates 28g9%
Protein 2g4%
Vitamin A 150IU3%
Vitamin C 0.1mg0%
Calcium 30mg3%
Iron 1.3mg7%
* Percent Daily Values are based on a 2000 calorie diet.
Which Cookie Is Your Favorite?
I don't really have a favorite; each variety is great for different reasons.
I'm curious to see which of the four ways you like best. Let me know in the comments!
If You Like These Cookies, You'll Also Like…