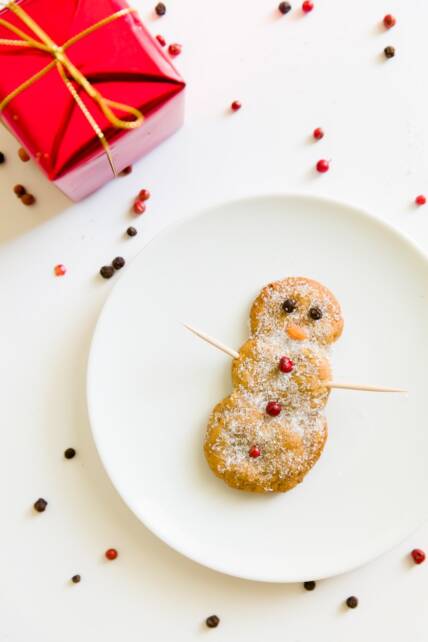 Peppernut cookies, or Pfeffernusse in German, are traditionally tiny spice cookies (the size of a nut) and are loaded with cinnamon, cardamom, cloves, and nutmeg.  There's molasses, too, for a deep flavor and a splash of brandy for brightness.  But, the ingredient that sets these little guys apart is pepper!
I got the idea to turn my peppernut cookies into snowmen from a happy accident made by Heavenly Homemakers, who found that when she put three cookie dough balls near each other on the tray, they merged together into a snowman.  I put my dough balls close on purpose. :)
My tasters were scared of these peppernut snowmen, however there was no reason for them to be.  The pepper in peppernut cookies gives them a little spunk and, once one peppernut cookie was happily eaten, word spread about how tasty they were.  Soon, people weren't only trying them, but having seconds and thirds.
Peppernut Snowmen Cookies Recipe
If you've tried this recipe, please RATE THE RECIPE and leave a comment below!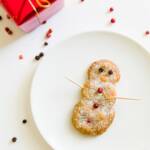 Peppernut Snowmen Cookies
Ingredients
1/2

cup

all-purpose flour

1/4

teaspoon

ground pink peppercorns

you can smash them with a mortar and pestle or use a spice grinder

1/2

teaspoon

cinnamon

1/4

teaspoon

cardamom

pinch

cloves

pinch

nutmeg

1/8

teaspoon

baking powder

1/8

teaspoon

baking soda

1/8

teaspoon

salt

2

tablespoons

unsalted butter

room temperature

1/4

cup

sugar

1

egg yolk

2

tablespoon

finely chopped almonds

1 1/2

tablespoons

molasses

1 1/2

tablespoons

brandy