Syllabub Cocktail
Published , Last updated by
Stef
Disclosure: As an Amazon Associate, I earn from qualifying purchases.
Syllabub is an English cocktail most popular from the 16th to 19th centuries. It has a frothed top made from milk whisked with sugar, cider, spices, and cream, and it tastes somewhat like eggnog. I think it's even better.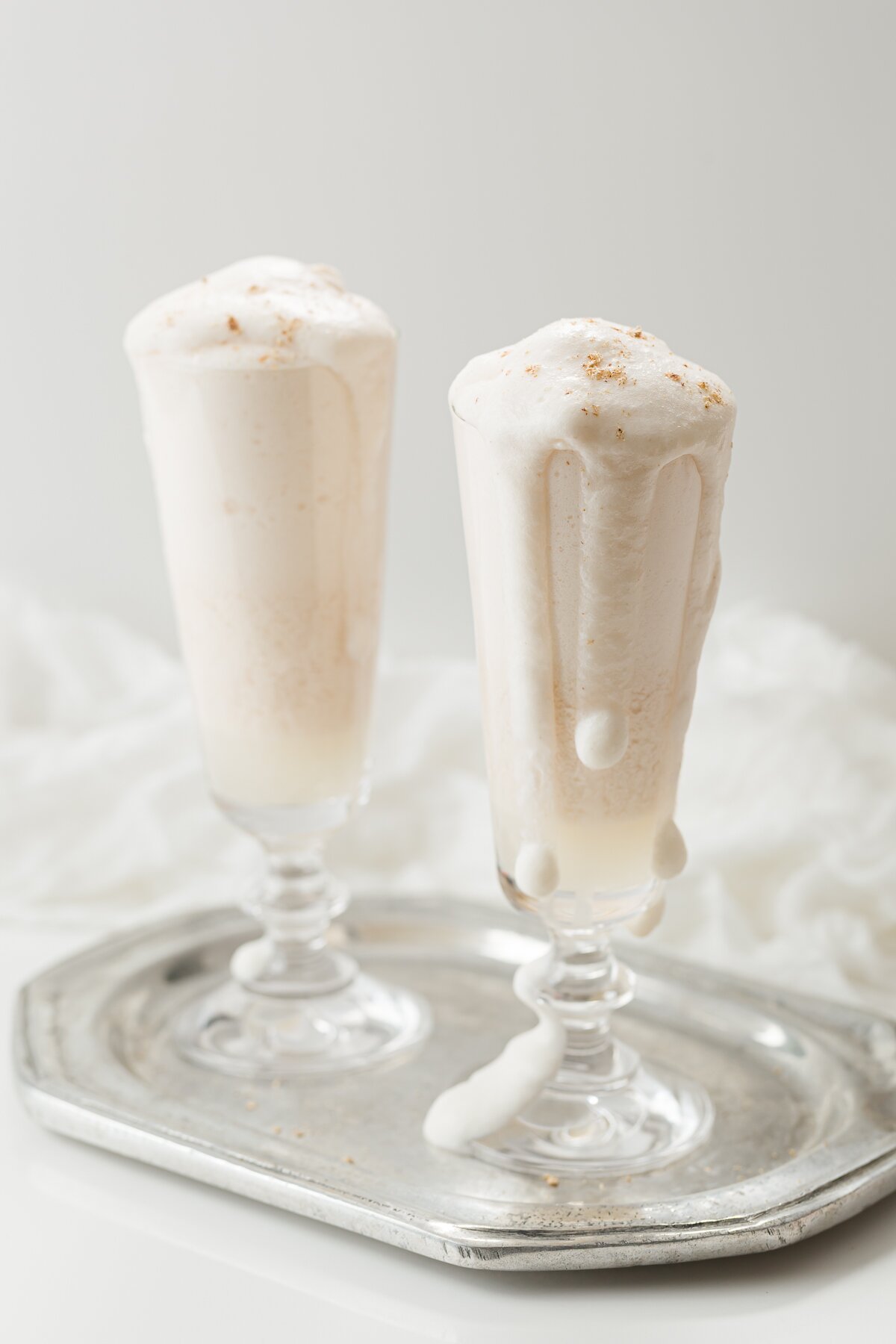 I am going to go out there and state that you should make this cocktail because it's better than eggnog. Here are five definitive reasons why I feel that way:
The recipe as it was originally written calls for a mix of hard cider, milk, cream, and nutmeg, sweetened with a little sugar. Syllabub tastes like a cross between an apple cream pie and eggnog. However, you can make one with any alcohol – many people use wine with some lemon or a combination of wine and brandy. You have options, while you don't really have any when you make eggnog.
There are no eggs. While some recipes do call for eggs, they are by no means a requirement. Not having to deal with eggs while still achieving a frothy, boozy drink is a huge win.
Alexander Hamilton would most likely have have been drinking it. (See the whole story by my contributor, Jess Touchette, below.) If you are a musical and/or history buff or are serving one, this drink is a must!
The drink was traditionally served in its own special type of glassware. The glasses were wide at the top to hold the cream and narrower at the bottom (see Food History Jottings for a nice example). You can find the glassware at antique shops and then give the recipe and a couple of glasses as a totally unique holiday gift. The glasses that we used in the photos aren't quite right, but they work. Feel free to get a little creative.
Syllabub is simply a fun word to say. (True, nog is a fun word to say, too, but it's overplayed.)
Now that you fully comprehend how much I love this drink, let's move on to special instructions and some information about the drink's history (courtesy of contributor Jess Touchette).
Ingredients and Equipment
This is an easy recipe. It only requires milk, heavy cream, freshly-grated nutmeg, sugar, and alcohol.
Some recipes call for wine and/or brandy; this one adapted from Amelia Simmons' version uses hard cider. Choose a cider that you like as its flavor will dominate.
Simmons instructs you to milk your cow directly into a tub of "sweetened cyder" to create the ultimate froth. For those of you without a milk cow on hand, a whisk should work just as well.
How It's Made
Begin by adding sugar to cider and whisking until dissolved.
Stir in milk and nutmeg.
Here's the frothing part: add cream and whisk until a thickened, foamy, creamy layer forms on top of the mixture.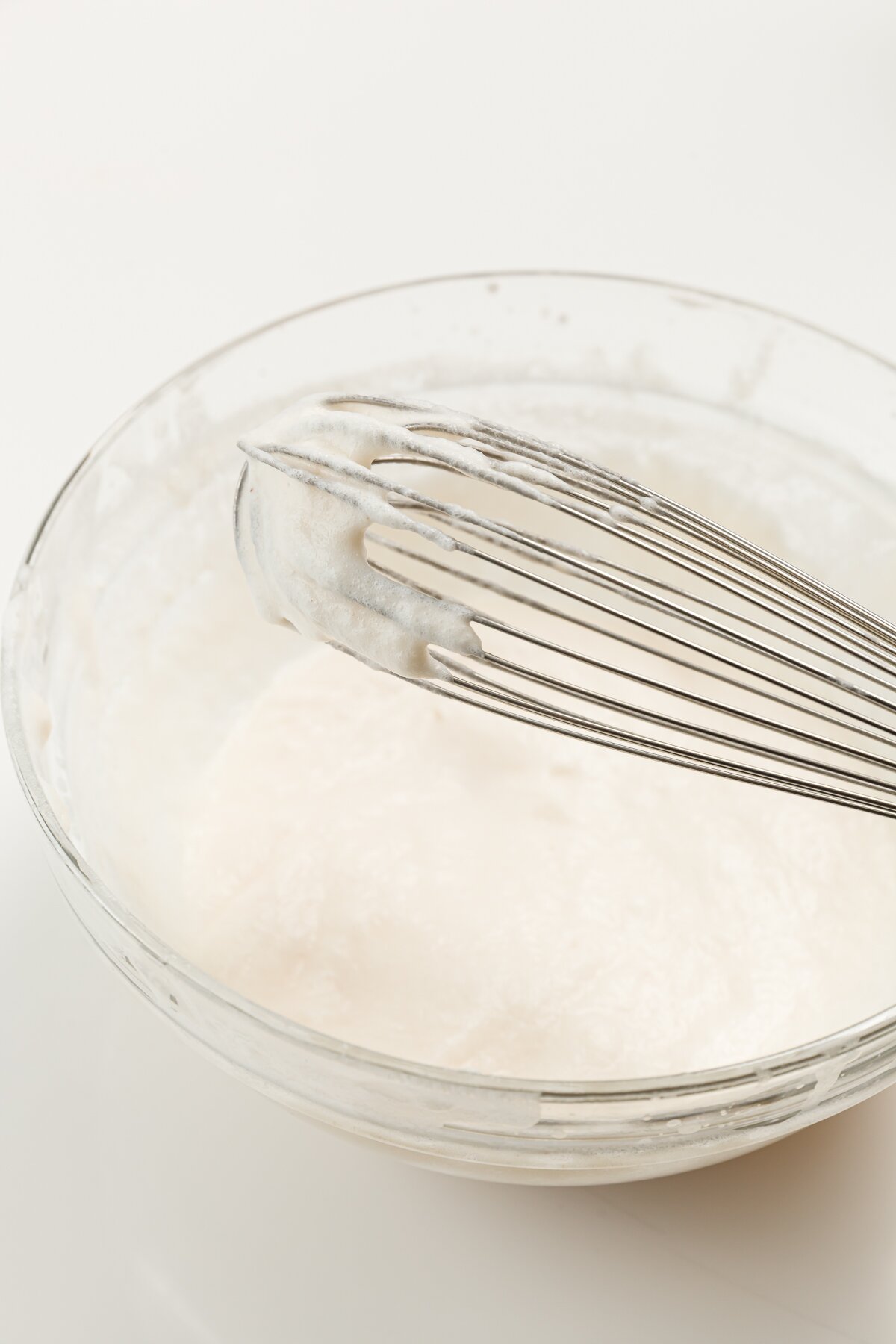 Reserve the creamy layer by spooning it into a small bowl and setting aside.
Pour the cider and cream mixture into serving glasses, filling them no more than 3/4 full.
Add a dollop of the reserved creamy layer to the top of each glass, sprinkle with nutmeg, and serve.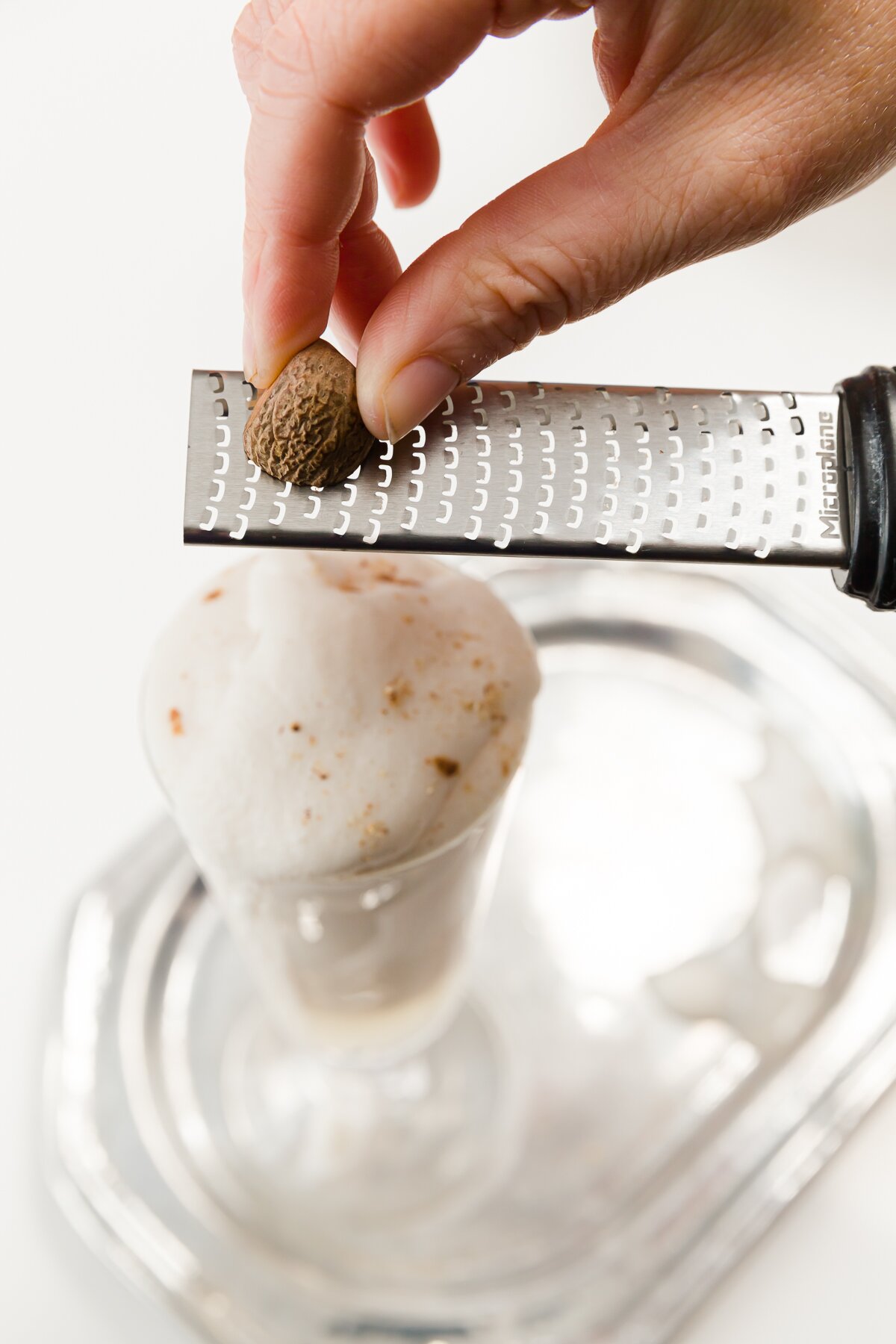 Expert Tips and FAQs
Hamiltonian Food and Drink
With a hit Broadway musical bearing his name, Alexander Hamilton [paid link] – America's "ten-dollar founding father without a father" – is making a comeback. From his too-short childhood in his single mother's Caribbean shop to his violent death in a duel with Aaron Burr, Hamilton managed to fit a whole lot of life into only 47 years.
He was (among other things) an orphan, a war hero, a father of eight, the first U.S. Secretary of the Treasury, a failed presidential candidate, the primary writer of The Federalist Papers, and the founder of the U.S. Mint. There are all sorts of questions that we could reasonably ask about his life. So, let's go with what is clearly most pressing: what did the guy like to eat?
Unfortunately, it turns out that there is little-to-no concrete information about what Alexander Hamilton ate. Between his correspondence and his political writings, Hamilton left behind hundreds of pages of evidence about his life and his thoughts. However, he left not one casual mention (at least that I could find) of the fabulous dish that his wife Eliza ordered for dinner the Wednesday before.
This certainly doesn't stop us from speculating about what Hamilton may have eaten throughout his life. From records of his mother's store in St. Croix, for example, we might gather that his diet in early childhood was simple but plentiful. The store carried salted fish and pork, beef, apples, butter, rice, and flour, and his mother kept her own milk goat.
A National Park Service report on the furnishings of the Grange (Alexander and Elizabeth Hamilton's home in Manhattan) implies that Hamilton's adult diet was more refined. The report, which includes selected entries from his cash books, shows that he spent $15.75 on "Muffins" in February 1798, $500.00 on a silver tea and coffee set in March 1798, and, between 1798 and 1803, over $460.00 on wine and port. These expenditures imply that the Hamiltons were keeping up with the dining fashions of the well-to-do, but reveal very little beyond that.
Even the meal featured in "The Room Where it Happens" – scene of the legendary June 20, 1790 Dinner Table Bargain hammered out by Hamilton, James Madison, and host Thomas Jefferson – is a mystery.
In Dinner at Mr. Jefferson's, popular historian Charles A. Cerami goes so far as to lay out a possible menu for the evening, including only dishes known to have been served by Jefferson during his career. Yet while the dishes outlined in Cerami's book are tantalizing (who wouldn't marvel at vanilla ice cream encased in warm pastry?), there is no concrete evidence of what Hamilton ate even then, during what has arguably become the most talked-about (and romanticized) meal of his life.
Early American Cooking
Since Hamilton's food preferences seem to have been well and truly lost to time, I decided to consult an early American cookbook and indulge in my own bit of speculation about what our founding father would have eaten. For this, I turned to the first cookbook published in America by an American author: Amelia Simmons' 1796 American Cookery.
Simmons' cookbook contains a guide to selecting produce, recipes for classic English dishes (such as roast beef and pound cake), and distinctly American recipes featuring ingredients indigenous to North America (such as cornmeal-based "Indian Pudding"). Her sizable selection of dessert recipes includes all of the usual suspects – puddings, cookies, cakes, pies, tarts, and preserves – but also a category for syllabubs.
This cocktail may have egg and can be served beaten smooth or whipped (as, essentially, whipped cream floating on alcohol). Similar in flavor to eggnog, though typified by a frothy rather than a smooth texture, the drink was all the rage in the 18th century.
It's almost certain that Hamilton would have enjoyed this decadent drink, likely served cold in a globed glass to accentuate the separation of the alcohol from the cream.
I recommend that you check out the Townsends YouTube channel for all manner of 18th century recipe ideas!
The Original 18th Century Recipe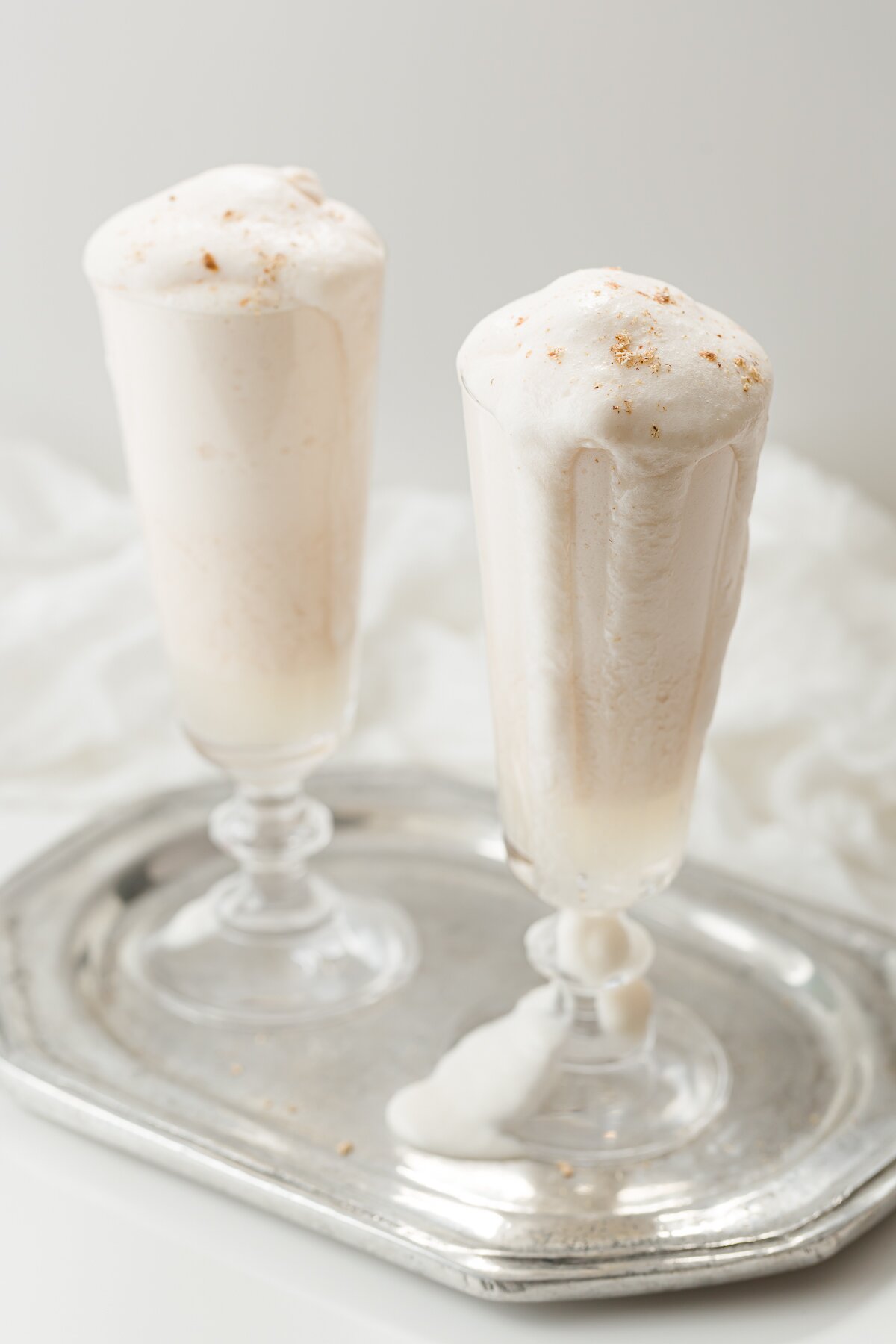 To make a fine Syllabub from the Cow.

Sweeten a quart of cyder with double refined sugar, grate nutmeg into it, then milk your cow directly into your liquor, when you have thus added what quantity of milk you think proper, pour half a pint or more, in proportion to the quantity of syllabub you make, of the sweetest cream you can get all over it. (p. 31)

Simmons, Amelia. American Cookery: Or the Art of Dressing Viands, Fish, Poultry and Vegetables, and the Best Modes of Making Pastes, Puffs, Pies, Tarts, Puddings, Custards and Preserves, and All Kinds of Cakes, from the Imperial Plumb to Plain Cake. Hartford: Printed by Hudson & Goodwin, 1796.
Related Recipes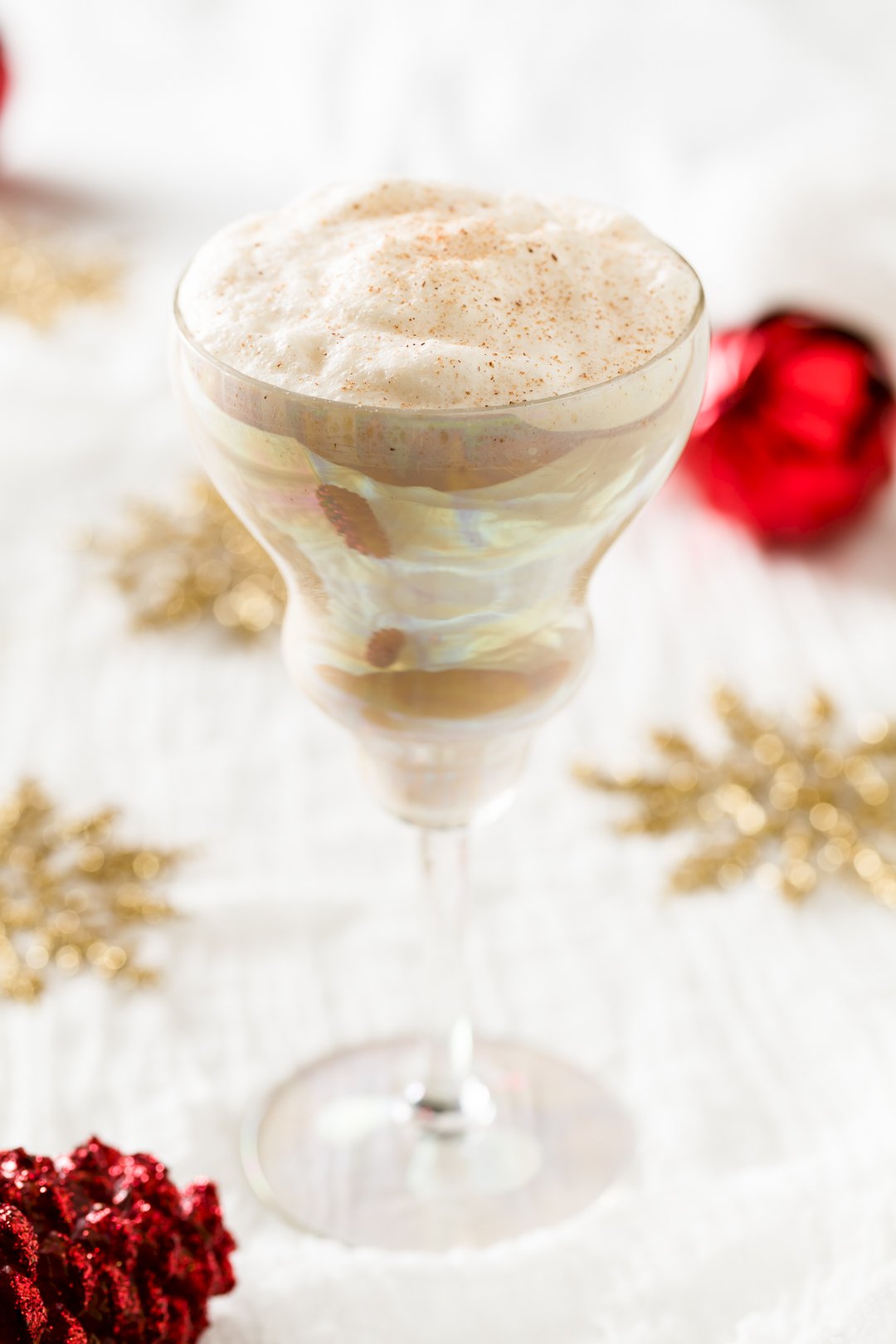 Syllabub
Syllabub is an English hard cider cocktail most popular from the 16th to 19th centuries.
Ingredients
1

cup

hard cider

1/4

cup

granulated sugar

use more or less to taste

1/4

cup

whole milk

room temperature

1/2

teaspoon

nutmeg

plus more for serving

1/2

cup

cream
Instructions
In a medium-sized bowl, add the sugar to the cider and whisk until dissolved.

Stir in milk and nutmeg.

Add cream and whisk until a thickened, foamy layer of cream forms on top of the mixture.

Spoon the layer of cream into a small bowl and set aside.

Pour the remaining cider/milk mixture into serving glasses, filling the glasses no more than three-quarters of the way full.

Top each glass with a dollop of the cream topping.

Sprinkle with nutmeg and serve.
Notes
adapted from Amelia Simmons' Syllabub (1796)
Nutrition
Calories:
123
kcal
|
Carbohydrates:
10
g
|
Fat:
7
g
|
Saturated Fat:
4
g
|
Cholesterol:
28
mg
|
Sodium:
13
mg
|
Potassium:
28
mg
|
Sugar:
9
g
|
Vitamin A:
310
IU
|
Calcium:
24
mg
Stay Connected!
Join my mailing list - and receive a free eBook!