What is a Sugar Plum?
You have probably heard 'Twas the Night Before Christmas several hundred times, but if you are like me, you may not have stopped to find out just what a sugar plum is after hearing the sugar plum verse:
The children were nestled all snug in their beds,
While visions of sugar-plums danced in their heads.
I always assumed that sugar plums referred to sugared and baked plums.  Even the sugar plum fairy from The Nutcracker didn't give me a clue as to what to expect from sugar plums.
When I began my search to answer "What is a sugar plum," I found two excellent sugar plum recipes, one from
Nourished Kitchen
and another from
Running to the Kitchen
(inspired by
Alton Brown's recipe
); both treat a sugar plum as a a no-bake dessert made with dried fruit (including prunes, dried plums), nuts, honey, and spices, and rolled in sugar.  These glittery sugar plums are my take on these two recipes.
Only after I created my sugar plum recipe did I discover the truth about sugar plums – traditional sugar plums have nothing at all to do with plums!  For the full story, I highly encourage you to read an article in The Atlantic entitled Sugar Plums: They Are Not What You Think They Are by Samira Kawash, author of Candy Professor.
I was saddened to discover that my sugar plums are not quite authentic. However, Kawash's article in The Atlantic states that "plum doesn't just mean fruit; it can mean all manner of good things."  By that definition, my recipe certainly fits the bill.
What Do My Sugar Plums Taste Like?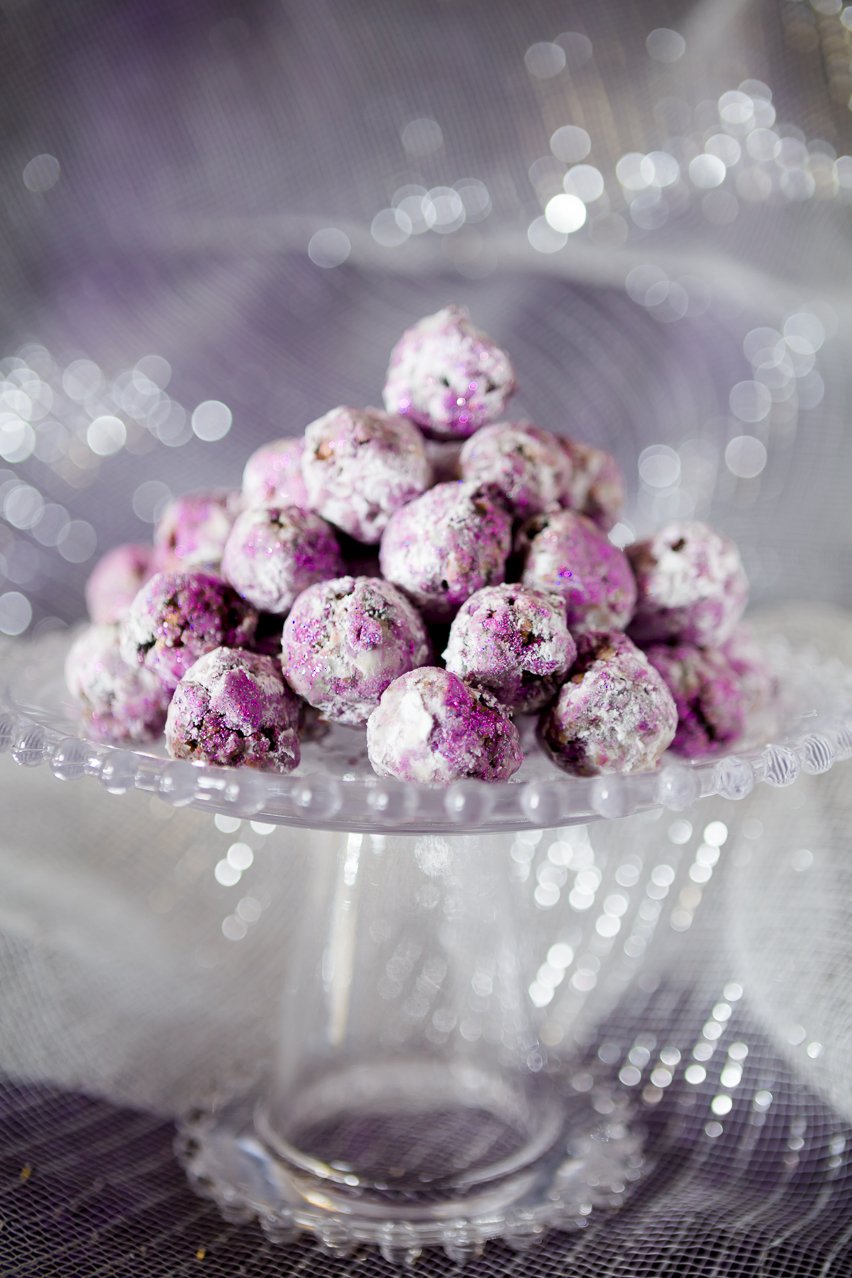 I made my sugar plums with a few of my favorite things – toasted walnuts, dried fruit, honey, and lots of spices.  They could be called healthy – before you roll them in sugar.  The sugar plums taste more like energy bars than cookies, which is actually a good thing around Christmas time when we are bombarded with sweet after sweet.
Sugar Plum Recipe
Although completely non-traditional, I rolled my sugar plums in
plum-colored disco dust
(edible glitter).  It helps them garner the special place that they deserve on the holiday table.
If you've tried this recipe, please RATE THE RECIPE and leave a comment below!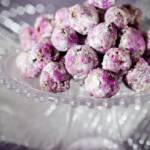 Sparkly Sugar Plums for Christmas
Ingredients
2

cups

toasted walnuts

chopped

1/4

cup

honey

1

teaspoon

ground cinnamon

1/2

teaspoon

ground allspice

1/2

teaspoon

ground nutmeg

1/4

teaspoon

ground coriander

1

teaspoon

orange zest

1

cup

pitted prunes

finely chopped

1/2

cup

dried apricots

finely chopped

1/2

cut pitted dates

finely chopped

powdered sugar for rolling coating the balls

plum purple disco dust

I got mine from Layer Cake Shop
Instructions
Mix all ingredients except the sugar and disco dust together in a large bowl. Optionally, place the whole mixture in the food processor and process for a few seconds - this will help everything to stick together, especially if you aren't the best at finely chopping. (I'm raising my hand high on this one.)

Form the mixture into teaspoon-sized balls.

Roll the balls in powdered sugar and then roll in disco dust. Note: If you let the balls sit overnight, the powdered sugar will absorb into the balls and will be less visible.
Coming Soon
Sugar plum cupcakes are coming soon!