Plum pudding is the traditional culmination of the Christmas feast (it's sometimes called Christmas pudding). This dense, fruit-filled Victorian pudding remains a fixture of British Christmas celebrations to this day. Try the recipe or simply read all about it to learn the history of this classic Christmas dessert.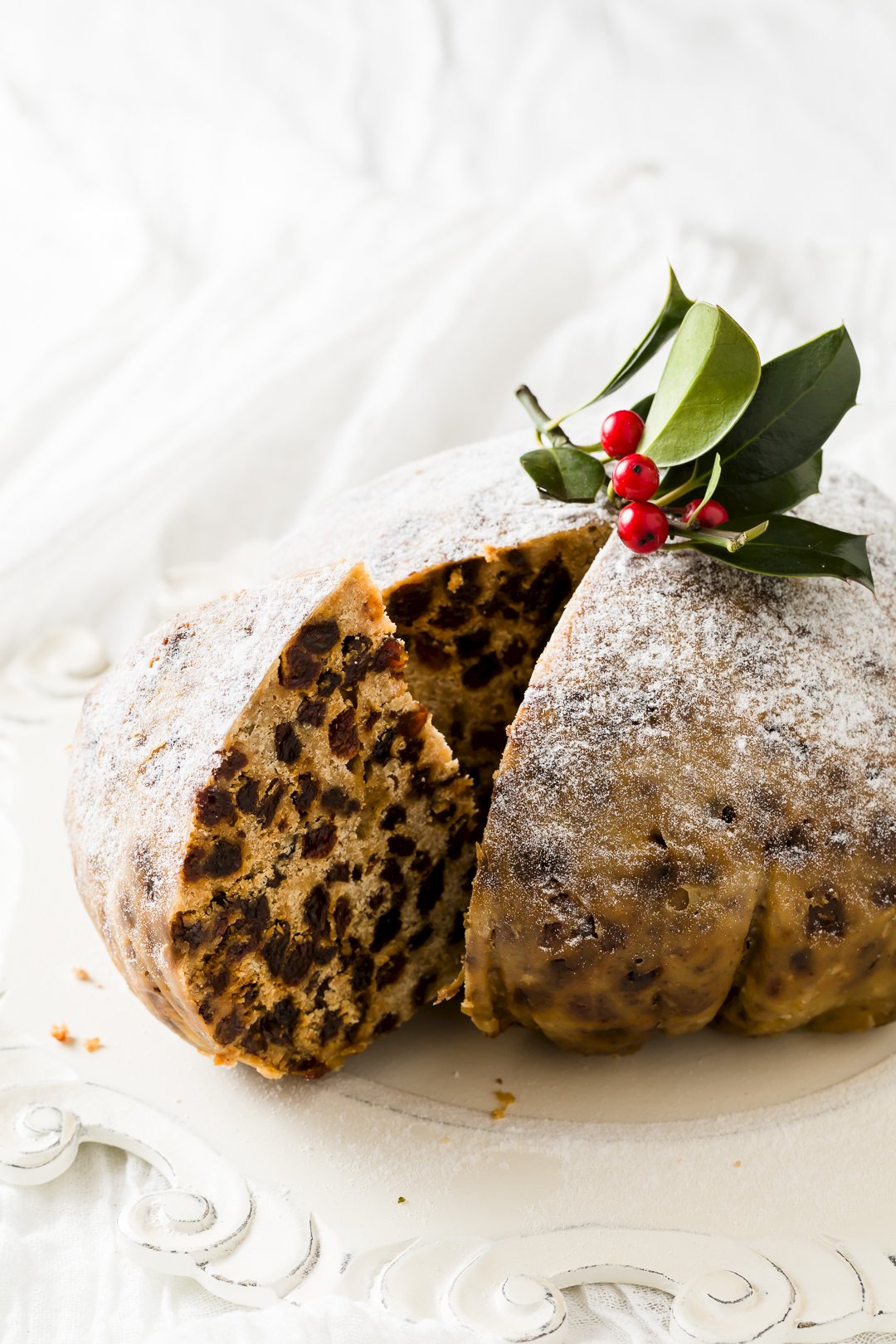 What is Plum Pudding?
Interestingly, plum pudding contains no plums. The name may have come from the pre-Victorian use of the word "plums" as a term for raisins or the fact that it used to be more of a stew that contained prunes (more on that later).
It also isn't what most American's would think of as a pudding. American puddings are typically wet and milk-based, like my strawberry banana pudding or a chocolate pudding.
Traditionally, a British pudding is a savory or sweet dish that's boiled or steamed in something. It was traditionally steamed in an intestine and the name comes from the Middle English word "poding" – a "meat-filled animal stomach."
Plum pudding tastes like a thick, hearty, slightly sweet raisin bread. (Are you surprised? I sure was!)
How is Plum Pudding Made
As I mentioned above, traditional puddings are boiled. If you have never made one, the preparation of this recipe will feel very different to you. The process goes as follows:
Prepare the batter.
Place the batter into a food-safe muslin cloth and tie it up with twine.
Boil the cake in the cloth for four hours.
Unique Ingredient
The original recipe contains rendered suet. Suet is rendered fat, typically from cow or lamb, and it is widely available through both local butchers and grocery store meat departments – just ask!
If you prefer a vegetarian alternative, substitute in an equivalent weight of vegetable shortening.
Steer clear of butter when making this recipe – its lower melting point means that it is likely to melt before the recipe has fully set, resulting in a heavier, greasier dessert.
Plum Pudding History
Plum pudding began life as plum pottage, or stew, in the 15th century.
Originally a rich stew, it was made from chopped beef or mutton, onions, root vegetables, and a variety of dried fruits. It was thickened with bread crumbs, flavored with wine and spices, and served at the beginning of a meal.
Over time, the meat and vegetables began to drop out of plum pottage, and, in the 16th century, it was among many common pottages to be adapted into baked or boiled puddings. Suet and sugar found their way into the batter, which was then tied in a floured cloth and boiled for several hours to produce a spherical pudding. Dickens described it as a "speckled cannon-ball" in A Christmas Carol.
Hallo! A great deal of steam! The pudding was out of the copper. A smell like a washing-day! That was the cloth. A smell like an eating-house and a pastrycook's next door to each other, with a laundress's next door to that! That was the pudding…. like a speckled cannon-ball, so hard and firm, blazing in half of half-a-quartern of ignited brandy, and bedight with Christmas holly stuck into the top. (Charles Dickens, A Christmas Carol, chapter 3)
Over time, the cultural significance of plum pudding changed along with its form. Pottages were everyday dishes, but plum pottage's rich ingredients (meat, exotic dried fruits, and spices available only to the wealthy) made it a natural addition to menus for special occasions. Plum pottage and pudding have been associated with both Christmas and with Winter Solstice, and rituals of making and serving the pudding have been variously attributed to Christian and pagan traditions.
Folding lucky charms (actual charms rather than the cereal) into the batter – almost like the baby in a king cake – and serving the pudding wreathed in flames (said to represent the sun's rebirth) are practices linked to Winter Solstice, while the tradition of making it on the Third Sunday of Advent, or "Stir-up Sunday" (so called because the day's collect in The Book of Common Prayer reads, "Stir up, oh Lord, the wills of thy faithful people") is a Christian addition.
How Plum Pudding Became Christmas Pudding
Plum pudding's ambiguous associations led it to be banned for a time as a pagan decadence in Oliver Cromwell's England, and it wasn't until the 19th century that "plum pudding" made the definitive shift to "Christmas pudding."
The Oxford English Dictionary credits Anthony Trollope with pioneering the term "Christmas pudding" in his 1858 novel Dr. Thorne, but it was actually poet and cook Eliza Acton who first used the term – a whole thirteen years before Trollope.
Nestled in Acton's 1845 cookbook Modern Cookery, in all its Branches: Reduced to a System of Easy Practice for the Use of Private Families is a distinctly plum-pudding-like dessert called "Cottage Christmas Pudding." This recipe represents not only the first Christmas pudding to be identified as such, but also a revolution in cookbook publishing.
Acton had the novel idea that published recipes would be more useful if they contained things like ingredients lists, measurements, and cook times (you think?), and, as a result, her cookbook reads much like a modern publication.
I've included a slightly updated version of Acton's recipe below, but if you'd like to view the original in context, the second edition of Modern Cookery is freely available through Internet Archive.
Other Traditional Christmas Recipes
Plum Pudding
Plum pudding is the traditional culmination of the Christmas feast. Try this historically accurate Christmas pudding recipe for a taste of the past.
Ingredients
24"

square of unbleached muslin

cooking twine

14

ounces

rendered suet*

for a vegetarian option, use vegetable shortening

1

pound

all-purpose flour

5

ounces

granulated sugar

1/2

teaspoon

of ground nutmeg

1/4

teaspoon

ground ginger

1/4

teaspoon

cloves

1/4

teaspoon

salt

4

ounces

mashed potato

20

ounces

raisins

4

ounces

currants

4

large eggs

1/4

pint

milk
Instructions
First, make your muslin food-safe by soaking it overnight in cold water, then boiling it for 20 minutes. Rinse it in cold water and hang it in a clean room to dry.

Lightly flour the blades of a kitchen grater and grate the solid suet into a bowl.

Fill a large pot 3/4 of the way full of water, cover it, and set it on the stove to boil.

Meanwhile, in a large bowl, combine flour, sugar, nutmeg, ginger, cloves, and salt.

Rub the grated suet into the dry ingredients until no pieces larger than a pea remain.

Add mashed potato and mix until thoroughly combined.

Add raisins and currants and mix until evenly distributed.

In another bowl, beat the eggs until smooth.

Stir the milk into the beaten eggs.

Add the milk and egg mixture to the batter and mix thoroughly.

Submerge your prepared muslin in the pot of boiling water. Wearing heavy rubber gloves, remove the cloth from the water and wring out the excess moisture.

Lay the cloth flat on a clean countertop and liberally sprinkle the center (where you will place the plum pudding) with flour. Rub the flour across the cloth, ensuring that a circle of at least 16 inches in diameter is coated with flour, and that the flour layer is slightly thicker at the center.

Place the batter on the floured cloth. Gather the cloth up around the mixture and, using the cooking twine, tightly cinch the cloth as close to the mixture as possible. Knot the corners together for a more secure seal.

Lower the cloth into the boiling water and cover the pot. Boil the pudding for four hours, replenishing the water as necessary.

Lift the cloth out of the water and place it in a colander. Cut the string, open the cloth, and turn the dessert out onto a plate to cool. Let sit for at least 20 minutes before serving.

To store your pudding for later use, allow it to cool to room temperature, wrap it in plastic wrap, seal it in an airtight container, and store it in the refrigerator. Briefly steam the plum pudding again before serving.
Notes
This recipe was adapted from the recipe by Eliza Acton in Modern Cookery, in all its Branches: Reduced to a System of Easy Practice for the Use of Private Families. London: Longman, Brown, Green and Longman's, 1845.
Cottage Christmas Pudding.

A pound and a quarter of flour, fourteen ounces of suet, a pound and a quarter of stoned raisins, four ounces of currants, five of sugar, a quarter-pound of potatoes smoothly mashed, half a nutmeg, a quarter-teaspoonful of ginger, the same of salt, and of cloves in powder: mix these ingredients thoroughly, add four well-beaten eggs with a quarter-pint of milk, tie the pudding in a well-floured cloth, and boil it for four hours

Flour, 1 lb.; suet, 14 ozs.; raisins stoned, 20 ozs.; currants, 4 ozs.; sugar, 5 ozs.; potatoes, 1 lb.; nutmeg; ginger, salt, cloves, 1 teaspoonful each; eggs, 4; milk, 1 pint: 4 hours. (p. 381)
To render your own fat, begin with at least 18 ounces of raw suet. First, cut away any visible bits of meat. Then, cut or shred the suet into small pieces. Place them in a slow cooker with half a cup of water and allow to simmer on low, with the cover off, for several hours. The fat will liquefy and separate from the connective tissue, and any excess moisture will evaporate. Be patient; if the suet heats up too quickly, the connective tissue will fry, leeching the taste of cooked meat into what should, ideally, be a flavorless fat.
When the fat has liquefied, pour it through a sieve to separate out the connective tissue particles. These particles can then be discarded, and the liquid fat that remains can be poured into a container to cool. Store in the refrigerator.
Nutrition
Calories:
520
kcal
|
Carbohydrates:
70
g
|
Protein:
7
g
|
Fat:
25
g
|
Saturated Fat:
14
g
|
Cholesterol:
59
mg
|
Sodium:
75
mg
|
Potassium:
493
mg
|
Fiber:
4
g
|
Sugar:
14
g
|
Vitamin A:
77
IU
|
Vitamin C:
8
mg
|
Calcium:
37
mg
|
Iron:
3
mg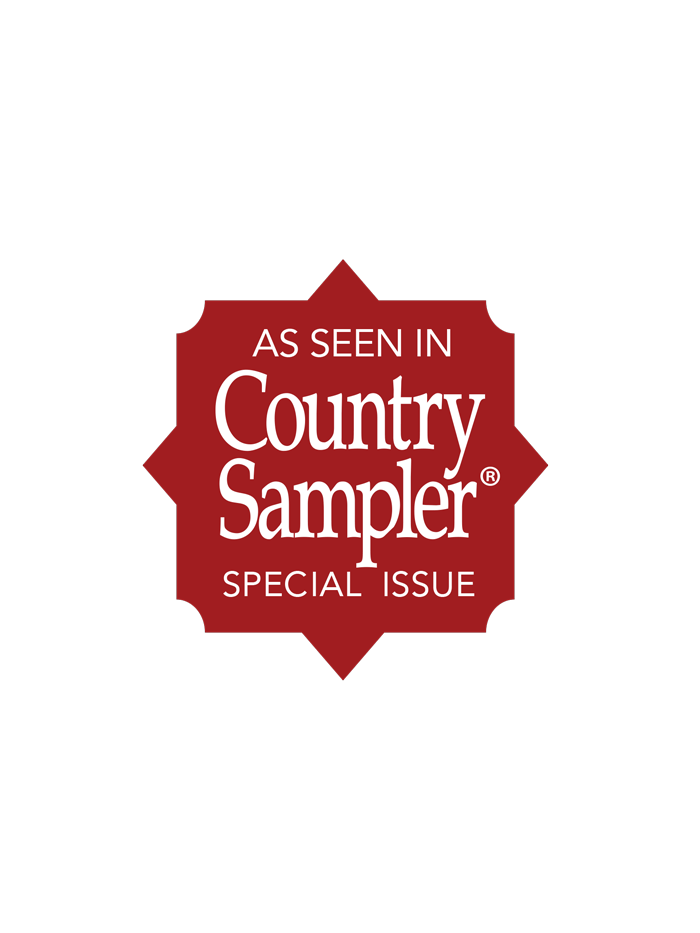 I'm excited to share that recipe was featured in the Fall 2018 Special Issue of Country Sampler Magazine!
This post was written by my fabulous contributor Jessica Touchette.