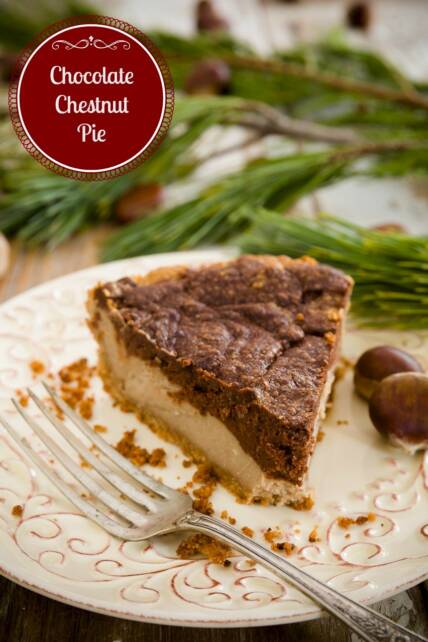 We all know about chestnuts roasting on an open fire, but what the song doesn't tell us is how those roasted chestnuts can then be turned into a Christmas pie that rivals Thanksgiving's pumpkin pie.  Chocolate and roasted chestnut Christmas pie is over-the-top decadent, has the consistency of cheesecake,  a mild nutty flavor, and a fudge brownie finish.  Although your Christmas guests have never tried this Christmas pie flavor, the roasted chestnuts make this Christmas pie fit right in with the turkey and some mistletoe.
If you've tried this recipe, please RATE THE RECIPE and leave a comment below!
Must-Try Christmas Pie - Chocolate Chestnut Pie
Ingredients
15

ounces

roasted chestnuts

2

cups

heavy whipping cream

2

tablespoons

butter

melted

2/3

cup

maple syrup

1/3

teaspoon

nutmeg

1/4

teaspoon

salt

3

large eggs

4

ounces

of your favorite type of chocolate

I used dark chocolate

9

" graham cracker crust

You can buy one pre-made or just mix about 2 cups of crushed graham crackers with 6 tablespoons of melted butter and press into a pie pan.
Instructions
Preheat oven to 425 F.

Using a mixer or food processor, process the roasted chestnuts with the heavy whipping cream and melted butter until smooth.

Transfer to a mixing bowl and mix in maple syrup, nutmeg, salt, and eggs.

Melt chocolate in the microwave or in a double boiler.

In a small bowl, mix one cup of the pie filling with the melted chocolate.

Pour remaining pie filling into the pie crust.

Top with the chocolate/pie filling mixture.

Bake for 15 minutes.

Reduce oven temperature to 350 F and bake for another 40 minutes or until a toothpick comes out clean.

Cool to room temperature and then refrigerate until ready to enjoy. The pie may be eaten warm or cold. Try it both ways and let me know which way you like better!