Must-Try Christmas Pie
Disclosure: As an Amazon Associate, I earn from qualifying purchases.
This Christmas pie is over-the-top decadent, has the consistency of cheesecake, a mild nutty flavor, and a fudge brownie finish. It's a roasted chestnut pie that will have you singing carols over an open fire!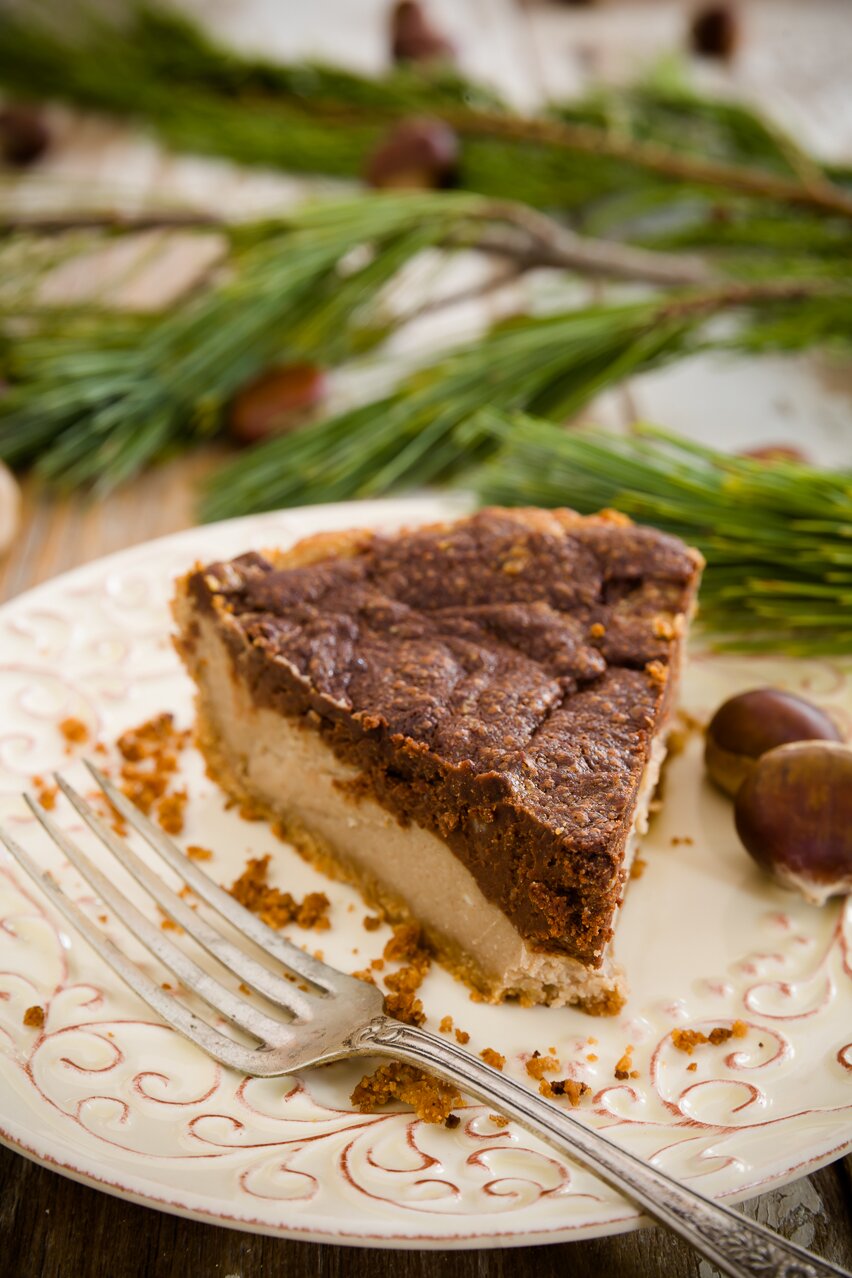 What is a Christmas Pie?
There is no particular pie that is called a Christmas pie, so any pie that has Christmas flavors can lay claim to that title. My favorite choice is this roasted chestnut pie. (I also frost my cupcakes with roasted chestnut frosting for the holidays.) Chestnuts are so linked to Christmastime that if I try to bake this pie any other time of year, I can't even find the nuts at the grocery store.
But, if chestnuts aren't your thing, other wonderful contenders for best Christmas pie include:
How to Make Chocolate Chestnut Pie
My chocolate chestnut pie is made with two layers:
a chestnut layer flavored with maple syrup and nutmeg
a chocolate layer made by dividing the batter and adding chocolate to some of the chestnut layer
To make a layered pie, simply fill the pie crust with the plain chestnut part of the batter. Then, top with the chocolate batter.
As long as you don't shake the pie pan around too much, the layers will stay separated.
Variation
If you prefer more of a striped look instead of layers (like the image of the zebra pumpkin pie below), pour a little of the chocolate batter into the center of the pie pan, then pour some of the plain batter into the center of the chocolate batter. The plain batter will push the chocolate batter out. Alternate adding each kind of batter, always pouring batter into the center of the pie.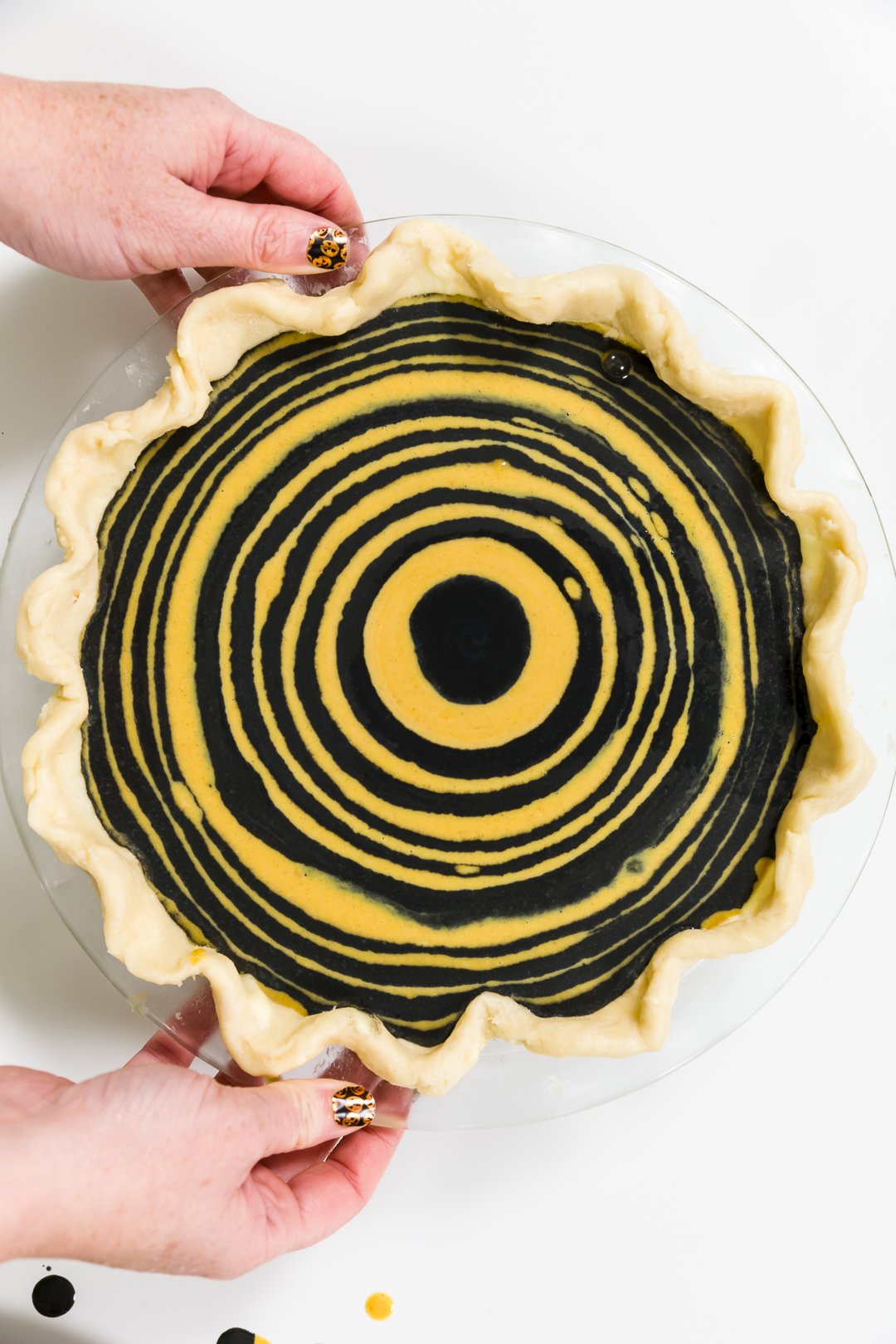 About Roasted Chestnuts
To make my life easier, I use store-bought roasted chestnuts [paid link] for this pie. These chestnuts are really easy to work with.
They are nice and soft and turn into a nut-butter like texture once you food process them. (If you haven't tried this with other nuts, you should! While it can get a little pricey, try making pine nut butter for a special occasion.)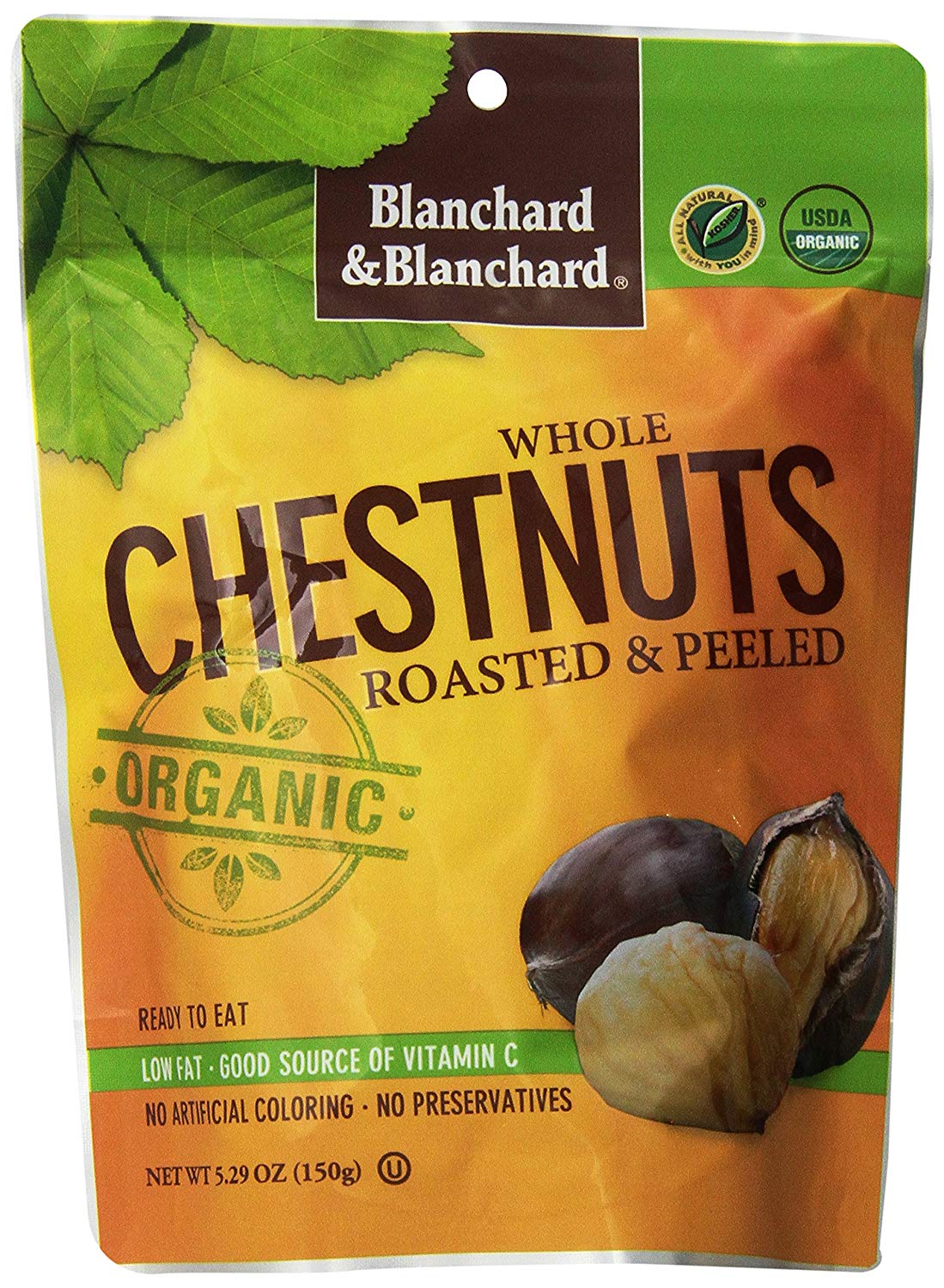 If you prefer, you can roast your own chestnuts from-scratch. Boulder Locavore has a great guide on roasting chestnuts that you can follow. You don't need an open fire – just a baking sheet in your oven.
The Best Crust for Christmas Pie
I use a graham cracker crust made from crushed store-bought or homemade graham crackers. It goes really well with the chestnut flavor.
You can experiment with using other types of pie crust, such as a more classic crust, an Oreo crust, or a pretzel pie crust.
Other Christmas Desserts
Christmas Pie
Chocolate and roasted chestnut Christmas pie is over-the-top decadent, has the consistency of cheesecake, a mild nutty flavor, and a fudge brownie finish.
Ingredients
15

ounces

roasted chestnuts

2

cups

heavy whipping cream

2

tablespoons

butter

melted

2/3

cup

maple syrup

1/3

teaspoon

nutmeg

1/4

teaspoon

salt

3

large eggs

4

ounces

dark chocolate

chopped into small pieces

9

inch

graham cracker crust

be sure to use a deep dish pie pan
Instructions
Preheat oven to 425 F.

Using a mixer or food processor, process the roasted chestnuts with the heavy whipping cream and melted butter until smooth.

Transfer to a mixing bowl and mix in maple syrup, nutmeg, salt, and eggs.

Melt chocolate in the microwave or in a double boiler.

In a small bowl, mix one cup of the pie filling with the melted chocolate.

Pour remaining pie filling into the pie crust.

Top with the chocolate/pie filling mixture.

Bake for 15 minutes.

Reduce oven temperature to 350 F and bake for another 40 minutes or until a toothpick comes out clean.

Cool to room temperature and then refrigerate until ready to enjoy. The pie may be eaten warm or cold. Try it both ways and let me know which way you like better!
Notes
You can use store-bought roasted chestnuts or make them from-scratch. Boulder Locovore has a great guide on roasting chestnuts. 
Mix about 2 cups of crushed graham crackers with 6 tablespoons of melted butter and press into a deep dish pie pan.
Nutrition
Calories:
609
kcal
|
Carbohydrates:
65
g
|
Protein:
5
g
|
Fat:
37
g
|
Saturated Fat:
20
g
|
Cholesterol:
150
mg
|
Sodium:
249
mg
|
Potassium:
450
mg
|
Fiber:
1
g
|
Sugar:
27
g
|
Vitamin A:
1065
IU
|
Vitamin C:
21.7
mg
|
Calcium:
97
mg
|
Iron:
1.8
mg