Chocolate Rugelach
Disclosure: As an Amazon Associate, I earn from qualifying purchases.
My chocolate rugelach are some of the best rugelach I've ever tasted (and I am Jewish and grew up in New York!). They are flaky, buttery cookies made with a cream cheese dough and a chocolate cream cheese filling.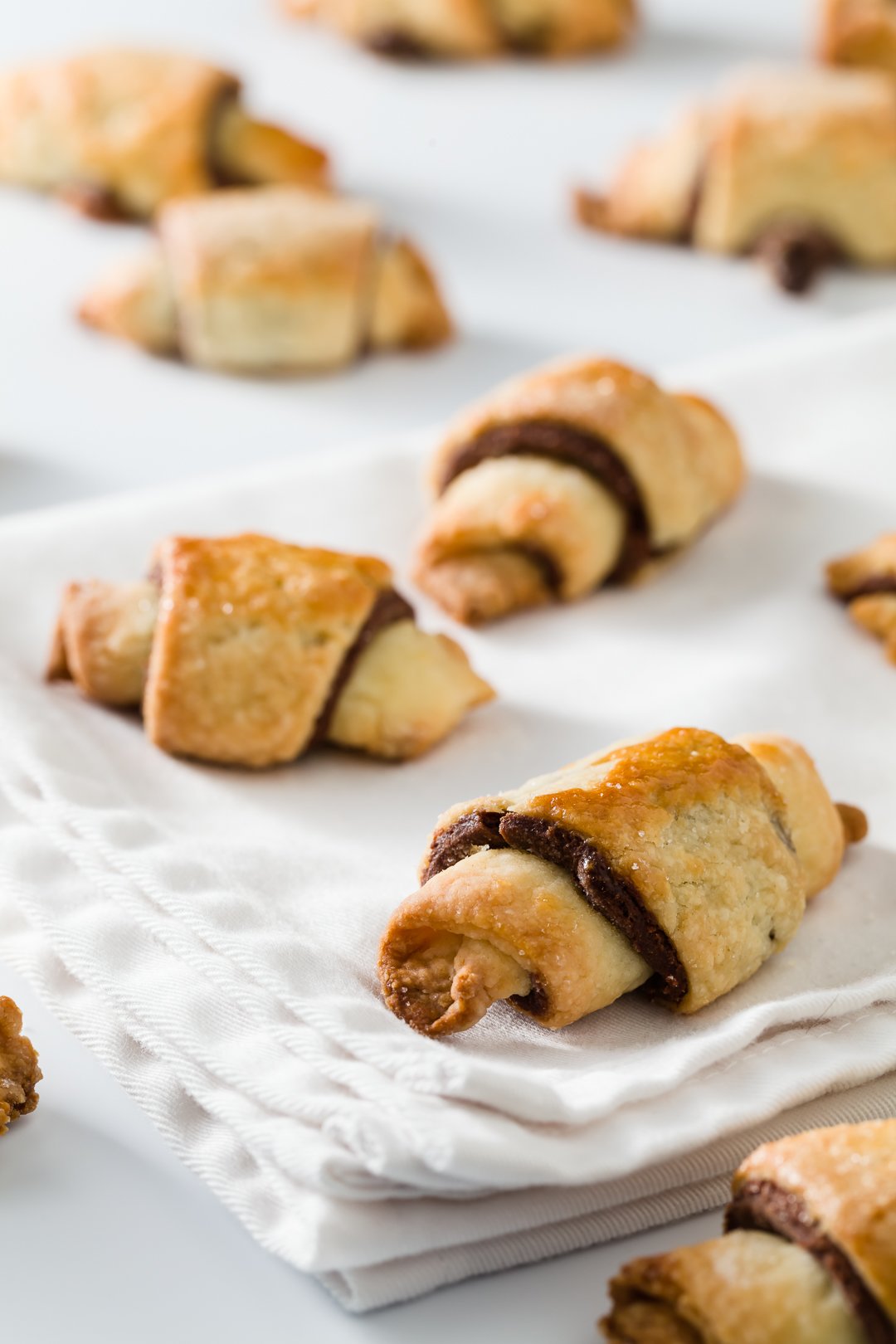 Rugelach were a regular nosh in my house – ever-present beside platters of bagels, lox, and whitefish.
While a rugelach recipe is traditionally filled with jam, poppy seed filling, and/or nuts and raisins, as with Hamantashen, rugelach fillings stray from the classics and you can often find poppy seed, marzipan, or my favorite, chocolate rugelach!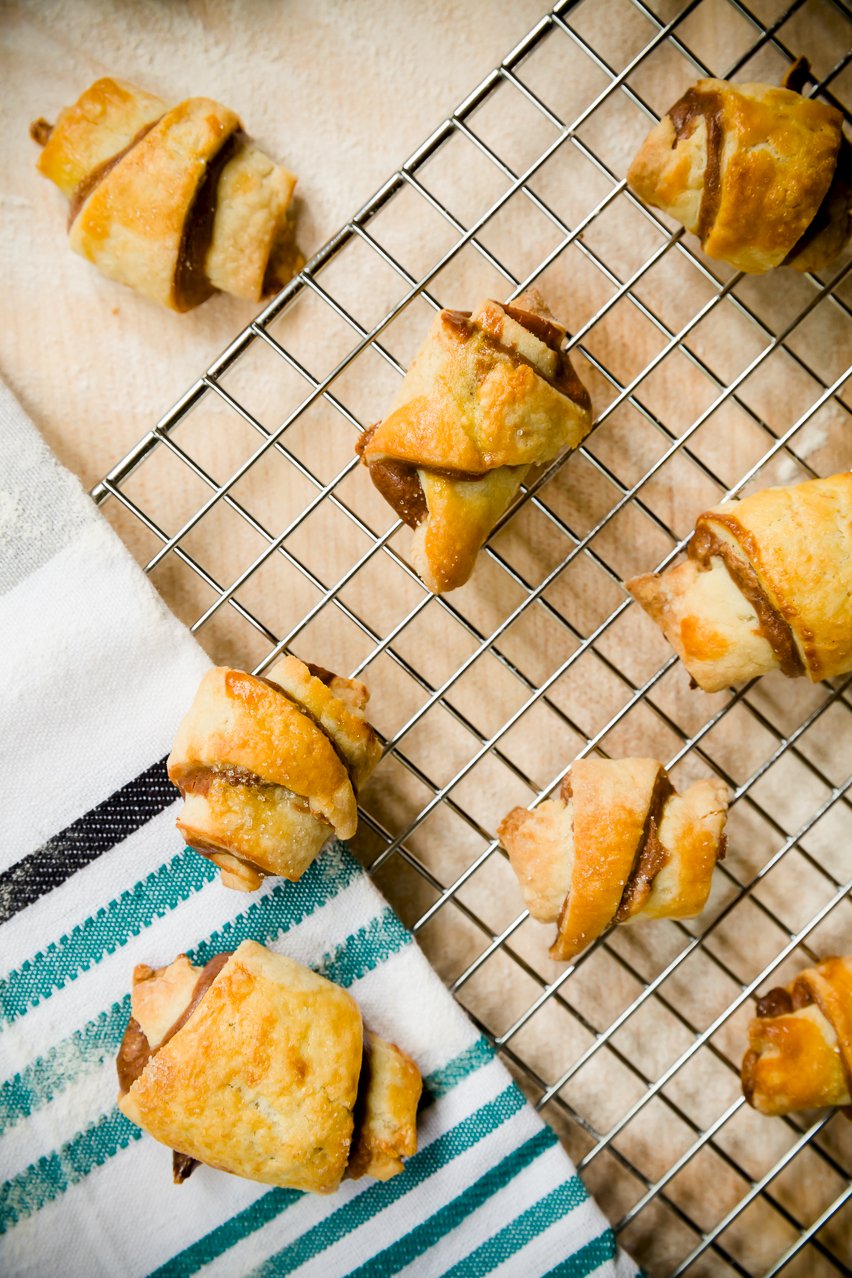 Honestly, I don't care what the filling is; you could fill rugelach with thin air and I'd still be all over them like Pinterest users pinning Internet memes.
Cream Cheese vs. Yeast Rugelach Recipes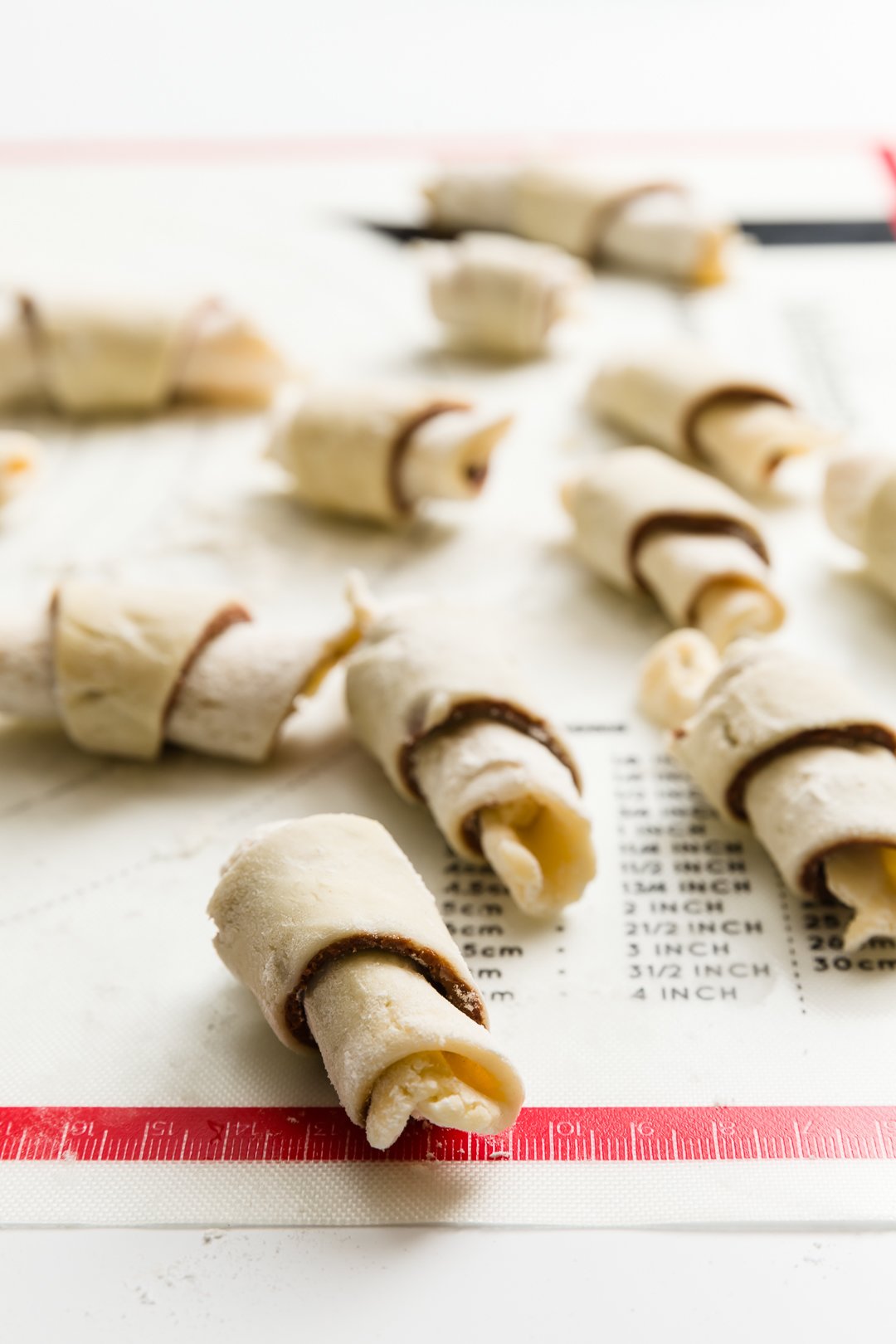 There are two camps of rugelach recipes, yeast-based and cream cheese-based.
The yeast-based rugelach are lighter and more flaky, while the cream cheese-based ones are heavy, buttery, and incredibly rich.
The cream cheese dough that I use in this recipe is incredibly sticky so I suggest working on a non-stick baking mat [paid link] and still throwing down a lot of flour.
Chocolate Filling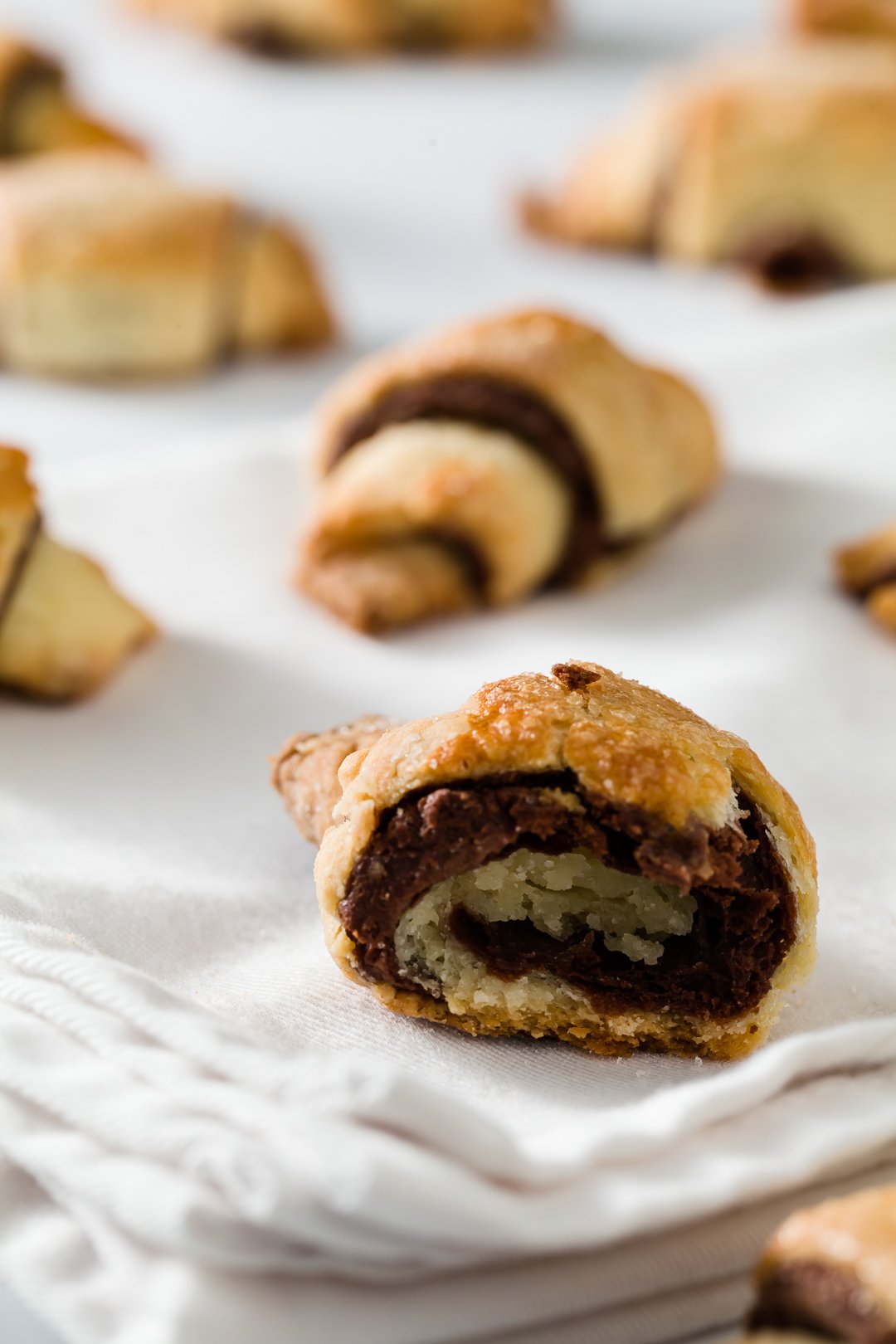 While most chocolate rugelach is filled with a mixture of chocolate and sugar, my filling uses cream cheese (are you seeing a cream cheese trend with my preferences?) to create a chocolate cheesecake-like flavor.
If you want, experiment with other cheesecake fillings or use your favorite cheesecake recipe. You'll likely have to quarter the recipe so you end up with just one cup of batter.
If you don't want want to take the time to make the cheesecake filling, but still want something unique and chocolaty, you can use any chocolate spread – like Nutella.
Which Type of Chocolate to Use
I prefer using dark chocolate in chocolate rugelach. However, any kind of chocolate that you love will work just fine.
As always, I encourage you to buy Fair Trade chocolate.
When a company in the United States or elsewhere in the world buys a Fair Trade product to sell, that company pays a fair cost for the product plus an extra percentage, the premium, that is managed by the workers and used on projects to benefit them and their families.
In the case of Fortaleza del Valle, one of the Fair Trade chocolate companies that I got to visit in Ecuador, Fair Trade premiums have been used to invest in pre-harvest financing, pruning and replanting of trees to rehabilitate the farms, education and training, and infrastructure for local organizations. Premiums are also used for things like upgraded machetes and irrigation.
Who you buy your chocolate from really can make a difference in the world. (You can also use Fair Trade sugar and vanilla for this recipe!)
How to Roll Out and Shape Rugelach
To shape rugelach:
Roll out a ball of dough to a rough circle.
Spread the filling over the circle, leaving a little room around the edge.
Cut the circle using a pizza cutter into 12 slices, like a pie.
Roll each slice from the end towards the center. Put the point on the bottom to make sure that it doesn't unravel during baking.
Can You Freeze Rugelach?
Yes, rugelach freeze really well.
Just put them into an airtight container and take them out several hours before you are ready to eat them!
When to Eat Rugelach
Obviously, you can and should eat rugelach whenever, but I wanted to point out that rugelach are a great treat to make at holiday cookie parties if you are looking for something to represent Hanukkah.
These particular rugelach are also wonderful for Shavuot.
Shavuot is a lesser known, but very important holiday. Shavuot celebrates the day that the Jewish people received the Torah (the Hebrew Bible). On Shavuot, it is customary to eat dairy because (according to one opinion) once the Israelites were informed that there were dietary laws that they needed to learn, they chose to eat only dairy in order to have time to learn the laws of kosher slaughter.
Each year at the Passover Seder, Jews are asked to think of the exodus from Egypt as if we had personally been there. I do think about it, and I wonder what I would have done had I been there when Moses came down with the Torah. I'm typically of the rules-are-loose-guidelines camp; my crazy chocolate cheesecake rugelach should give you a clue that I don't like to stick within a mold. I could imagine saying, "Come on guys, we can still eat meat, we'll just learn the Kosher thing as we go. Surely, there is some wiggle room for the first couple of months." But, I'd like to think that if I had just seen the Red Sea part and had dined on manna falling from the sky, I would have treated these rules with reverence and seen this learning period as a great opportunity: Shavuot is a fabulous excuse to eat cheesecake, chocolate cheesecake rugelach, or if, you prefer, lots of buttercream frosting!
Chocolate Cheesecake Rugelach Recipe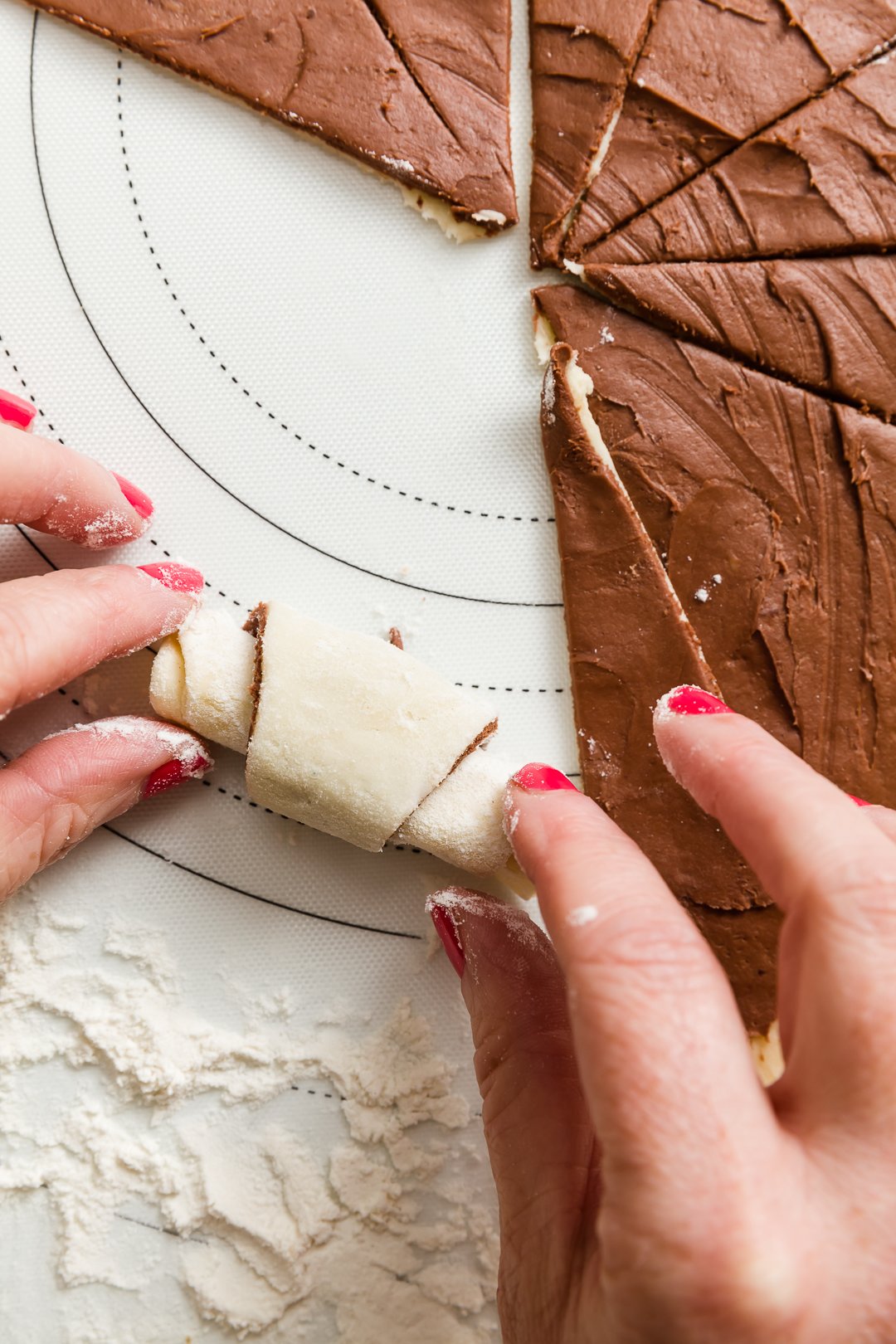 Chocolate Rugelach
Flaky, buttery chocolate rugelach made with cream cheese dough and a chocolate cream cheese filling
Ingredients
Rugelach Ingredients
8

ounces

cream cheese

room temperature

1

cup

unsalted butter

room temperature

1/4

cup

sugar

1/4

teaspoon

salt

1

teaspoon

vanilla extract

2

cups

all-purpose flour
Chocolate Cheesecake Filling Ingredients
8

ounces

cream cheese

room temperature

1/4

cup

sugar

1 1/2

teaspoons

all-purpose flour

1/4

teaspoon

salt

1/4

teaspoon

vanilla

4

ounces

dark chocolate

melted (if you prefer semi-sweet, that would also work)

1

large egg
Topping Ingredients
1

large egg

3

tablespoons

sugar
Instructions
Rugelach Instructions
In a medium-sized mixing bowl, mix the cream cheese and butter until light and fluffy (about three minutes on high speed).

Mix in the sugar, salt, and vanilla.

Mix in the flour until just combined.

Place the dough on a floured board and form it into a ball.

Divide into four roughly equal pieces, wrap each in plastic, and refrigerate for at least one hour.
Chocolate Cheesecake Instructions
In a small mixing bowl, mix cream cheese, sugar, flour, salt, and vanilla until thoroughly combined.

Mix in chocolate.

Mix in egg until just combined.
Assembly Instructions
Remove one of the wrapped sections of dough from the refrigerator.

Roll out to a roughly 9" circle. The dough is sticky, so be sure to flour your surface and your rolling pin really well. Also, don't worry if your circle isn't a perfect circle. Mine looked more like a map of the United States than a circle.

Spread 1/4 cup of the chocolate cheesecake filling over the dough, being sure to evenly distribute it. Leave just a little rim of uncovered dough around the edge of your circle.

Cut the circle into quarters. Then, cut the quarters into thirds as if you were cutting a pizza (I even used a pizza cutter). You will end up with 12 roughly even wedges.

Roll up each wedge, starting with the wider edge of the wedge.

Place the rugelach on a cookie sheet lined with parchment paper or a Silpat.

Repeat for the other 3 sections of dough.

Chill the formed rugelach for 30 minutes in the refrigerator (this helps them hold their shape). I didn't have space in my fridge, so I chilled one baking sheet at a time in my freezer for about 10 minutes. Either way is fine.
Topping and Baking Instructions
Preheat oven to 350 F.

Remove cookie sheets of rugelach from the refrigerator.

Beat egg in a small bowl and brush the rugelach with egg.

Sprinkle sugar on the rugelach.

Bake for 20 minutes or until the rugelach are golden brown. It may take longer than 20 minutes if your rugelach are particularly cold (mine took almost 35 when they came out of the freezer). Be careful not to under-cook them. Although you can eat them before they brown (you won't get sick), they are so much better when they have time to get a little crispy. You don't want them to burn, but they should achieve the golden brown color that you see in my photo.
Nutrition
Calories:
113
kcal
|
Carbohydrates:
8
g
|
Protein:
1
g
|
Fat:
8
g
|
Saturated Fat:
4
g
|
Cholesterol:
27
mg
|
Sodium:
58
mg
|
Potassium:
39
mg
|
Sugar:
3
g
|
Vitamin A:
255
IU
|
Calcium:
14
mg
|
Iron:
0.6
mg
If You Liked This, You May Also Like: