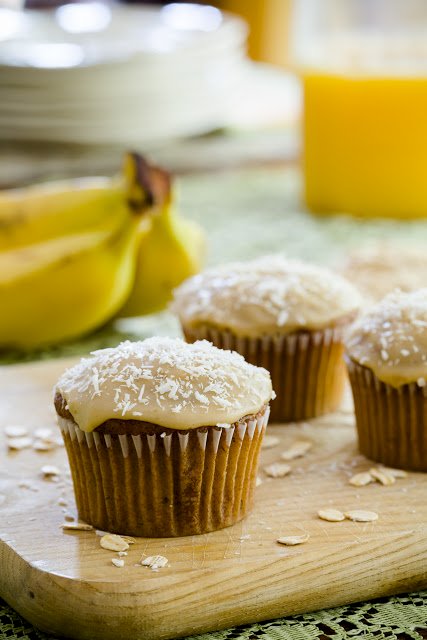 These banana oat coconut cupcakes are like banana bread, but so much better.  The cake is light and fluffy with a strong banana flavor and oats throughout.  Then, there's the frosting – a brown sugar caramel frosting with a splash of coconut milk and shredded coconut sprinkled on top.  If you want the recipe, you'll have to head over to
Paula Deen's website
.  I'm a regular guest contributor for her and this is my latest post on their site.
But, don't leave yet… I want to tell you more about the oats!

A few weeks ago, Jonathan and I took a trip to Portland, Oregon to attend the International Food Blogger Conference.  While we were there, Cassie from Bake Your Day arranged for a group of bloggers to take a tour of Bob's Red Mill led by Bob himself!  Did you know that Bob is a real person who is still involved in the company?  I didn't!  But, when we walked into the building (sadly, it's not a big red mill – that burned down in a fire), look what we were greeted with…
Best.  Greeting.  Ever.  Let's begin our tour.
Don't forget your safety goggles and hair net:
If you're a blogger, you'll also want your camera handy:
What impressed me the most about Bob's Red Mill was Bob's true commitment to doing right by his customers and his employees.  He talked about how he was concerned that when he retired the company would get bought out and things would change.  To avoid this, he gave the company to his employees.  Only employees are allowed to have ownership in the company.
Bob loves to tinker with things, and while this wasn't one of the most exciting tour stops for me, the machine shop is one of his favorite places to be.
Bob struggled to find a mill that he was happy with.  Even though he found one, he still has his employees take it apart after it arrives from the manufacturer and rebuild it to his specs.
Bob is really proud of their cornmeal.
But, he says that his favorite of all of their products is their really big oats.  They don't have a product with that name, so I can only assume that he meant their "Whole Oat Groats."  He has them for breakfast every day.
Bob's Red Mill takes gluten-free products seriously.  Here's a staffer doing some gluten-free testing.  Did you know that the gluten-free grain can't even be on the same truck as grain with gluten?  If it is, this lady will find out!
Largely due to the rising number of people with gluten-free diets, Bob's Red Mill's business has been booming.  Check out all of these sacks of grain and flour:
And here's a video of the boxing process:
Here are all of the boxes ready to be shipped:
OK, take those hair nets off now.
I want to take you somewhere special:
Bob said that he had never had so many people in his office at once.  Wait until he finds out that all of you are in there, too!
Other than meeting Bob and finding out that a company I already supported was as great as I hoped it would be, the other highlight of the tour was meeting JJ from 84th and 3rd.  She's a Cupcake Project Explorer on the quest for the Ultimate Chocolate Cupcake and she came all the way from Australia!
I also made a new friend, Marisa from Margaritas in the Rain.   We were fast friends and here you see us later in the conference weekend at a party hosted by MailChimp.
I don't think you can take a bad photo while wearing a monkey hat.  I also love the one of Jonathan and me in our hats:
Here's Elle, one of the conference coordinators – who just happens to also live in St. Louis: