Using Applesauce as a Butter or Oil Substitute: Cupcake Project Substitution Lab Test 2
Published , Last updated by
Stef
Disclosure: As an Amazon Associate, I earn from qualifying purchases.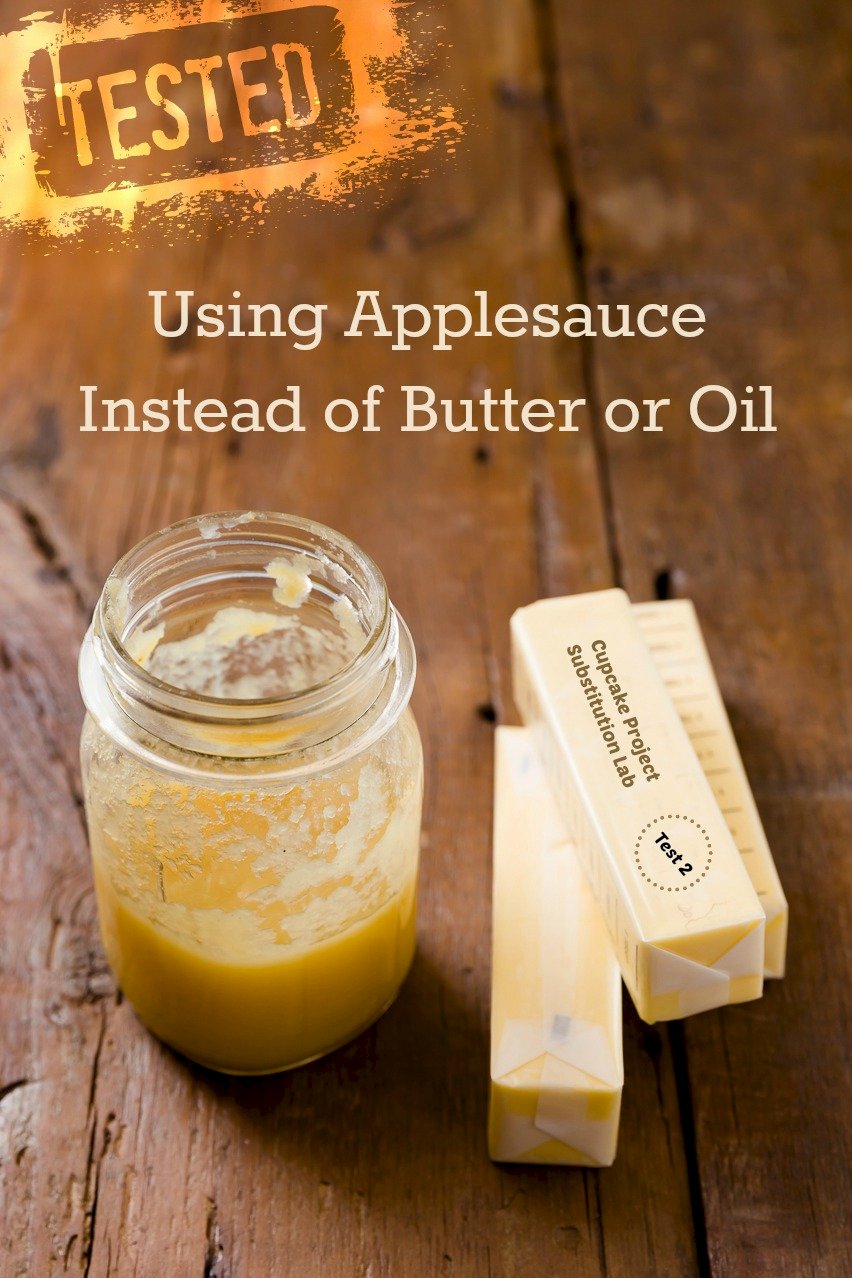 Cupcake Project Substitution Lab
Test 2: Using Applesauce as a Butter or Oil Substitute
Introduction / Purpose
Many of you have asked me about using applesauce as a butter or oil substitute to cut back on fat. With holiday baking season upon us, it would be great to know if that really works. So, I decided to take it to the Cupcake Project Substitution Lab (a.k.a. my kitchen) and to run some tests. How would the substitution affect the consistency of the dessert? Is applesauce a viable alternative to butter and oil? My hypothesis was that the substitution would be successful, but the texture would be compromised and the applesauce might lend an apple taste to the desserts.
Materials
For my experiments, I used organic, unsweetened applesauce. (View on Amazon) [paid link]
Methods
I used two tried and true recipes, my vanilla cupcakes and Toll House Chocolate Chip Cookies, and ran two tests for each recipe. In the first test, I replaced all of the fat in the recipe with applesauce. In the second test, I replaced half of the fat in the recipe with applesauce:
Ultimate Vanilla Cupcakes call for 1/4 cup butter and 1/4 cup oil.

In Ultimate Vanilla A, I used 1/2 cup applesauce and no butter or oil.

In Ultimate Vanilla B, I used 1/4 cup applesauce and 1/4 cup butter (no oil). I chose to keep the butter and not the oil because butter adds more richness and flavor to the cupcakes.

Toll House Chocolate Chip Cookies call for 1 cup of butter.

In Cookie A, I used 1 cup of applesauce.
In Cookie B, I used 1/2 cup butter and 1/2 cup applesauce.
Data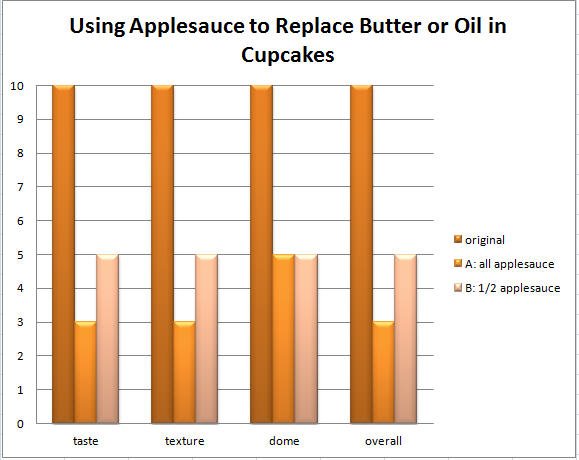 Results and Discussion
Cupcakes: The applesauce had a huge impact on Ultimate Vanilla Cupcakes. When I used all applesauce, the cupcakes didn't dome, they were dense and rubbery, and they tasted like a sad apple muffin. I was generous when I gave the taste a 3. When I used only half applesauce, the taste and texture were passable; there was no discernible apple taste. The cupcakes were a bit more dense and there was wasn't as light of a crumb as the Ultimate Vanilla cupcake. With some frosting slathered on top, you could serve it to a crowd and surprise everyone when you mention that the cupcakes were made with half the fat.
Cookies: I gave the full applesauce version's texture a 3 as compared to the texture of a typical Toll House cookie – there's no crunch and there are no cookie crumbs. However, if you like chewy/cakey cookies, skip the fat in Toll House cookies and go 100% applesauce. The taste is almost as good as the original, the main difference being the soft texture. When I used half applesauce, the texture remained soft but the exterior of the cookies had little bit of crisp.
Conclusions
Based on the results of this study, I would avoid substituting applesauce for butter or oil in cake recipes. If I were desperate to cut some fat, I would only replace a little bit of the fat with applesauce (half or less). I would only replace butter or oil with applesauce in cookies if I wanted chewy/cakey cookies. In that case, I would definitely use applesauce and cheer for a simple way to create a tasty low-fat treat!
[Although not part of this study, I can say that it works really well as a substitute in breads like my applesauce zucchini bread.]
Past Labs
Test 1: Using Mayo as an Egg Substitute
Did you enjoy Cupcake Project Substitution Lab? Let me know in the comments. I would love your input and suggestions for future tests.
Stay Connected!
Join my mailing list - and receive a free eBook!