This apple upside-down cake with maple and brown butter may be the most moist apple cake that I have ever had! I'd almost describe it as wet – loaded with apple flavor and maple, cinnamon, and nutmeg. It's not a showstopper beauty of a dessert, but it's one that could quickly become a family favorite, definitely served warm on a crisp day.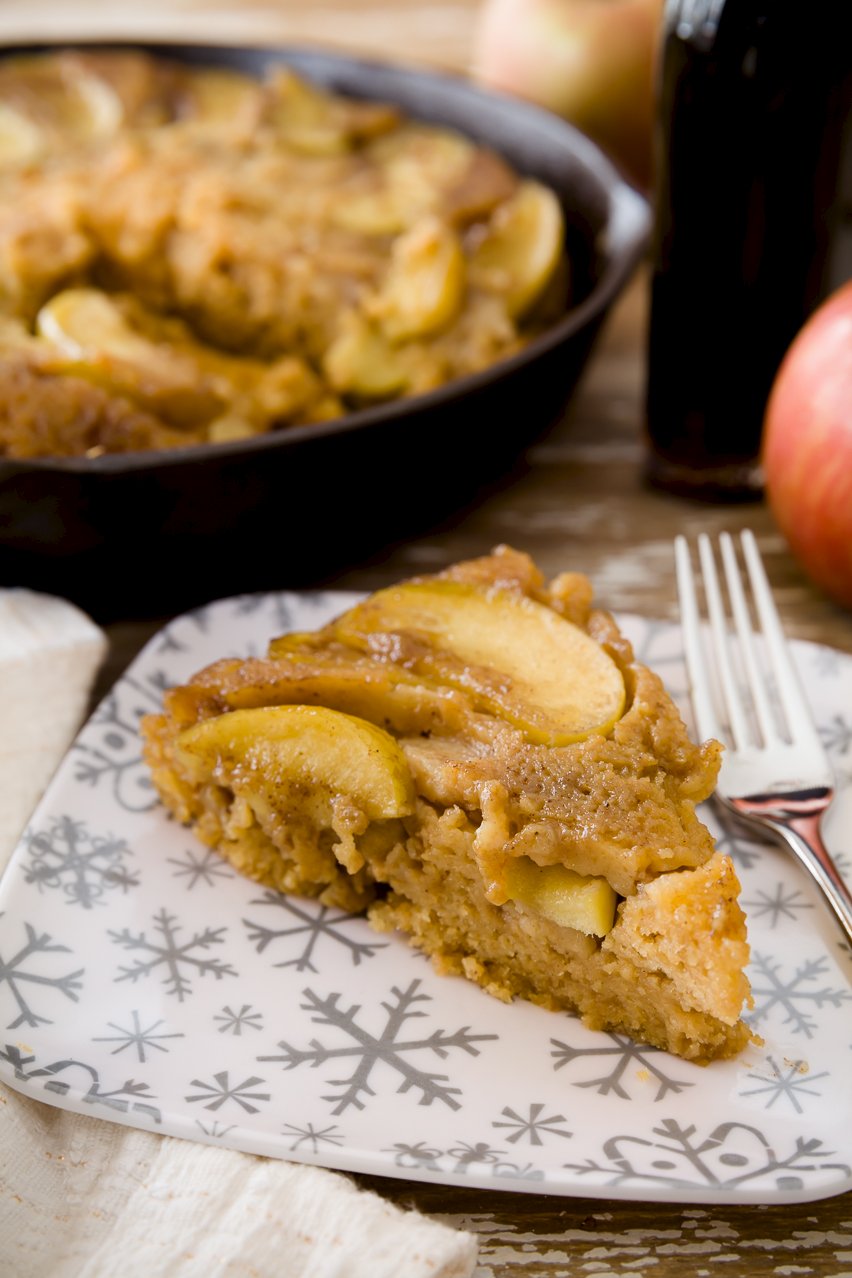 This morning, my five year old excitedly declared that we are having two seasons at once. I knew exactly what he meant. It's officially fall, but it sure feels like winter when we look across the street and see a Christmas tree shimmering in the window and a lawn full of snow.
I was in the mood for the perfect winter recipe and a glass of hot cocoa so I grabbed WINTERSWEET by Tammy Donroe Inman with its fitting snowflake-adorned cover.
I'll admit it was the maple brown butter that sold me – I yearned for it. Reading further into the recipe, I learned that the apple cake was an upside-down cake – bonus, because I knew it would have that gooey delish topping that all upside-down cakes have. Although I very seldom bake recipes without significant alteration, I decided to give this one a go almost as written. I had to know if it was as wonderful as it sounded. I made just a single change to use all white flour instead of the half whole-wheat flour that the recipe called for. I would have loved the whole wheat flour, but I didn't have any in the house and it was snowing after all. I didn't want to get out of my pajamas.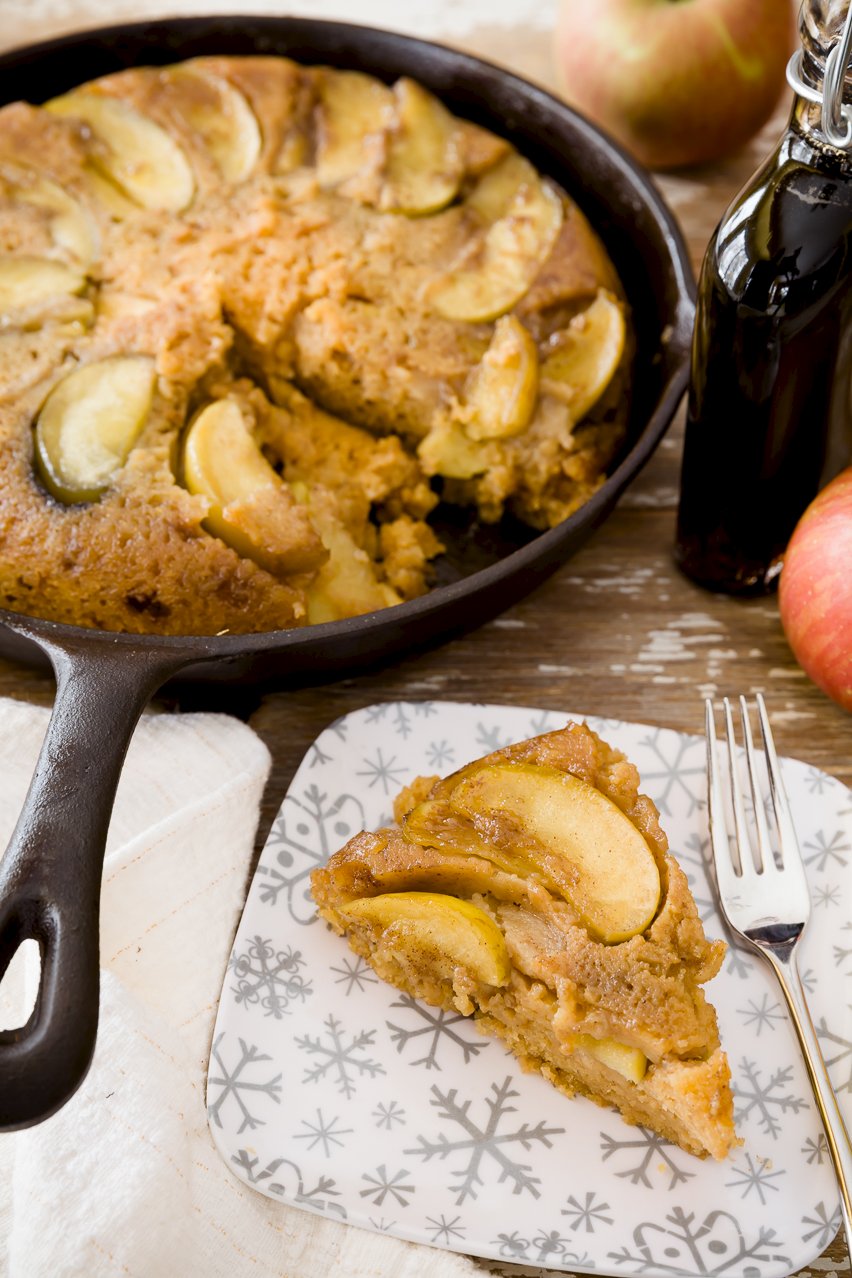 The apple cake recipe is wonderful as written, but of course the first thing that I started thinking about after tasting the cake is how I would make it my own. I'd throw a little ginger into the batter and perhaps some lemon zest. I love how those flavors brighten the taste of apples. I might also swap some of the brown sugar in the cake batter for maple syrup to bring out the maple flavor even more.
I'd love to hear what you think when you bake it according to the recipe, with my variations above, or with your own.
Apple Cake Upside-Down Cake
This maple brown butter upside-down apple cake may be the moistest apple cake that I have ever had! I'd almost describe it as wet - loaded with apple flavor and maple, cinnamon, and nutmeg.
Ingredients
Topping Ingredients
1

pound

450 g red-skinned baking apples (2 to 3), like Jonagold, Braeburn, Rome Beauty, and Stayman

4

tablespoons

60 g unsalted butter

1/4

cup

60 ml maple syrup, preferably Grade B
Cake Ingredients
1/2

cup

115 g unsalted butter, at room temperature

3/4

cup

170 g firmly packed light brown sugar

2

large eggs

3/4

cup

175 ml milk, at room temperature

1

cup

140 g all-purpose flour

1

cup

140 g whole wheat flour

2

teaspoons

baking powder

1/2

teaspoon

salt

1

teaspoon

ground cinnamon

1/4

teaspoon

ground nutmeg

preferably freshly grated

1/3

cup

80 ml apple cider, at room temperature
Instructions
Topping Instructions
Do not peel the apples. Cut them into quarters, core them, and cut them into 1/4-inch (6-mm) thick slices.

Meanwhile, in a 10-inch (25-cm) cast-iron skillet, melt the butter over medium heat.

Continue heating for 4 to 5 minutes more, gently tipping the pan back and forth, until the butter smells toasty and has turned a medium shade of amber (it's hard to judge color against the jet-black metal, so spoon a bit out onto a white plate to get a better look).

Remove the pan from the heat and stir in the maple syrup.

Arrange the apple slices on top in concentric circles, tightly overlapping the slices to fit as many as possible. Set aside.
Cake Instructions
Preheat the oven to 350°F (175°C).

Cream together the butter and sugar with an electric mixer.

Mix in the eggs one at a time.

With the mixer running, add the milk slowly and mix well.

In a separate medium bowl, sift together the flours, baking powder, salt, cinnamon, and nutmeg.

Add half of the dry ingredients to the batter and mix until just combined.

Then mix in the apple cider.

Add the rest of the dry ingredients and mix just until incorporated.

Pour the batter on top of the apples and smooth it evenly to the edges.

Bake the cake for 35 to 40 minutes or until a toothpick inserted into the center comes out clean and the edges are lightly browned and pulling away from the sides of the pan (if you're using a cake pan instead of a skillet, you may need to increase the baking time by 5 to 10 minutes).

Remove the pan from the oven and let it cool until it's no longer hot to the touch. If you're strong, invert the cake onto a serving plate by setting the plate over the top of the skillet, holding them firmly together, and flipping. Or bring the skillet to the table and slice the cake, inverting each piece onto a plate, apple-side up. Serve warm.
Notes
Recipe reprinted with permission from WINTERSWEET: Seasonal Desserts to Warm the Home © 2013 by Tammy Donroe Inman, Running Press, a member of the Perseus Books Group.
Nutrition
Nutrition Facts
Apple Cake Upside-Down Cake
Amount Per Serving
Calories 430
Calories from Fat 171
% Daily Value*
Fat 19g29%
Cholesterol 88mg29%
Sodium 182mg8%
Potassium 338mg10%
Carbohydrates 60g20%
Protein 6g12%
Vitamin A 655IU13%
Vitamin C 2.6mg3%
Calcium 122mg12%
Iron 1.7mg9%
* Percent Daily Values are based on a 2000 calorie diet.