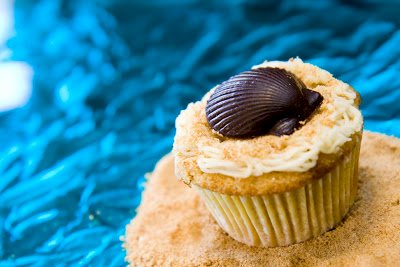 My cupcakes are getting ready for summer! These key lime pie cupcakes were a huge hit. They were moist and sweet, just the way my tasters like them.
One small confession – these cupcakes are actually made with lime and not key lime. My cupcakes considered blushing, but they were too busy trying to catch a tan.
Is There a Difference Between Key Lime and Lime?
There is a difference between key lime and regular (Persian) limes. According to the Wikipedia article on key limes, key limes are "smaller, seedier, have a higher acidity, a stronger aroma, and a thinner rind."
Key Limes and the Florida Keys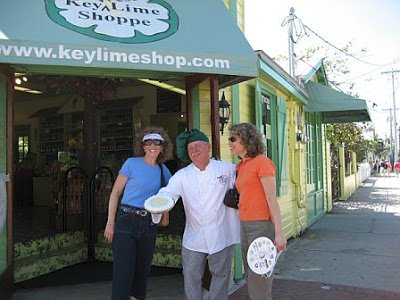 Key limes are called key limes because of their association with the Florida Keys. According to the Wikipedia article on key lime pie (oh how I love Wikipedia), "Key lime pie is made with canned sweetened condensed milk, since fresh milk was not a common commodity in the Florida Keys before modern refrigerated distribution methods."
The photo above is of my aunt and mom in the Florida Keys in front of a key lime pie shop. The man in the middle is a real person – in case you doubted this as I did.
I'm not sure who took the photo so I can't properly credit them, but I can only assume that it was my grandma or grandpa. I also did not ask for the permission of anyone in the photo before posting it. Here are my guesses at their responses:
My aunt: I'm famous, but did it have to be in that visor? (Or maybe she loves the visor and I've just publicly insulted it. Time will tell.)
The pie man: Hooray! Free press for keylimeshop.com and don't I look dapper in my pie man outfit. I should send that woman some key lime stuff. (That last comment was just wishful thinking.)
My mom: Next time, could you maybe pick a picture where I'm looking at the camera?
The Key Lime Pie Cupcake Recipe
I got the cupcake recipe from Garrett of Vanilla Garlic. He actually made the cupcakes one year and one day ago so it's almost like an anniversary celebration for them! Garrett made a graham cupcake and then filled it with a key lime filling. I made the same graham cupcake, but baked the key lime filling right into the cake. I am reprinting the recipe with my notes below.
Key Lime Pie Cupcakes
These key lime pie cupcakes were a huge hit. They were moist and sweet, just the way my tasters like them.
Ingredients
Cupcake Ingredients
1/2

C

butter

room temperature

1

C

sugar

3

eggs

1

C

milk

1

C

flour

1 1/2

C

graham cracker crumbs

I used my homemade graham crackers.

1

t

baking soda

1

t

baking powder

1/8

t

salt

5

egg yolks

1 14

oz

can sweetened condensed milk

1/2

C

lime or key lime juice
Lime Cream Cheese Frosting* Ingredients
1 8

oz

package of cream cheese

room temperature

1/4

C

butter

room temperature

4

C

powdered sugar

I recommend that you sift it.

1

t

lime extract

I couldn't fine lime extract at Whole Foods so I bought it here.
Instructions
Cupcake Instructions
Beat the butter for about 30 seconds until creamed.

Add the sugar and mix for 3 minutes until light and fluffy.

Add the eggs, one at a time, being sure to beat for 30 seconds for each egg.

Use food processor or a potato masher or whatever you have on hand to grind the graham crackers into tiny crumbs and powder.

Sift the flour, graham cracker crumbs, baking soda and powder, and salt. (I didn't actually sift the graham cracker crumbs. While mine were small, I don't think they would have fit through the sifter.)

Add about 1/4 of the mixture to the butter mixture.

Add some of the milk.

Continue to add the ingredients in a dry - wet - dry method, ending with the dry.

Mix until just combined.

In a separate bowl, mix the egg yolks, sweetened condensed milk, and lime juice. (FYI - If you want to make an amazing key lime pie, just mix the ingredients in this step, dump it into a pie shell and bake at 375 for 15 minutes. It's the easiest recipe ever! The pie won't be green and it shouldn't be. Lime juice isn't green.)

Dump the key lime mixture into the graham batter and lightly stir. Do NOT fully integrate the key lime and graham batter. You should have clumps of batter in a key lime soup.

Fill cupcake liners 3/4 full. Make sure each liner has a nice distribution of key lime liquid and graham clumps.

Bake at 350 for 20 minutes or until top bounces back when touched.
Lime Cream Cheese Frosting Instructions
Mix the cream cheese and butter.

Add the powdered sugar and lime extract.
Nutrition
Nutrition Facts
Key Lime Pie Cupcakes
Amount Per Serving
Calories 322
Calories from Fat 117
% Daily Value*
Fat 13g20%
Cholesterol 95mg32%
Sodium 221mg9%
Potassium 147mg4%
Carbohydrates 47g16%
Protein 4g8%
Vitamin A 470IU9%
Vitamin C 2mg2%
Calcium 97mg10%
Iron 0.8mg4%
* Percent Daily Values are based on a 2000 calorie diet.
Graham Cracker Sand and Chocolate Shells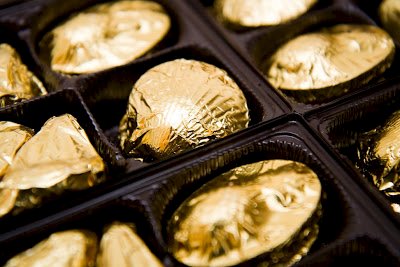 To make the key lime pie cupcakes even more beachy, I topped them with crushed graham cracker sand and chocolate from the Nautical Collection 60 Piece Gift Assortment. Thanks again to chocolate.com for the free chocolate and the inspiration.