Best Key Lime Cupcakes
Published , Last updated by
Stef
Disclosure: As an Amazon Associate, I earn from qualifying purchases.
These Key Lime Cupcakes are light, refreshing, and packed with lime flavor. They are made with both key lime zest and key lime juice to taste just like classic key lime pie!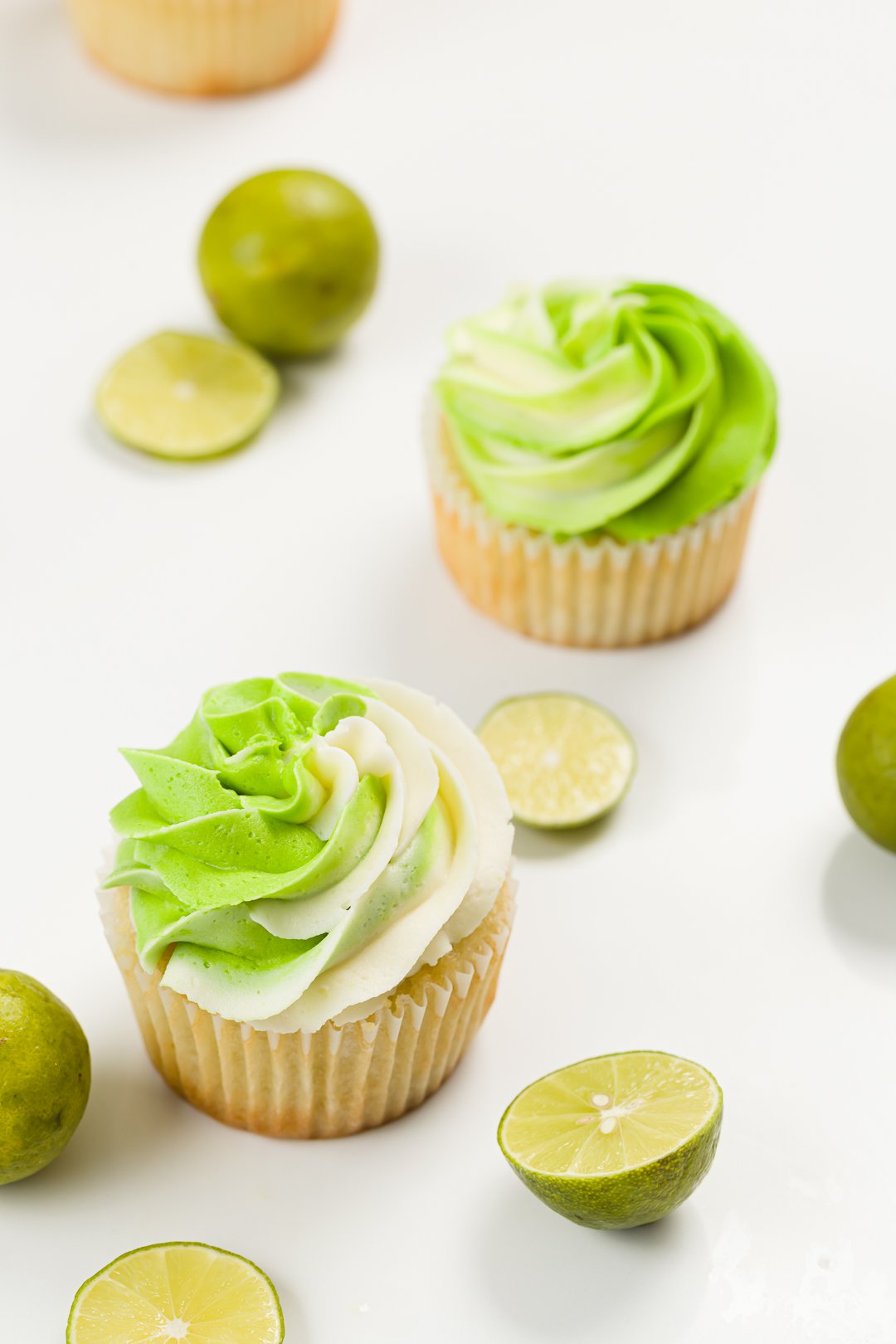 About These Cupcakes
Most people associate key limes with the famous pie, however they are wonderful in cakes and cupcakes as well.
Key limes are smaller than regular limes, have more seeds, lower acidity, a stronger aroma, and a thinner rind. If you can't get your hands on some, any limes will work in a pinch – but the flavor will be a little different. (I bet you'll love my Margarita Cupcakes if you like the classic lime flavor!)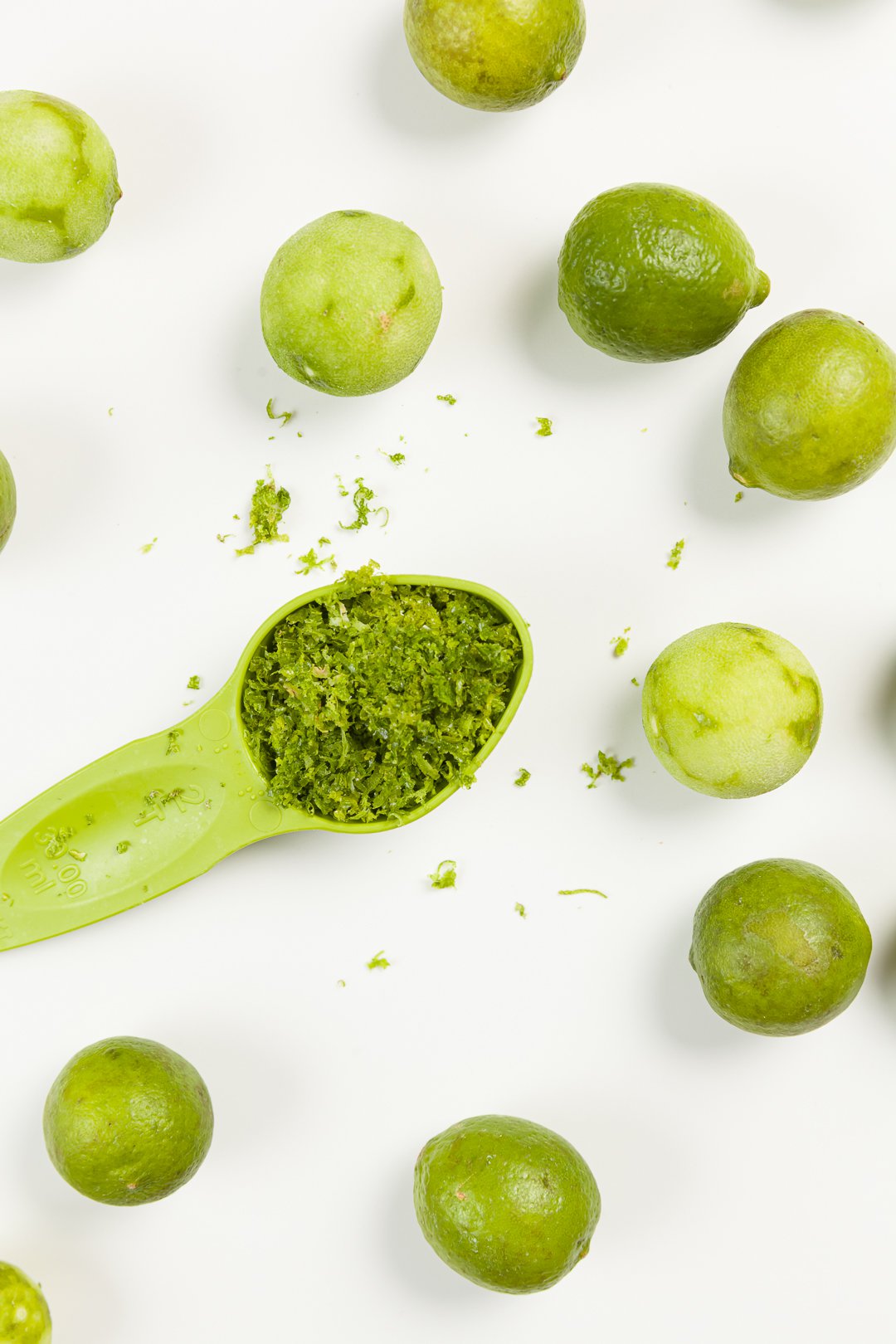 If you've never baked cupcakes before, read my post on how to make cupcakes before baking these and you'll be good to go.
And, as always, be careful not to overmix the batter (stop mixing right when the dry ingredients are integrated into the batter).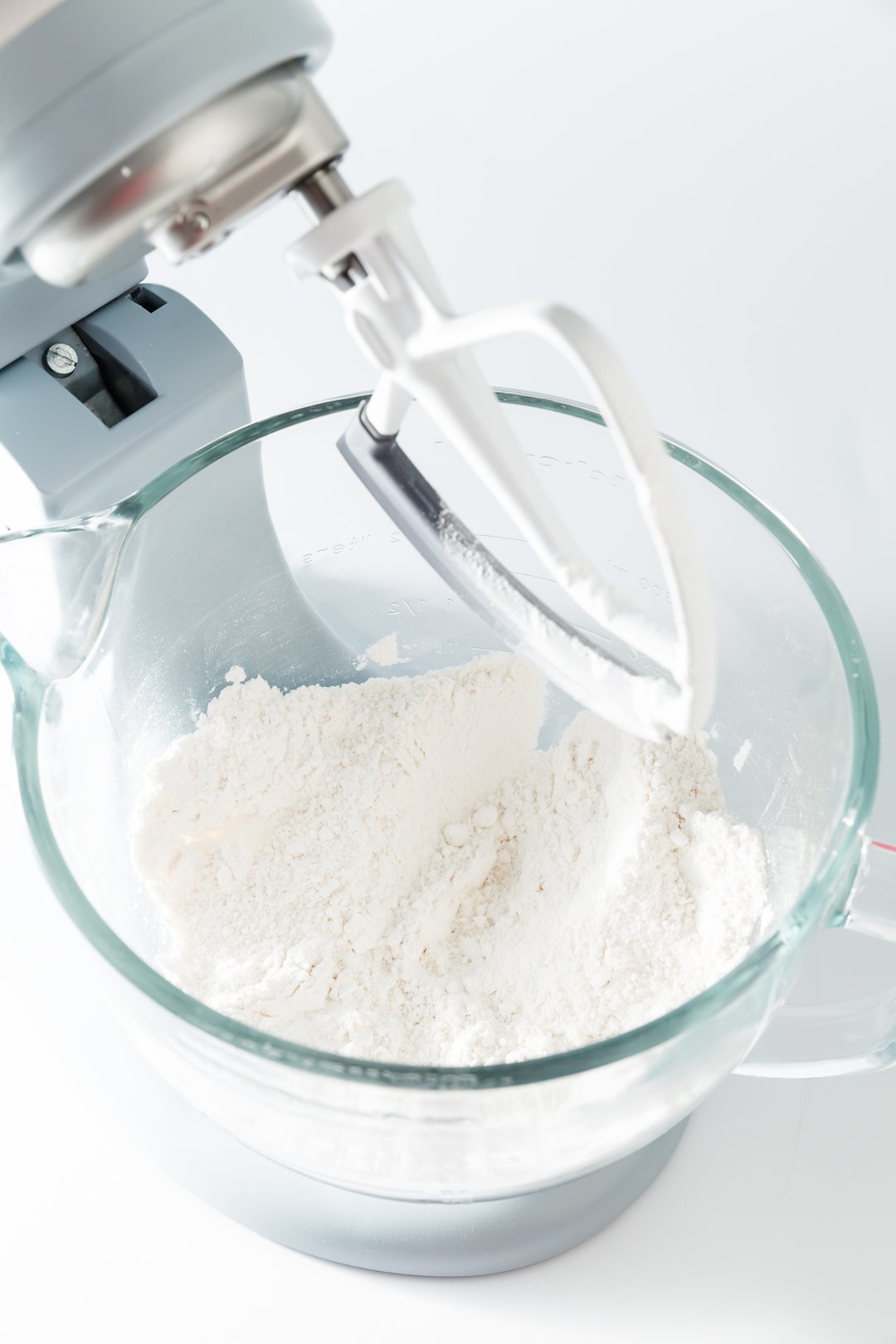 How to Make Key Lime Pie Cupcakes
Combine sugar, cake flour, baking powder, baking soda, salt, and key lime zest in a large bowl.
Add the butter and mix on medium until you achieve a fine crumb texture, about three minutes.
In a separate bowl, whisk together eggs, sour cream, oil, and vanilla until combined.
Add the wet ingredients to the dry ingredients and mix until just combined.
Add the milk and key lime juice a little bit at a time. Don't worry about a thin batter, that's normal!
Fill cupcake liners just over half full, then bake at 350 degrees F for about 14 minutes.
Allow the cupcakes to cool, then frost as desired. See below for some frosting options.
Frosting Options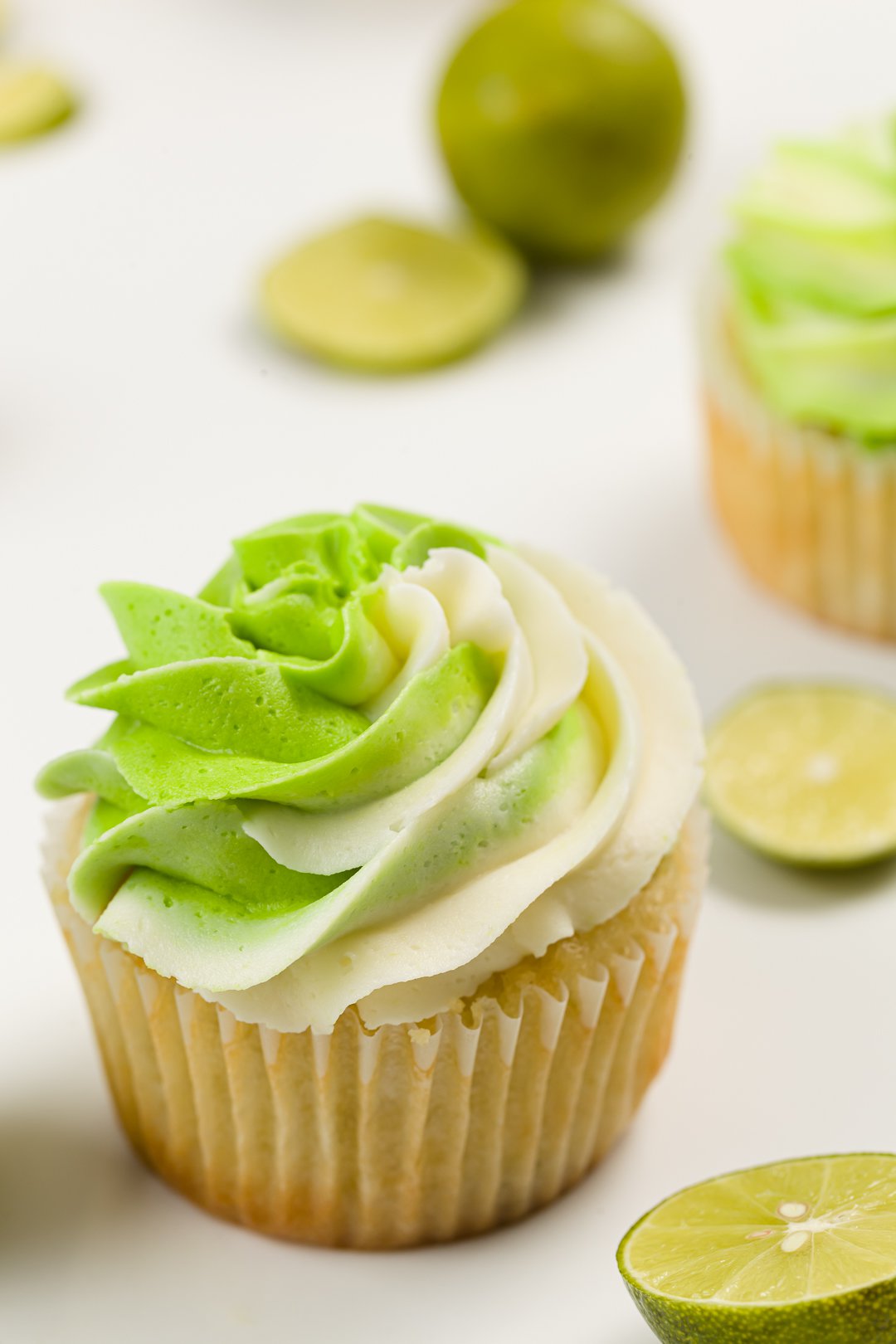 My favorite choice of frosting for these cupcakes is a buttercream with a hint of sweetened condensed milk (recipe below). The sweetened condensed milk flavor combined with the key lime makes these cupcakes taste like pie filling! (You can even sprinkle some graham cracker on top if you want to enhance that effect.)
I like doing a two-tone frosting swirl by dyeing half of my frosting green, piping a strip of green and a strip of white onto plastic wrap or Press N' Seal, rolling that up, and finally placing that in a piping bag.
I've also made these with graham cracker frosting. It's a simple vanilla cream cheese frosting with crushed homemade graham crackers mixed right in (store-bought ones will work just as well). Be sure to crush the crackers very finely – use a food processor if you have one – so that they don't clog up your piping tip.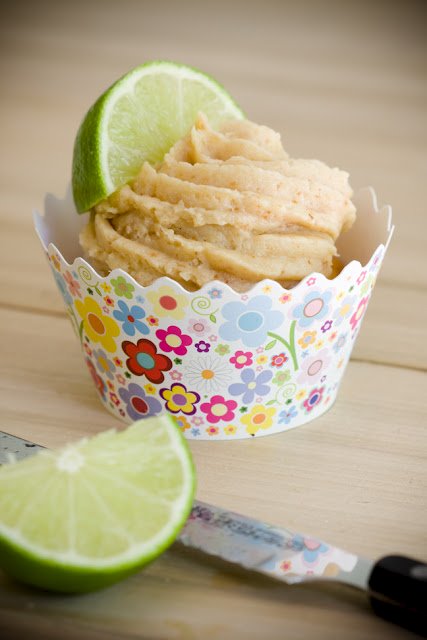 Lastly, you could play up the lime flavor by making a lime buttercream. To do that, follow the recipe for my lemon buttercream and use key lime zest instead of lemon zest!
FAQs
What is the difference between key lime and regular lime?
Unlike your typical lime, a key lime is usually on the smaller side and tends to be more yellow in color. In comparison, key limes are less acidic but still produce a flavorful and aromatic juice, which makes them perfect for baking. Key limes also have thinner skins and more seeds than other limes.

Regular limes can be used in place of key limes, but the end result will be a bit less sweet and a bit more sour.
What flavors go with key lime?
Some other flavors that pair well with key lime cupcakes are coconut, blueberry, and raspberry. Experiment with other kinds of frosting to create the perfect dessert for your preferences!
More Recipes You'll Love
Key Lime Cupcakes
These key lime cupcakes are light, refreshing, and packed with lime flavor. They are made with both key lime zest and juice!
Ingredients
Cupcake Ingredients
1

cup

granulated sugar

1 3/4

cups

cake flour

not self-rising

1 1/2

teaspoons

baking powder

1/2

teaspoon

baking soda

1/2

teaspoon

salt

2

tablespoons

key lime zest

zest from about 12 key limes

1/4

cup

unsalted butter

room temperature

2

large eggs

room temperature

1/3

cup

full-fat sour cream

1/4

cup

canola oil

you can also use vegetable oil

1

tablespoon

vanilla extract

use pure, not imitation

2/3

cup

whole milk

room temperature

3

tablespoons

key lime juice
Frosting Ingredients
1

cup

unsalted butter

room temperature

3

cups

powdered sugar

add more until it reaches your preferred consistency

1/2

teaspoon

salt

1

tablespoon

sweetened condensed milk
Instructions
Cupcake Instructions
Preheat oven to 350 F (175 C).

In a medium-sized mixing bowl or bowl of a stand mixer, mix together sugar, cake flour, baking powder, baking soda, salt, and zest.

Add butter and mix on medium-low speed for three minutes. Because there is so little butter, you'll end up with a very fine crumb texture.

In a small mixing bowl, whisk together eggs, sour cream, oil, and vanilla extract until smooth.

Add the egg mixture to the flour mixture and beat on medium speed until just combined.

Slowly add milk and key lime juice and mix on low speed until just combined. The batter will be liquid. (Don't worry, you didn't do anything wrong. It's supposed to be that way.)

Fill cupcake liners just over 1/2 full.

Bake for 14 minutes and then test to see if they are done. They are done when a toothpick comes out without wet batter stuck to it. These cupcakes will have flat tops, so do not look for doming as a sign of doneness. If they are not done, test again in two minutes. If they are still not done, test again in another two minutes.

When the cupcakes are done, remove them immediately from the tins and leave them on a cooling rack (or just on your counter if you don't own a cooling rack) to cool.
Frosting Instructions
Beat butter on high speed with an electric mixer for about three minutes until light and airy.

Mix in powdered sugar a little bit at a time.

Add salt and sweetened condensed milk and continue to beat for another minute. If desired, add more powdered sugar to make the buttercream frosting stiffer.

Pipe or spread onto cooled cupcakes.
Notes
Be careful not to over-mix the batter.
Use room temperature ingredients – everything will mix together more smoothly that way.
Because everyone's oven is just a bit different and your liners may be a slightly different size than mine, I highly recommend that you bake a test cupcake before baking your whole batch of vanilla cupcakes. Read my FAQ on filling cupcake liners to learn how to do a test cupcake and why it's useful.
You can use limes instead of key limes if you can't find key limes near you.
If you don't want to open a can of sweetened condensed milk to make the frosting, use a tablespoon of vanilla instead. If you do open the can, try using the rest of the can to make dulce de leche, tres leches cupcakes, or caramel cupcakes.
Nutrition
Calories:
374
kcal
|
Carbohydrates:
47
g
|
Protein:
3
g
|
Fat:
20
g
|
Saturated Fat:
10
g
|
Cholesterol:
63
mg
|
Sodium:
200
mg
|
Potassium:
91
mg
|
Fiber:
1
g
|
Sugar:
36
g
|
Vitamin A:
523
IU
|
Vitamin C:
1
mg
|
Calcium:
46
mg
|
Iron:
1
mg
Stay Connected!
Join my mailing list - and receive a free eBook!