Caramel Cupcakes
Published , Last updated by
Stef
Disclosure: As an Amazon Associate, I earn from qualifying purchases.
Moist yellow cupcakes stuffed and topped with caramel icing make for perfect caramel cupcakes! The cake is dense and caramel-flavored (it's made with sweetened condensed milk) and the icing is crunchy on the outside and smooth and soft on the inside.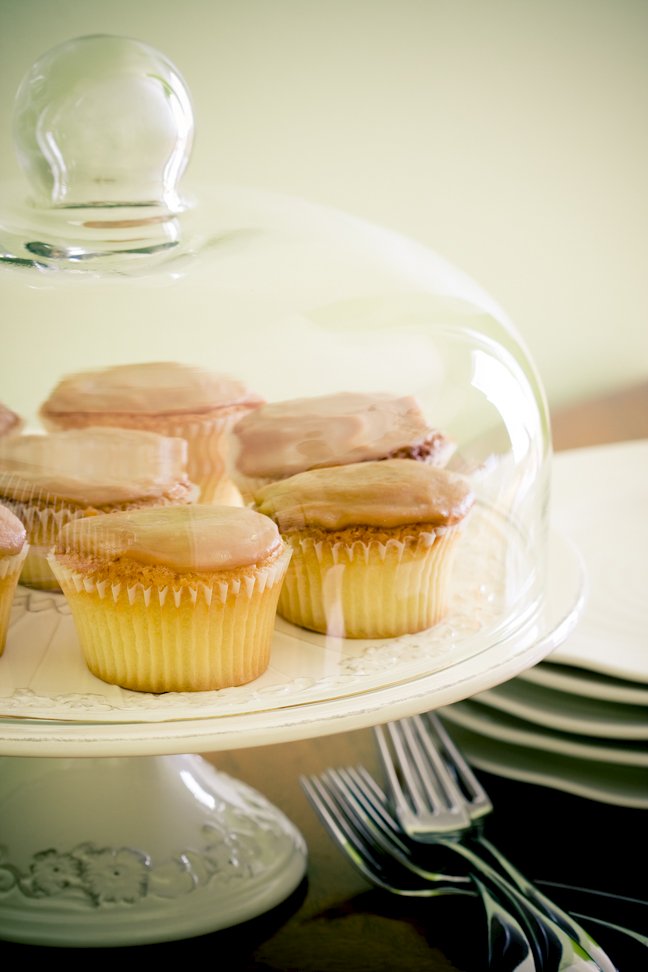 Equipment and Ingredients
The caramel icing is perfect as a thick coating on top of the caramel cupcakes. For an extra decadent dessert, I make them stuffed cupcakes by also filling them with caramel icing!
The yellow cupcakes require typical baking ingredients:
butter
sugar
eggs
all-purpose flour
sweetened condensed milk
vanilla extract
The caramel icing requires a candy thermometer and is made using more pantry staples:
butter
evaporated milk
sugar
vanilla extract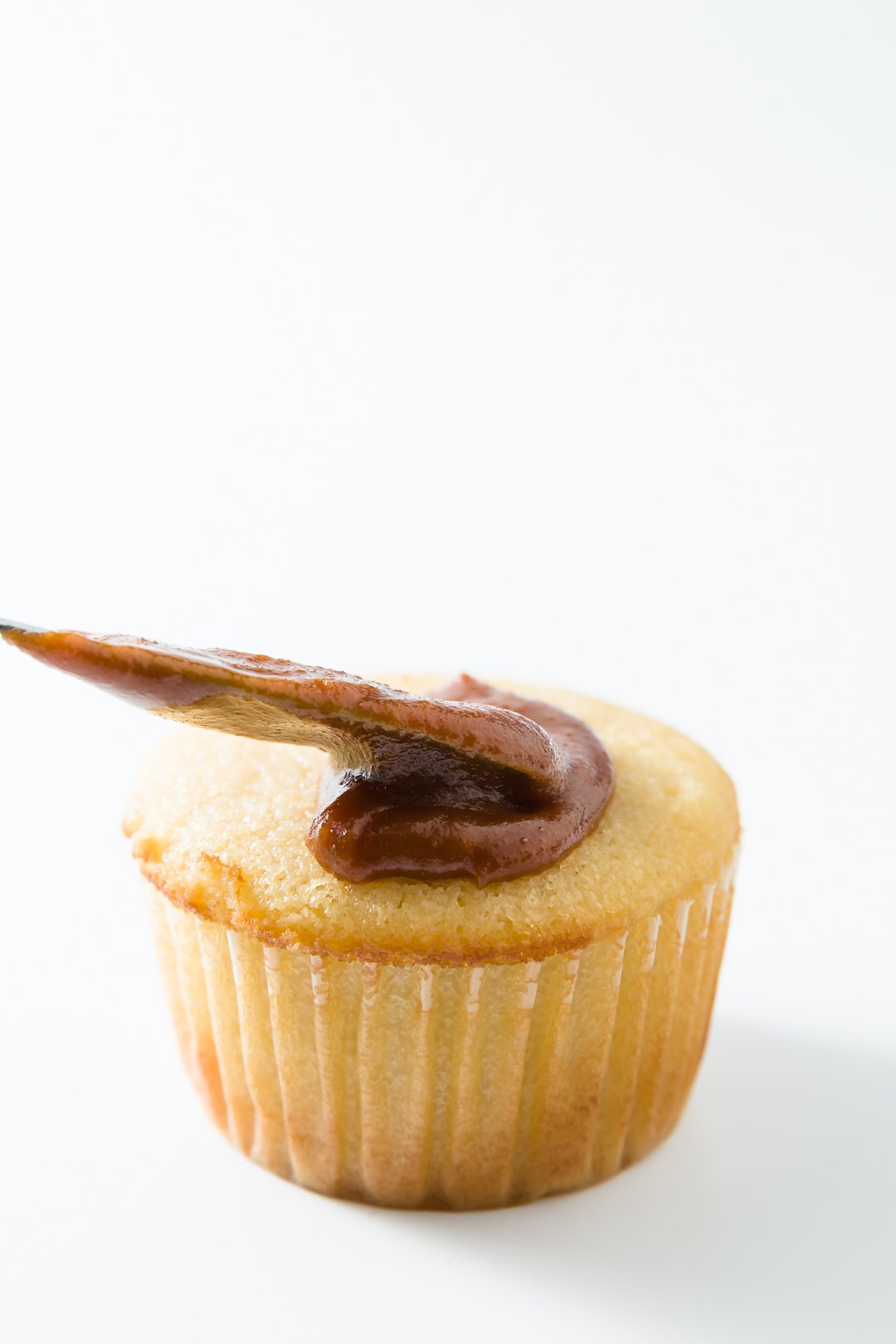 How It's Made
While the cupcake recipe comes together quickly, the icing takes quite a bit of time to make. Expect to spend close to an hour making the caramel icing recipe.
Yellow Cupcakes
Start by making the yellow cupcakes:
Start by creaming butter and sugar in a stand mixer or with a hand mixer. Creaming means to mix thoroughly until they are fully combined and light and fluffy. It takes about three minutes on high speed.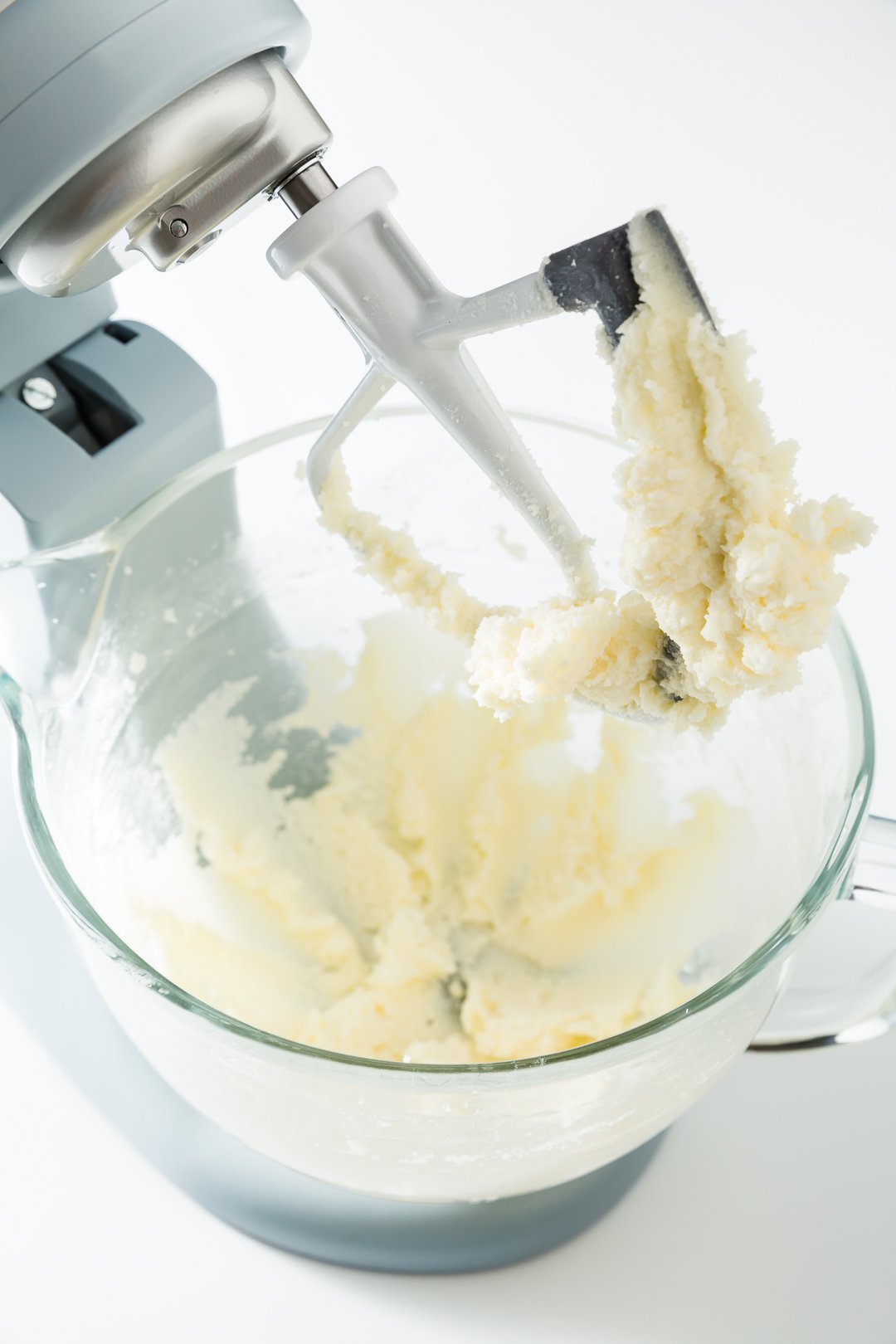 Next, beat in the eggs.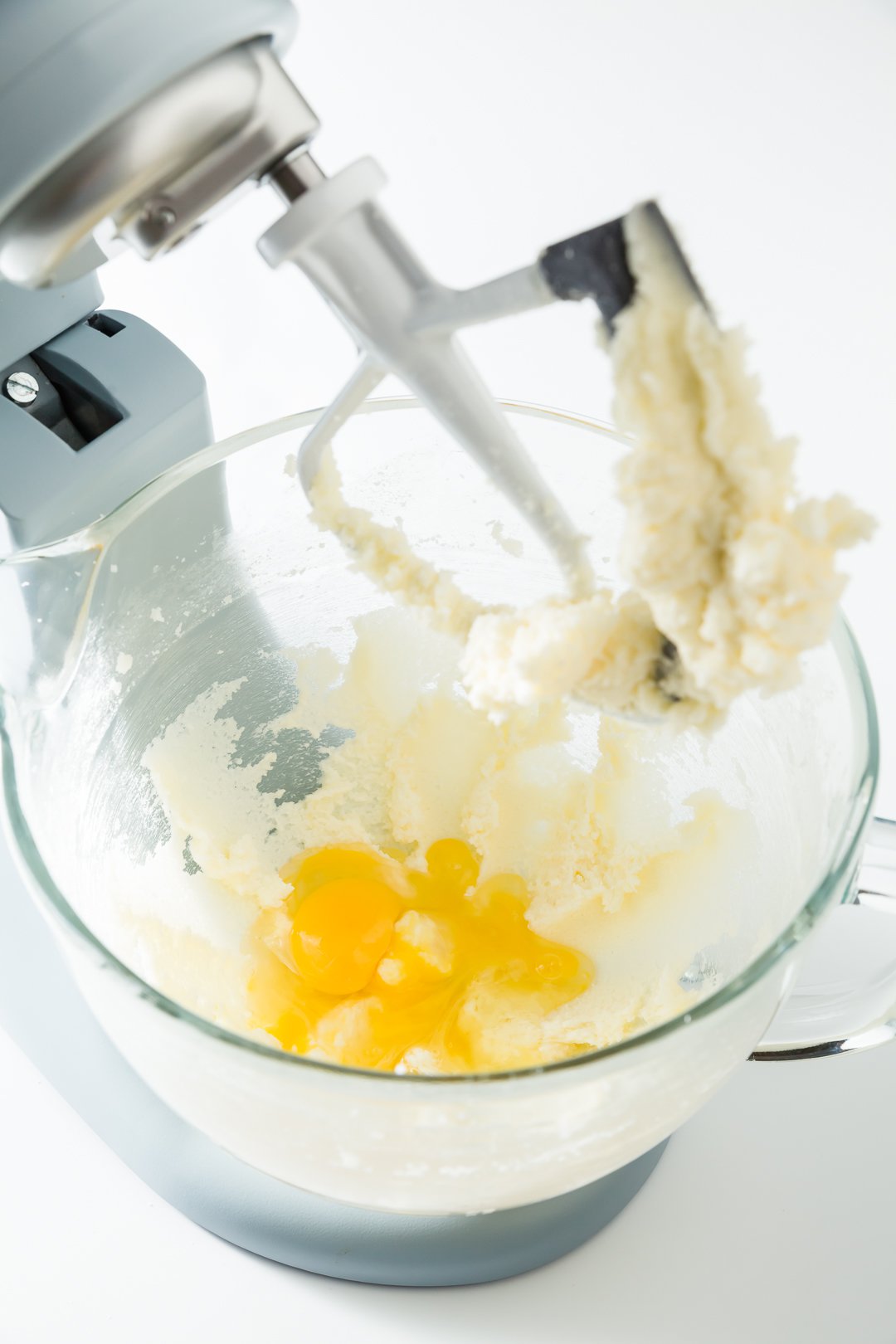 Then, in 3 additions, alternately mix in flour and sweetened condensed milk.
Mix in a little vanilla extract, and the batter is done!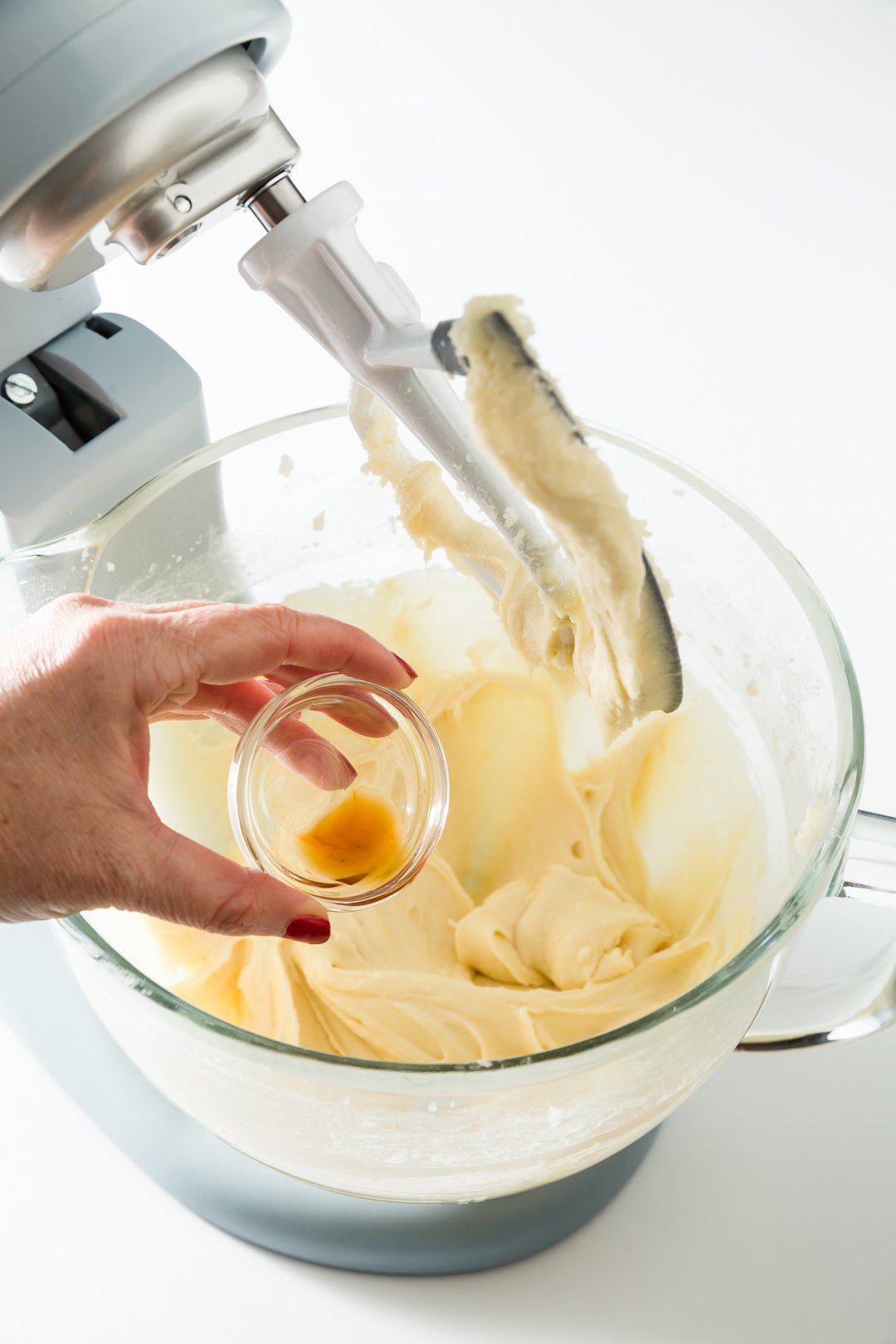 Fill the cupcake liners about three quarters full and bake at 350 F for 30 minutes or until a toothpick comes out dry.
Remember when I said there wasn't much crumb to these caramel cupcakes? There is no baking powder or baking soda in the recipe so it doesn't have much lift and lightness. The consistency is very similar to a pudding cake.
I generally recommend that you test cupcake doneness by seeing if the cupcakes bounce back when lightly touched. These cupcakes don't have a bounce to them so that test won't work. Instead, insert a toothpick into the center of a cupcake and it will come up dry when the cupcakes are done.
Caramel Icing
To make the icing, you will need a saucepan, a skillet, and a candy thermometer.
The key to making perfect caramel is to cook it low and slow. If you try to speed up the process by raising the heat, you will very likely burn your caramel and you'll have to start over.
Start by putting 2 cups of sugar, butter, and evaporated milk into the saucepan on medium heat. Give a periodic stir to make sure everything is combining nicely.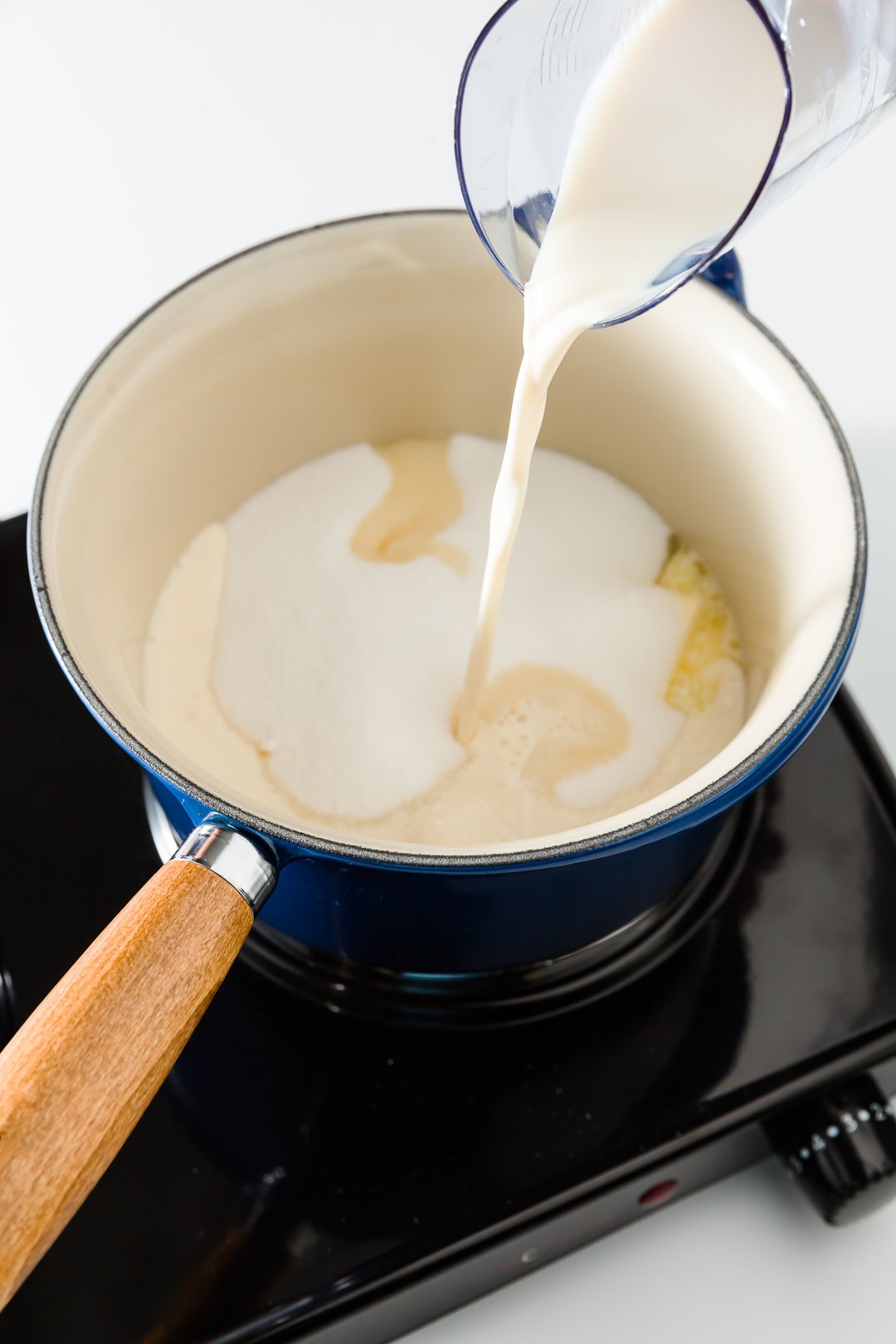 Reduce the heat to low as soon as the sugar is melted. Do not let this mixture come to a boil!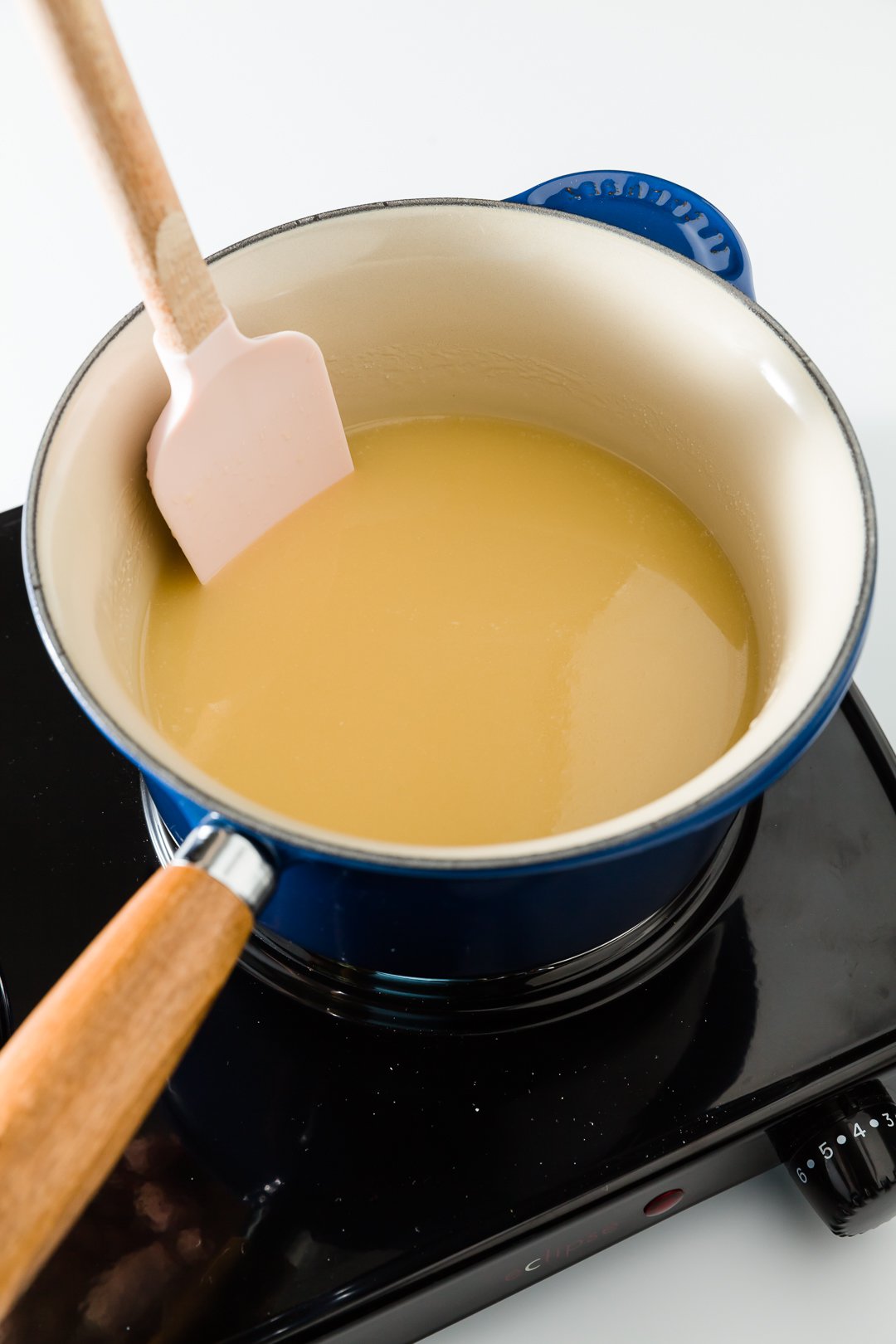 Next, while leaving the saucepan alone at low heat, put the remaining 1/2 cup of sugar into a skillet on medium-low heat. Move the sugar around the skillet periodically to make sure that it heats evenly.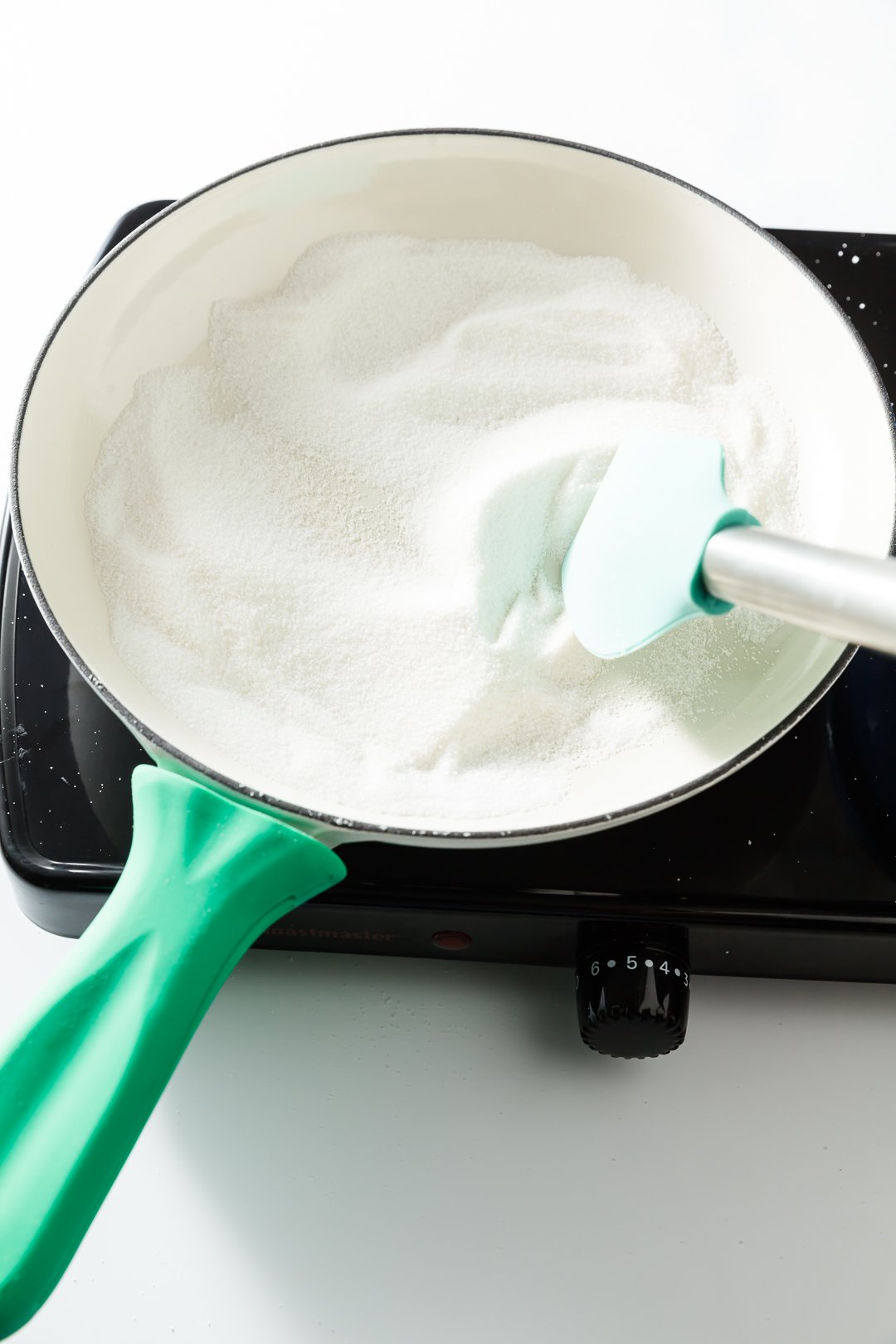 The sugar will start to melt and clump. Keep heating it and stirring it regularly.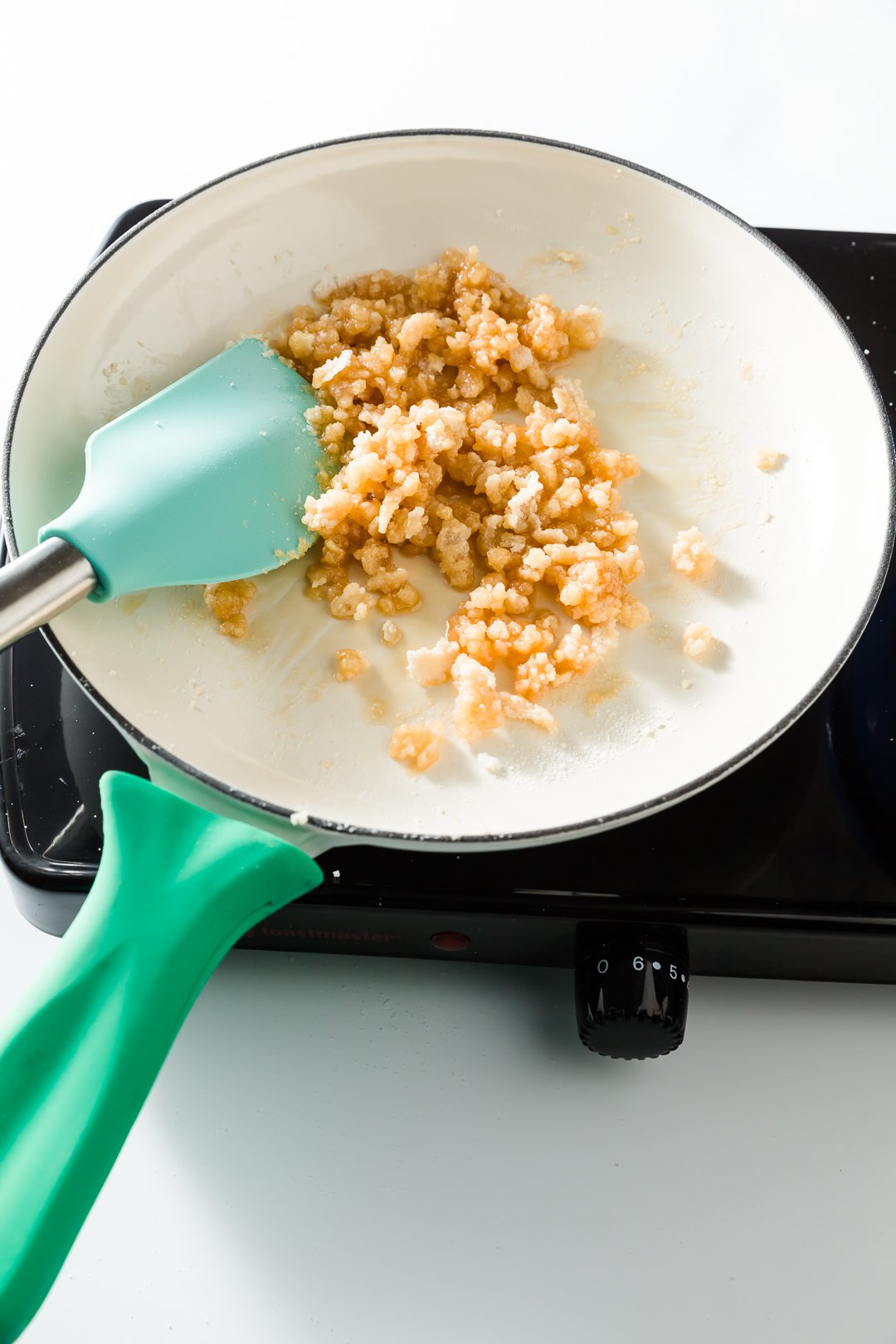 After ten minutes or so, the sugar will completely melt into a glorious caramel-colored liquid.
Do not try to speed up this process by raising the heat; doing so can easily burn your sugar and you'll have to start over again!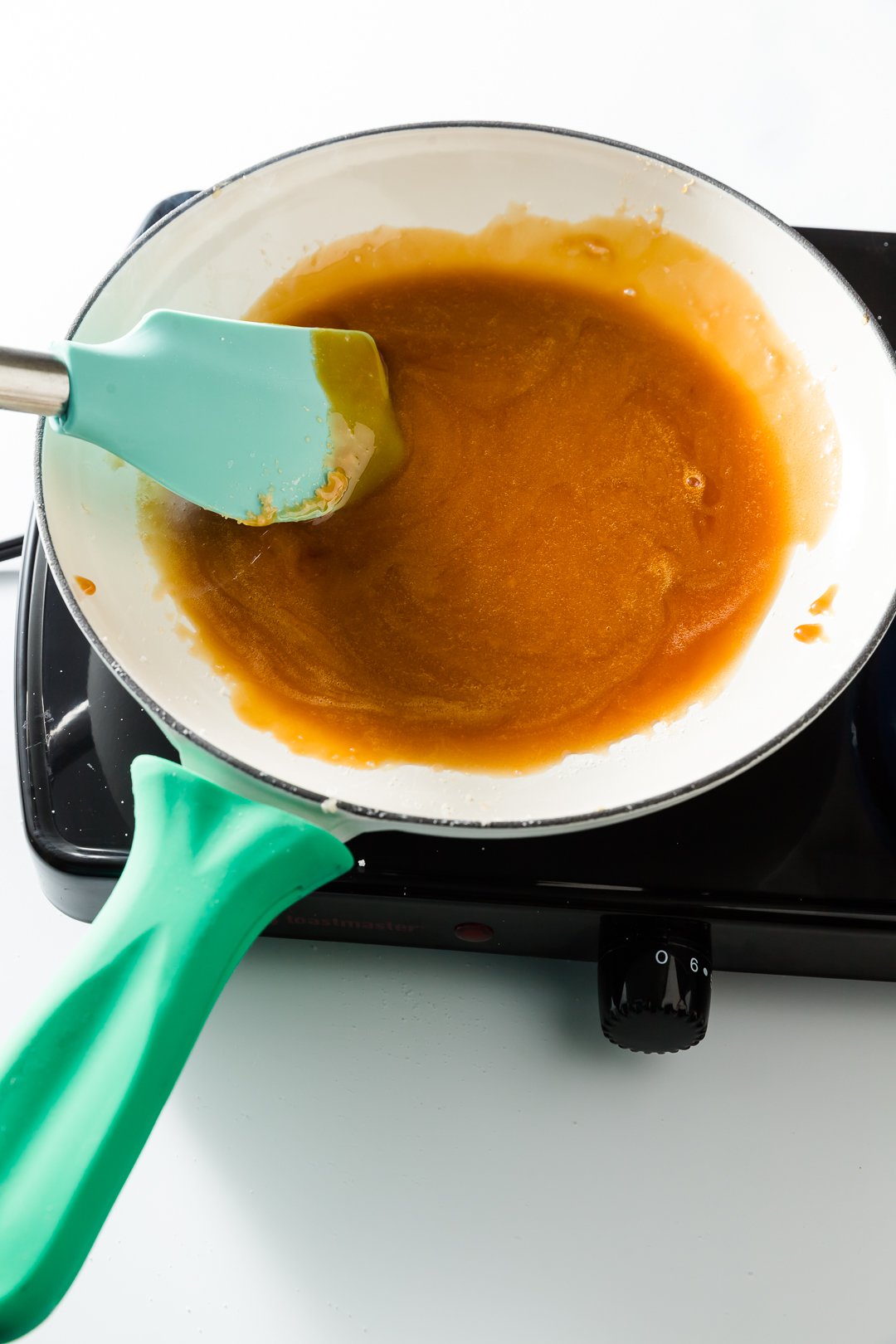 Return your attention to the saucepan, and raise its heat to medium-low. Very carefully pour the hot caramelized sugar into the saucepan and stir immediately. Be careful; it will bubble and steam like crazy.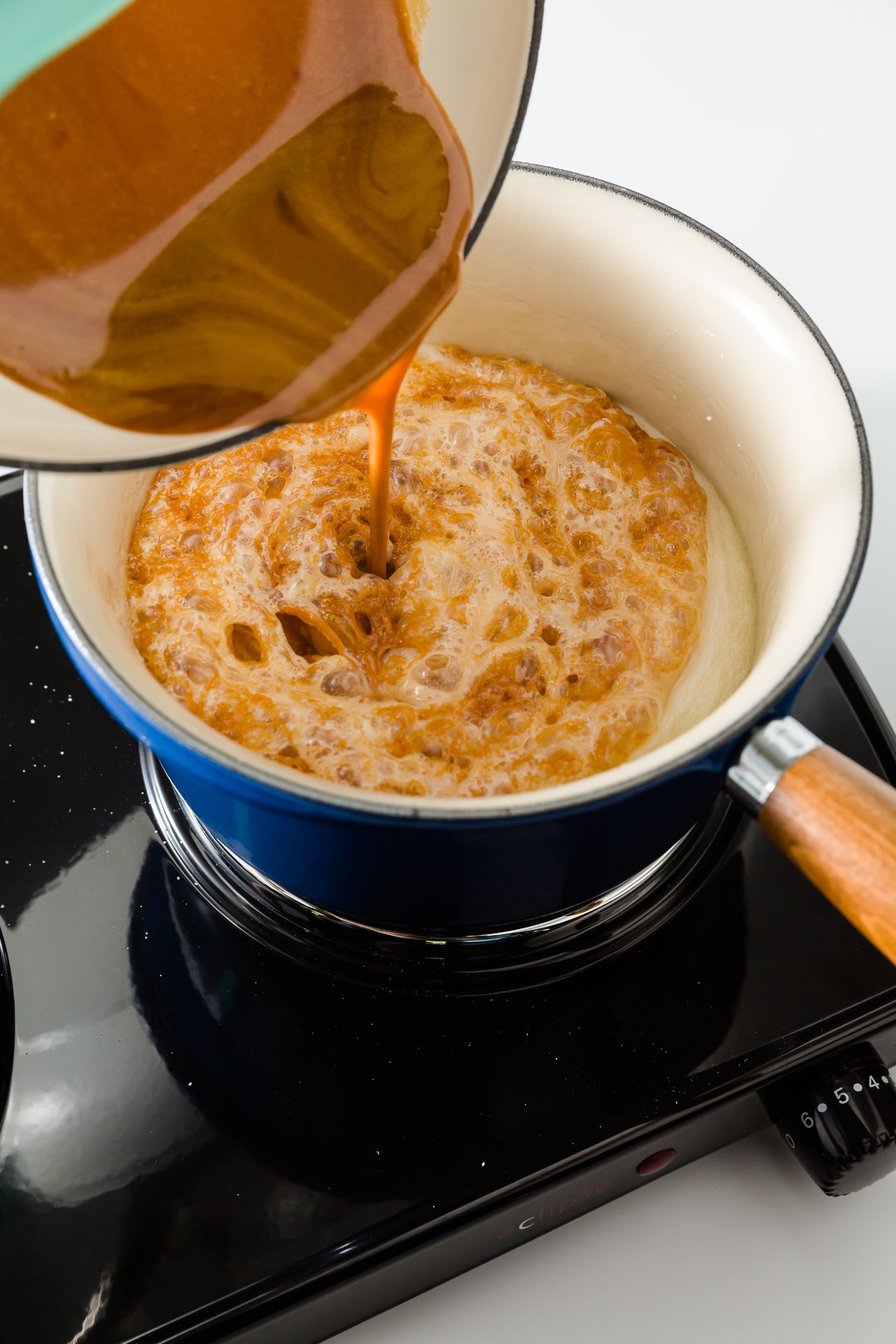 Put a candy thermometer in the pot and stir continuously for the next 30 minutes or so until the temperature reaches 235 F (the soft ball stage).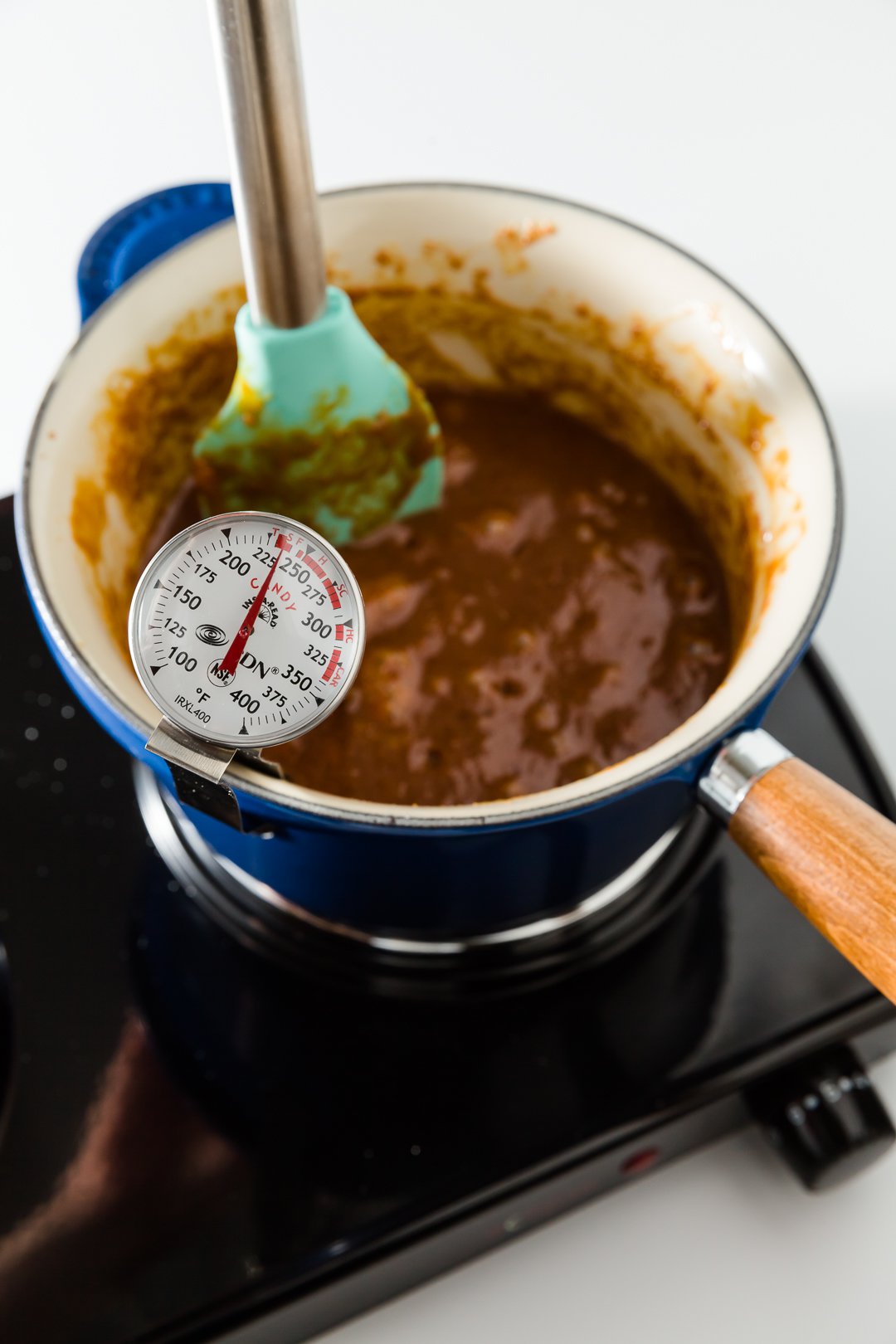 Remove from the heat immediately, stir in vanilla extract, and wait about 15 minutes for the caramel icing to cool.
Assembly
You can get a smooth top (but far less caramel) by dipping cupcakes into the hot caramel. This produces a better appearance than making the recommended filled cupcakes – but you get so much less caramel in each cupcake!
Instead, I recommend that you make filled cupcakes:
Core a hole in the middle of each cupcake, going almost down to the bottom.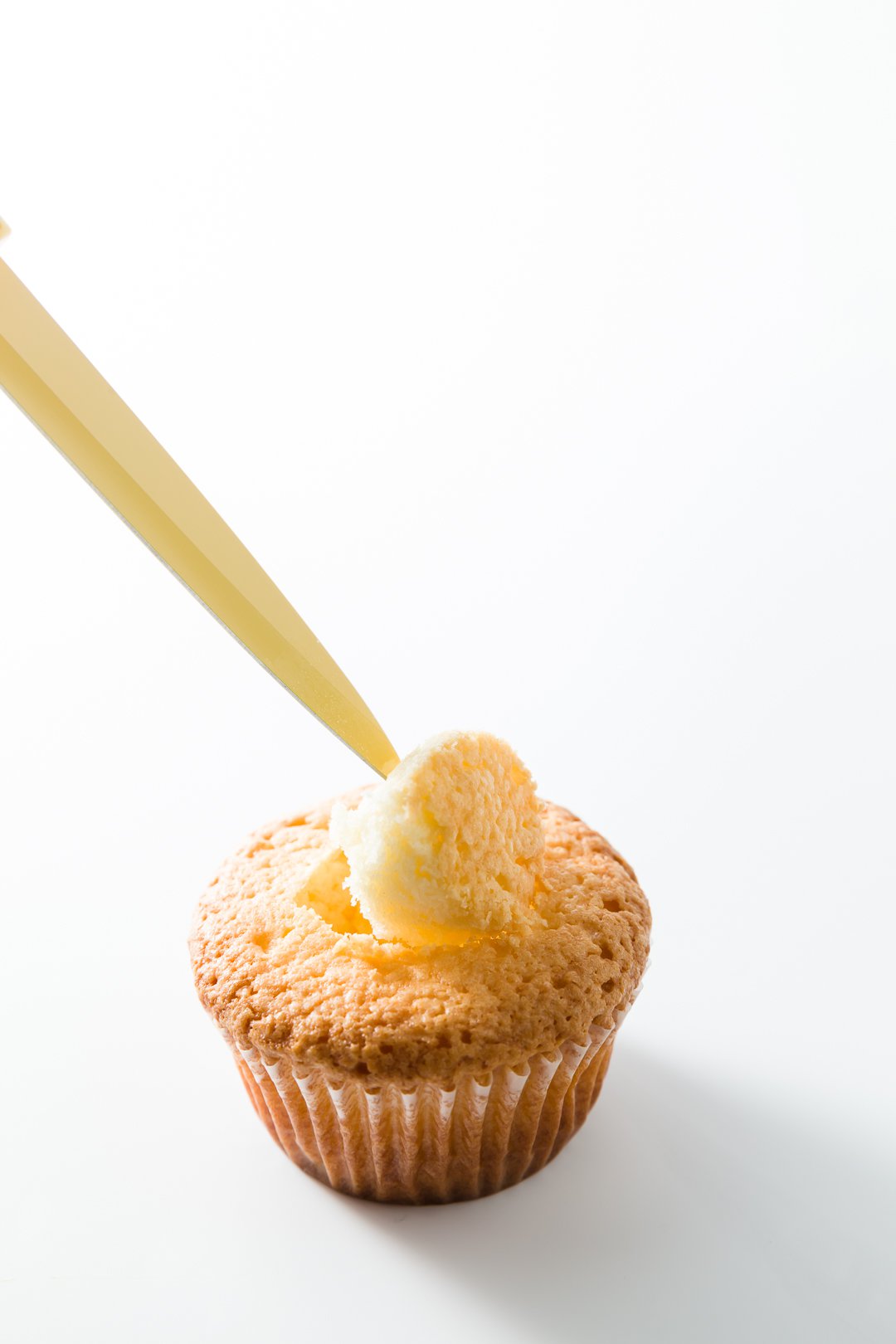 Fill the hole completely with caramel.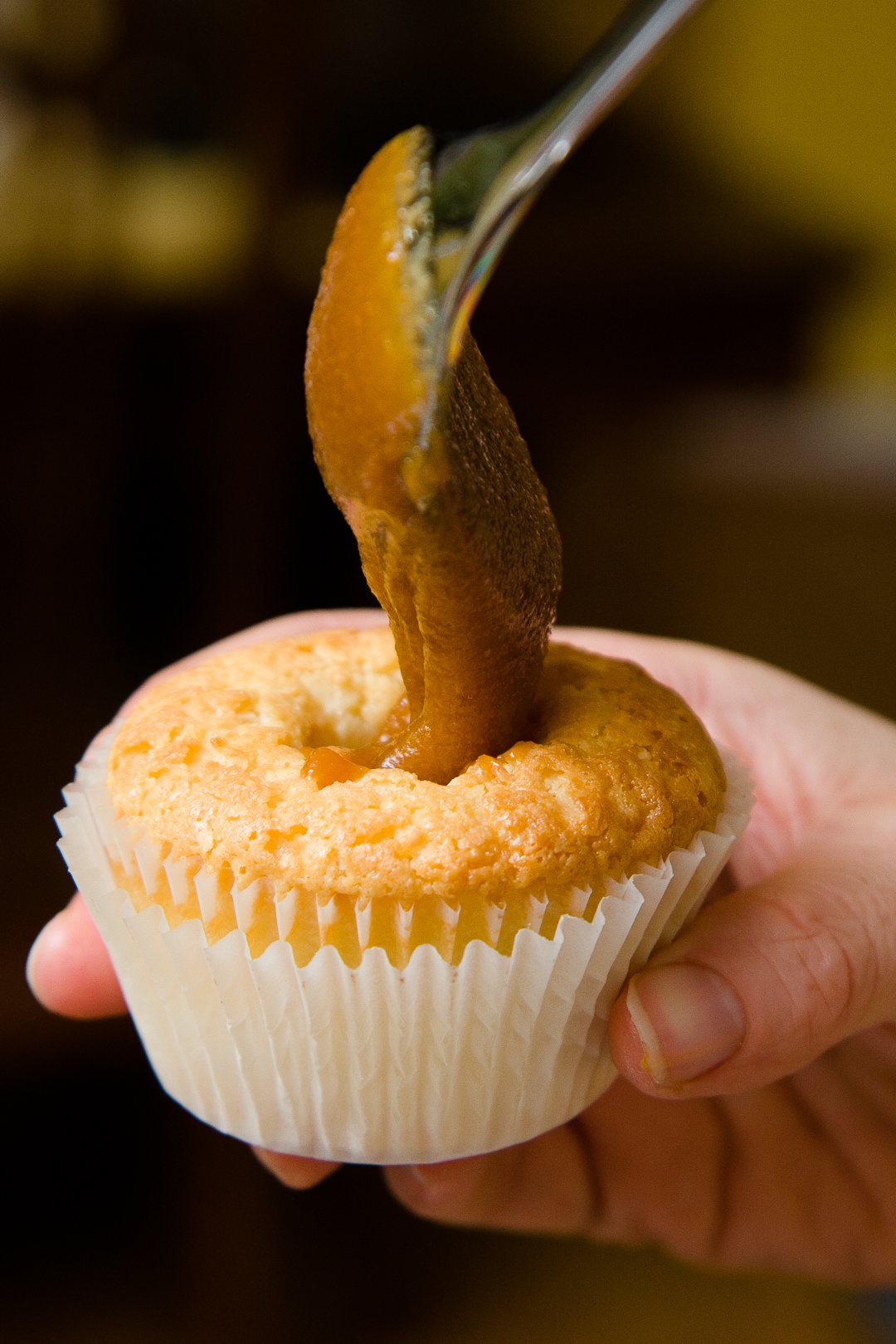 Spread the caramel icing over the top of each cupcake. As a result, you will have caramel inside and out!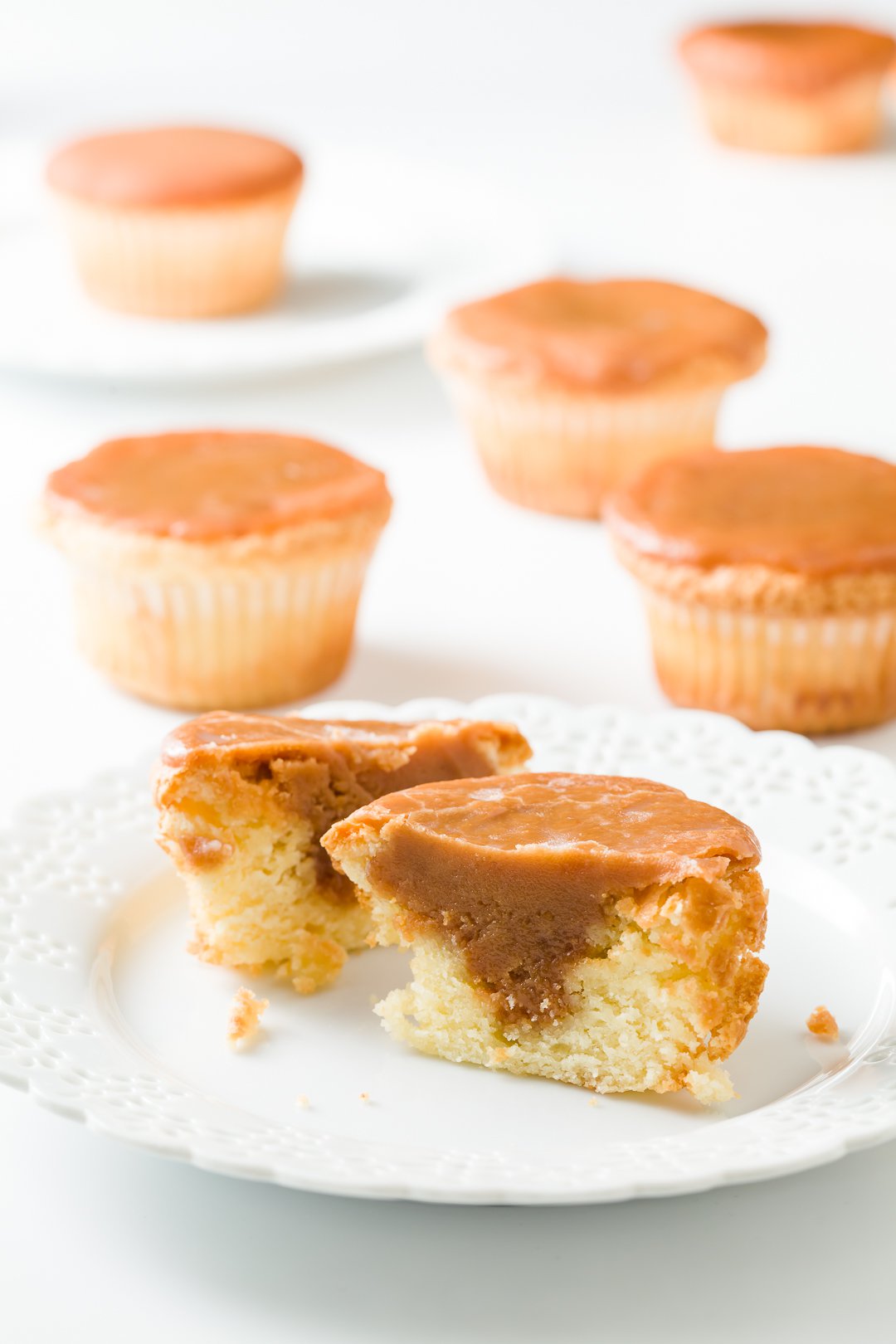 Expert Tips and FAQs
Do I have to make these cupcakes from scratch?
While yellow cake from a boxed mix could work when filled and topped with this caramel icing, you may as well take the time to make these cupcakes from scratch if you're going to spend the time to make the caramel icing. They come together in a single bowl in under ten minutes.
What's so special about these cupcakes themselves?
The cupcake recipe that I use is a yellow cake made with sweetened condensed milk. The cupcakes are quite sweet; they're a little crunchy on the outside (the cake itself almost tastes caramelized), and moist to the point of having almost no crumb at all.

The recipe would not be my pick for a classic vanilla cupcake with a swirl of buttercream, however it's the perfect vessel for this amazing caramel.
How do I store these cupcakes?
Store these cupcakes covered at room temperature for three to four days. I don't recommend refrigerating them, as doing so will affect the consistency of the caramel.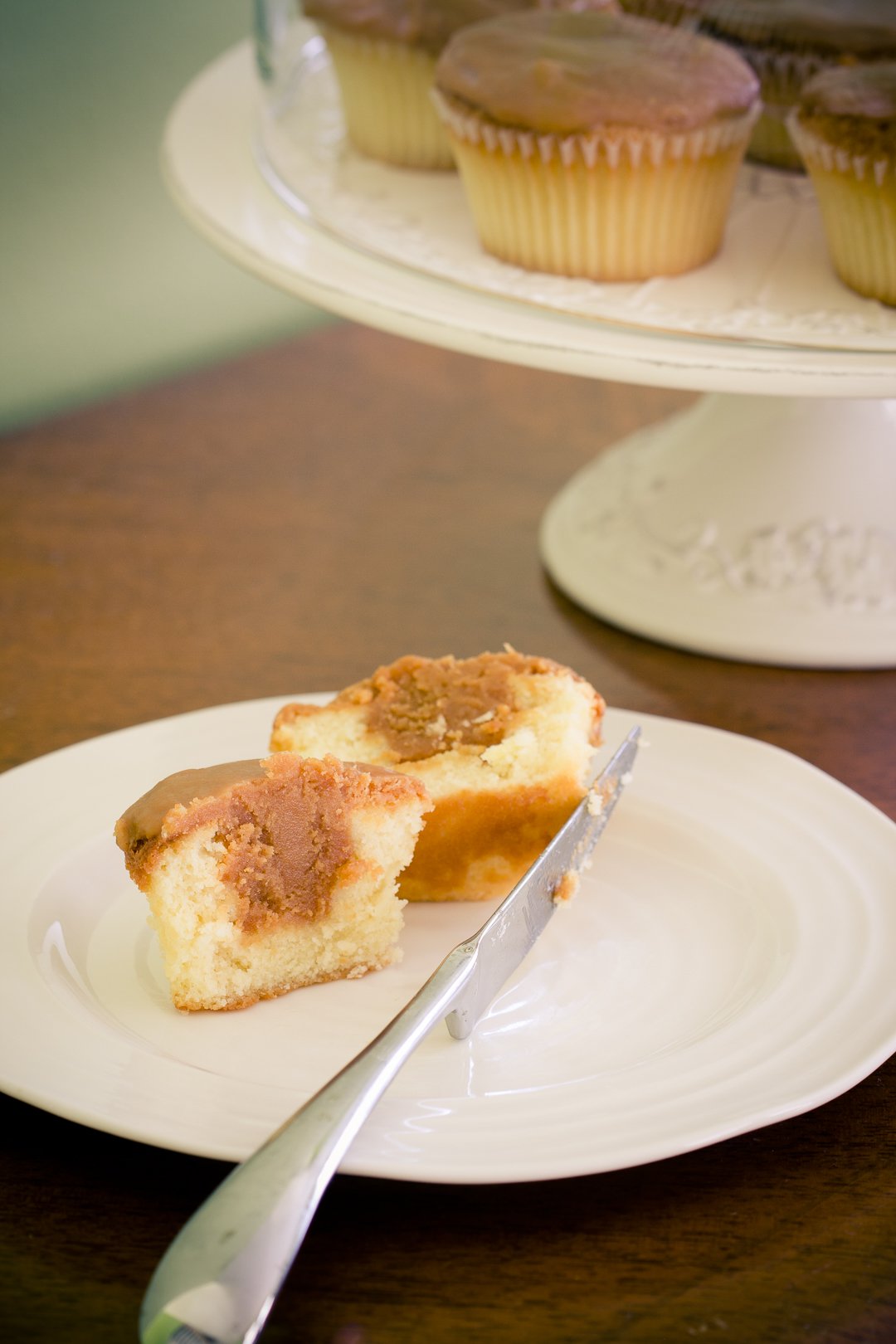 Related Recipes
Caramel Cupcakes
Caramel cupcakes have caramel inside and out!
Ingredients
Cupcake Ingredients
1

cup

unsalted butter

room temperature

2

cups

granulated sugar

4

large eggs

2

cups

all-purpose flour

2/3

cup

sweetened condensed milk

1/2

tsp

vanilla extract
Caramel Icing Ingredients
1/2

cup

unsalted butter

3/4

cup

evaporated milk

2 1/2

cups

granulated sugar

divided

1/2

teaspoon

vanilla extract
Instructions
Cupcake Instructions
In a medium-sized bowl, cream butter and sugar until light and fluffy (about three minutes on high speed with an electric mixer.)

Alternately add flour and sweetened condensed milk into the mixture in three additions each.

Fill cupcake liners 3/4 full.

Bake at 350 F for 30 minutes or until a toothpick comes out dry.

Remove from cupcake tin and set on a cooling rack to cool.
Caramel Icing Instructions
In a medium-sized saucepan over medium heat, mix butter, evaporated milk and two cups of sugar.

Heat and stir until sugar dissolves. Do not allow to come to a boil.

Once sugar dissolves, reduce heat to low.

In a small cast iron skillet on medium-low heat, melt the remaining half cup of sugar – stirring constantly until liquid and brown. (The sugar will crystallize about halfway through the process. Just keep stirring until it completely melts.)

Pour the browned sugar into the saucepan, increase heat to medium-low, and quickly stir to incorporate. (It will bubble and steam. This is totally normal.)

Insert a candy thermometer and stir regularly until the liquid reaches the soft ball stage, 235 F (113 C). (If you don't have the recommended candy thermometer, you can test by dropping a small amount of caramel into water to see if it forms a soft ball.) It may take up to thirty minutes to reach the soft ball stage. Resist the temptation to turn up the heat because the caramel can easily burn.

Remove from the heat and stir in the vanilla extract.

Wait ten to fifteen minutes for the caramel to cool before using.
Assembly Instructions
When cupcakes are cool, use a paring knife to cut a chunk out of the center of each cupcake. Fill the holes completely with caramel. Immediately eat the holes that you removed (that will be our little secret). Use an offset spatula to spread icing right over the filled hole.

(Alternatively, if you aren't filling the cupcakes, dip cooled cupcakes into warm caramel to cover with icing.)

Serve while the caramel is still hot and gooey or wait two to three hours until the caramel gets a nice crunchy top.
Notes
You can start making the icing while your cupcakes bake. Be sure to plan for about an hour of time on the icing.
These cupcakes are not supposed to dome. Don't be upset when they turn out flat-topped. You didn't do anything wrong.
I didn't leave off baking powder or baking soda in the cupcake ingredients. This recipe doesn't use them. The cupcakes are more dense and moist like a pudding cake rather than light and crumby like typical cupcakes.
Nutrition
Calories:
445
kcal
|
Carbohydrates:
68
g
|
Protein:
4
g
|
Fat:
18
g
|
Saturated Fat:
11
g
|
Cholesterol:
84
mg
|
Sodium:
42
mg
|
Potassium:
106
mg
|
Fiber:
1
g
|
Sugar:
57
g
|
Vitamin A:
581
IU
|
Vitamin C:
1
mg
|
Calcium:
72
mg
|
Iron:
1
mg
Stay Connected!
Join my mailing list - and receive a free eBook!