These southern caramel cupcakes are yellow cake cupcakes topped with the most incredible caramel icing. My friend told me that after trying one, he was ruined for all future cupcakes – nothing would ever be this good!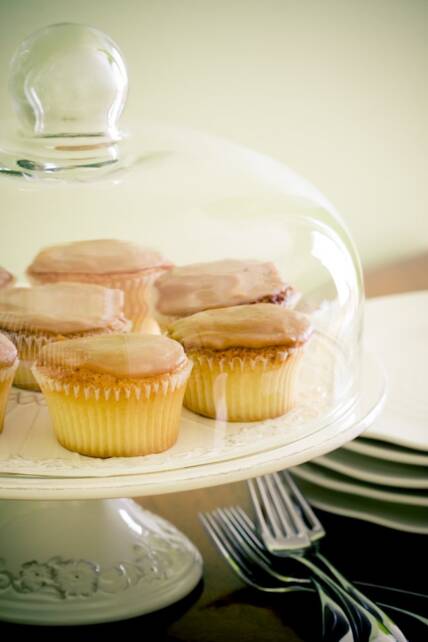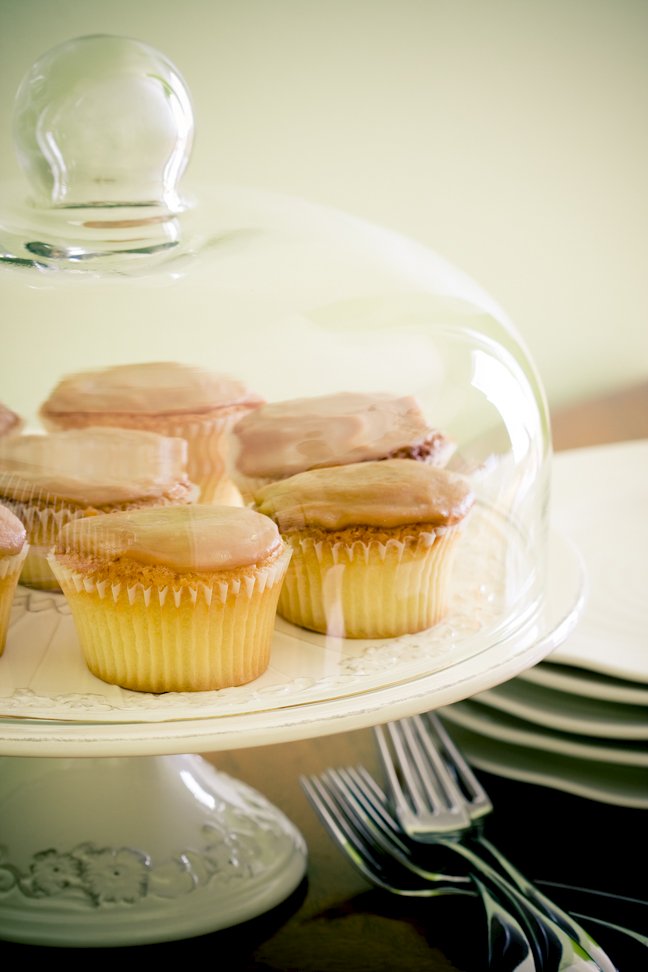 What makes or breaks caramel cupcakes is not the cake itself, but the quality of the caramel icing.
Like a southern drawl, caramel icing takes time to make. Expect to spend close to an hour making the icing.
My caramel icing is crunchy on the surface and smooth and soft on the inside. It's perfect as a thick coating on top of the caramel cupcakes, and if I want something extra decadent, I fill the cupcakes with icing as well! My caramel icing may be the best you've ever tried, so be thankful that it takes so long to make (if it didn't, you'd be eating it way too often).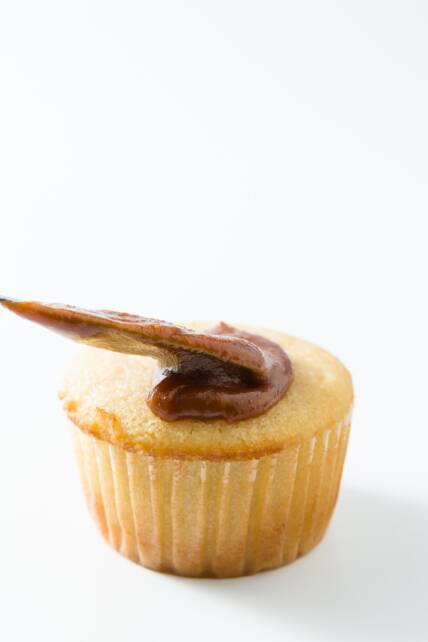 I dare say that even a boxed yellow cake, if topped with the proper caramel, could make for a notable caramel cake. But, if you are going to spend the time to make caramel icing, you might as well take the time to make your cupcake from scratch.
The cupcake recipe that I use is a yellow cake made with sweetened condensed milk that is quite sweet, a little crunchy on the outside (the cake itself almost tastes caramelized), and moist to the point of having almost no crumb at all.
It would not be my pick for a classic vanilla cupcake with a swirl of buttercream. However, it is the perfect vessel for caramel icing.
Bonus – the cupcakes come together in under ten minutes and are made in a single bowl!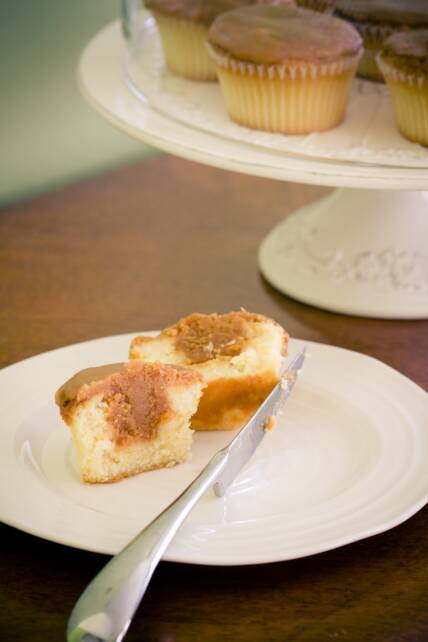 How to Make Caramel Cupcakes
The recipe for these caramel cupcakes is one of the easiest that I make.
Start by creaming butter and sugar in a stand mixer or with a hand mixer. (Creaming means to mix thoroughly until they are fully combined and light and fluffy. It takes about three minutes on high speed.)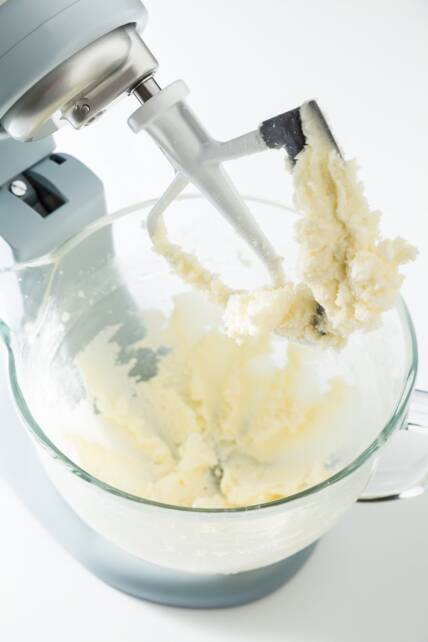 Next, beat in the eggs.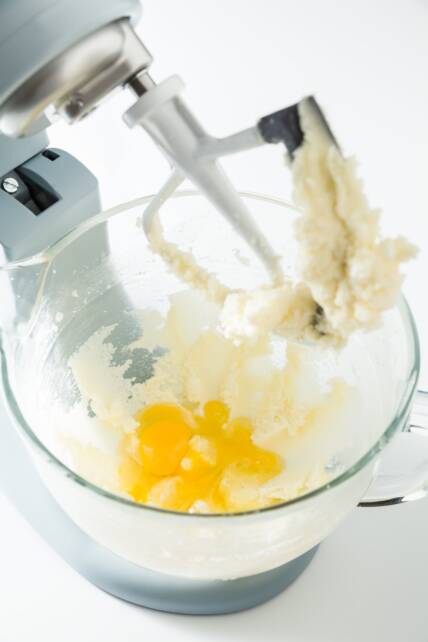 Then, alternately mix in flour and sweetened condensed milk in three additions, add a little vanilla, and the batter is done!
Remember when I said there wasn't much crumb to these cupcakes? There is no baking powder or baking soda in the recipe so it doesn't have much lift and lightness. Picture a pudding cake.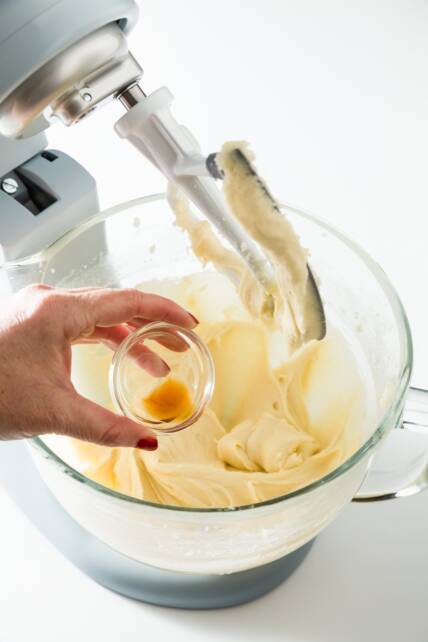 Fill the cupcake liners about three quarters full and bake at 350 F for thirty minutes or until a toothpick comes out dry.
(Sometimes I say to test cupcake doneness by seeing if the cupcakes bounce back when lightly touched. These cupcakes don't have a bounce to them so that test won't work. Rely on the toothpick test.)
The Caramel Icing
Making the Icing
Caramel icing requires a saucepan and a skillet.
You melt sugar with evaporated milk and butter in the saucepan and caramelize white sugar in the skillet. Then, you take the caramelized sugar and mix it into the liquid mixture and stir for about thirty minutes.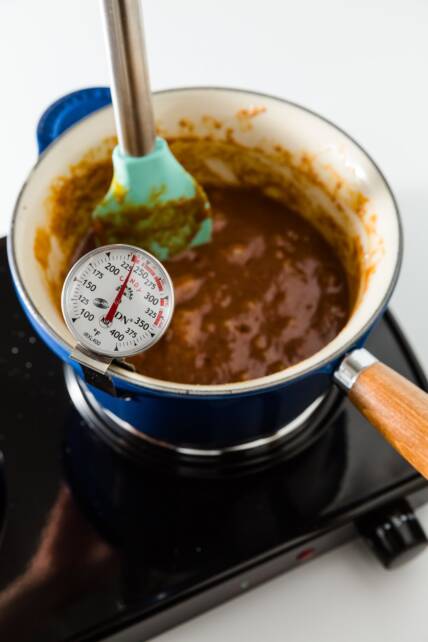 The key to perfect caramel icing is to do it low and slow. If you try to speed up the process by raising the heat, you will very likely burn your caramel and have to start over.
Read my post on caramel icing for all the tips and tricks and step-by-step photos.
Icing the Cupcakes
You have two options for putting the icing on the cupcakes.
One is to dip the icing in the hot caramel. This produces a more smooth and even result than the other option, but you won't be able to use this option if you choose to fill the cupcakes.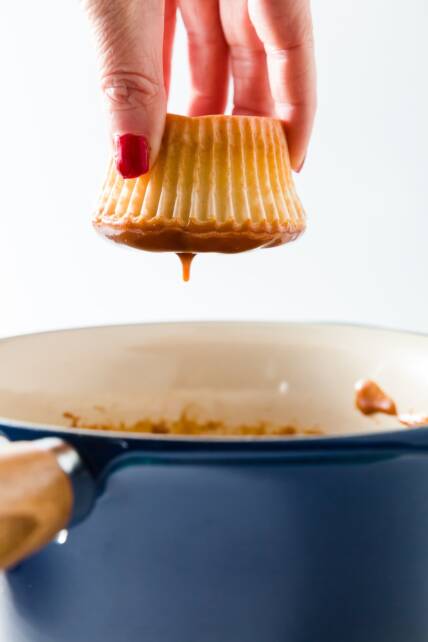 The other option is to spread the icing. If you are going to fill the cupcakes, this is your only option.
Filling Cupcakes with Icing
To fill the cupcakes, core a hole of cake in the middle of each cupcake, going almost down to the bottom.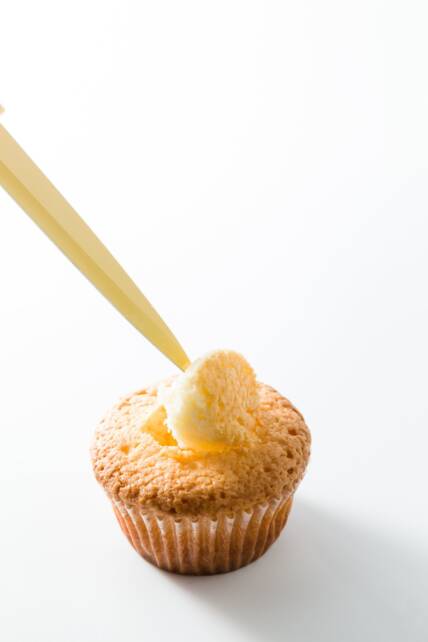 Then, fill that hole with caramel.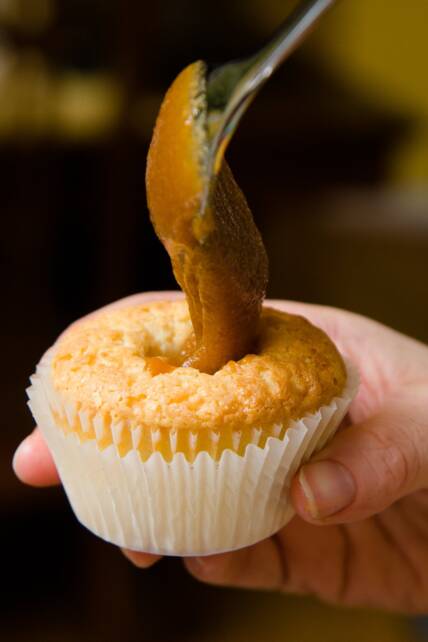 Finally, spread the caramel over the top so that you end up with caramel inside and out!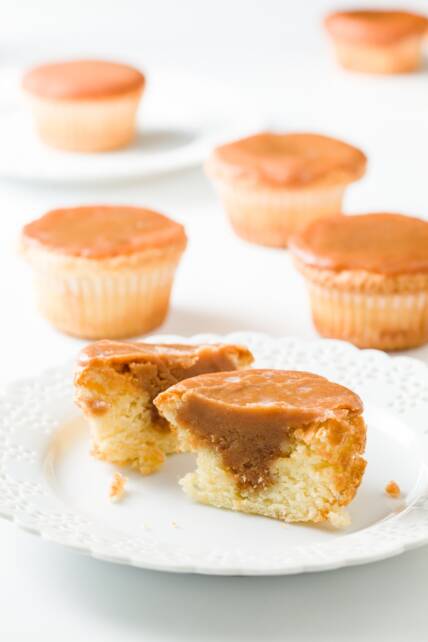 How Long Do Caramel Cupcake Last?
Store these cupcakes at room temperature for three to four days. I don't recommend refrigerating them as doing so will affect the consistency of the caramel.
If You Like These Cupcakes, You May Also Like…
Caramel Cupcakes
These southern caramel cupcakes are topped with the most incredible caramel icing! Fill them with extra caramel for a really special treat!
Ingredients
1

cup

unsalted butter

room temperature

2

cups

granulated sugar

4

large eggs

2

cups

all-purpose flour

2/3

cup

sweetened condensed milk

1/2

tsp

vanilla extract

caramel icing

See my post on caramel icing for the recipe - prepare the caramel icing while the cupcakes are cooling so the icing is warm and easy to work with.
Instructions
In a medium-sized bowl, cream butter and sugar until light and fluffy (about three minutes on high speed with an electric mixer.)

Alternately add flour and sweetened condensed milk into the mixture in three additions each.

Fill cupcake liners 3/4 full.

Bake at 350 F for 30 minutes or until a toothpick comes out dry.

If you aren't filling the cupcakes, dip cooled cupcakes into warm caramel to cover with icing.

To make filled cupcakes: When cupcakes are cool, use a paring knife to cut a chunk out of the center of the cupcake. Fill the entire hole with caramel. Immediately eat the part of the cupcake that you removed (it will be our little secret). Use an offset spatula to spread icing right over the filled hole.

Serve while the caramel is still hot and gooey or wait two to three hours until the caramel gets a nice crunchy top.
Notes
The time estimate listed on this recipe does not include the time to make the icing. Be sure to plan for about an hour of time on the icing. Read the caramel icing post carefully before beginning.
These cupcakes are not supposed to dome. Don't be upset when they turn out flat-topped. You didn't do anything wrong.
I didn't leave off baking powder or baking soda. This recipe doesn't use them. It's more dense and moist like a pudding cake rather than light and crumby.
Nutrition
Nutrition Facts
Caramel Cupcakes
Amount Per Serving
Calories 404
Calories from Fat 144
% Daily Value*
Fat 16g25%
Cholesterol 79mg26%
Sodium 39mg2%
Potassium 97mg3%
Carbohydrates 61g20%
Protein 5g10%
Vitamin A 535IU11%
Vitamin C 0.5mg1%
Calcium 65mg7%
Iron 0.9mg5%
* Percent Daily Values are based on a 2000 calorie diet.