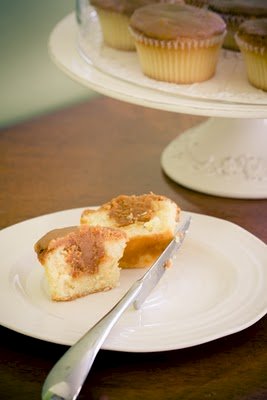 Have you read The Help
yet?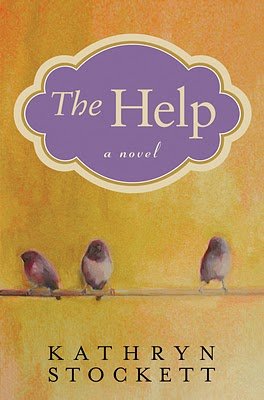 If you haven't, do it now – before the movie comes out. I promise there are no book spoilers in this post.  The only spoiling going on here is the spoiling of your guests when you serve them these caramel cake cupcakes.
One of the main characters in The Help is a maid named Minny. Like some covet clothes from Sex and The City
, I wanted to taste Minny's caramel cake.
Minny near bout the best cook in Hinds County, maybe even all a Mississippi.  The Junior League Benefit come around ever fall and they be wanting her to make ten caramel cakes to auction off.  She ought a be the most sought-after help in the state.
Since I can't buy caramel cake from Minny and I don't have a maid that makes caramel cake (I did have a cleaning lady growing up who made incredible stuffed peppers, but that's not quite the same thing), I had to find the recipe that Minny would have used – and turn it into a cupcake.
I succeeded.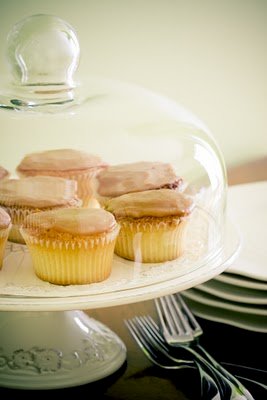 When I served these caramel cake cupcakes to St. Louis local food blogger and friend Andrew, he tweeted: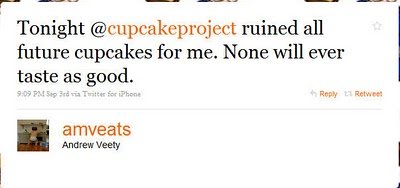 This is just the sort of thing that someone would have said about Minny's caramel cake, so I knew that I must have done something right.
About Caramel Cake
When I first started researching, trying to find Minny's recipe, I didn't know anything about caramel cakes.  I quickly learned that the caramel cakes are not cakes flavored with caramel (I was a bit surprised about that).  Rather, they are a sweet white or yellow cake that is typically served as a layer cake with caramel between the layers and on top.  What makes or breaks caramel cake is not the cake itself, but the quality of the caramel.  I dare say that even a boxed yellow cake, if topped with the proper caramel, could make for a notable caramel cake.  But, if you are going to spend thirty minutes making caramel, you might as well take the time to make your cake from scratch. The cake recipe is a single bowl recipe – super easy!
Converting Caramel Cake to Caramel Cake Cupcakes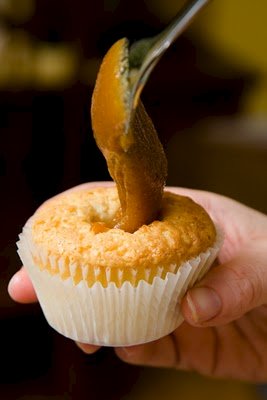 Because with a layered caramel cake you would get to taste caramel in the middle and on the top of your bite, I felt that only using caramel icing on a caramel cupcake would not provide the correct cake to caramel proportion.  To remedy this problem, I opted to use the caramel as both an icing and a cupcake filling.
With this decision, I may have taken things a bit too far. The caramel to cake ratio was almost 1:1 (far higher than Minny's cake would have been, and a bit too sweet for me), but caramel fans went crazy for it.  It's like eating cake and candy at the same time.  If I were making these again just for me, I'd skip the filling, but for a crowd pleasing show stopper, fill 'er up!
Caramel Cake Cupcake Recipe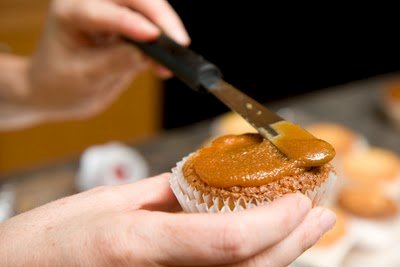 I got the caramel cake recipe from Debbie of  My Yellow Bluff.  Sure, Debbie is from Georgia – not Mississippi – but the story of how she got the caramel cake recipe made me think that this recipe is just the sort of recipe Minny would have used:
My mom, SaSa, has a passion for baking cakes, and she worked for years to get this recipe just right.  "Taste this," she'd say to me.  "I want it to be as good as Mrs. Carroll's caramel cake."  Mom patterned her caramel cake after a lady in the church who baked a variety of cakes for sale.  Her caramel cake was always a crowd pleaser at any event.  Instead of the sugary-sweet-"hard"-caramel icing of many caramel cakes, Mrs. Carroll's cake smacked of greatness with a smooth, buttery, creamy caramel icing.  Mom tested her version time and again.  Finally, one day I said to Mom, "That's it.  You've mastered the icing.  I can die happy now."  The forkful of caramel cake melted in my mouth.  Like Mrs. Carroll's cake, we loved it from our first taste.
Huge thanks to Debbie, SaSa, and Mrs. Carroll for this wonderful recipe.  My adaptation of their creation is below.  The only major change that I made (other than converting the recipe to cupcakes) is to use all butter rather than Crisco and margarine.  I know that Crisco would have been more authentic.  Minny even tells her employer that Crisco is "the most important invention in the kitchen since jarred mayonnaise."  But, I don't like baking with partially hydrogenated oils.
Caramel Cake Cupcakes
Caramel cake that gets filled and frosted with more caramel. What's not to love?
Ingredients
1/2

C

unsalted butter

room temperature

1

C

flour

1

C

sugar

2

eggs

1/3

cup

sweetened condensed milk

The first time that I made this recipe I misread it and used 2% milk instead of sweetened condensed milk. The cupcakes still turned out fine. They were just a lot denser and the recipe made only nine cupcakes. But, if you want to make these tonight and you don't have any sweetened condensed milk in your cupboard, just use milk.

1/2

tsp

vanilla extract

caramel icing

see my post on caramel icing for the recipe - prepare the caramel icing while the cupcakes are cooling so it's still warm and easy to work with
Instructions
In a medium-sized bowl, cream butter and sugar.

Beat in eggs one at a time.

Add flour and sweetened condensed milk alternately into the mixture.

Add vanilla.

Fill cupcake liners 3/4 full.

Bake at 350 F for 20 minutes or until cupcakes bounce back when touched lightly are are slightly browned on top.

To make filled cupcakes: When cupcakes are cool, use a paring knife or a cupcake corer (I'll have more info on the

cupcake corer

in an upcoming post) to cut a chunk out of the center of the cupcake. Fill the entire hole with caramel. Immediately eat the part of the cupcake that you removed (it will be our little secret).

Frost the tops of the cupcakes (right over the filled hole) with the remaining caramel.

Serve while the caramel is still hot and gooey or wait until it hardens some. Either way, people will be asking you to bring them to their next gathering.
Nutrition
Nutrition Facts
Caramel Cake Cupcakes
Amount Per Serving
Calories 208
Calories from Fat 81
% Daily Value*
Total Fat 9g 14%
Cholesterol 50mg 17%
Sodium 22mg 1%
Potassium 52mg 1%
Total Carbohydrates 29g 10%
Protein 2g 4%
* Percent Daily Values are based on a 2000 calorie diet.