Whiskey Sauce
Published , Last updated by
Stef
Disclosure: I may earn a commission from purchases you make through affiliate links at no additional cost to you.
Do you know what makes caramel sauce even better? Whiskey! My whiskey sauce is super easy to make, smooth, creamy, and addictive.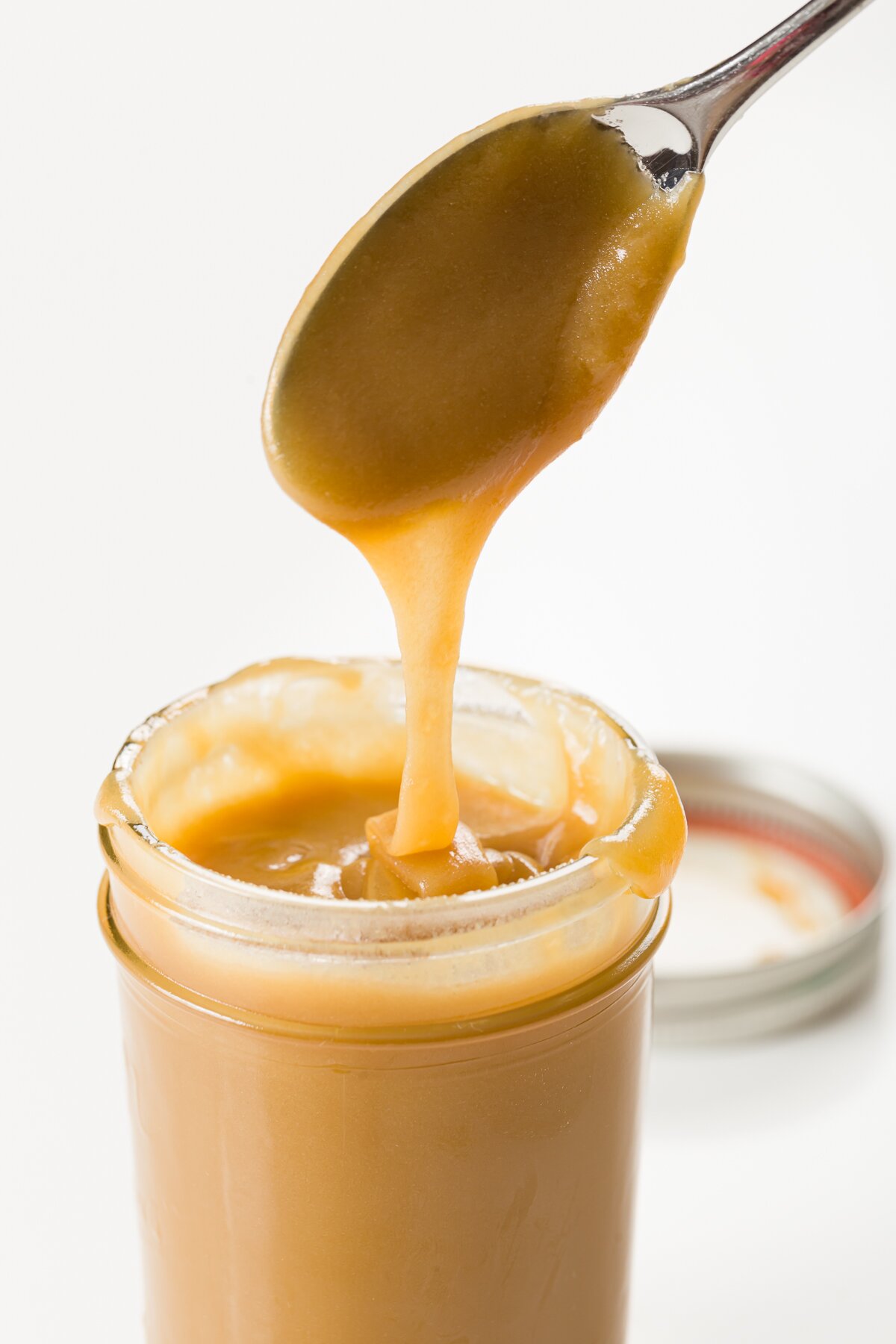 Whiskey sauce is most commonly used as a topping for bread pudding. You also see it served with caramelized bananas (like in Bananas Foster). I love it drizzled over cheesecake or added into vanilla frosting.
Ingredients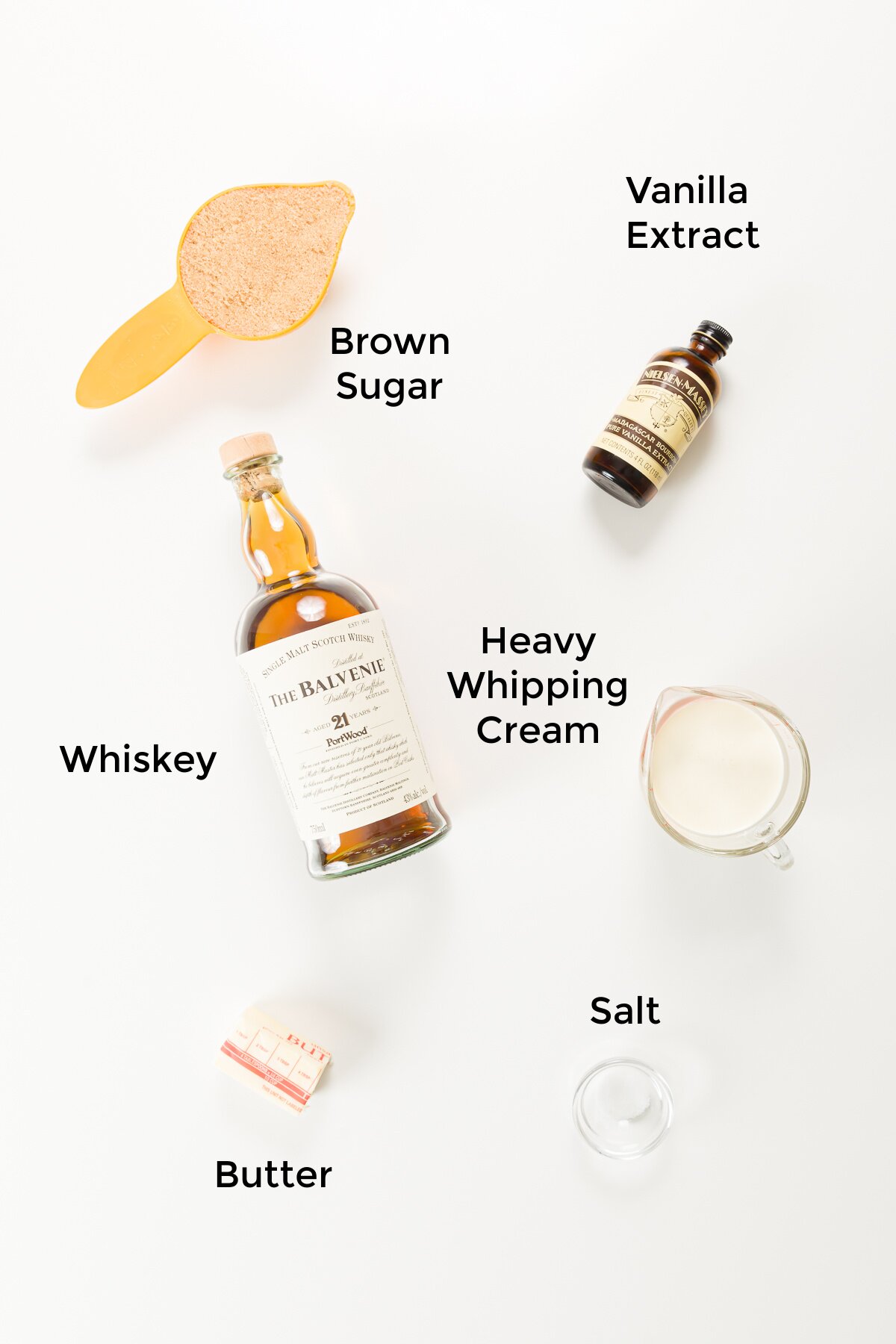 Although the end result tastes wildly different from butterscotch sauce, the ingredients for the two are almost identical. They are both made with butter, brown sugar (I use light brown sugar, but dark is fine if you prefer a deeper molasses flavor), heavy whipping cream, salt, and vanilla.
The key difference in the two is, of course, the whiskey. There is no need at all to use expensive whiskey for this; use whatever you have on hand. If you really love the flavor profile of a particular brand, choose that one, but the sauce is going to be great no matter how much you spend on your bottle.
How It's Made
Start by getting a medium-sized saucepan. You may think that a small saucepan will do the trick, but you don't want any risk of molten sugar bubbling over and resulting in having to clean burnt caramel from your range.
Melt butter on medium heat. Once it's melted, add in the brown sugar, give a stir, and then let it sit until it's almost all melted. You don't want to stir very much because that can cause crystals to form.
Add heavy whipping cream and whiskey, give the sauce a quick stir to make sure everything is combined, and then let it come to a boil. Remove the sauce from the stovetop when a candy thermometer inserted reaches 225 F.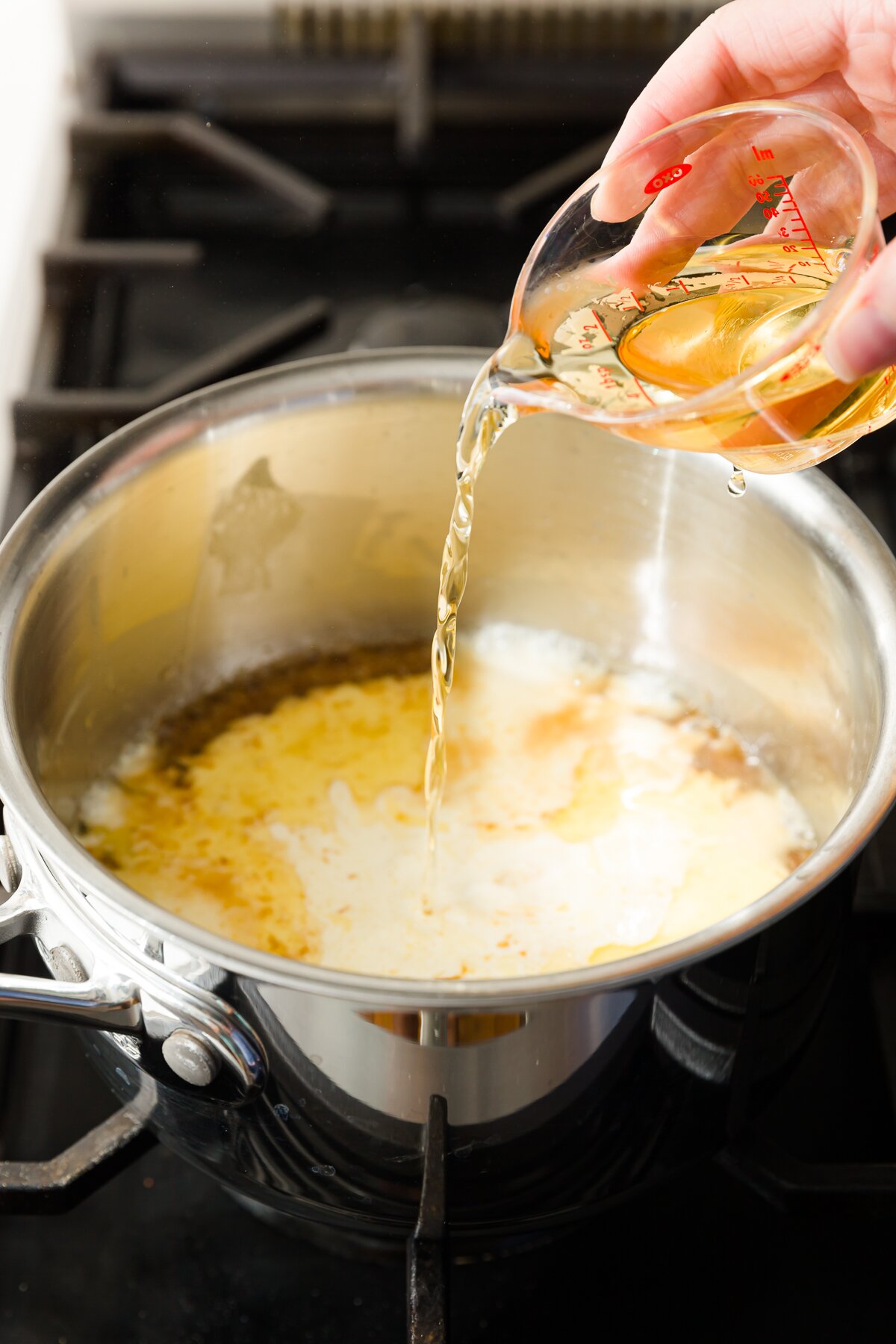 Stir in vanilla and salt.
Once it cools, transfer the whiskey sauce to a sealed container and store refrigerated for up to three weeks.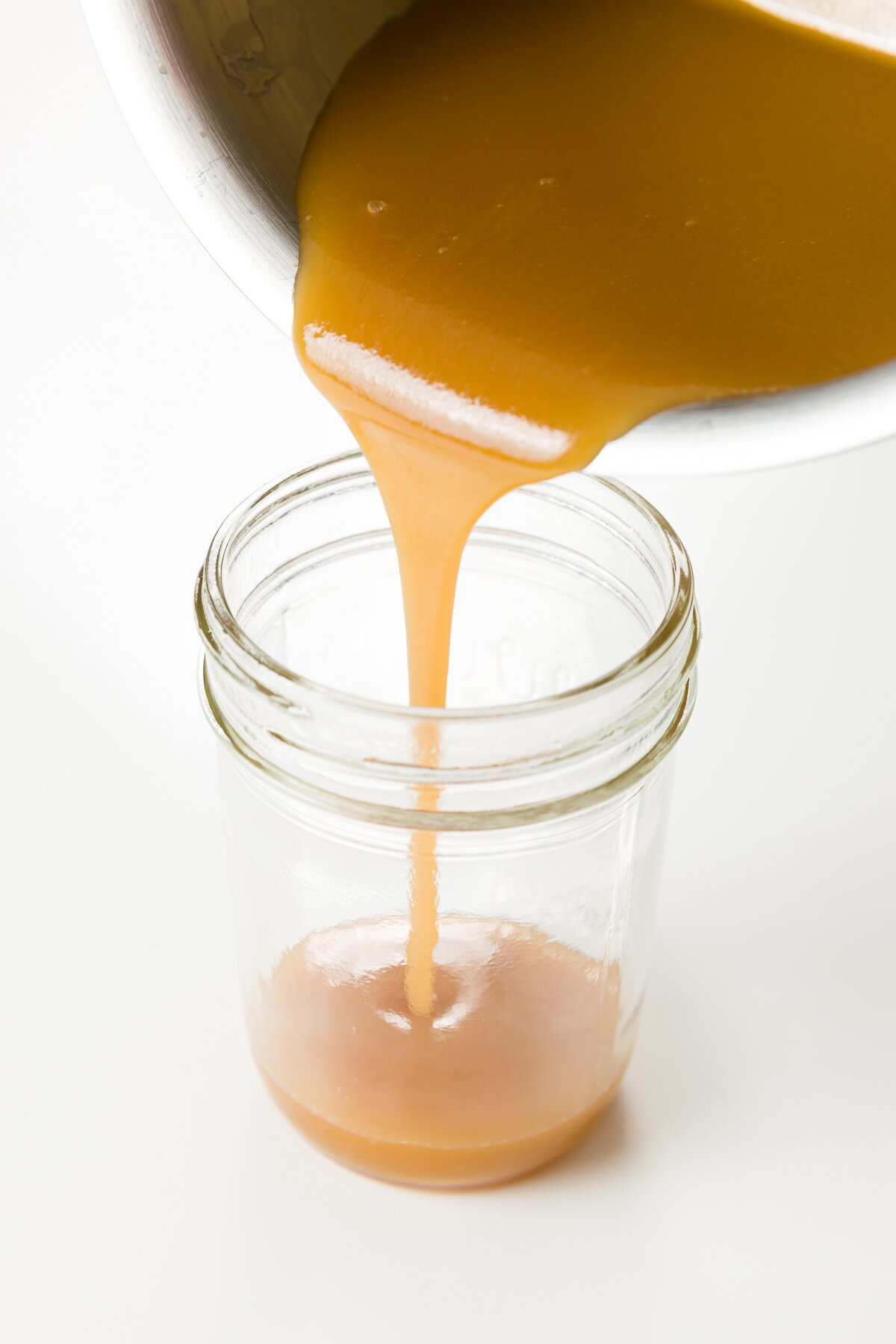 Expert Tips and FAQs
Can I use something other than whiskey?
It wouldn't technically be whiskey sauce, but you could use any kind of alcohol to make a great caramel. Try rum, bourbon, Irish cream, or Kahlua.
Do I have to use a candy thermometer?
Unless you have been making caramel sauces for years and are an expert at eyeballing doneness, always use a candy thermometer. You will have much better results.
Can you freeze whiskey sauce?
Yes! You can freeze it for up to three months.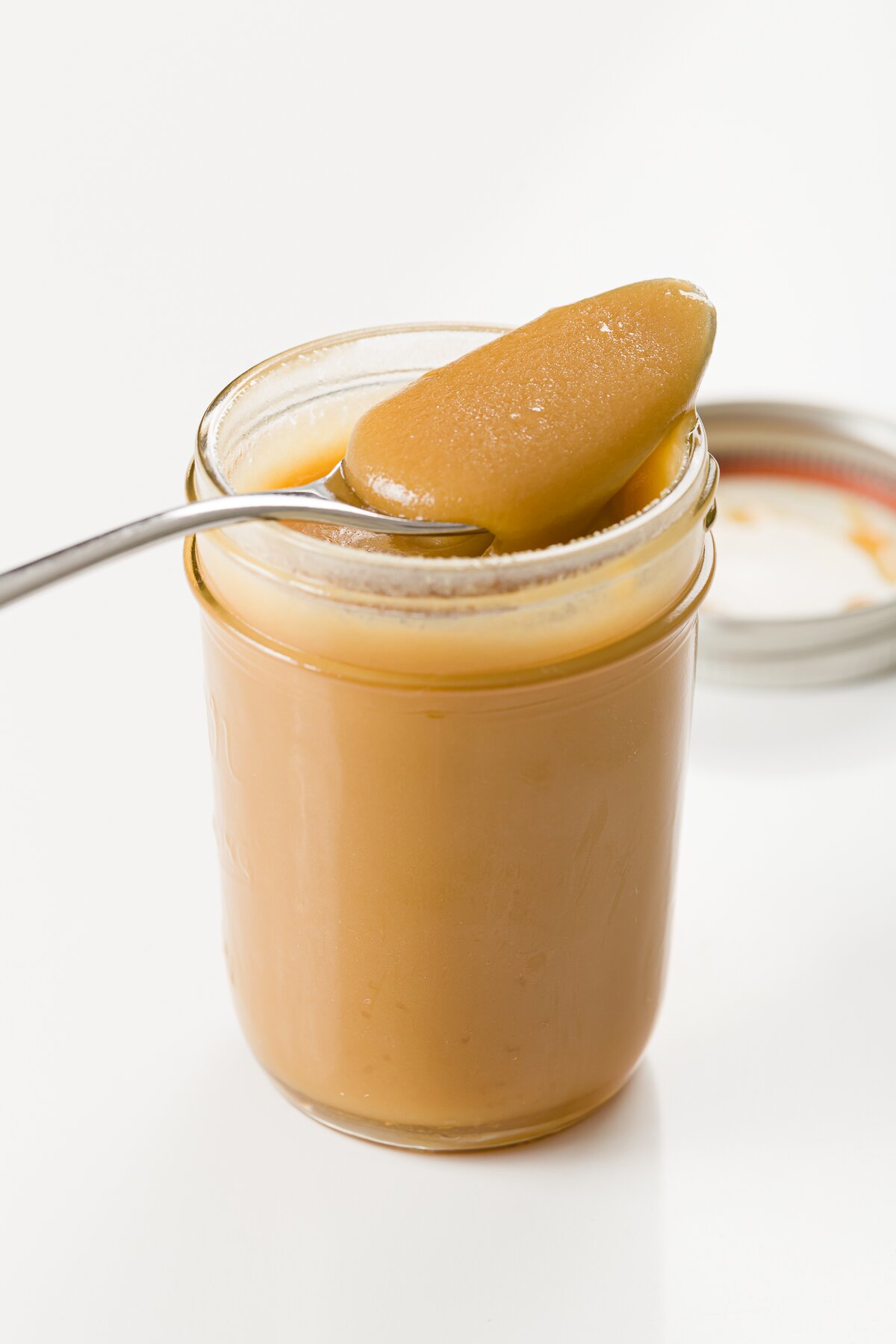 Related Recipes
Whiskey Sauce
My whiskey sauce is super easy to make, smooth, creamy, and addictive.
Ingredients
Ingredients
4

tablespoons

unsalted butter

3/4

cup

light brown sugar

3/4

cup

heavy whipping cream

1/4

cup

whiskey

any whiskey will work for this

1

teaspoon

vanilla extract

pinch

salt
Instructions
Instructions
In a medium saucepan over medium-low heat, melt butter completely.

Add brown sugar and stir just a little. Then, let sit until partially melted, about 3 minutes. Keep the stirring to a minimum to avoid crystal formation.

Add heavy whipping cream and whiskey and stir once to completely incorporate, then bring to a boil until the mixture reaches 225 F on a candy thermometer (about 5 minutes).

Remove from heat and stir in vanilla extract and salt.

Cool, store in an airtight container, and refrigerate for up to three weeks or freeze for up to three months.
Notes
You can use dark or light brown sugar. I use light brown sugar; dark brown sugar will yield a sauce with a slightly more molasses flavor and a darker color.
I always use unsalted butter and add salt to taste, but if you have salted butter in the house, you can use that and leave off the extra salt.
You'll need a candy thermometer. Getting the temperature just right is important to ensure that your sauce has the correct consistency and doesn't burn.
Nutrition
Calories:
113
kcal
|
Carbohydrates:
10
g
|
Protein:
1
g
|
Fat:
7
g
|
Saturated Fat:
4
g
|
Polyunsaturated Fat:
1
g
|
Monounsaturated Fat:
2
g
|
Trans Fat:
1
g
|
Cholesterol:
23
mg
|
Sodium:
8
mg
|
Potassium:
23
mg
|
Sugar:
10
g
|
Vitamin A:
251
IU
|
Vitamin C:
1
mg
|
Calcium:
17
mg
|
Iron:
1
mg
Stay Connected!
Join my mailing list - and receive a free eBook!