Cajeta — Mexican Goat Milk Dulce De Leche
Published , Last updated by
Stef
Disclosure: I may earn a commission from purchases you make through affiliate links in this post at no additional cost to you.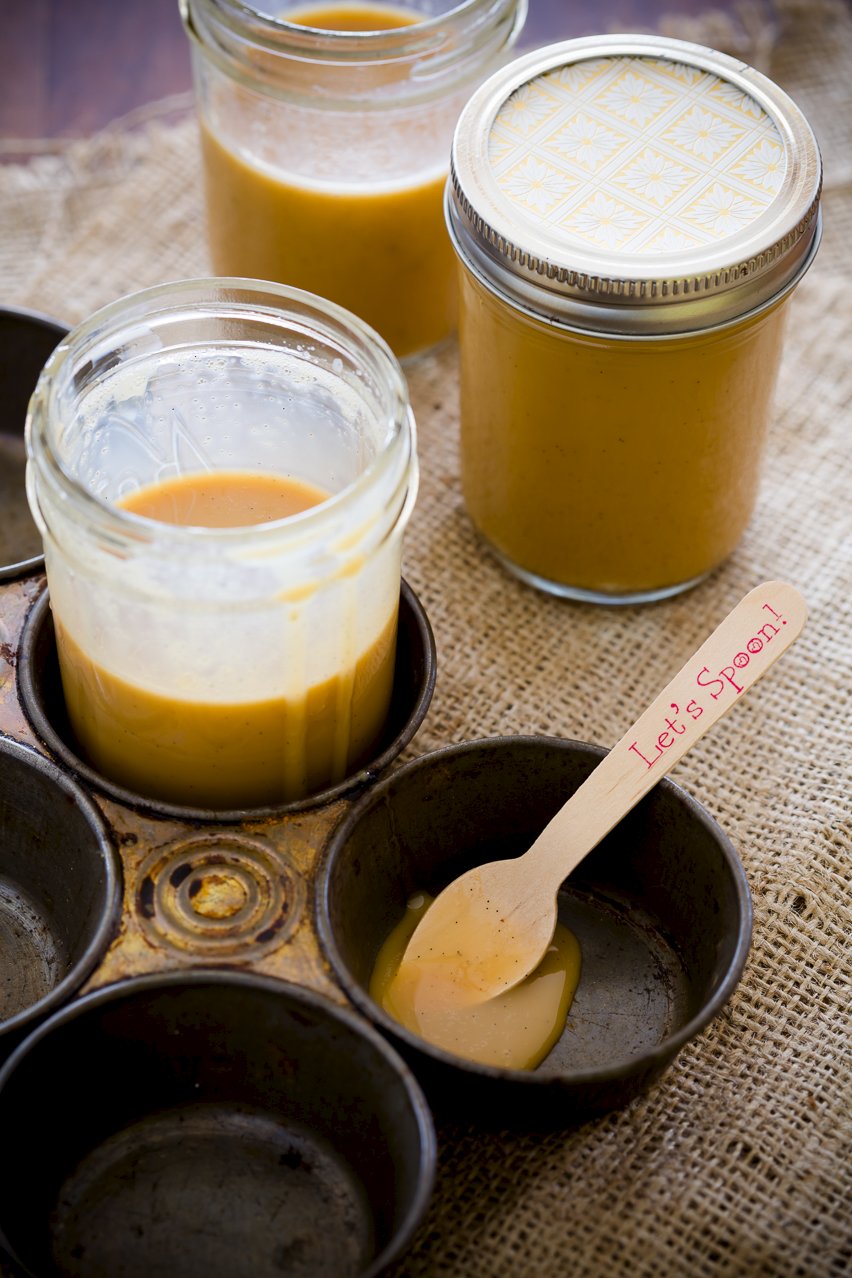 Today, my three-year-old told me that he had one hundred hugs for me. Cajeta, Mexican goat milk dulce de leche, is like that. It's not the kind of sweet that makes you want to gag (like a really bad pick-up line). Rather, it's an innocent sweet–so heartwarming that you get chills as it sinks into your soul.
Make your cajeta on a grey day, one where even getting out of your pajamas seems like a burden. Wafts of milky sugar will be your sunbeams and the rhythmic motion of your wooden spoon circling the pot will be the light breeze swaying your hammock.
What Is Cajeta?
Cajeta is the Mexican version of dulce de leche. The major differences between cajeta and dulce de leche are that cajeta is made with goat milk instead of cow milk, and it is usually flavored with cinnamon and possibly liquor.
Goat milk gives cajeta a sharper flavor than you will find in your run-of-the-mill dulce de leche. To cajeta lovers, the tartness of the goat milk balances the sweetness of the sugar and milk. So the final product can have a rich flavor without becoming cloyingly sweet.
Do I Have to Put Cinnamon in My Cajeta?
Well, it's your kitchen, so of course you can do whatever you want. And there is no shortage of recipes out there for cajeta without any added spice. That said, the overwhelming tendency in Mexico is to throw cinnamon in it (like horchata!), so if you serve cinnamonless cajeta to someone who is used to the regular stuff, don't be surprised if they miss its spicy punch.
Cinnamon vs. "Cinnamon"
Most people don't know it, but the ground "cinnamon" that you find in the spice aisle of your local grocery store is actually made from the bark of the Cinnamomum cassia tree, known in English as "Chinese cassia." It is a close relative of true cinnamon, Cinnamomum verum, but has a more powerful flavor that can be overwhelming in some dishes.
Cinnamomum verum is called "Ceylon cinnamon" in English and canela in Spanish. It is, on the whole, more expensive than cassia cinnamon, but for a dish like cajeta–where the flavors of the spice will really shine through–I think it's worth having some in your spice cabinet.
How to Use Cajeta
Like dulce de leche, cajeta is so sweet and creamy that it would be hard to find something it doesn't go with. But since it is a Mexican sauce, you might think about using it with traditional Mexican desserts, too. Here is my totally incomplete list of things to serve cajeta with or on:
Churros

Crepes

Toast (instead of jam–yum!)

Ice Cream

Coffee

Strawberries, apple slices, or other snacking fruit

Cakes, cookies, etc.
What about the Baking Soda?
Adding baking soda to the milk/sugar mixture may seem like a small detail that you can just ignore, but it will make cooking cajeta a whole lot easier. First of all, boiling milk by itself causes the proteins in it to coagulate, forming lumps. When the milk is more acidic, the lumps get even worse. (This is why most cheese making starts by boiling milk and adding an acidic ingredient of some kind). Adding baking soda raises the pH of the milk, which helps the proteins to relax and stop lumping together.
But the other reason to add baking soda is that it will help your cajeta develop a strong, sweet flavor. When proteins and sugars cook together for a while, they undergo the Maillard reaction–the same process that makes a seared steak so much tastier than a boiled one. Getting this reaction going in your pot is the key to the most fantastic-tasting cajeta, and it is more likely to happen if you have made your mixture less acidic by adding baking soda.
Cajeta - Mexican Goat Milk Dulce De Leche
Cajeta is a delicious Mexican carmel sauce made from goat's milk. Here is an easy, quick recipe you can make at home. Use it to top almost any dessert!
Servings
4
half pint jars
Ingredients
2

quarts

goat milk

1

tablespoon

vanilla bean paste

2

cups

sugar

1/2

teaspoon

baking soda

1

tablespoon

water

1/4

cup

dark rum

optional
Instructions
In a heavy-bottomed pot on medium-low heat, combine goat milk, vanilla bean paste, and sugar. Simmer and stir periodically with a wooden spoon until sugar is dissolved—about ten minutes. Be sure to scrape the bottom of the pot well so that no sugar sticks. Tip: Choose a pot that is larger than you think you'll need just in case the mixture starts to bubble up. You don't want to clean burnt sugar off of the stove top.

Dissolve baking soda in water and add to milk/sugar mixture. This helps prevent lumps and aids in caramelizing.

Simmer for an hour, stirring periodically.

Add the rum and continue to simmer until the cajeta is thick enough that it sticks to the back of a spoon (another couple of hours), keeping in mind that after the mixture cools it will be slightly thicker. At some point in the process, you might be tempted to speed things up by turning up the heat. Resist the urge. You've already invested a lot of time and turning up the heat will most likely cause you to have a burnt mess rather than cajeta. As you have less and less liquid, the mixture will come to more of a boil and you'll need to stir more often. For the last half hour, I'd suggest constant stirring.

Remove from heat. Cool and transfer to jars, Tupperware, your mouth, or whatever seems appropriate.
Notes
I got the recipe for this cajeta from Coco Cooks. I have reprinted it with my own descriptions and notes.
Nutrition
Serving:
2
tbsp
|
Calories:
176
kcal
|
Carbohydrates:
31.4
g
|
Protein:
4
g
|
Fat:
3.5
g
|
Saturated Fat:
2
g
|
Cholesterol:
29
mg
|
Sodium:
96
mg
|
Sugar:
31.4
g
|
Calcium:
1500
mg
Stay Connected!
Join my mailing list - and receive a free eBook!