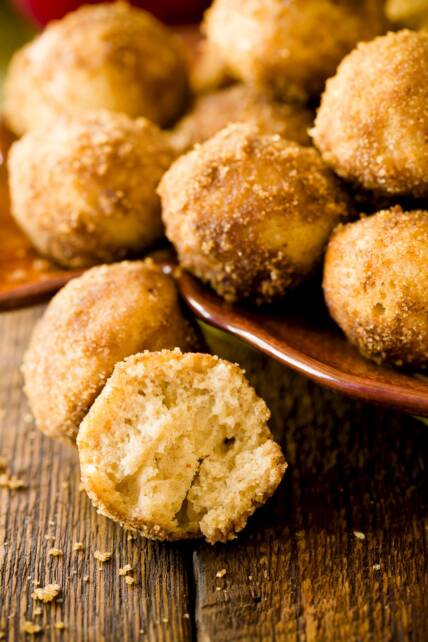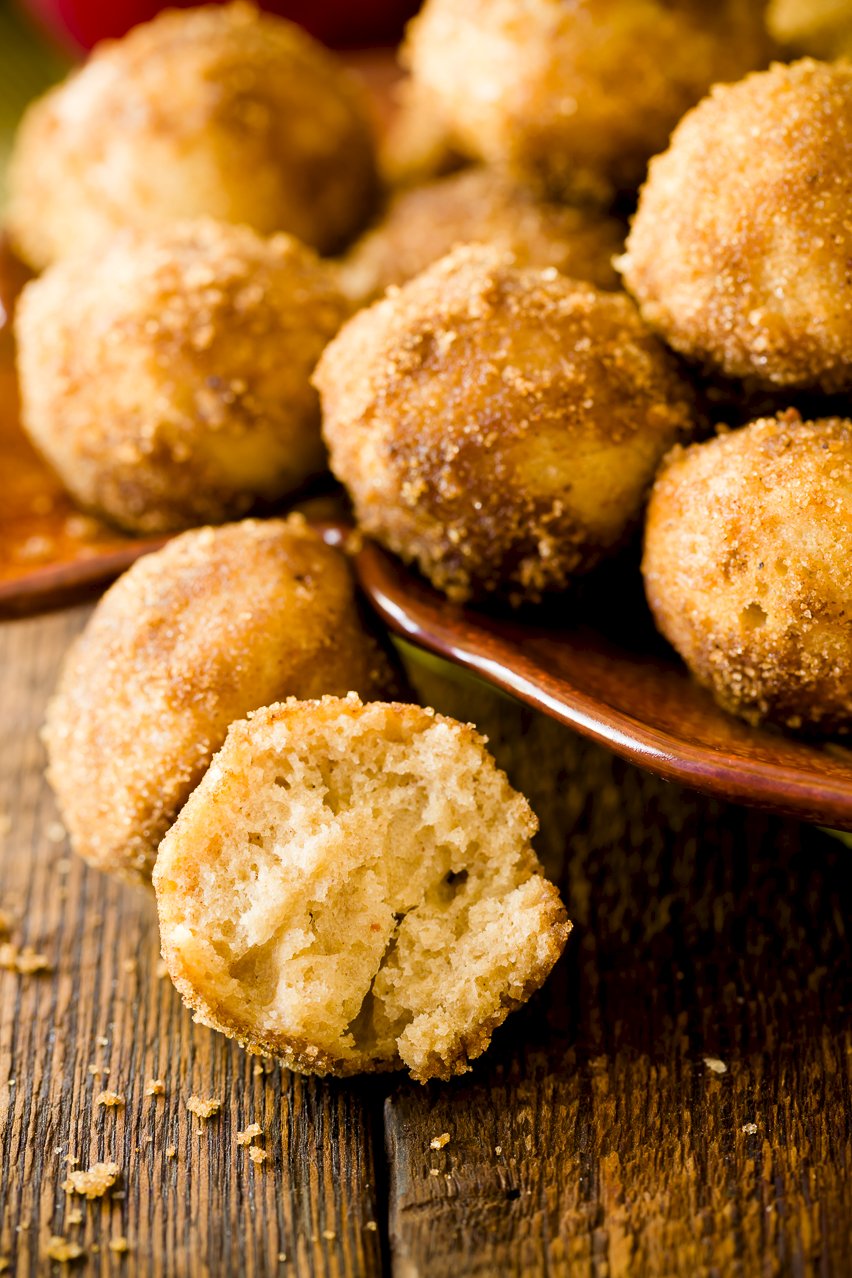 Baked donut holes never excited me.  "A donut isn't a donut unless it is fried," I thought.  Well, I'm officially a baked donut convert!  These spiced apple cider donut holes made with brown sugar have the same consistency as fried donut holes and are jam-packed with fall's flavors.  I popped a huge pile of apple cider donut holes into my freezer and I have been taking them out and microwaving them whenever I want a taste of fall.
I created these donut holes as part of the Fair Trade Recipe Rally in honor of Fair Trade Month – they are loaded with Fair Trade spices!  If you read to the end of this post, you can enter to win amazing prize pack of Fair Trade goodies.
I use the Fair Trade spices (cinnamon, nutmeg, allspice, and clove) in two ways in this recipe.  First, I mix the spices into the batter.  Then, instead of simply dusting the hot donuts in sugar, I dust them in a blend of spices and brown sugar.  My aunt said that these spiced apple cider donut holes might be the best dessert she's ever had.  Then again, she said the same thing about my pluot tart, so she can only be somewhat trusted.
How Fair Trade Helps Farmers
Fortaleza del Valle is a cooperative of small farmers located in Calceta, Ecuador.  It works to grow family incomes by improving the production yield and quality of its members' cacao. The co-op has developed post-harvest infrastructure, such as central fermentation centers, to ensure the best in quality. Fair Trade premiums have been used to invest in pre-harvest financing, pruning and replanting of trees to rehabilitate the farms, education and training, and infrastructure for local organizations.  Mariana del Jesus Mendoza (pictured here) is a cacao grower who has been with Fortaleza del Valle since 2006 and currently on the Co-Op's board of directors.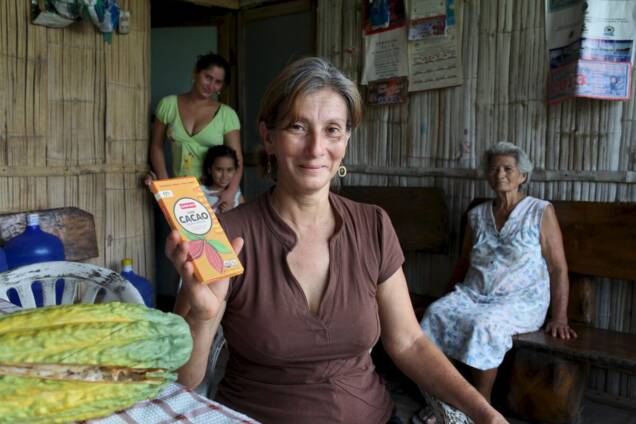 "Thanks to Fair Trade," said Mariana, "we are able to sell our cacao at fair and stable prices. Before we were organized (into Fortaleza del Valle), many of us did not know how to take true advantage of our plants' capacities and would ruin them with pesticides and fungicides."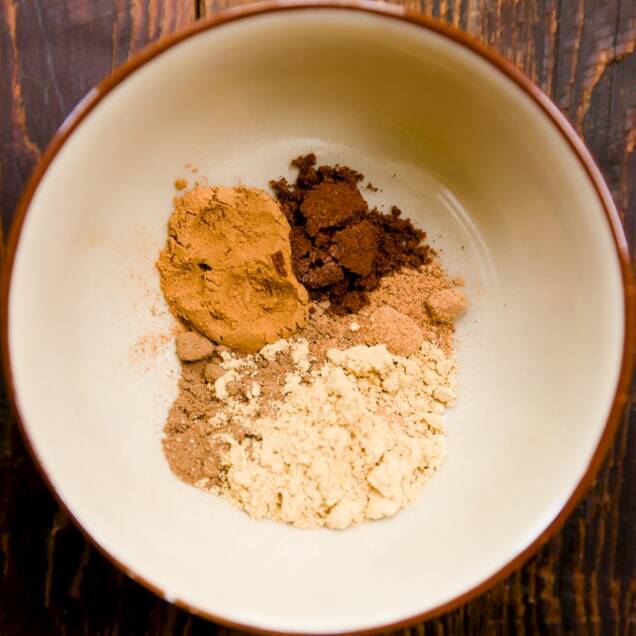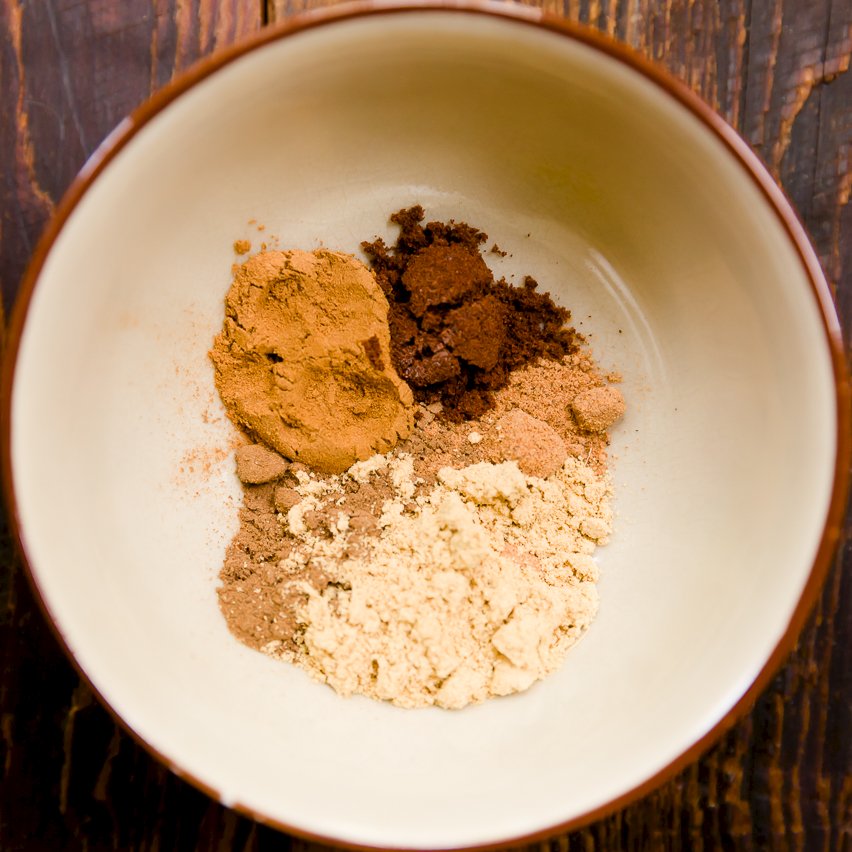 Fair Trade works similarly in the realm of herbs and spices.  Thousands of small scale farmers grow spice and herb crops, yet industry consolidation has allowed two multi-national corporations to dominate the market. With Fair Trade standards for herb and spice production, small farmers receive a price that allows them to compete in the market as well as a premium to invest in social and economic projects for their communities.  Taking that extra minute to look for the Fair Trade label when you shop can make a world of difference.
The Giveaway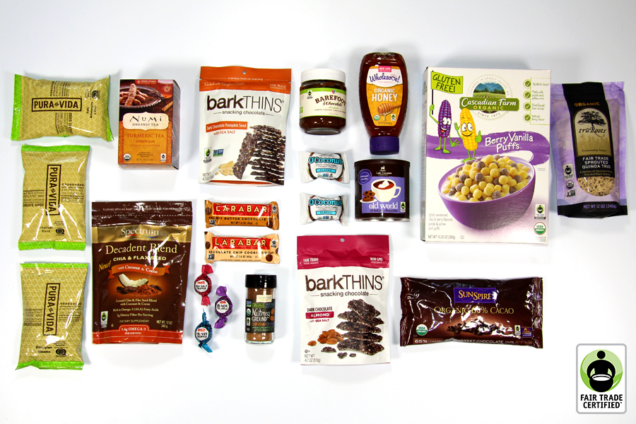 One lucky winner will receive a package from Fair Trade with all of the goodies shown above!  It includes products from:
To enter, fill out the Rafflecopter form below.  

The Baked Spiced Apple Cider Donut Holes Recipe
Baked Spiced Apple Cider Donut Holes
These spiced apple cider donut holes made with brown sugar have the same consistency as fried donut holes and are jam-packed with fall's flavors.
Ingredients
Apple Cider Spice Ingredients
1

teaspoon

ground ginger

1

teaspoon

ground allspice

1

teaspoon

ground nutmeg

1/2

teaspoon

ground cloves
Donut Ingredients
1

cup

apple cider

2

cups

all-purpose flour

3/4

cup

brown sugar

1 1/2

teaspoons

baking powder

1/4

teaspoon

baking soda

1/2

teaspoon

salt

1

teaspoon

of spice mix from above

2

large eggs

room temperature

1/4

cup

buttermilk

3

tablespoons

unsalted butter

melted

1

teaspoon

vanilla extract
Donut Topping Ingredients
3/4

cup

brown sugar

remaining spice mix from above

6

tablespoons

unsalted butter

melted
Instructions
Apple Cider Spice Mix Instructions
Mix all ingredients except brown sugar in a small bowl and set aside.
Donut Instructions
Preheat oven to 325 F.

In a small saucepan on high heat, bring apple cider to a boil and reduce to a half cup. It's OK to cheat and pour the apple cider out into a heat resistant liquid measuring cup periodically to see if the cider is down to a half cup.

In a medium-sized mixing bowl, whisk together flour, sugar, baking powder, baking soda, salt, and one teaspoon of the spice mixture from above.

In another medium-sized bowl, beat the eggs, buttermilk, melted butter, vanilla extract, and the reduced cider.

Slowly add the flour mixture to the wet mixture, mixing until just combined.

Grease wells of donut hole pans with non-stick baking spray. Fill wells 3/4 full.

Bake for 15 minutes or until the donut holes bounce back when lightly touched.

Remove donut holes from pan.
Donut Topping Instructions
Mix brown sugar into the remaining apple cider spice blend from above.

Dip each donut hole into melted butter and roll in spice blend to coat.

Serve warm.
Notes
If you don't have a donut hole pan, you can make these in a mini-muffin pan. They just won't be as round.
If not eating right away, loosely cover and eat within 24 hours or freeze for months and microwave in 10 second bursts until warm.
Nutrition
Nutrition Facts
Baked Spiced Apple Cider Donut Holes
Amount Per Serving
Calories 112
Calories from Fat 27
% Daily Value*
Fat 3g5%
Cholesterol 20mg7%
Sodium 58mg2%
Potassium 58mg2%
Carbohydrates 18g6%
Protein 1g2%
Vitamin A 125IU3%
Vitamin C 0.1mg0%
Calcium 25mg3%
Iron 0.6mg3%
* Percent Daily Values are based on a 2000 calorie diet.