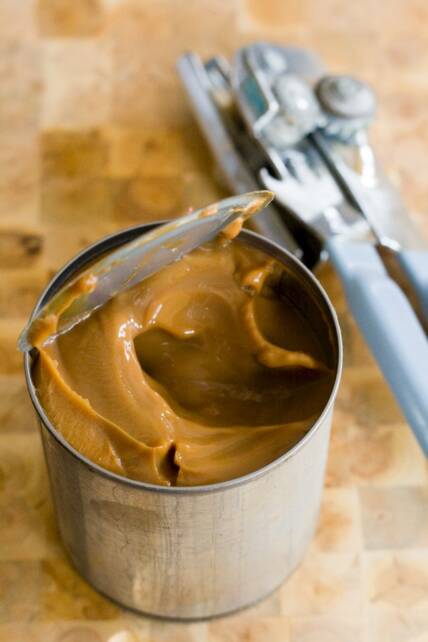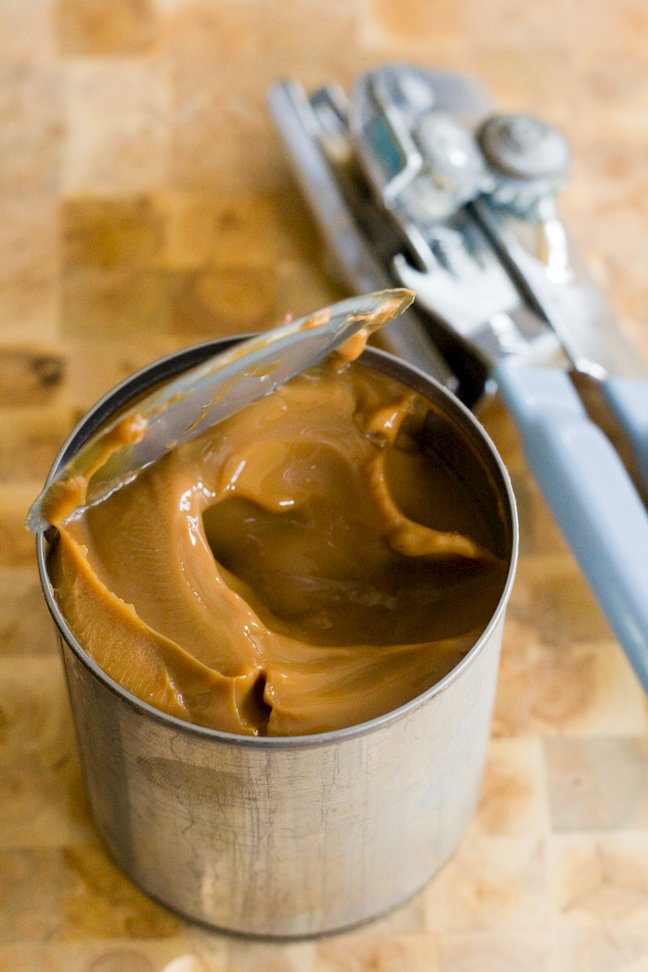 When I last made dulce de leche, I boiled milk and sugar on the stove top. You, my readers, flooded me with suggestions on alternate ways of making dulce de leche.
Rosie suggested that I use a slow cooker: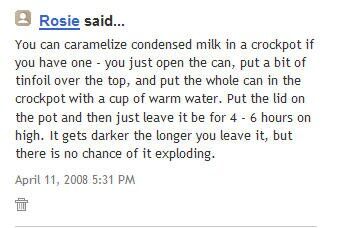 So, I decided to give slow cooker dulce de leche a go. But, I didn't quite use Rosie's method.
Instead of slow cooking the dulce de leche on high for 4-6 hours, she makes dulce de leche on low for 8 hours – allowing you to go to bed and wake up to dulce de leche (arguably better than waking up to coffee).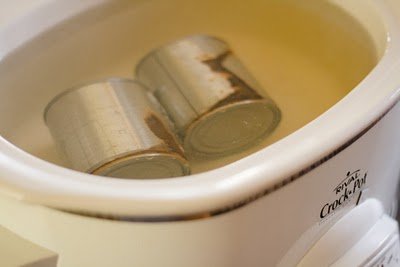 Instead of opening the can, Steph leaves the can intact. As long as the can remains fully submerged, it shouldn't explode (I say this with some confidence after reading her post – including all of its comments – and trying it myself).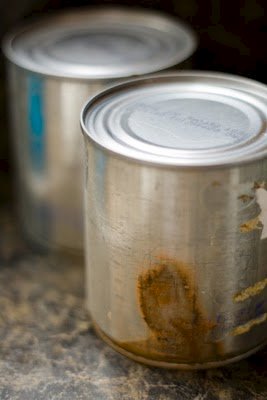 The stovetop milk plus sugar dulce de leche tasted slightly better than the crock pot version, but the ease of the crock pot far outweighs any taste differences. I'll be using this method from now on.
Based on reader feedback, here are some questions you might have about the easiest dulce de leche method in the world:
How long will a can of dulce de leche last after opening?
The only ingredients in this dulce de leche are milk and sugar, so it should be able to last in the refrigerator for quite some time. Since mold is always potentially a problem in the cold, moist environment of a fridge, though, (and since a can of condensed milk is so cheap) I would recommend throwing it out after a couple weeks.
How many cans can you cook at once?
The slow cooker will take care of adjusting the temperature just fine (that's what they do, after all!). So as long as they will all fit in your cooker, completely submerged, you should be fine.
Will this method damage my slow cooker?
If the cans are placed directly on the bottom surface of the cooker (especially a white one!), then some staining from the rusting cans might occur. This can easily be removed with Barkeeper's Friend or a similar abrasive, but if you want to avoid having to do this, just lay a piece of parchment paper between the cans and the bottom of the cooker.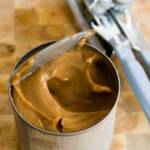 Dulce De Leche in a Crock Pot
An incredibly easy way to make delicious dulce de leche using your slow cooker!
Ingredients
One or two unopened cans of sweetened condensed milk.
Instructions
Remove the labels from the cans and put them in your crock pot.

Completely submerge the cans in water.

Set to low and wait eight hours.

Wait for the cans to come to room temperature and open.
If you love dulce de leche, you'll also love: