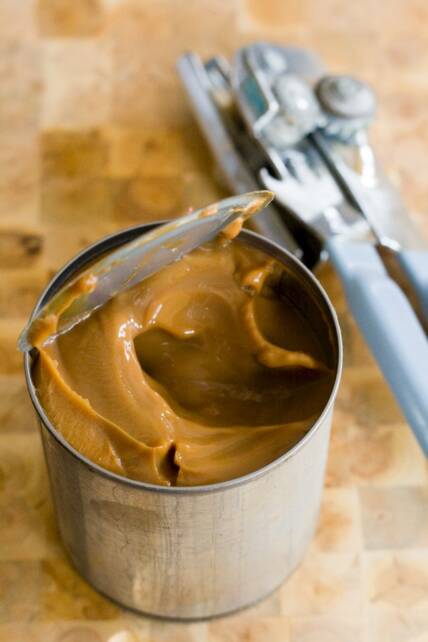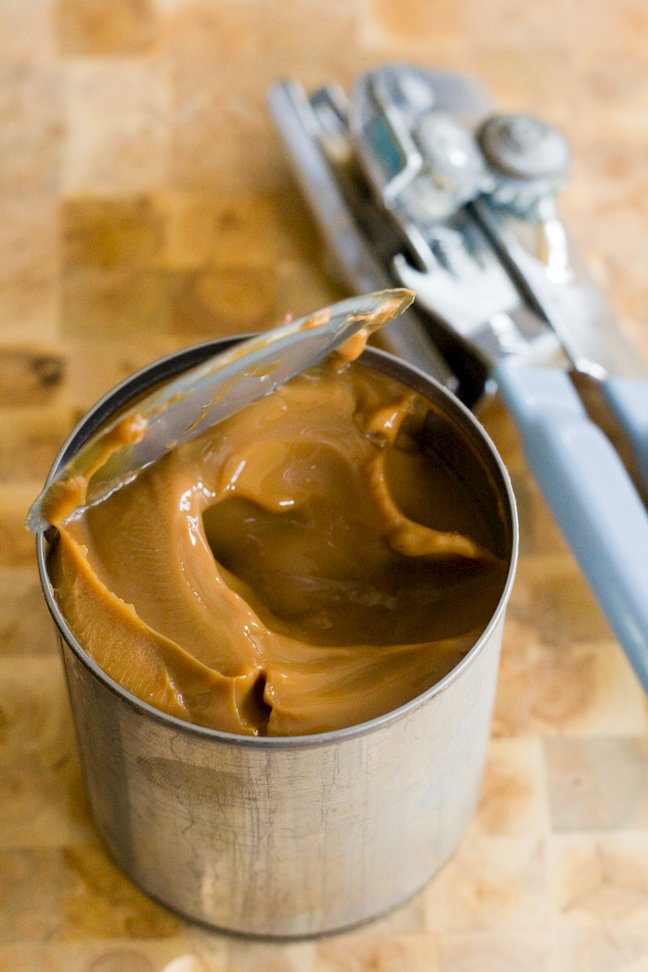 After I wrote my fabulous and informative article explaining "What is dulce de leche?" you, my loyal readers, flooded me with suggestions on other ways of making it. More sugar, less sugar, longer cooking time, different cooking utensils—all kinds of good ideas, and all exactly why blogging is such a great way to talk about food. But what did I get more often than anything else? Slow cooker dulce de leche.
Dulce de Leche Basics
First, let's cover the basics for those of you coming late to the party. Dulce de leche is a sweet Latin American sauce that can be used as a spread for toast, a sweetener for coffee, and also as an ingredient in cakes, tarts, and candies. With just a little cooking, you get a thin syrup that you can pour over ice cream or anywhere else you would use caramel. If you cook it down more, it turns into a thick, rich milk preserve that can be spread like apple butter.
The lighter quality of dulce de leche gave me the idea for my delicious Dulce de Leche Frosting. It is a great topper for a lot of lighter cupcake recipes, where the harsher flavors of caramel might be overpowering. Also, my Dulce de Leche Flan would wind up a bit cloying if it were made with caramel. And when I was looking for something to spice up Banana Bread, dulce de leche added just the right amount of sweetness to produce my lovely Banana Bread Cookies with Hazelnuts and Dulce de Leche. Take a look at some of my other frostings, as well, for more ideas!
Slow Cooker Dulce de Leche
But back to our simple, delicious slow cooker dulce de leche that everyone was raving about in the comments section. You promised me it would be easier, you promised me it would be faster, and you were right on both counts. Rosie's post below gives you an idea of the advice I was getting: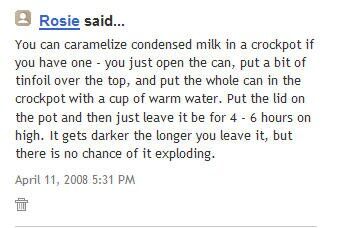 Now, I don't actually own a pressure cooker (and before anyone writes me about it, I know they are amazing!). But I do have a slow cooker, so I thought I would give slow cooker dulce de leche a try. Based on the comments I was getting, I figured out that I basically had two options:
Take the milk/sugar/vanilla mixture I used in my stovetop dulce de leche, pour it into a mason jar, seal it up, and throw it into the slow cooker. (Hmm, bad choice of words for a glass container—I meant to say, "lightly set it into the slow cooker.")
Buy a can of condensed milk at the store for a little over $2 and throw that into the slow cooker. (And yeah, if you want to, you can actually throw it.)
The mason jar route seems like it might be a good balance between the two, letting you adjust the sugar and type of milk as much as you want, but with the ease of slow cooking. But I figured that if I'm looking for a recipe that saves time and energy, you can't get much easier than cooking an unopened tin can.
Making Slow Cooker Dulce de Leche from Condensed Milk
When Steph makes dulce de leche with a crock pot, she uses a good ol' can of condensed milk. But instead of putting it on high for 4–6 hours, she sets it on low for 8 hours—allowing you to go to bed and wake up to dulce de leche (arguably better than waking up to coffee). Based on her recipe, I left the cans unopened, made sure they were completely submerged in water, and just let them simmer for a while.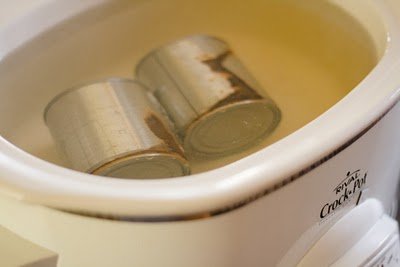 While it was cooking, the only problem I noticed was that the hot water was making the cans rust in some patches. When I finally took them out, the nice white ceramic of my slow cooker had picked up a bit of the rust.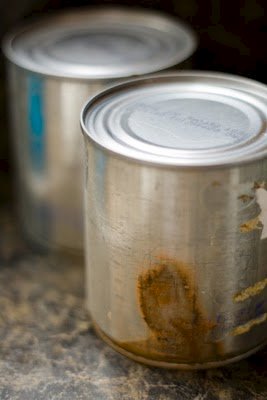 I used a little Bar Keepers Friend to scrub it off and it was fine. But if I were doing it again, I would lay down a sheet of baking paper or something to rest the cans on. (You might also take a look at Bon Appetit's informative article on this method, which has some good tips.)
How Did It All Turn Out?
Well, obviously, the dulce de leche that came out of the cans was sweet and delicious. There is no way that you are going to caramelize sugar for several hours without producing something sweet and delicious. But how did it compare with my stovetop recipe?
To me, the stovetop dulce de leche made with milk, sugar, and vanilla had a richer, more subtle flavor, and it won the taste-off hands down. But. (You knew there was a but coming.) But putting a can under water in a slow cooker is possibly the easiest one-step recipe I have ever seen. I'd rather have a can of this stuff sitting in my fridge than a jar of dulce de leche that is slightly better, but doesn't actually exist because I didn't have the time to make it. (I know that if something doesn't exist you can't have it in your fridge, but you see what I'm saying.) It's not a knockout, but slow cooker dulce de leche wins on points.
Based on your feedback, here are some questions that you guys might have about the easiest dulce de leche method in the world:
How long will a can of slow cooker dulce de leche last after opening?
The only ingredients in this dulce de leche are milk and sugar, so it should be able to last in the refrigerator for quite some time. Since mold is always something to look out for in the cold, moist environment of a fridge (and since a can of condensed milk is so cheap),  I would recommend throwing it out after a couple weeks.
How many cans can you cook at once?
The slow cooker will take care of adjusting the temperature just fine (that's what they do, after all!). So as long as they will all fit in your cooker, completely submerged, you should be fine.
How long should I leave the cans in?
If you set the cooker to "low," your slow cooker dulce de leche should have the consistency of caramel sauce after about six hours. At this stage, it is great for pouring over ice cream or adding to coffee in the morning. By ten hours in the cooker, the dulce de leche should thicken to the point where you can spread it like a preserve.
Will the cans explode?
You know, I could have written a whole blog post just on this question. There are really two questions here, though, so I'll tackle the easiest one first.
If your question is, "Will the cans explode when I open them?" the answer is easy: "Not if you wait until they cool down." If you took the steaming hot can out of the cooker and broke the seal right away with a can opener, then yeah, the pressurized air inside might catch some of the hot sugar mixture and shoot it out at your tender skin. But that would be a silly thing to do with anything that hot. Play it cool, wait for the cans to chill to a workable temperature, and you'll be fine.
But the other explosion-related question (that so many people asked me!) is, "Will the cans explode just by cooking them like this?" As with a lot of questions, there is a short answer and a long answer. The short answer is "No." There you go. All settled, right?
The Year When Some Cans Did Explode
OK, since you still want to know more, I'll let you in on a bit of the longer answer. The longer answer is that while the recipe I described above is perfectly safe—the one where you cover the cans with water first—there was a famous home-cooking kerfuffle in the 1970s that left a bunch of people with exploding cans of caramel napalm in their kitchens, and it gave this method a long-lasting scary reputation.
In 1978, Random House published a cookbook called Woman's Day Crockery Cuisine that gave its readers pretty much the same recipe I did above, but with one big difference—it never actually mentioned pouring water over the cans. So a lot of very literal-minded people just put cans of condensed milk in their slow cookers, set them and forgot them, and came back a couple hours later to find that the extreme heat of the cooker, when not moderated by the water, had sent the pressure inside the cans up past their breaking point.
Anyway, the point is that as long as you make sure that the cans are fully submerged in water, you will be fine. The water makes sure that the heat inside the cans never gets hot enough to turn into steam, and everybody goes to sleep that night with yummy slow cooker dulce de leche in their tummies—and none of it burning their skin.
(Note: This story is told in greater detail by Alex at the fascinating blog Weird Universe.)
Slow Cooker Dulce de Leche
An incredibly easy way to make delicious dulce de leche using your slow cooker!
Total Time
6
hours
5
minutes
Ingredients
1

14-ounce can of sweetened condensed milk
Instructions
Remove the labels from the cans and put them in your crock pot.

Completely submerge the cans in water. (Important!)

Set to low and wait six hours.

Wait for the cans to come to room temperature and open.
Nutrition
Nutrition Facts
Slow Cooker Dulce de Leche
Amount Per Serving (2 tbsp)
Calories 130
Calories from Fat 27
% Daily Value*
Fat 3g5%
Cholesterol 10mg3%
Sodium 35mg1%
Carbohydrates 22g7%
Protein 3g6%
Vitamin A 100IU2%
Calcium 100mg10%
* Percent Daily Values are based on a 2000 calorie diet.