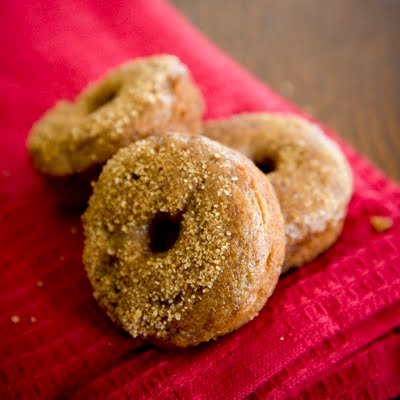 Each year around this time, I start seeing apple cider doughnuts showing up on food blogs and on Tastespotting and Foodgawker. These posts often mention buying apple cider doughnuts at local apple orchards. I've been apple picking many times in my life and I have never seen an apple cider doughnut. I love apple cider and I love doughnuts – and frankly, every time I read about these elusive apple cider doughnuts, I felt cheated. Why didn't my orchard make them? I had to make them myself to see if they were as good as I dreamed.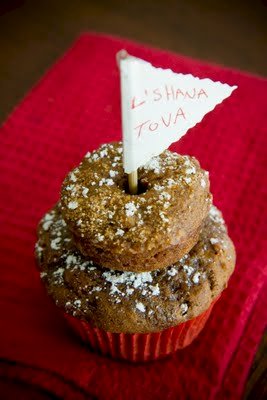 Rosh Hashana seemed like the perfect time of year to give apple cider doughnuts a try. L'Shana Tova roughly means "for a good year". On Rosh Hashana (the Jewish new year) we dip apples in honey to show our wish for a sweet new year. Why not make apple cider doughnuts dipped in honey this year?!
Apple cider doughnuts are typically baked, not fried. They are essentially cake doughnuts made with apple cider. Because apple cider doughnuts are cake, the doughnut recipe also worked as a cupcake! In the photo above, you see a doughnut on top of a cupcake – both made with the same batter.
Were the Apple Cider Doughnuts Worthy of My Dreams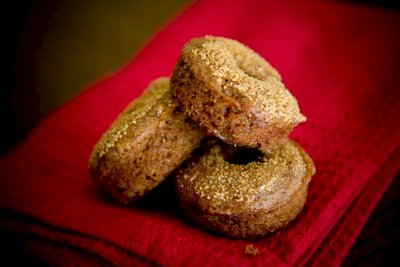 Our dinner guest, St. Louis food blogger Andrew Mark Veety, said that my apple cider doughnuts would be "killer with a cup of coffee for breakfast." However, he and his wife both felt that they could hardly be called doughnuts. I had to agree. The apple cider doughnuts were moist, fluffy, and sweet, but tasted more like tiny apple muffins than doughnuts. These doughnuts could be a great way to trick your kid or yourself into eating something healthier than a typical fried doughnut, but if you are expecting a Krispy Kreme, don't bother making these.
Apple Cider Doughnut Recipe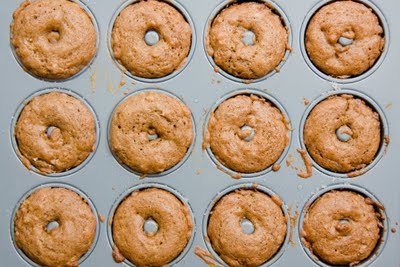 To make these apple cider doughnuts, you'll need a doughnut pan. The cool thing is that you can make any cake recipe into a cake doughnut with one of these pans – so fun!! I prefer the mini doughnut pan – that way they fit on top of my cupcakes (I understand that this may not be your priority).
I found the recipe for the apple cider doughnuts on Jen's food blog, Milk and Cookies. Jen adapted the recipe from one found on Diana's Desserts. I am reprinting it here, with my notes.
Apple Cider Doughnuts with Honey Glaze
I've been apple picking many times in my life and I have never seen an apple cider doughnut. I had to make them myself to see if they were as good as I dreamed.
Ingredients
2

C

all-purpose flour

1 1/2

t

baking powder

1 1/2

t

baking soda

1/2

t

salt

2

t

ground cinnamon

1/2

t

grated nutmeg

1

large egg

lightly beaten

2/3

C

packed brown sugar

1/2

C

apple butter

1/3

C

pure maple syrup

1/3

C

apple cider

1/3

C

plain yogurt

3

tbsp

hazelnut oil

plus extra for coating the pan (If hazelnut oil is not available, you can substitute with macadamia nut oil or vegetable oil.)

approximately 3 tbsp sugar for baking pans
Instructions
In a mixing bowl, whisk together flour, baking powder, baking soda, salt, cinnamon and nutmeg; set aside.

In another bowl, whisk together egg, brown sugar, apple butter, maple syrup, cider, yogurt and hazelnut oil.

Add dry ingredients to the wet ingredients and stir just until moistened.

Brush cavities of a doughnut pan with hazelnut oil and sprinkle with sugar. If making cupcakes, simply fill cupcake tin with cupcake liners.

For doughnuts, fill each cavity about halfway. For cupcakes, fill cupcake liners about 3/4 full.

Bake at 375 F for 10 to 15 minutes (doughnuts) or 20 minutes (cupcakes) or until the tops spring back when touched lightly.
Notes
Use a honey glaze and cinnamon/sugar topping as per bottom of this post
Yield 36 mini donuts or 12 cupcakes
Nutrition
Nutrition Facts
Apple Cider Doughnuts with Honey Glaze
Amount Per Serving
Calories 70
Calories from Fat 9
% Daily Value*
Fat 1g2%
Cholesterol 4mg1%
Sodium 89mg4%
Potassium 51mg1%
Carbohydrates 13g4%
Vitamin A 10IU0%
Calcium 22mg2%
Iron 0.4mg2%
* Percent Daily Values are based on a 2000 calorie diet.
Honey Glaze and Cinnamon/Sugar Topping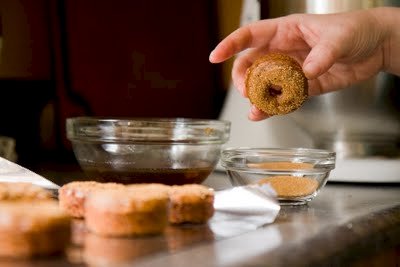 I topped each apple cider doughnut with a honey glaze and then dipped the doughnuts in cinnamon and sugar. For the honey glaze, simply combine and microwave two parts honey to every one part apple cider (i.e. 4 T honey and 2 T apple cider) until hot.
I used the same glaze to top the cupcakes, and I added some powdered sugar for kicks.