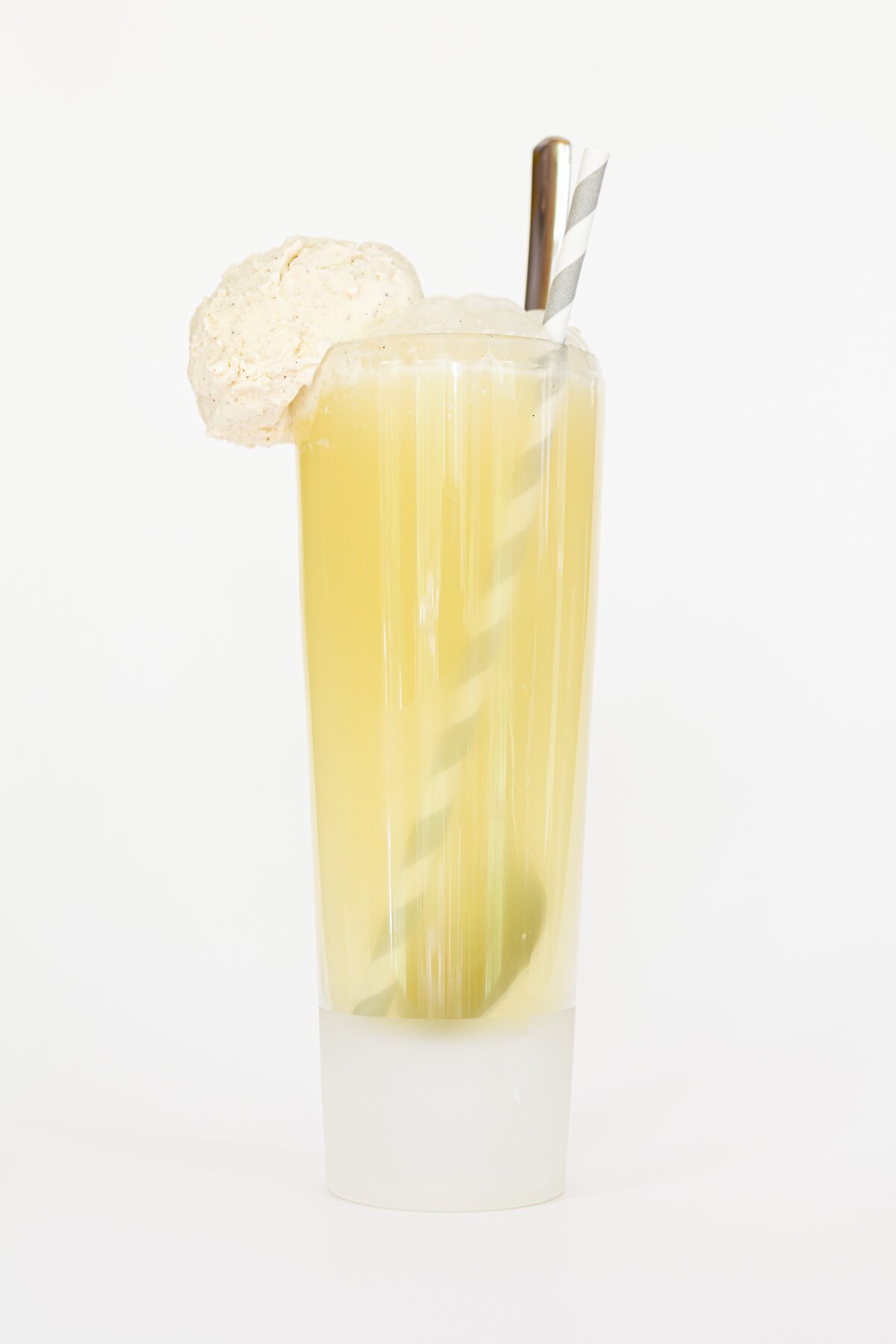 I've always been a fan of ice cream floats.  The many decisions (ice cream first, soda first, or everything together; use the spoon or the straw; mix the ice cream up to make it melt or let big chunks float on top) make ice cream floats an event, not just another liquid in a glass.  As a kid, my favorite ice cream float combination was vanilla cream soda with a scoop of chocolate ice cream (if you've never tried it, you must!).
Why we don't see adult floats more often?  Bar menus often feature boozy shakes and frozen drinks, but floats are few and far between.  I decided to make one myself: a limoncello float.
A bubbly limoncello cocktail is a refreshing summer drink all on its own.  Add a scoop of vanilla bean ice cream and your limoncello float may get you rethinking root beer's greatness.  Tart, tangy, sweet, cold, and eye-catching – this drink has it all. 
How to Make a Limoncello Float
I based the bubbly limoncello drink on the recipe for Limoncello Sparkle Cocktail from FabFood.  The only major change that I made to the drink portion was to switch out the Cointreau for Grand Marnier.
Products Used for This Recipe
If you've tried this recipe, please RATE THE RECIPE and leave a comment below!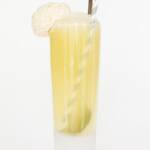 Limoncello Ice Cream Floats
Servings
1
limoncello float
Ingredients
1

ounce

chilled limoncello

You can purchase it or make homemade limoncello.

1/2

ounce

Grand Marnier

enough Champagne to fill the rest of the glass

As much vanilla bean ice cream as you'd like

I used Häagen-Dazs® five ice cream
Instructions
Pour limoncello and Grand Marnier into a tall glass.

Add as much champagne as you need to fill the rest of the glass.

Perch a scoop of vanilla bean ice cream on the edge of the glass.

Enjoy
Recipe Notes
I used a tiny measuring cup from OXO to measure the alcohol in this recipe. It made it so easy! A friend left the measuring cup at my house and I haven't had a chance to return it. I figured that since it's already here, I may as well put it to use. :)
It's helpful to have some tall ice cream spoons to use for floats. This is not an item that most people own, but it's cheap and fun! Splurge!
Häagen-Dazs®
As part of the Foodbuzz Tastemaker Program, I received a stipend and free Häagen-Dazs® ice cream.
I've always enjoyed Häagen-Dazs®, so participating in the program was a bit of a no-brainer (I don't work with companies whose products I don't personally like).  My father has a Chinese New Year tradition where he purchases eight or nine different Häagen-Dazs® flavors and samples them.  Does this have anything to do with Chinese New Year?  Nope!  But, I can get behind any holiday celebrated with ice cream.  I've had the pleasure of tasting/delighting in MANY Häagen-Dazs® flavors and still remember how fun it was to try the Green Tea ice cream at the Häagen-Dazs® in Japan (at the time, it was harder to find green tea ice cream here so it was a major novelty).
While I adore so many Häagen-Dazs® flavors (throughout my childhood, we regularly had a pint of Vanilla Swiss almond in our freezer – I still love it!), I wanted to feature one of their "five" flavors; these are the Häagen-Dazs® flavors that only have five ingredients.  The vanilla bean ice cream that I used contains only skim milk, cream, sugar, egg yolks, and vanilla.  I appreciate its simplicity and deliciousness.
Coming Soon
Look for a cupcake version of the limoncello float soon!