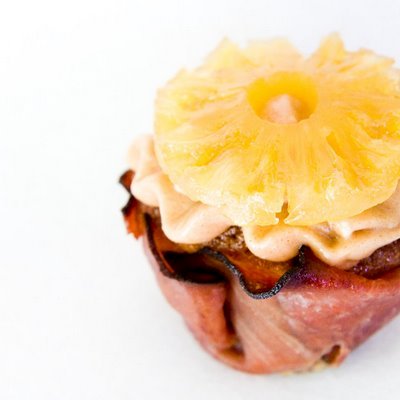 As far as I know, this is the first cupcake recipe baked in ham ever developed. I baked a honey cake inside of a piece of ham to recreate a flavor of honeyed ham. With so many cupcakes out there now featuring bacon (see my beer cupcakes with bacon cheddar frosting, French Toast bacon cupcakes from The Busty Baker, and Cakespy's ode to bacon cupcakes as evidence), I figured, "Why not salute a different part of the pig?"!
What surprised people the most about the cupcakes in ham was that the ham flavor was not strong – some even said they couldn't taste it. The ham acts as an edible, environmentally friendly (depending on where your ham comes from) cupcake liner. If anything, it adds a salty flavor to each bite, which gives a zen sweet and salty effect.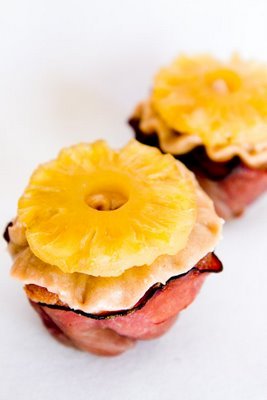 The best cupcake bites are the ones with all of the components – pineapple, frosting, ham, and cake. So, don't be shy; primally tear through both the ham and pineapple to achieve cupcake nirvana.

Honey Cupcake Baked in Ham Recipe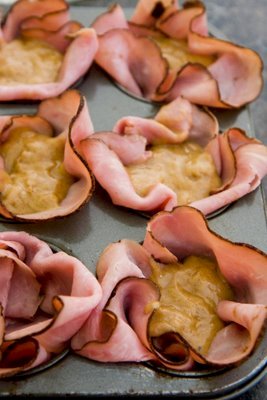 Update 12/14/11: You can't go wrong with the honey cake recipe in this post, but I'd recommend my latest honey cake recipe (it's found at the bottom of the linked post). It's my new favorite!
I got the recipe for the honey cake by modifying a honey cake recipe that I found on Smitten Kitchen. Deb of Smitten Kitchen got the recipe from the book A Treasury of Jewish Holiday Baking by Marcy Goldman. I'm sure Marcy would never have envisioned her holiday honey cake being bastardized into these ham-cradled treats, but once you create something, it's out there for people to do with as they please.
Honey Cupcakes Baked in Ham
I baked a honey cake inside of a piece of ham to recreate a flavor of honeyed ham.
Ingredients
1 3/4

cups

all-purpose flour

1 1/2

teaspoons

baking powder

1/2

teaspoon

baking soda

2

teaspoons

ground cinnamon

1/4

teaspoon

ground cloves

1/4

teaspoon

ground allspice

1/2

cup

vegetable oil

1/2

cup

honey

3/4

cup

sugar

1/4

cup

brown sugar

2

large eggs

room temperature

1/2

teaspoon

vanilla extract

1/2

cup

pineapple juice

1/2

cup

whiskey

17-20

thinly sliced pieces of ham

I used Black Forest ham, which has those nice looking black edges.
Instructions
In a large bowl, whisk together the flour, baking powder, baking soda, cinnamon, cloves, and allspice.

Add oil, honey, sugar, brown sugar, eggs, vanilla, juice, and whiskey. If you use the same measuring cup and you measure your oil before the honey, it will be easier to get all of the honey out of the cup.

Using a strong wire whisk or in an electric mixer on slow speed, stir together to make a thick, well-blended batter, making sure that no ingredients are stuck to the bottom.

Place one slice of ham in each well of the cupcake tin. Try to make sure that the part on the bottom and sides of the pan has no holes in it. I found that most of the slices of ham I bought had holes, so I just ensured that the holes were positioned toward the top of the cupcake tin.

Spoon batter into the ham, as shown in the photo above.

Bake at 350 F for 30 minutes or until a toothpick comes out clean. If you put this recipe into a normal cupcake liner sans ham, it will bake in about 20 minutes.
Notes
Top these cupcakes with cinnamon cream cheese frosting and candied pineapple. See the bottom of this post for more information.
Nutrition
Nutrition Facts
Honey Cupcakes Baked in Ham
Amount Per Serving
Calories 235
Calories from Fat 81
% Daily Value*
Fat 9g14%
Cholesterol 31mg10%
Sodium 318mg13%
Potassium 131mg4%
Carbohydrates 26g9%
Protein 6g12%
Vitamin A 25IU1%
Vitamin C 0.7mg1%
Calcium 24mg2%
Iron 0.9mg5%
* Percent Daily Values are based on a 2000 calorie diet.
A Few Pictures of The Cupcakes Just Out of the Oven
I loved how nicely the ham crisped up. I wasn't sure how well it would support the cake, but it worked splendidly.
Each cupcake had its own personality:
The Cinnamon Cream Cheese Frosting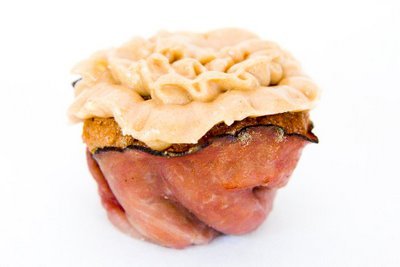 I topped the cupcakes with cinnamon cream cheese frosting. I've made this frosting recipe many times. It's a keeper! These cupcakes would also work well with a brown sugar penuche frosting.
The Topper
Of course, I topped my cupcakes with candied pineapple. Rather than just sitting on top of the cupcake, when eaten the next day, the flavor from the candied pineapple seeped into the whole cupcake and pulled it all together!
Credit
My idea of baking something in ham was not original. I got the idea for the crispy ham shells from my Taste and Create partner this month, Min at The Bad Girl's Kitchen. Min made baked eggs and mushrooms in ham crisps. When I saw the ham crisps that looked exactly like cupcake liners, I just about squealed with joy!