Smooth, rich, indulgent chocolate ganache is always a smart choice for a sophisticated cupcake.  Imagine, if you will, making that chocolate ganache using not only your favorite dark chocolate, but also your favorite soft cheese.  What you end up with is a magical ganache that has a complexity that you won't soon forget.  You'll find that the bowl of ganache will have a magnetic pull on you.  You'll resist putting it into the sink because you'll always be able to find just one more lick of the chocolate – and wouldn't it be a shame to wash even the smallest taste down the drain?


Which Soft Cheese Should You Use?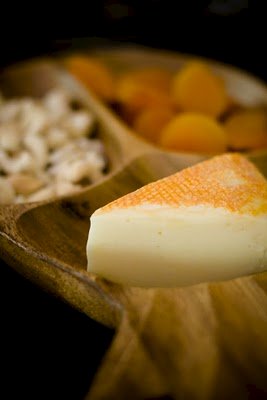 Really, any soft cheese would work – think Brie and Camembert. Pick something that doesn't get all stringy when it heats up.  You want a cheese that has a description of "like butter".  I used a less common (for the United States) cheese called Chaumes. I would never have even heard of this cheese were it not for the free sample that I received from Isle de France.  And – let me tell you – this is one weird cheese.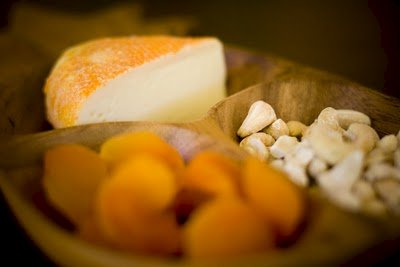 I could mince my words, but to give you a fair picture, I must share that Chaumes (at least our very ripe sample of it) smells like fart – not the kind that clears a room, the subtle kind that leaves you looking around wondering who did it.  I almost didn't eat it.  Why eat something that smells like a bodily function?  Because it tastes delectable – like a gourmet creamy munster cheese.  Seriously, people – this nasty smelling cheese tasted so good that I had trouble saving it to use in the ganache.  I felt like a mouse wanting to nibble and nibble and nibble. The only other time that I have encountered something that smelled so bad and tasted so good was my Thailand encounter with the stinky fruit, durian.  Durian's stench is so obtrusive that it's banned from many public places. However, it is refreshing and sweet to eat.
While I loved the Chaumes in my ganache, some of my tasters were too scared off by the smell to approach the cupcakes.  For a timid group, I'd suggest starting with a tamer cheese.
Cheesy Chocolate Ganache Recipe
Chocolate Ganache With the Magic of Cheese
Imagine, if you will, making chocolate ganache using not only your favorite dark chocolate, but also your favorite soft cheese.
Ingredients
3

oz

dark chocolate

loosely chopped

2

oz

soft cheese

cubed

1/4

C

sugar

2

oz

heavy whipping cream
Instructions
Melt the dark chocolate in a small saucepan on very low heat or in a double boiler (a double boiler reduces the risk of the chocolate burning).

Add the cheese and mix continuously until it is melted and integrated.

Mix in the sugar.

Remove from heat and quickly mix in the heavy whipping cream.
Nutrition
Nutrition Facts
Chocolate Ganache With the Magic of Cheese
Amount Per Serving
Calories 90
Calories from Fat 54
% Daily Value*
Fat 6g9%
Cholesterol 11mg4%
Sodium 18mg1%
Potassium 60mg2%
Carbohydrates 7g2%
Vitamin A 135IU3%
Calcium 13mg1%
Iron 0.9mg5%
* Percent Daily Values are based on a 2000 calorie diet.
Psssst… the cupcake recipe for the cupcake at the top of this post is coming soon.