Pound Cake Cupcakes
Disclosure: I may earn a commission from purchases you make through affiliate links in this post at no additional cost to you.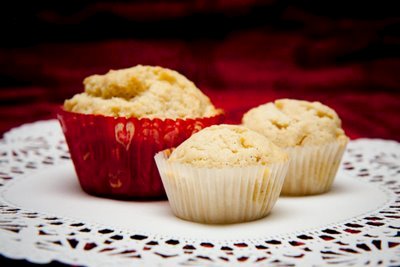 Pound cake cupcakes, as you might expect, are rich and dense – but, most importantly, they are versatile. Like their full-sized cousins, pound cake cupcakes can be served with whatever topping your creative mind can dream up. Just in case your mind is at a loss, I'll be giving you two Valentine's Day-appropriate pound cake frosting ideas this week. One is classically beautiful and one is a twist on a typical chocolate ganache. Stay tuned.
Pound Cake Cupcake Recipe
The pound cake recipe that I used is from The Art and Soul of Baking by Cindy Mushet. I found the recipe on Robin's blog, Caviar and Codfish. Robin had such great things to say about it, but my favorite line was, "I'll surely make it again. Every time I need a hug." Virtual hugs to Robin for sharing the recipe!
The pound cake recipe is officially called double-vanilla pound cake. In my reprinting below, I will provide you with options to punch up the vanilla flavor even more or take it down some, to your taste.
Pound Cake Cupcakes
Like their full-sized cousins, pound cake cupcakes can be served with whatever topping your creative mind can dream up.
Servings
12
regular cupcakes or 24 mini cupcakes
Ingredients
3/4

cup

sugar

If you have some vanilla sugar on hand, this would be a good time to use it.

1

vanilla bean

1 1/2

sticks

unsalted butter

6 ounces, softened

3

large eggs

room temperature

1

tablespoon

pure vanilla extract

You could use vanilla bean paste here instead. If you use vanilla bean paste, you could skip the addition of the vanilla bean.

2

cups

sifted cake flour

7 ounces

1/2

teaspoon

baking powder

1/4

teaspoon

salt

1/3

cup

sour cream

3 ounces, room temperature
Instructions
Place the sugar in the bowl of a stand mixer.

Use a paring knife to split the vanilla bean lengthwise, then turn the knife over and use the dull edge to scrape the seeds into the sugar. (Save the pod for another use - like making vanilla sugar.)

Blend on low speed until the seeds are evenly dispersed.

Add the butter and beat on medium-high until the mixture is very light—almost white in color, 4 to 5 minutes.

Beat the eggs with the vanilla in a small bowl.

With the mixer running on medium speed, add the eggs to the butter mixture about 1 tablespoon at a time, allowing each addition to completely blend in before adding the next.

Sift the cake flour, baking powder, and salt into a medium bowl and whisk together.

With the mixer on the lowest speed, alternate between adding the flour mixture and sour cream, ending with the flour mixture.

Fill cupcake liners 3/4 full.

Bake at 350 F. For mini cupcakes, bake for 12 min. For regular cupcakes, bake for 20 minutes.
Nutrition
Calories:
257
kcal
|
Carbohydrates:
28
g
|
Protein:
4
g
|
Fat:
14
g
|
Saturated Fat:
8
g
|
Cholesterol:
74
mg
|
Sodium:
71
mg
|
Potassium:
65
mg
|
Sugar:
12
g
|
Vitamin A:
450
IU
|
Calcium:
27
mg
|
Iron:
0.4
mg