You can make white chocolate from scratch – at home, in your microwave, with no special tools (not even a candy thermometer).
You may think that making candy is completely out of your league. I assure you that making white chocolate is something you can definitely do. It will look like the white chocolate in my picture, or fancier if you use a different mold.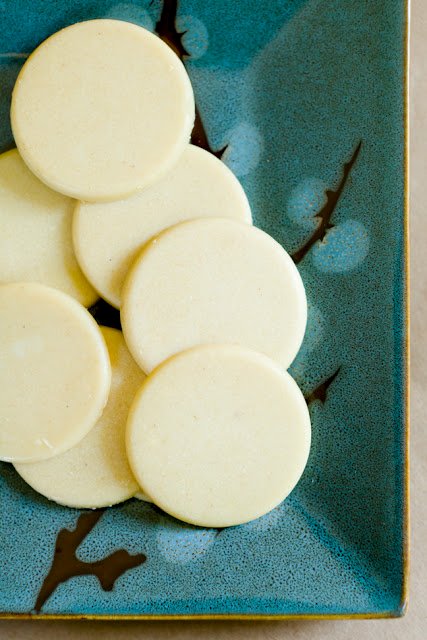 Making white chocolate takes under five minutes of your time and, even if you don't typically enjoy it, this homemade version might change your mind.
Most store-bought white chocolate is so sweet that the sugar and added vanilla flavor is pretty much all you taste. I'm not a fan. When you make it yourself, the subtle chocolate flavor from the cocoa butter (the main ingredient in white chocolate) will come through along with whatever flavor(s) you choose to add.
My homemade version shown above is made with ground ginger and orange extract for a more sophisticated, summery feel. You could use lemon or cinnamon or chili or whatever combination your heart desires! You can also easily make chocolate ganache using the flavored white chocolate (see the notes in that post related to white chocolate) and those flavors will come through in any confections you make with it.
Cocoa Butter – The Key Ingredient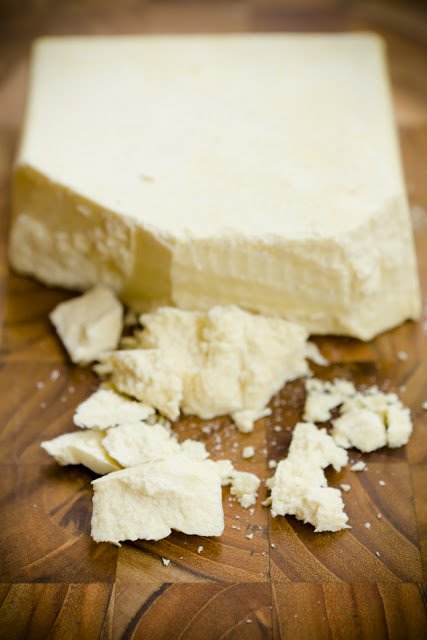 To make white chocolate, you'll need cocoa butter.
Cocoa butter is the edible vegetable fat from the cocoa bean. If you've ever had really old chocolate sitting around your house and noticed that it started to get some white looking stuff on it, you've likely seen cocoa butter. In most instances, the white stuff is the cocoa butter separating from the chocolate.
Cocoa butter comes in either a solid block that resembles a giant bar of soap or smaller broken up chunks. You may be able to find cocoa butter in your local baking supply store or health food store, but if you can't, you can always buy cocoa butter online. Some cocoa butter is sold specifically for use in cosmetics and may have ingredients mixed into it that aren't meant to be eaten, so be sure to check the package before buying.
I bought my cocoa butter from Navitas and I was very happy with it. You will need 16 ounces (two 8 ounce packages) to make 12 white chocolate discs, 100 mini cocoa butter cookies, and 12 cocoa butter cupcakes.
How To Make White Chocolate

Below, you'll find my recipe for orange ginger white chocolate discs. I based it on the white chocolate recipe from Hannah at BitterSweet.
I also include tips for creating your own flavors or for making a basic vanilla version.
UPDATE 12/1/15: Many readers have had problems with this recipe. Although it worked for me, it is definitely not guaranteed to work. Try it at your own risk. Troubleshooting this recipe is on my long to-do list and if I can figure out where the problem is, I will give another update and change the recipe where needed.
How to Make White Chocolate in Less Than 5 Minutes
Homemade customized white chocolate is surprisingly quick and easy to make.
Servings
12
white chocolate discs
Ingredients
2

ounces

cocoa butter

edible

1/3

cup

powdered sugar

1/2

teaspoon

powdered milk

or soy milk powder for a vegan version

1/2

teaspoon

vanilla extract

1/2

teaspoon

orange extract

3/4

teaspoon

ground ginger

pinch

salt

silicone molds

To make these white chocolate discs, I used a silicone cupcake tin; you can use any silicone mold that you like.
Instructions
Place cocoa butter in a microwave-safe bowl and melt in the microwave. If you are used to melting butter in the microwave, you'll be surprised at how much longer this process takes for cocoa butter. Set the microwave for two minutes and then add a minute at a time until the cocoa butter is completely liquefied.

Stir in the powdered sugar and the milk powder. Make sure that all of the sugar is completely dissolved in the cocoa butter.

Stir in the remaining ingredients.

Pour or spoon the mixture into your molds. If you are using a silicone cupcake tin, use approximately one tablespoon of the cocoa butter mixture per circle.

Refrigerate until cool.

Pop the white chocolates out of the molds and enjoy on the spot, use to decorate cupcakes or cakes, break into pieces and add to cookies, or use in any other way that you can dream up.
Notes
You can replace this orange extract with any flavored extract that you like. If you want a more traditional vanilla-flavored white chocolate, use more vanilla extract for a total of one teaspoon vanilla extract.
Instead of the ginger in the recipe, tou can use any spices that you like - or leave out the spices entirely for a more traditional white chocolate.
Store discs in an airtight container either at room temperature or in the freezer.
Nutrition
Nutrition Facts
How to Make White Chocolate in Less Than 5 Minutes
Amount Per Serving
Calories 49
Calories from Fat 36
% Daily Value*
Fat 4g6%
Cholesterol 10mg3%
Sodium 35mg1%
Carbohydrates 4g1%
Protein 1g2%
Vitamin A 118IU2%
Calcium 3mg0%
Iron 1mg6%
* Percent Daily Values are based on a 2000 calorie diet.