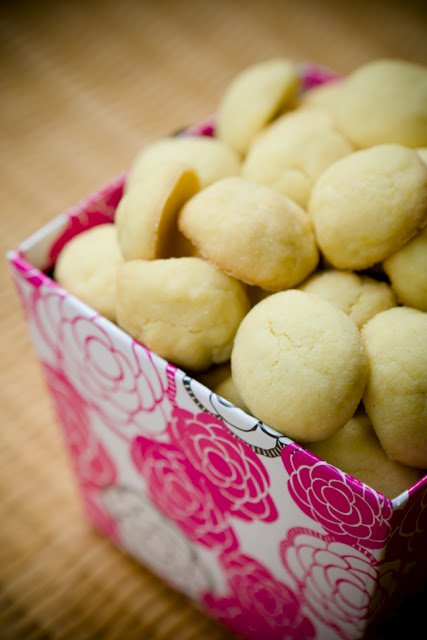 Close your eyes and you'll think you're eating chocolate chip cookies.   Open them, and you'll notice that there are no chocolate chips.  The cookie doesn't show any signs of having chocolate – no cocoa powder, no chocolate chunks, nibs, or even melted chocolate topping.  The secret is that you're eating a cocoa butter cookie – a cookie where the butter has been replaced one for one with cocoa butter!

Cocoa butter is way underutilized in baking.  My extensive Google search revealed only a handful of cocoa butter-based baked goods.  Sure, cocoa butter is pricey (the cocoa butter needed for my cocoa butter cookie recipe costs about $12), but you don't have to bake with cocoa butter every day.  Try it for a special treat or any time you want to add pizazz to a classic recipe.
Baking with Cocoa Butter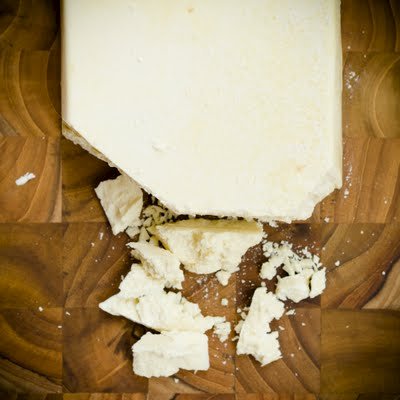 Before sharing my cocoa butter cookie recipe, here are some basic tips on baking with cocoa butter that you can use if you want to try cocoa butter in one of your favorite recipes:
Replace the butter in your recipe with cocoa butter (see my post on homemade white chocolate for more about what kind of cocoa butter to purchase and where to find it).
Melt the cocoa butter so that you can mix it into the batter.
Remove or decrease the amounts of any extracts or spices (if you want to make sure the the cocoa butter flavor doesn't get overpowered), or go all-out with the chocolate flavor like this cocoa butter chocolate chunk brownie recipe from CuiZoo.
Add a touch of milk to the recipe if the batter seems too thick.
If making cookies, form the cookies quickly.  As the cocoa butter returns to room temperature, it will harden and make the batter difficult to work with.  To compensate for this, keep the batter in the mixing bowl and periodically mix it at high speed to warm it up.
Cocoa Butter Cookie Recipe 
I used a basic butter cookie recipe from AllRecipes as a starting point for my cocoa butter cookies. The recipe uses powdered sugar instead of granulated sugar, giving the cookies the texture of Mexican wedding cookies.
If you've tried this recipe, please RATE THE RECIPE and leave a comment below!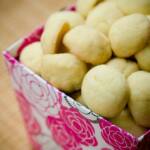 Cocoa Butter Cookies – A Twist on a Classic
Servings
100
bite-sized cookies
Ingredients
2 1/2

cups

all-purpose flour

pinch

of salt

8

oz

cocoa butter

melted and cooled until it is still warm but not scorching hot

1

cup

powdered sugar

2

egg yolks

2

tablespoons

milk
Instructions
Preheat oven to 400 F.

In a small bowl, mix flour and salt. Set aside.

In a medium-sized bowl, mix cocoa butter and sugar.

Mix in egg yolks and milk.

Gradually mix in dry ingredients until just combined.

Roll cookies into quarter-sized balls and place them on ungreased cookie sheets, leaving 3/4" between cookies. If you find that the batter becomes difficult to work with in later batches, periodically mix it at high speed to warm it up.

Bake for about 7 minutes. The cookies will still be soft when you remove them from the oven, but will harden as they cool.
Coming Soon
Cocoa butter cupcakes are coming soon!