Chocolate ganache is incredibly versatile. By combining just two ingredients, chocolate and heavy whipping cream, you can create cake filling, poured glaze, a spread or piped frosting, a decorative drizzle, or the base for truffles. How do two ingredients come together to make so many different things? The key is knowing the percentage of each to use and what temperature the mixture should be for your application.
I've written about chocolate ganache before, but never fully explored it. Below, you'll find the beginning of a guide written for Allrecipes where I share the ins and outs of ganache. I used nearly $50 of chocolate and a half gallon of heavy whipping cream to learn the lessons that I am sharing here – so read up and save yourself some time and money.
The Basics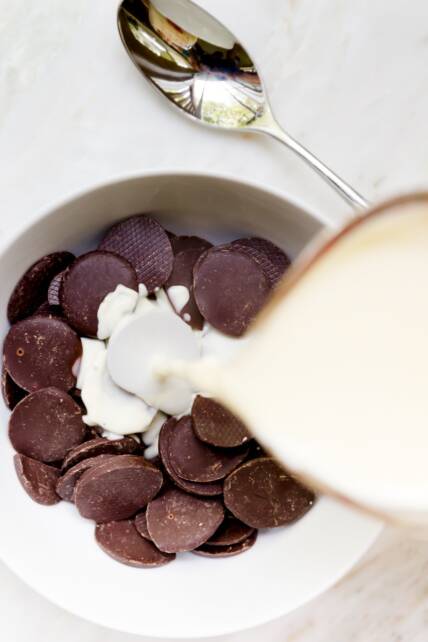 The Ingredients
You'll need heavy whipping cream and chocolate to make ganache. Because there are only two ingredients in ganache, the quality of the chocolate really matters. Choose the best semisweet, bittersweet, or dark chocolate you can get your hands on. I suggest picking a chocolate that you love to eat all on its own (try to not eat it all before it goes into the ganache). If the chocolate isn't already chips or thin discs, chop it finely so it will melt easily.
The Procedure
No matter what ratio of chocolate to cream you are using, the basic procedure for making ganache is consistent across most recipes:
Bring heavy whipping cream just to boil either in the microwave or on the stove (I prefer the microwave).
Pour it over a bowl of small pieces of chocolate.
Let the cream sit on the chocolate for a minute.
Stir the ganache until the cream and the chocolate are fully combined.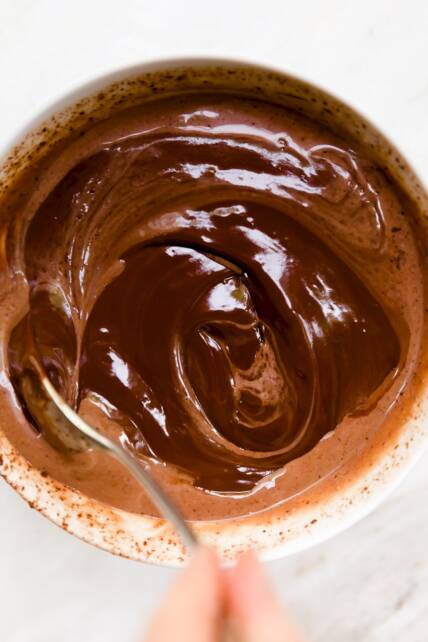 Chocolate to Cream Ratio
As I mentioned above, the ratio of chocolate to cream is very important. I present three options below, but you can use these as loose guidelines and experiment to find a ratio that works best for you.
Equal Parts Chocolate and Cream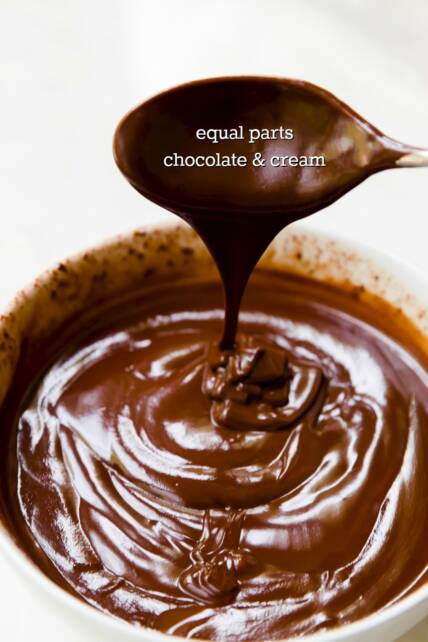 Want more? Head to Allrecipes to read the rest of this article, including more about ratios, using ganache as frosting, adding other flavors, milk and white chocolate ganache, storage, and recipe ideas.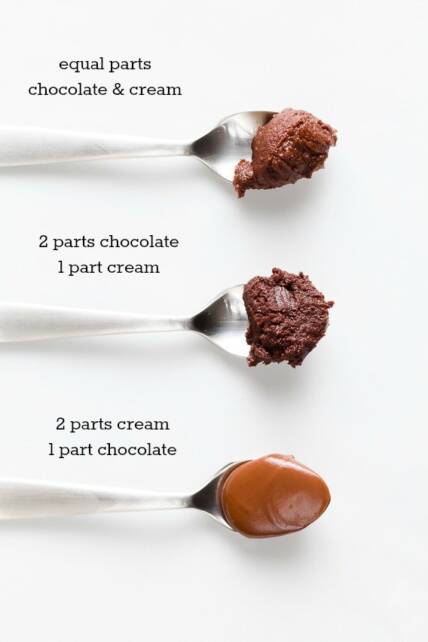 This is a sponsored conversation written by me on behalf of Allrecipes. The opinions and text are all mine.