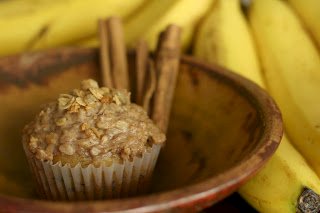 These banana cupcakes are quick, easy and delicious. Better yet, the banana cupcakes came from Grandma's recipe book. I love making new twists on family favorites.
The Banana Cupcake Background
My Grandma did not at first understand my husband's love for bananas. On our premier trip to Florida (home of all Jewish grandparents, at least those originally from New York), my grandparents took my husband (boyfriend at the time) and me out for a typically early Floridian dinner. We returned to the condo and my husband headed to the kitchen for a banana. Had he reached for a piece of golden glow cake or a scoop of ice cream, the world order might have been maintained. However, "Who eats a banana after dinner?" Surely my husband must be a strange bird with some kind of eating problem.
Grandma sent Grandpa out to the store the next day to buy more bananas. My husband was sure to eat them out of house and home at least in terms of bananas.
During future visits, my grandparents learned to prepare in advance, keeping plenty of bananas on hand to avoid any big scares (like an empty banana bowl).
I even heard Grandma mention to my husband that eating bananas must be what keeps him so slim. "Everyone should eat more bananas." I guess she's come to terms with his second love, 94011 (the PLU code for organic bananas). Phew.
As even further evidence of Grandma's lack of concern about over-consumption of bananas, she sent me her favorite banana cake recipe and encouraged me to give it a go. I think she also liked the idea of the fame of being mentioned in my blog. Who wouldn't, really?
The nice thing about all of Grandma's recipes is that they are easy. I needed an easy recipe this week. Last week, I logged 62 hours at work. I also had a brunch to go to on Sunday and banana sounded like a good breakfast cupcake flavor.
Grandma's banana cupcakes didn't have an icing, so that part was left up to me. I opted for a cream cheese icing with vanilla extract, cinnamon, and granola. Vanilla, cinnamon, and granola is a flavor combination that I have a adored ever since high school when I discovered it at Angora's, a frozen yogurt shop in Boston.
These were some of the easiest and best cupcakes I have made. I loved them! Unfortunately, I only got to eat two because I didn't have room to take any on the plane with me for this week's work trip. I guess I'll have to see if I can find some good cupcakes here in Idaho Falls. Any tips?
The Banana Cupcake Recipe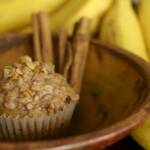 Easy Banana Cupcakes with Vanilla Cinnamon Granola Cream Cheese Frosting: Another Recipe From Grandma
Ingredients
Cupcake Ingredients
1

STICK BUTTER

1

CUP

SUGAR

2

EGGS

1/2

CUP

SOUR CREAM

1

TSP

BAKING SODA

2

CUPS

SIFTED ALL PURPOSE FLOUR

I didn't even bother sifting and it was still light and fluffy

1

TSP

VANILLA

2

BANANAS
Vanilla Cinnamon Granola Frosting Ingredients
1 8

oz

package of cream cheese

Room temperature

1/4

cup

butter

Room temperature

4

C

powdered sugar

You can add slightly more or less to get the consistency and flavor you like.

2

t

vanilla

2

T

cinnamon

2

C

ground granola*
Instructions
Cupcake Instructions
CREAM BUTTER AND SUGAR

ADD EGGS

ADD SOUR CREAM,FLOUR, AND BAKING SODA

ADD VANILLA, ADD MASHED BANANAS

BAKE FOR 20 MINUTES AT 350
!Vanilla Cinnamon Granola Frosting Instructions
Mix the cream cheese and the butter until they are fully integrated. Mix in the vanilla and cinnamon. Add the powdered sugar a little bit at a time. Make sure it is fully mixed in, but do not over-mix. Fold in the granola.
Recipe Notes
*I didn't want huge pieces, but I still wanted a detectable texture. I used an organic maple granola I found at Whole Foods. If you wanted to take more time, you could try to make your own, as shown here.
Shameless Product Plug For Which I'm Not Getting Any Kickback
I can't talk about bananas without mentioning the banana guard. The banana guard is a product that protects your banana from transit damage. It looks suspiciously like a sex toy, but that is not its job. Pick one up as a stocking stuffer. Your bananas will thank you.