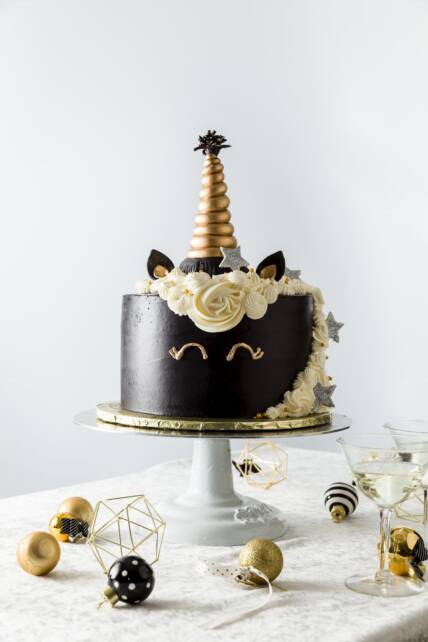 I had no idea what to expect when I showed up at pastry chef Lia Weber's house to film the making of her New Year's unicorn cake. She hadn't sent me any sketches, but I know how talented she is and I trusted that the cake was going to be incredible.
I still wasn't sure how the final cake was going to look as she covered it in buttercream and piped the lovely rosettes all over the top. But, when the unicorn horn finally got placed on top of the cake, I think Jonathan, Lia, and I all squeed with how cute and sophisticated it looked!  We decided that this unicorn is one classy lady!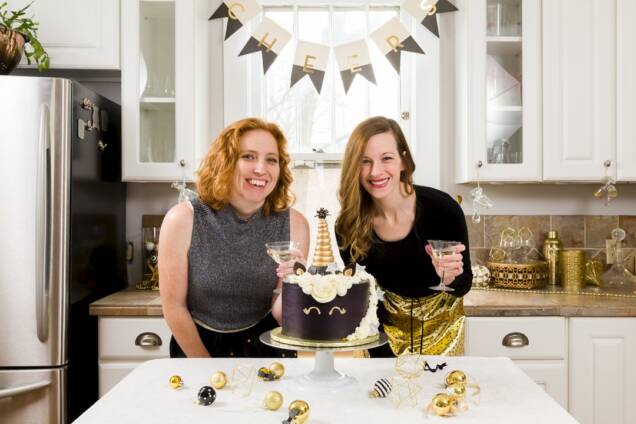 In the post below, I share Lia's instructions for decorating this amazing New Year's unicorn cake!
Unlike most of my posts, this post (like the Halloween witch unicorn cake Lia created) is geared specifically toward intermediate and advanced bakers. It doesn't cover how to bake the cake or how to acheive a smooth base coat of frosting. If you need help with those topics, I strongly recommend taking some classes on Craftsy or with Lia directly (if you happen to be in St. Louis).
The tutorial focuses on which colors and tools to use to get the unicorn look once you already have a frosted cake.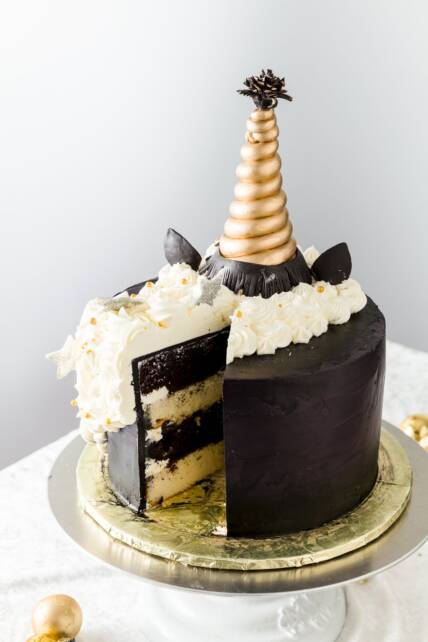 Begin with whatever cake you like (Lia made a vanilla and chocolate layer cake with chocolate ganache).
Frost the cake in super black buttercream. Buy more than you think you will need. It takes a lot of black to make the buttercream look truly black versus dark purple.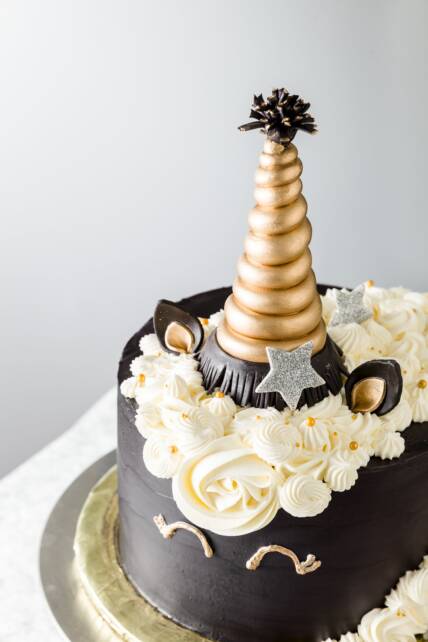 Pipe rosettes with your favorite vanilla buttercream using 1M and various other star tips such as #20, #32, and #18.
Pipe on eyes on with royal icing using a #3 tip and paint with gold luster dust.
To make the unicorn ears, roll out some white and black fondant. Cut two larger ears out of the black fondant, using a leaf cutter or large rose petal cutter. Then, using a smaller cutter and white fondant, use the same technique to cut two smaller ear shapes for the insides of the ears. Paint the smaller ears gold using vodka and gold luster dust. Place the smaller gold inner ear on top of the larger black ear. Use a dab of water underneath to glue. Pinch the ends together to form a crease and set in cupcake liners or a flower former to dry.
To make the unicorn horn, follow the instructions in Lia's Halloween unicorn cake post using white fondant painted gold using vodka and gold luster dust instead of the Halloween colors.
To make the pom pom on top of the horn:
Roll out black fondant.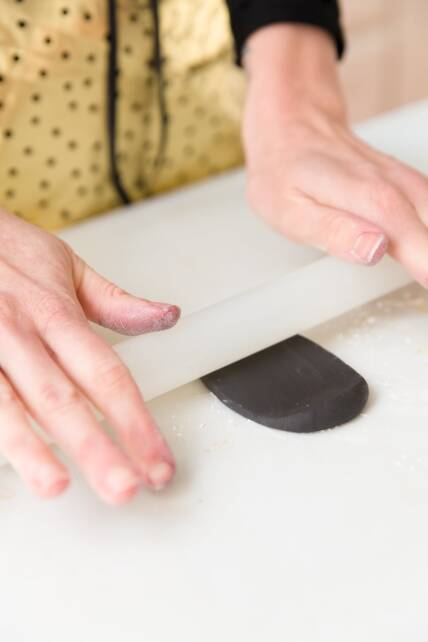 Cut out a circle and, using a pastry cutter, make slits about 1/2″ into the circle all the way around.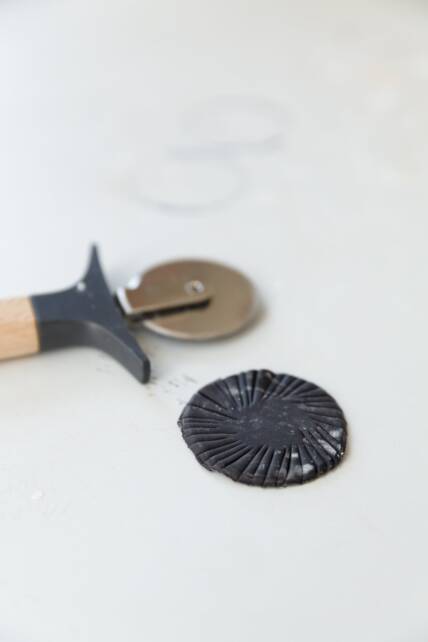 Pinch the bottom underneath the circle to form into a pom pom shape.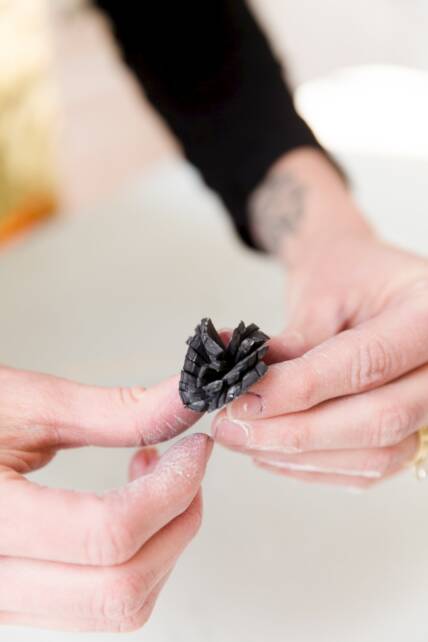 Insert a toothpick and let set standing up in a small bottle to dry. Paint the edges of the fringe gold with vodka and gold luster dust.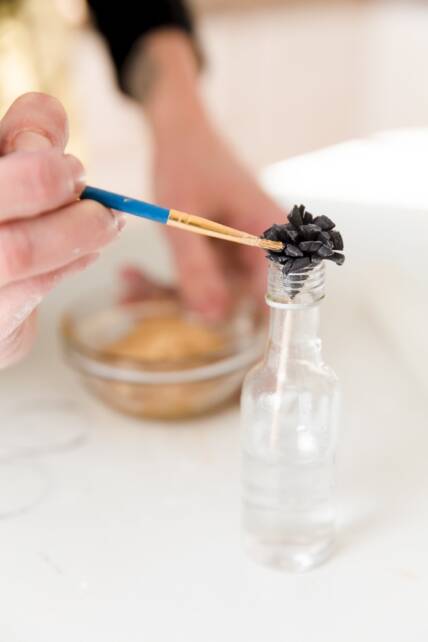 To make the fringe around the base of the hat:
Roll out a long piece of fondant about 1/2 inch wide.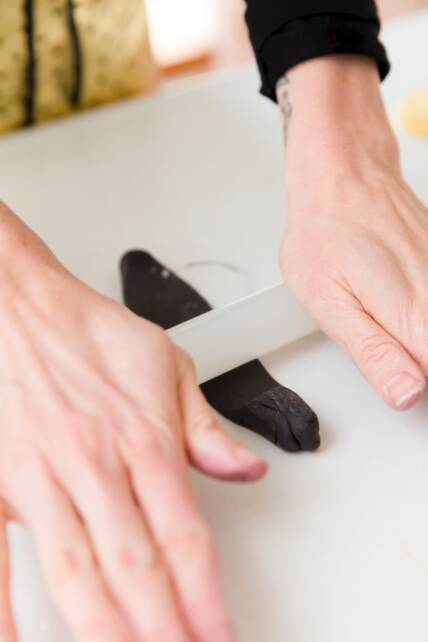 Cut slits, leaving a strip at the top.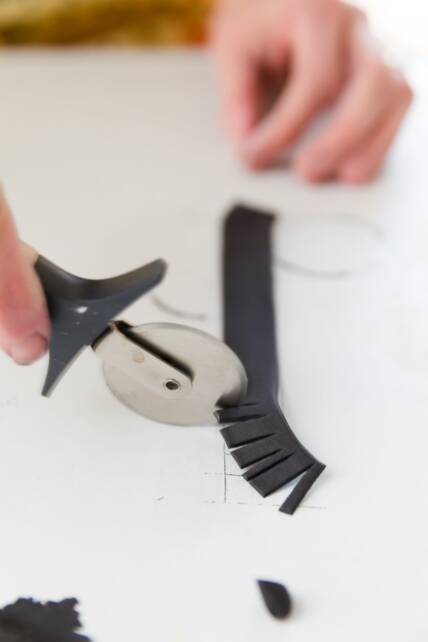 Wrap around the base of the unicorn horn/hat.
To make the stars:
Cut out stars from white fondant using a cookie cutter.
Paint with vodka and then shake silver disco dust on top. Let dry.
If you make this cake, post a photo of it on Instagram and tag @cupcakeproject and @madebylia so we can see it!!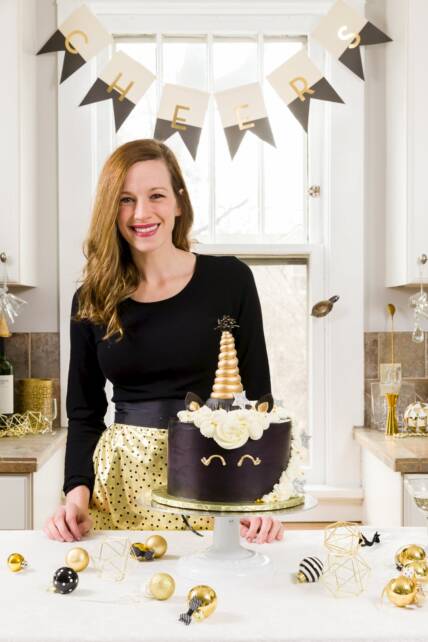 Lia Weber, Owner of MADE. BY LIA, creates custom-designed, from-scratch wedding cakes and specialty sweets in St. Louis, Missouri. She is an accomplished pastry chef, cake artist and winner of TLC's Next Great Baker, Season 4, with Buddy the Cake Boss. Lia is the Baking Ambassador for AB Mauri North America, an innovative baking & technology company. She runs her business out of their BakingHub located in the Cortex district in the Central West End. MADE. BY LIA has received The Knot best of 2017 and Wedding Wire's Couples Choice Award and is the recent winner of the Feast Magazine-Midwest Readers Choice Awards, "Pastry Chef of the Year, 2017." Lia's love for baking began in her mother's kitchen & she hopes to pass on the same passion to her daughter, Ella. Someday soon, Lia plans to start a YouTube channel teaching the 'at home baker' simple yet delicious from scratch recipes. Until then, stay up to date on the latest cake trends by following her on Instagram @madebylia, Facebook MADE. BY LIA, and on www.madebylia.com.