How to MakeHomemade Baileys Irish Cream
Published , Last updated by
Stef
Disclosure: As an Amazon Associate, I earn from qualifying purchases.
My homemade Baileys Irish Cream is inexpensive, so tasty, and so easy to make right in your own kitchen that you'll never want to buy it again. It only takes 10 minutes to mix up a batch.
You can't go wrong with it as a stand-alone drink, mixed into coffee, or mixed into a cocktail like a mudslide!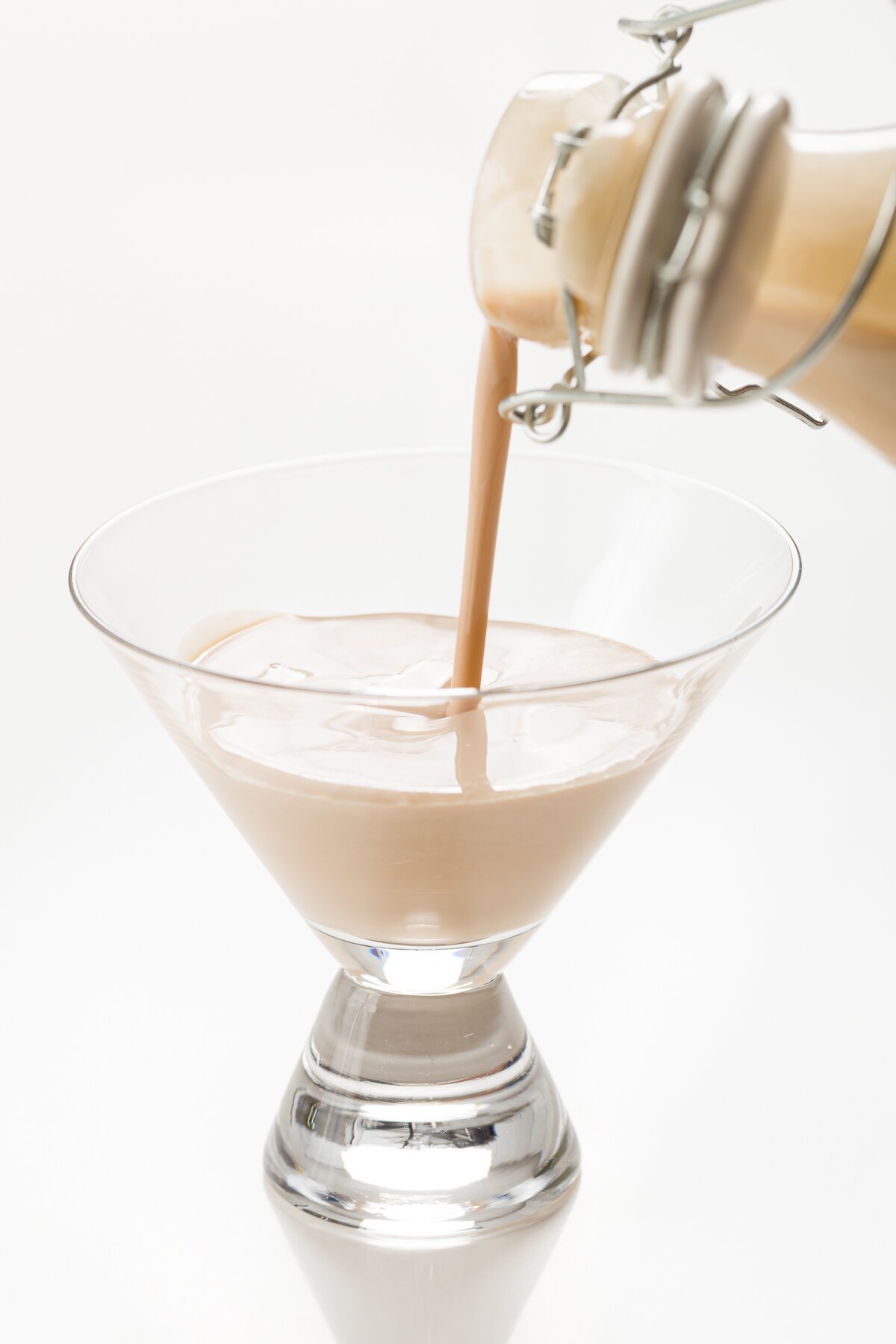 This has been one of the most popular recipes on my blog since the day I shared it. Read through the comments to see all the love it has gotten.
Ingredients and Equipment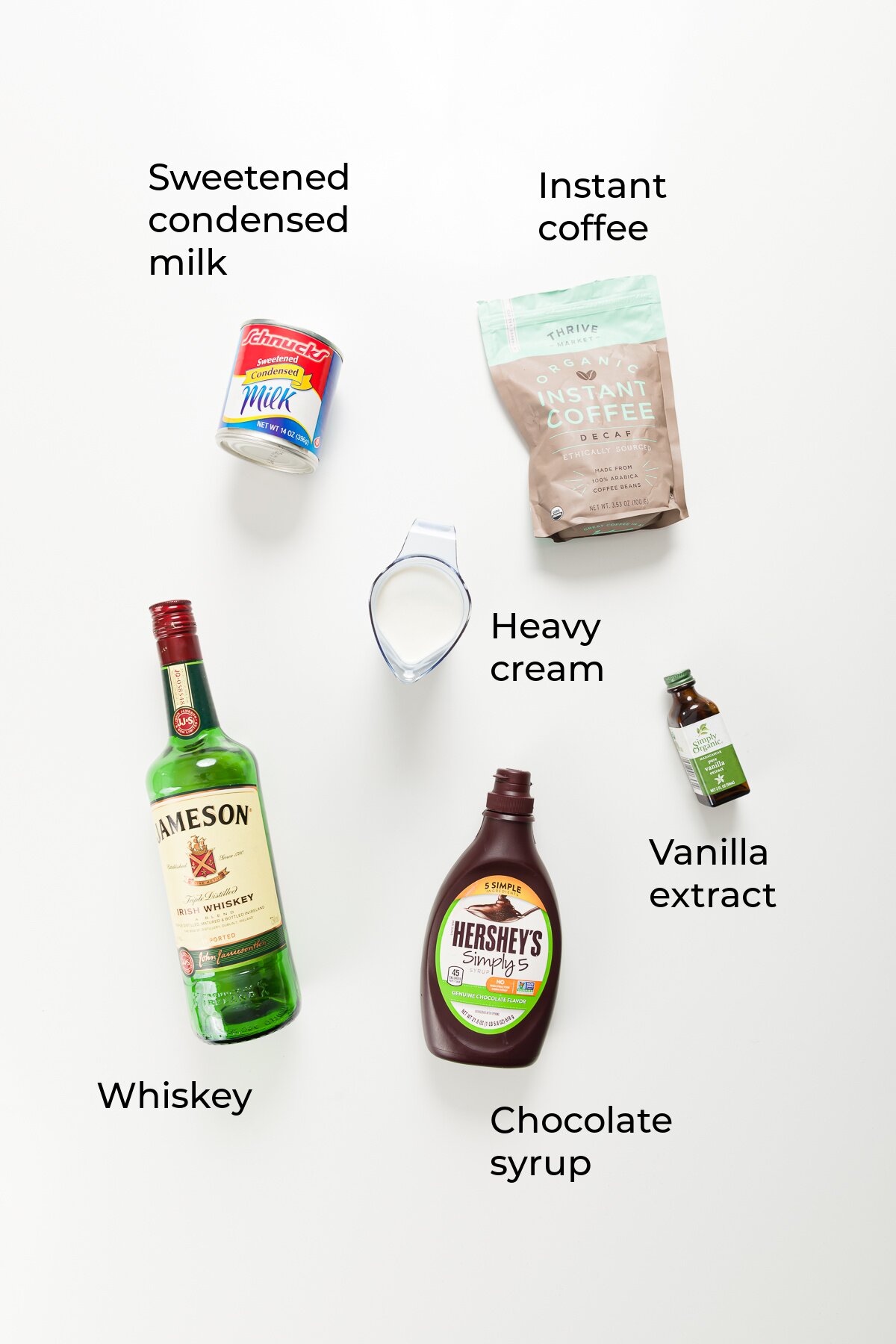 The real Baileys is a cream liqueur made from cocoa, cream, and Irish whiskey along with a secret blend of flavorings. My copycat version uses coffee in addition to the cocoa flavoring found in the original. Here are a few things to consider as you shop for the ingredients:
Whiskey – I like to use an Irish whiskey, but you can use any whiskey you have on hand. A lot of my readers wrote in to tell me that they use liquors other than Irish whiskey and liked it even more. Some other spirits to try are:

a light, blended Scotch like Chivas Regal or Cutty Sark – People say that it ends up tasting the same as when they used Jameson.

sweeter liquors like brandy – People like the mellow edge it gives the final product.

Chocolate syrup – Using a good chocolate syrup is important! I use an organic chocolate syrup [paid link] or Hershey's Simply 5 [paid link].
Instant coffee – This recipe also calls for instant coffee. To kick up the coffee flavor, choose an instant espresso [paid link].
Cream – I use heavy cream to make this. Light cream may help you avoid issues with clotting that some people have experienced, but I've never had problems.
Tip: I have heard from some of my loyal readers that the 1 2/3 cup (400 ml) of whiskey called for in my recipe is too much. If you prefer a drink that isn't so strong, then use less; there is no shame in liking the lighter version of something.
You'll also need a blender. While any blender will do the job, a Vitamix [paid link] is magical and useful for so many other kitchen tasks. I love ours – it can blend anything without even having to catch its breath.
How It's Made
A discussion forum on Chowhound got me interested in making Baileys for myself. The entire discussion is worth a read as it contains lots of information about the drink.
To make this drink, simply combine all ingredients and put them into your blender.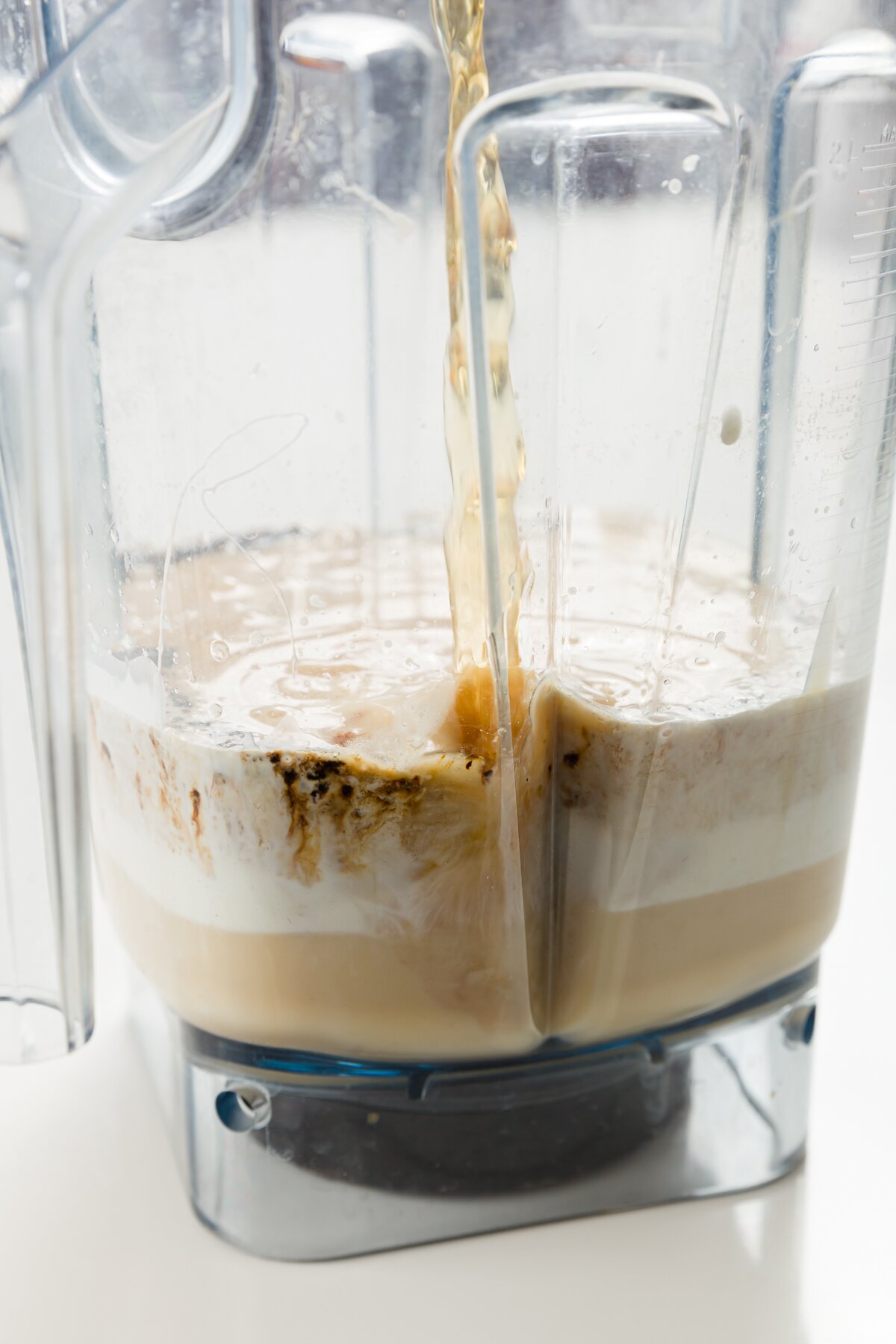 Blend on low speed for 30 seconds to combine everything.
Tip: Do not blend at high speed – this may introduce foaming and may cause coagulation! Slow and steady is the way to go.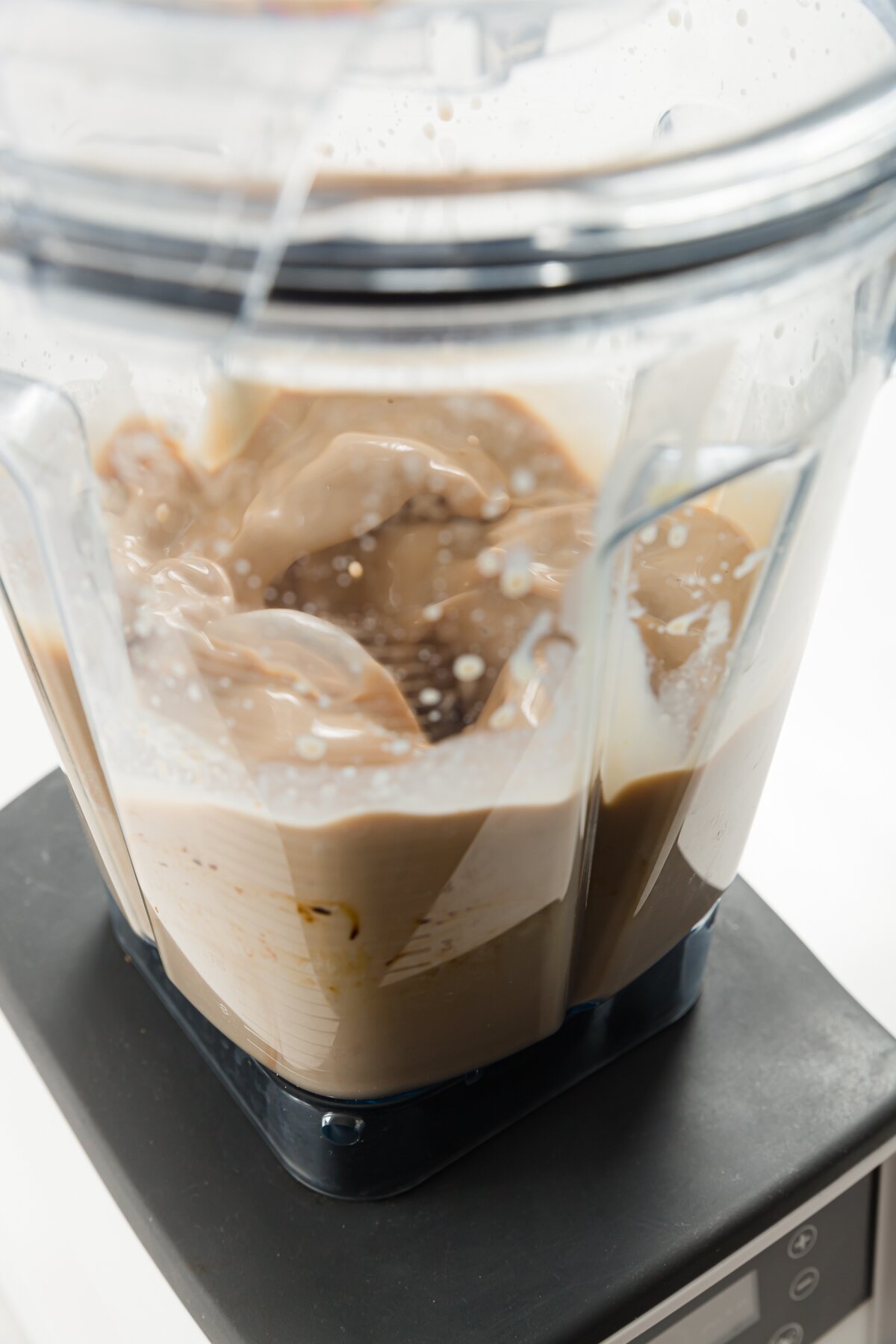 Bottle and refrigerate. Shake just before using!
Expert Tips and FAQs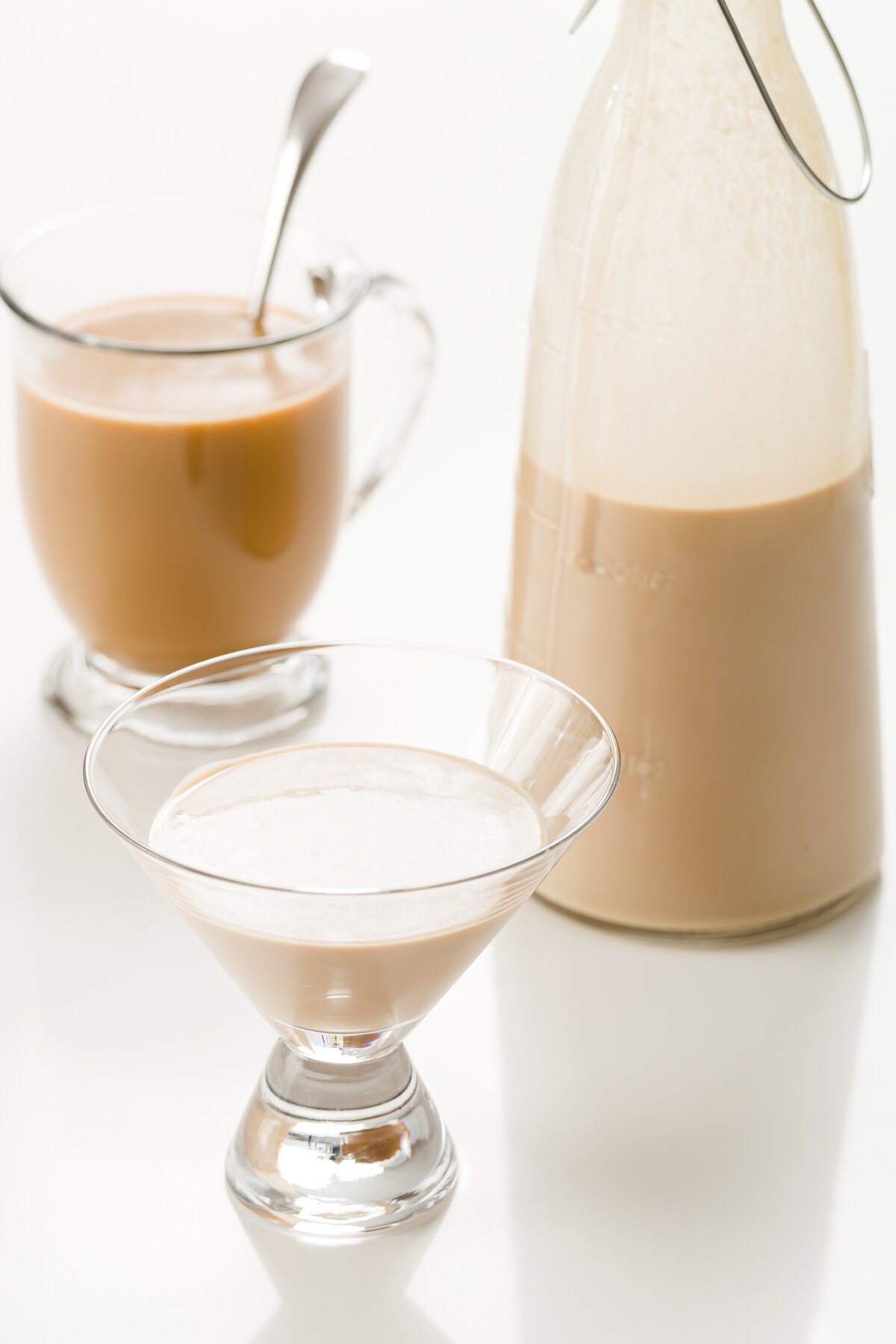 Variations
Use another extract, like almond or peppermint, in addition to or replacing the vanilla.
With all the flavors of chocolate, caramel, and cream already present, adding some mint (either peppermint extract or steeped mint leaves) will add a powerful refreshing note to the drink.
If you want less sharpness and more umami, try adding a pinch of malted milk powder.
If you are a fan of cajeta or horchata, throw in a bit of cinnamon to add warmth and spiciness.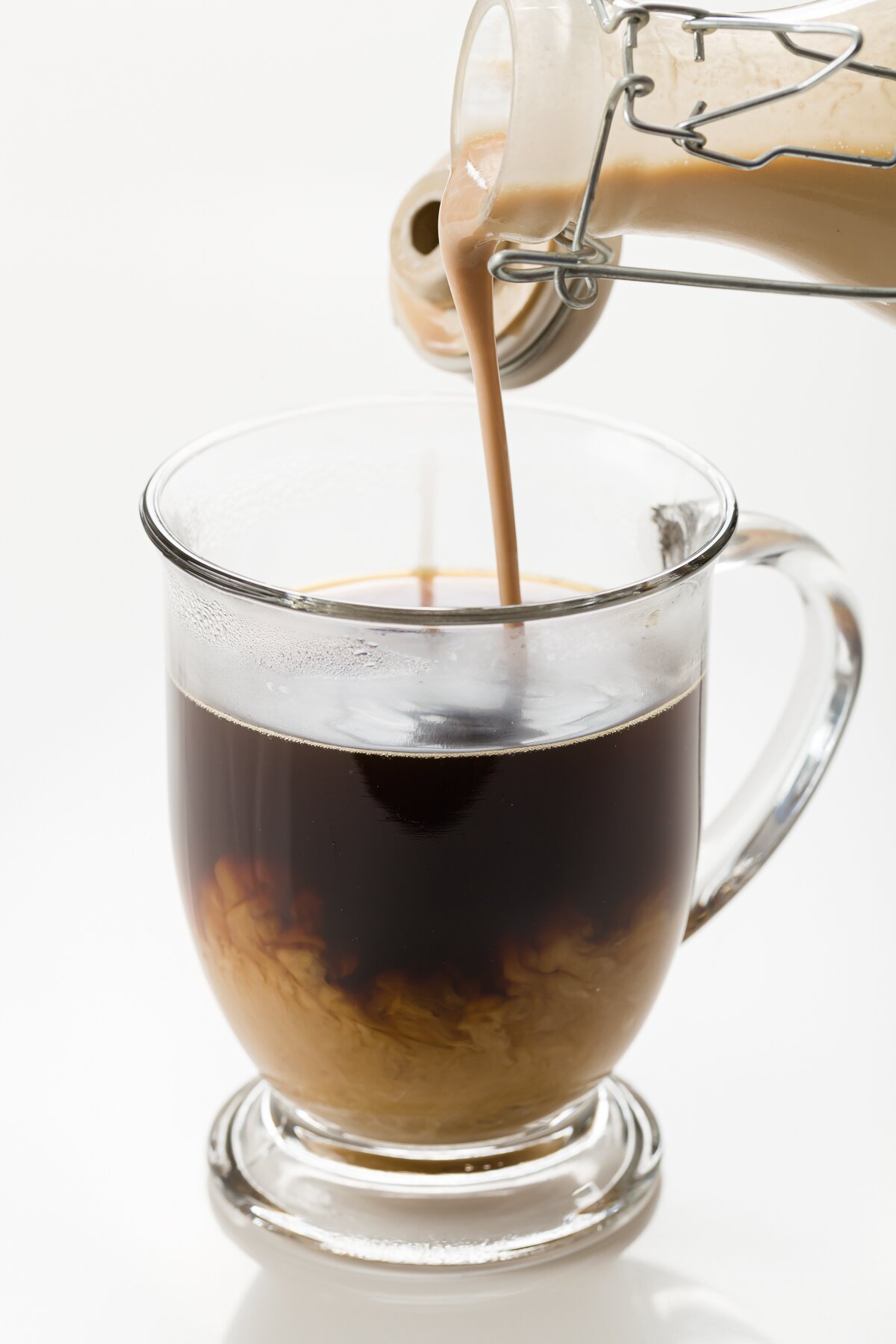 FAQs
Which whiskey should I use?
The original recipe is made with Irish whiskey, so start there if you want to make a version that's as close as possible to the classic flavor. I'm not convinced that the brand of Irish whiskey you buy has much of an effect on the overall flavor of the drink.

People pay more for fancier whiskeys because they have a lot of delicate, subtle flavors. But after you've dumped in as much sugar, chocolate, and cream as this recipe requires, you aren't going to taste those expensive flavors anyway.
Why did my homemade Baileys get all clumpy?
It's likely that you blended it at too high of a speed, which can cause coagulation. Next time, blend it on low speed until it's completely mixed.
Can I adapt this recipe to fit a non-dairy diet?
If your body can't process the lactose in real cream, or if you want to make this recipe dairy-free, you don't have to use milk products.

I have heard from many people who successfully use coconut milk, almond milk, or even non-dairy creamer instead of cream to give their homemade Baileys a pleasing, rich texture.

Substitute the sweetened condensed milk with dairy-free condensed milk, too.
How long does homemade Baileys last?
This is so yummy that it doesn't last long at all in my house. If you're into savoring it, I recommend keeping your bottle in the refrigerator and using it within a couple of months. Freezing it is not recommended as it can lead to the ingredients separating from each other and clogging the bottle.

I have noticed that after a bottle of homemade Baileys mellows in my refrigerator for a week or so, some of the alcohol's bite disappears. If you feel like your mixture is too strong, let it sit for a while and see if it's better.
What can I do with Baileys?
It's a perfect stand-alone drink, goes well mixed into coffee, and is absolutely essential when you make a mudslide.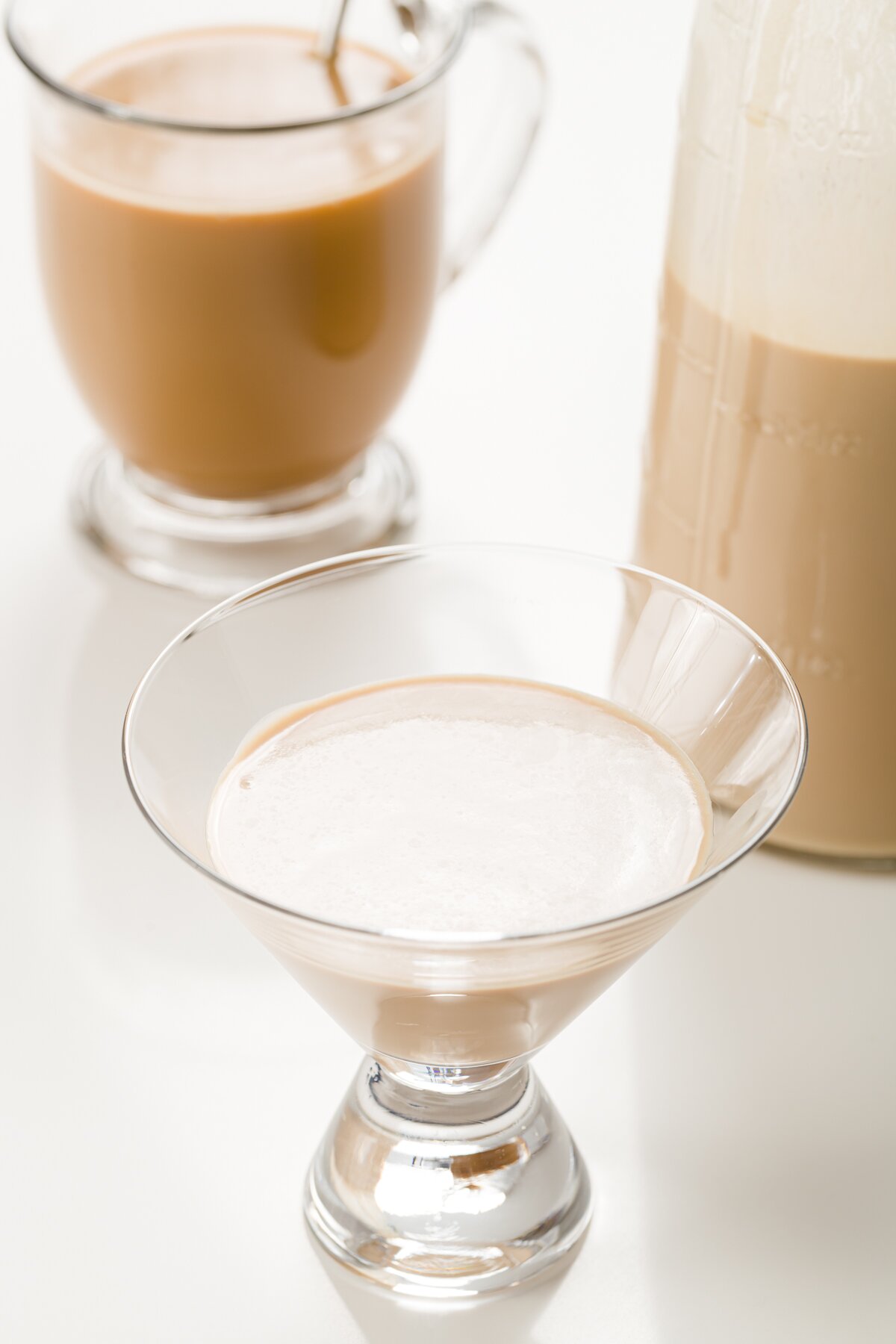 Related Recipes
Homemade Baileys Irish Cream
With a bottle of whiskey and some basic ingredients you probably already have in your cabinet, you can make the most amazingly tasty Irish cream you've ever had.
Ingredients
1

cup

heavy cream

14

ounces

sweetened condensed milk

1 2/3

cup

whiskey

I used Jameson Irish Whiskey.

1

teaspoon

instant coffee

You can also use leftover espresso, but keep in mind that you are adding extra water.

2

tablespoons

chocolate syrup

1

teaspoon

vanilla extract
Instructions
Combine all ingredients in a blender and set on low speed for 30 seconds. If you blend at too high a speed, you might wind up with coagulation or foaming.

Bottle in a tightly sealed container and refrigerate. Shake before using.

Will keep for up to 2 months.
Notes
Total time includes time to cool in the refrigerator.
Nutrition
Calories:
160
kcal
|
Carbohydrates:
13
g
|
Protein:
2
g
|
Fat:
6
g
|
Saturated Fat:
4
g
|
Cholesterol:
23
mg
|
Sodium:
31
mg
|
Potassium:
89
mg
|
Fiber:
1
g
|
Sugar:
12
g
|
Vitamin A:
228
IU
|
Vitamin C:
1
mg
|
Calcium:
64
mg
|
Iron:
1
mg
Stay Connected!
Join my mailing list - and receive a free eBook!