How to Make Hand Pies
Published , Last updated by
Stef
Disclosure: As an Amazon Associate, I earn from qualifying purchases.
A simple single-serving alternative to traditional pies, hand pies are made using pie dough and any pie filling you like. They can be baked or fried.
Fill them with any pie filling, relish, or jam that you want using the tips and instructions in this post along with your favorite filling to personalize the recipe.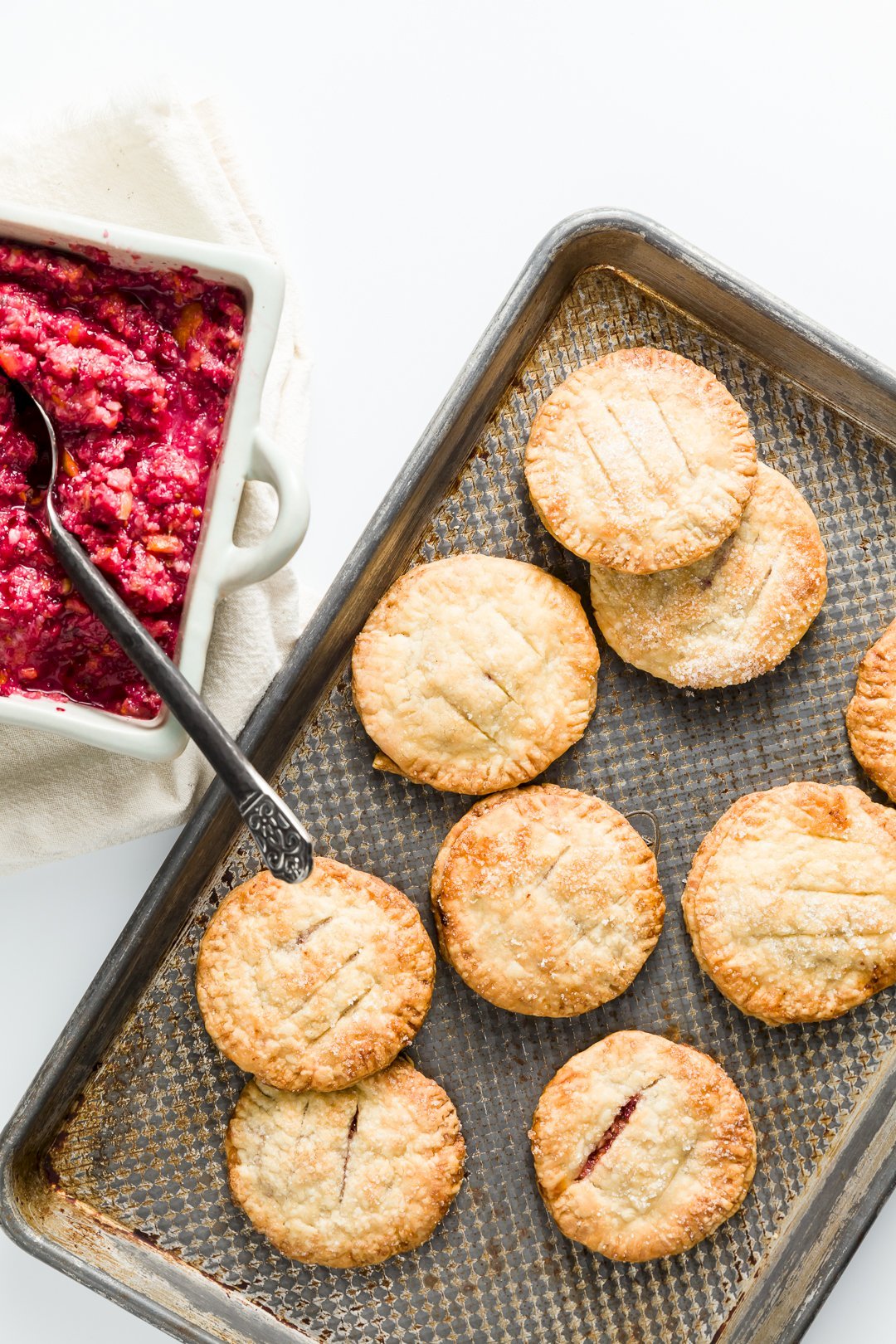 I make this dessert using two round circles of pie dough crimped together or one circle folded on itself.
While I typically make hand pies in the oven, the fried version (simply called fried pies) is so decadent and delicious. As a compromise between the two, I sometimes use an air fryer. This cuts down on the grease that you'd get with deep frying, and the crust still comes out crispy and perfect every time.
Ingredients
The ingredient common to all hand pies is pie crust. I either make my own or buy a high-quality crust.
Use whatever filling you'd like – jam, chutney, relish, or your favorite pie filling. You'll need 1 tablespoon of filling per hand pie.
Note: I love to use a cranberry relish (technically, it's my aunt's recipe) full of cranberries, orange peel, walnuts, and sugar. This filling is sweet, tart, tangy, and perfect for fall and winter. I share it in the recipe below.
How It's Made
Start by rolling out pie crust to 1/8 inch thickness and cutting it into 3 inch circles. For each hand pie, make either two circles that you will crimp together or one circle that you'll fold onto itself to make a half-moon shape.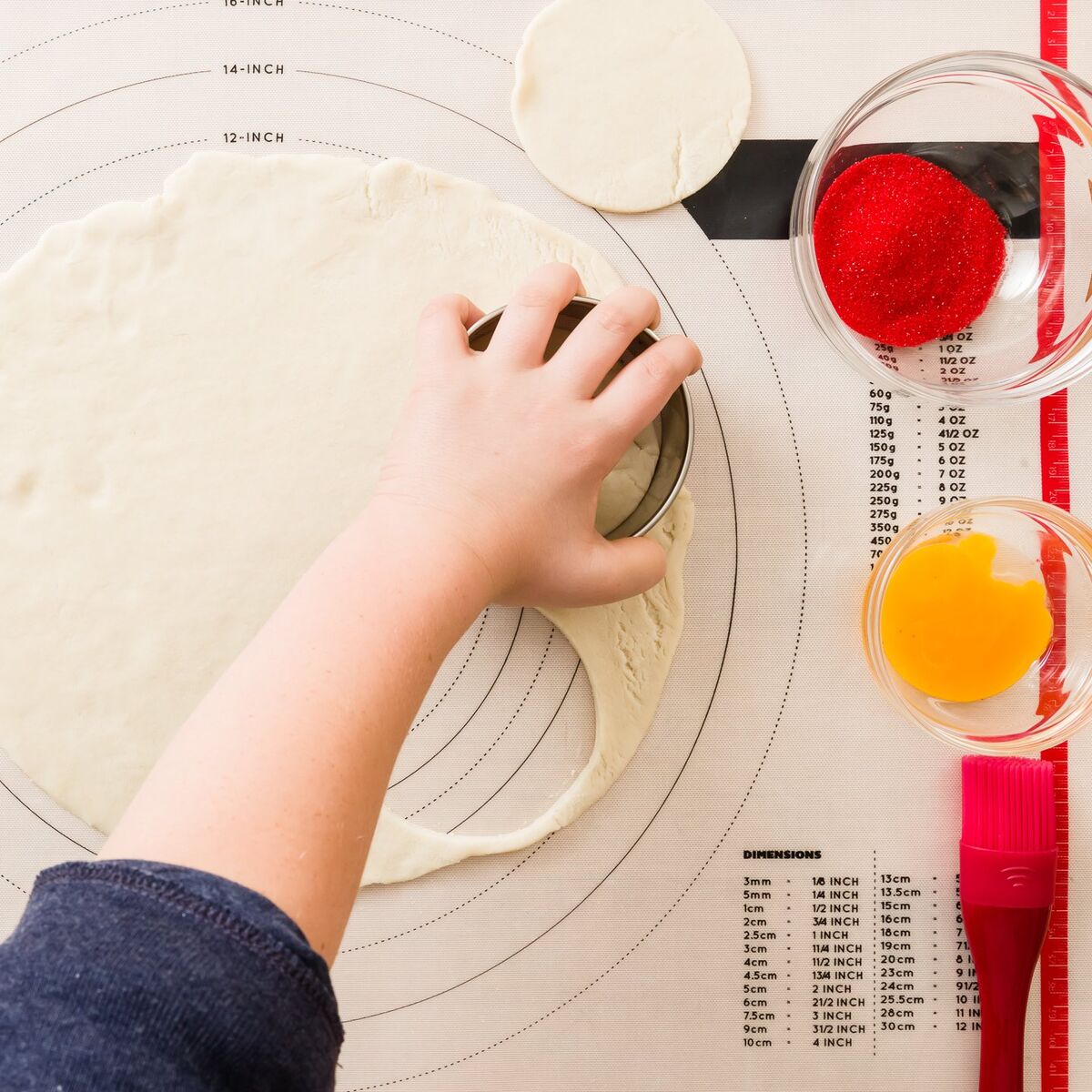 Fill with a dollop of the filling of your choosing, about one tablespoon.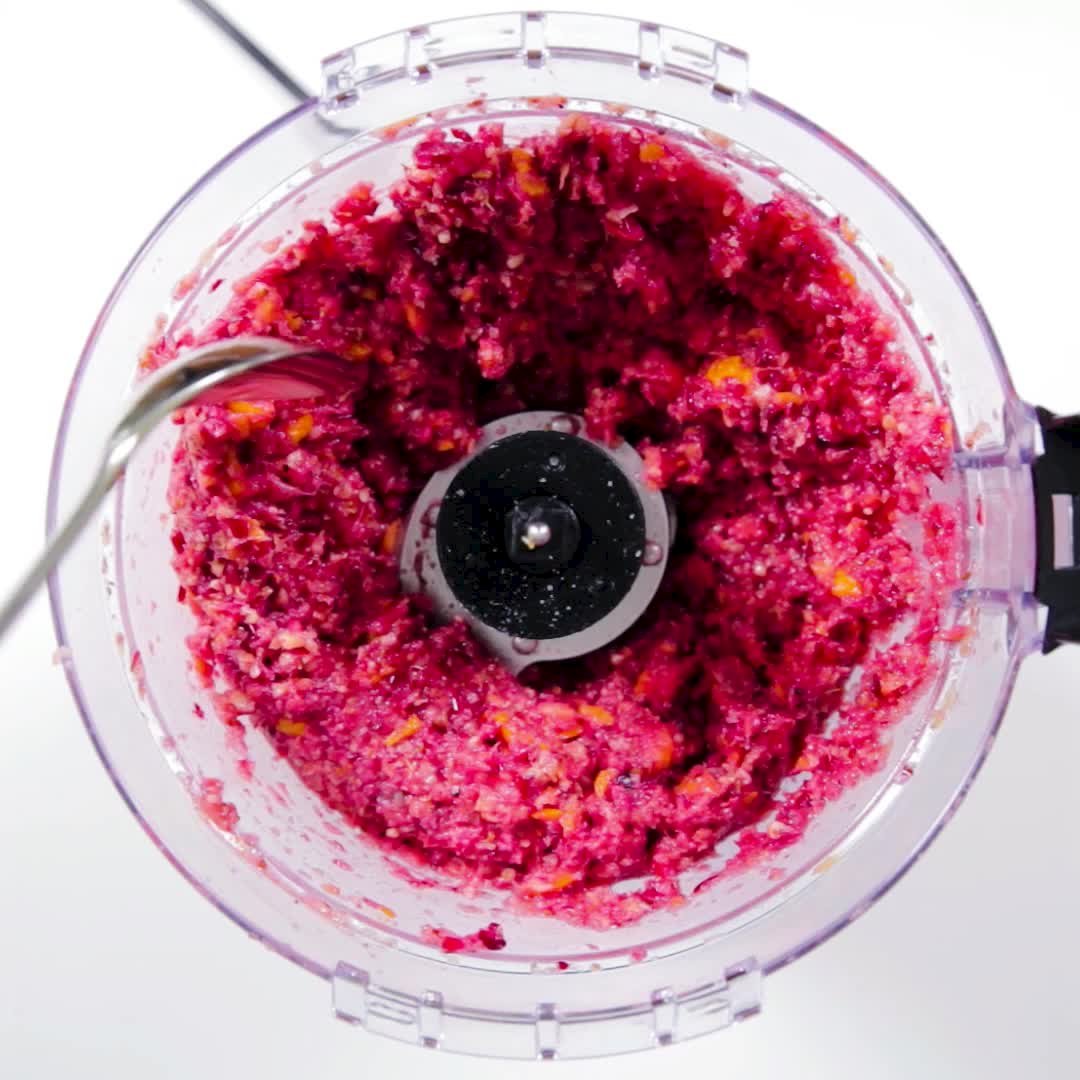 Crimp the pie dough closed with a fork and bake at 375 F for about 25 minutes or until the crust turns a golden brown.
Hand pies are best served warm after emerging from the oven, but can be stored at room temperature for a few days or frozen in an airtight container for months. Always reheat before serving!
Expert Tips and FAQs
Don't overfill! We all like lots of filling, but make sure to leave a 1/4″ border to seal the pies closed.
Make sure the dough is sealed. You don't want the pies to open up during baking or frying. The best way to do this is to use the tines of a fork to press the dough closed around the entire border.
Cut a few slits into the top of the dough before baking. This lets the steam out so your hand pies don't explode in (and all over) the oven or fryer.
Do You Need a Special Pie Crust?
You can use any pie crust for this recipe. Either make your own or buy one at a store.
My current favorite crust is from BraveTart's new cookbook. It is without a doubt the best pie crust that I've ever made and it's all butter and doesn't use vodka. Luckily, she has the pie crust recipe along with a video on Serious Eats so you can check it out there. If you'd like a vegan alternative, try this totally flaky and delicious vegan pie crust recipe.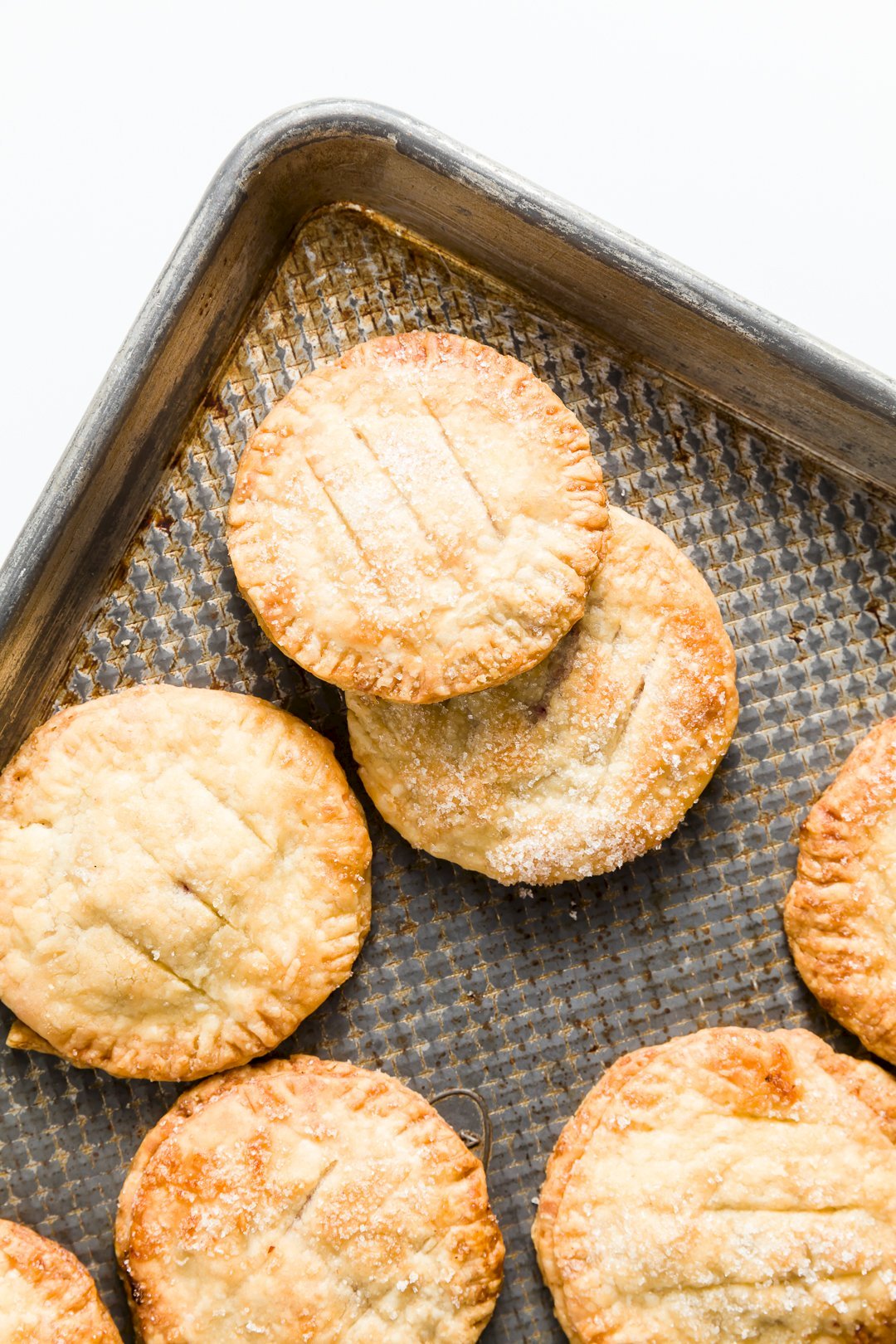 Filling Ideas
Every year at Thanksgiving, my aunt makes her famous cranberry relish (in the recipe below). It's different from a cranberry sauce in that the cranberries aren't cooked down; it's made by food processing cranberries with oranges, nuts, and sugar. It's a perfect filling for these pies.
If you're looking for another flavor option, try one of these:
Decorating
I like to decorate simply, with just a little sanding sugar sprinkled on top of the pies before baking.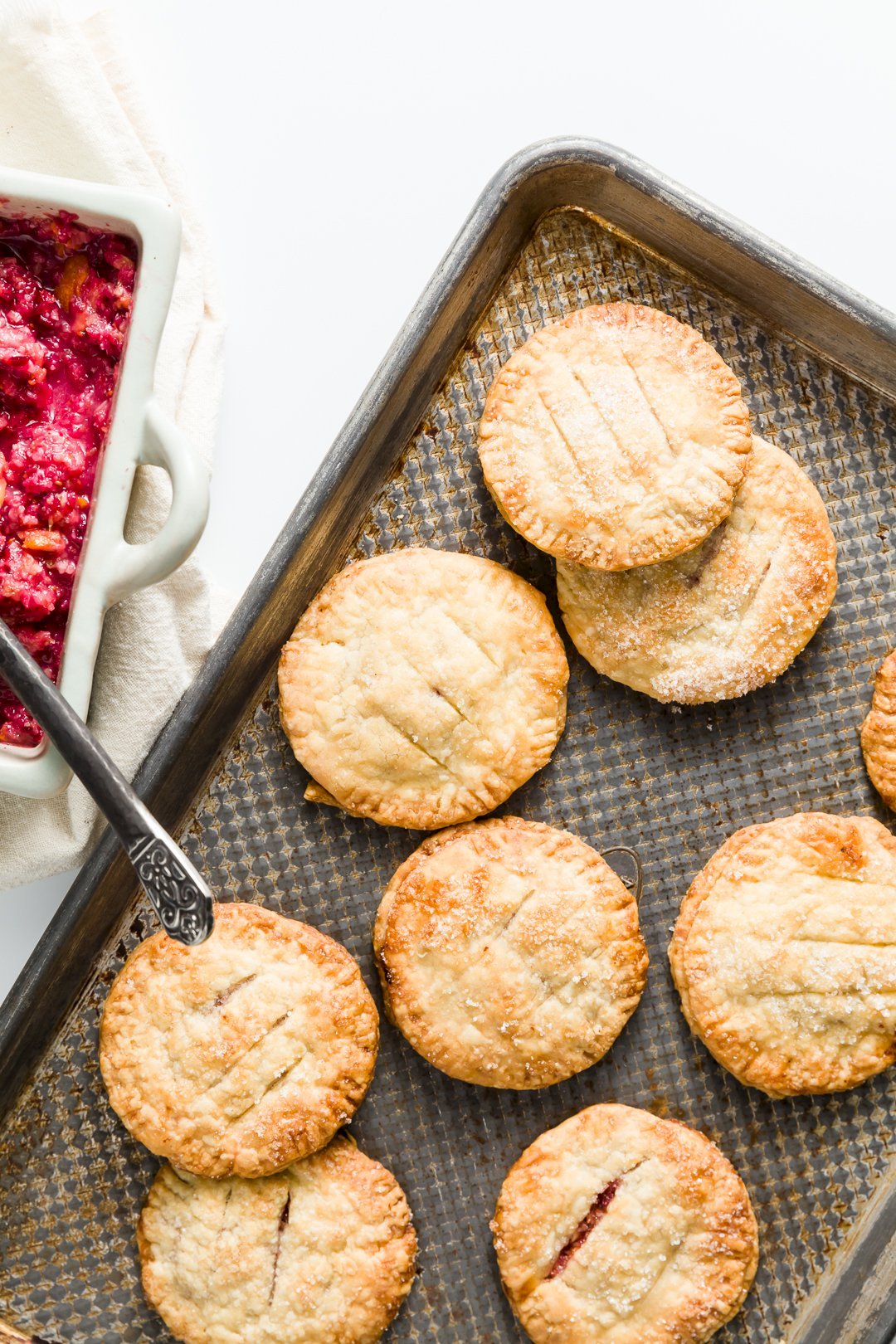 But, sometimes it's fun to glaze them as you would donuts.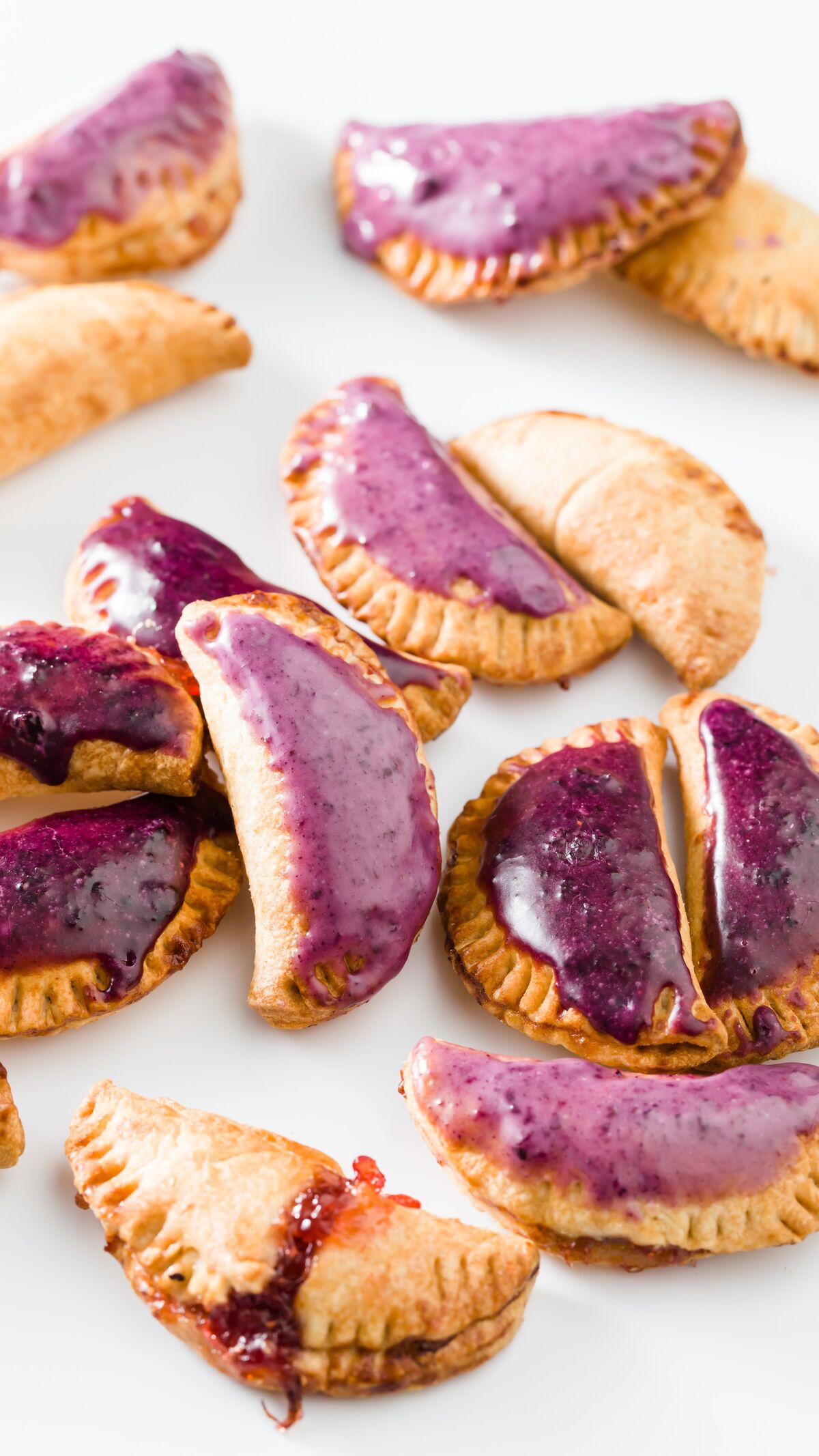 You can also decorate them with sprinkles and serve them on popsicle sticks to make adorable pie pops!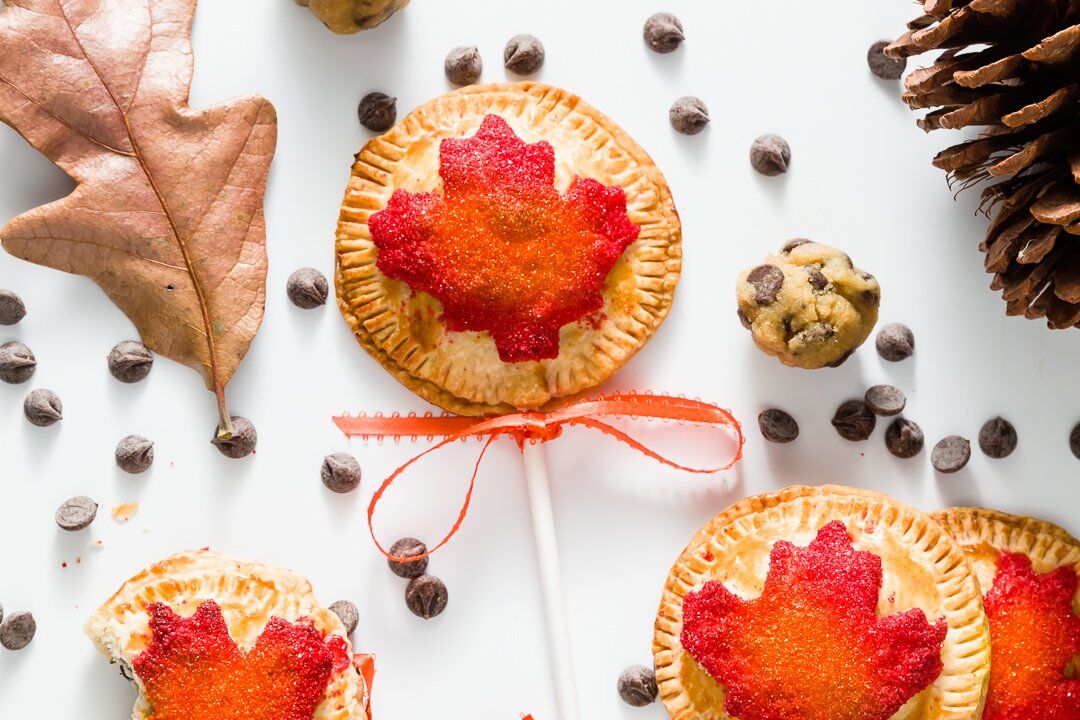 FAQs

What are hand pies?
Just as the name implies, hand pies are pies that you can hold in your hand.
Can I make these in a deep fryer?
Yes, you can use this recipe to make fried pies. Fry at 375 F for about five minutes on each side.
How do you make this recipe in an air fryer?
Put a batch in the air fryer at 350 F for 12-14 minutes. They should come out with a golden, crispy crust.
How do I store hand pies?
Wait for them to cool to room temperature after baking, then store in an airtight container on the counter for a few days. They can also be frozen for months.

Remember to always reheat them before serving!
Related Recipes
Cranberry Hand Pies
These cranberry hand pies are sweet, tart, tangy, and perfect for the holidays! Make this easy hand pie recipe in oven, frier, or air fryer.
Ingredients
12

ounces

frozen cranberries

1

navel orange plus peel

3/4

cup

walnuts

3/4

cup

sugar

1

Pie crust

Sanding sugar

to taste
Instructions
Food process cranberries, orange, and walnuts until finely chopped but not liquidy.

Add sugar and pulse a few more times to combine.

Roll out pie crust to 1/8 inch thickness and cut into 3 inch circles.

Place a tablespoon of cranberry relish in the center of half the circles. You will have tons of leftover relish. Eat it on sandwiches, with turkey, or all on its own.

Top each circle with one from the second half of circles.

Seal the edges of the hand pies using the tines of a fork.

Sprinkle with sanding sugar.

Put a few small slits in the top circles with a butter knife.

Bake for 25 minutes or until the crusts are slightly browned.
Notes
To make fried pies, fry in a deep fryer at at 375 F for about five minutes on each side. 
If you have an air fryer, try making these in the air fryer at 350 F for 12-14 minutes. It's my favorite way to make hand pies!
They are best served warm, but can be stored at room temperature for a few days or frozen in an airtight container for months. Reheat before serving!
Nutrition
Calories:
114
kcal
|
Carbohydrates:
18
g
|
Protein:
1
g
|
Fat:
4
g
|
Potassium:
75
mg
|
Fiber:
2
g
|
Sugar:
14
g
|
Vitamin A:
45
IU
|
Vitamin C:
10.7
mg
|
Calcium:
14
mg
|
Iron:
0.3
mg
Stay Connected!
Join my mailing list - and receive a free eBook!