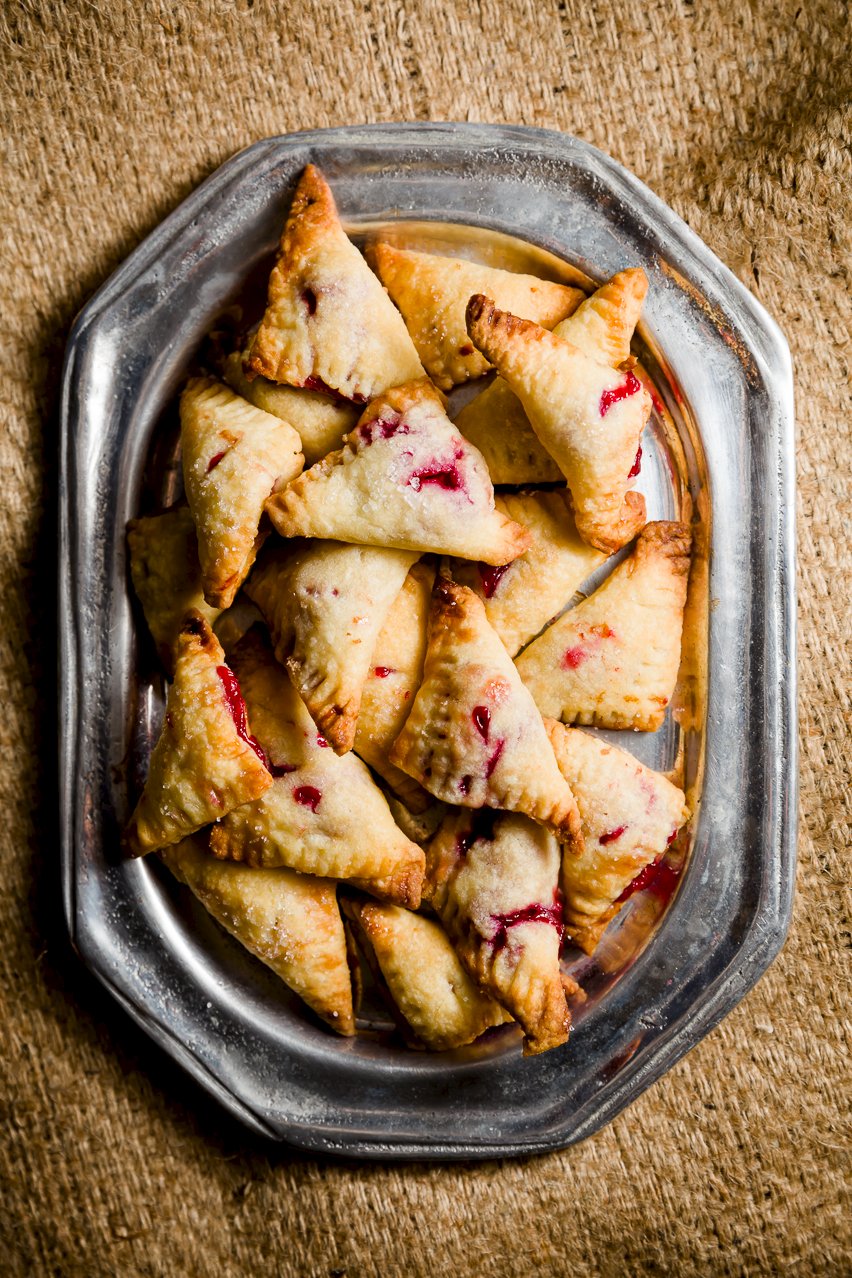 I fully acknowledge that I have one of the best jobs in the world.  I stay home, bake desserts, and get paid for it.  I really have no right to complain one iota.  But, every job has its little frustrations.  A small one that I have is that I hardly ever get a chance to bake my favorite recipes more than once because I spend all of my baking time developing new recipes.  So, when I find a way to repurpose a recipe that I love in order to create a new/just-as-good recipe, I get really excited at the excuse to dust the flour off of an old friend.
My mini cherry turnover cookies are just that – a favorite in a new form.  Let me explain…
The Cooky Book wasn't on my list, but you can bet that I added it immediately.  Juli didn't lead me astray.  It's a great book filled with loads of classic cookies.  I love that it has both illustrations and color photos for many of the recipes.  Plus, in some cases, it offers several variations of a single recipe.  It was one of these variations that inspired me.
I was reading the recipe for Filled Cookies ("Tender, creamy-white… with luscious filling") when I noticed a variation for a filled cookie turnover.  It's such an obvious variation, but somehow I had never seen it before (keep in mind that I have a stack of cookie cookbooks a mile high!).  Being thus inspired, I then ditched the cookbook entirely and decided that the perfect cookie dough for a turnover would be the rugelach dough that I fell head over heels for when I made chocolate cheesecake rugelach (shown below).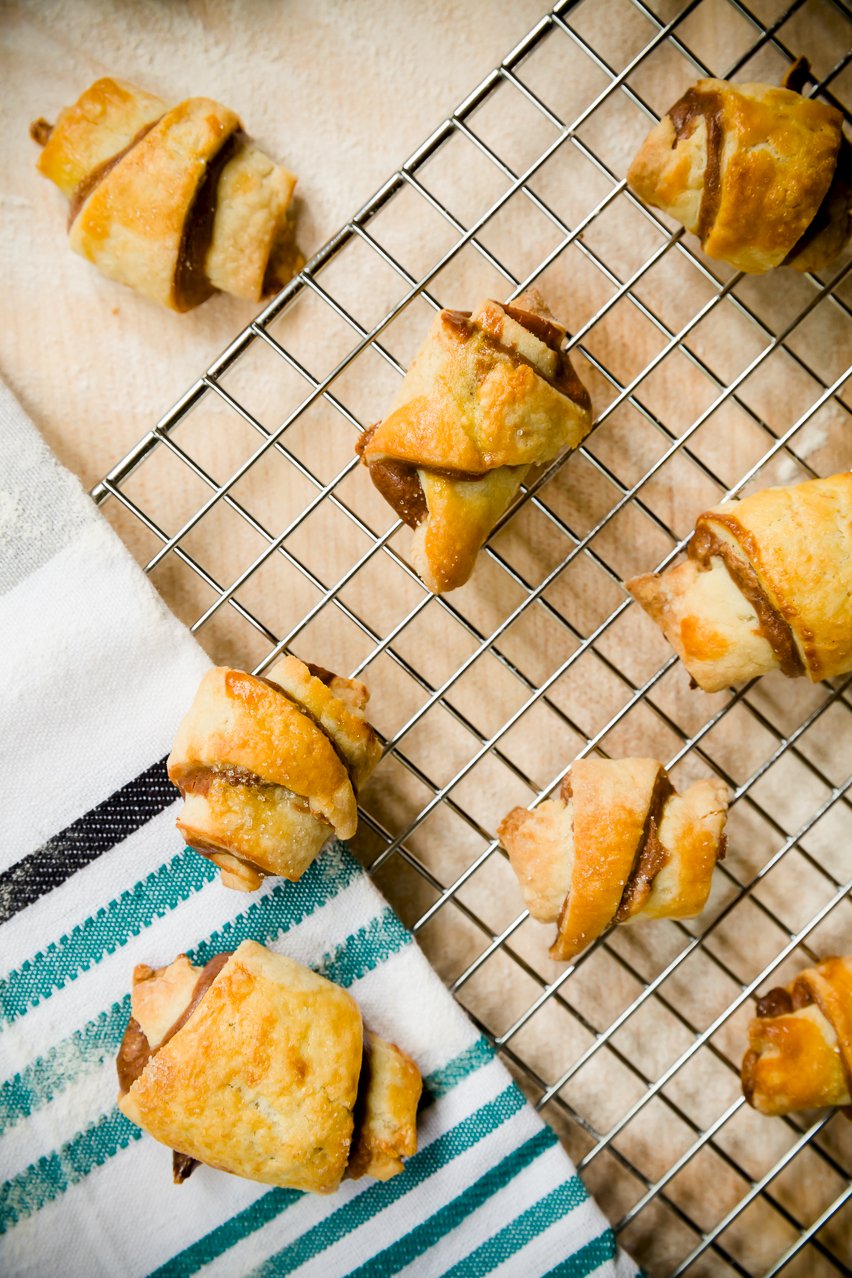 Rugelach dough is made with butter and cream cheese and produces a rich, dense, decidedly-not-delicate golden brown cookie that can nicely support a filling.  I made a batch of rugelach dough, cut it into two inch squares, filled the squares with cherry pie filling, and folded them into triangles to create these mini cherry turnover cookies.  They are just as good as rugelach (it's the same dough, after all), but folding the cookies into turnovers breathes new life into the classic Jewish recipe, making it fit for any holiday table.
Mini Cherry Turnover Cookie Recipe
I'm including her recipe below in my own words, along with my my cherry pie filling recipe and assembly instructions.
Mini Cherry Turnover Cookies
Cherry turnover flavor in a mini, crunchy cookie.
Servings
50
mini cherry turnover cookies
Ingredients
Turnover Cookie Ingredients
4

ounces

cream cheese

room temperature

1/2

cup

unsalted butter

room temperature

2

tablespoons

sugar

pinch

salt

1/2

teaspoon

vanilla extract

1

cup

all-purpose flour
Cherry Pie Filling Ingredients
1

cup

pitted cherries

1

tablespoon

water

1

teaspoon

lemon juice

1/4

cup

sugar

2

teaspoons

cornstarch

1/4

teaspoon

orange zest
Instructions
Cherry Turnover Cookie Instructions
In a medium-sized mixing bowl, mix the cream cheese and butter until light and fluffy (about three minutes on high speed).

Mix in the sugar, salt, and vanilla.

Mix in the flour until just combined.

Place the dough on a floured board and form it into a ball.

Divide into two roughly equal pieces, wrap each in plastic, and refrigerate for at least one hour.
Cherry Pie Filling Instructions
In a small saucepan on medium heat, combine all ingredients and bring to a boil.

Reduce heat to low and cook for another ten minutes, stirring frequently. The mixture should thicken considerably.

Remove from heat and cool to room temperature.
Assembly and Baking Instructions
Remove one of the wrapped sections of dough from the refrigerator.

Roll out to a roughly 10" square. The dough is sticky, so be sure to flour your surface and your rolling pin really well.

Cut the rolled dough into 25 2" squares.

Place approximately one teaspoon of cherry pie filling in the center of each square.

Fold the squares diagonally to create little triangles and use a fork to crimp the edges of the triangle.

Cut a tiny slice in the top of each triangle. This lets the steam out during baking and also makes the turnovers look pretty because there will be a little cherry filling peeking through the top.

Place the turnovers on a cookie sheet lined with parchment paper or a Silpat.

Repeat for the other section of dough.

Chill the formed turnover cookies for about 10 minutes in the freezer to help them hold their shape during baking.

Preheat oven to 350 F.

Remove cookie sheets from the freezer.

Bake for 20 minutes or until the turnover cookies are golden brown. It may take longer than 20 minutes if your turnover cookies are particularly cold. Although you can eat them before they brown (you won't get sick), they are so much better when they have time to get a little crispy. You don't want them to burn, but they should achieve the golden brown color that you see in my photo.
Nutrition
Nutrition Facts
Mini Cherry Turnover Cookies
Amount Per Serving
Calories 41
Calories from Fat 18
% Daily Value*
Fat 2g3%
Cholesterol 7mg2%
Sodium 7mg0%
Potassium 11mg0%
Carbohydrates 4g1%
Vitamin A 90IU2%
Vitamin C 0.2mg0%
Calcium 3mg0%
Iron 0.1mg1%
* Percent Daily Values are based on a 2000 calorie diet.